Last Updated on March 13, 2020
As a bean lover and someone, who likes to experiment with vegetables and legumes, publishing this low fat recipe for my yummy, high fiber kidney bean burger was overdue.
It amazes me time after time, how well the beans work in terms of consistency and binding. You don't need an egg substitute or similar for this vegan burger recipe, because these kidney bean patties consist of only very few ingredients.
How to make kidney bean burgers
In fact, there are four ingredients: kidney beans, onions, oatmeal and whole grain bread crumbs. The remaining ingredients are spices and can be omitted, exchanged or supplemented as desired. But it is the spices that will make or break these tasty burgers, so it is important to choose wisely.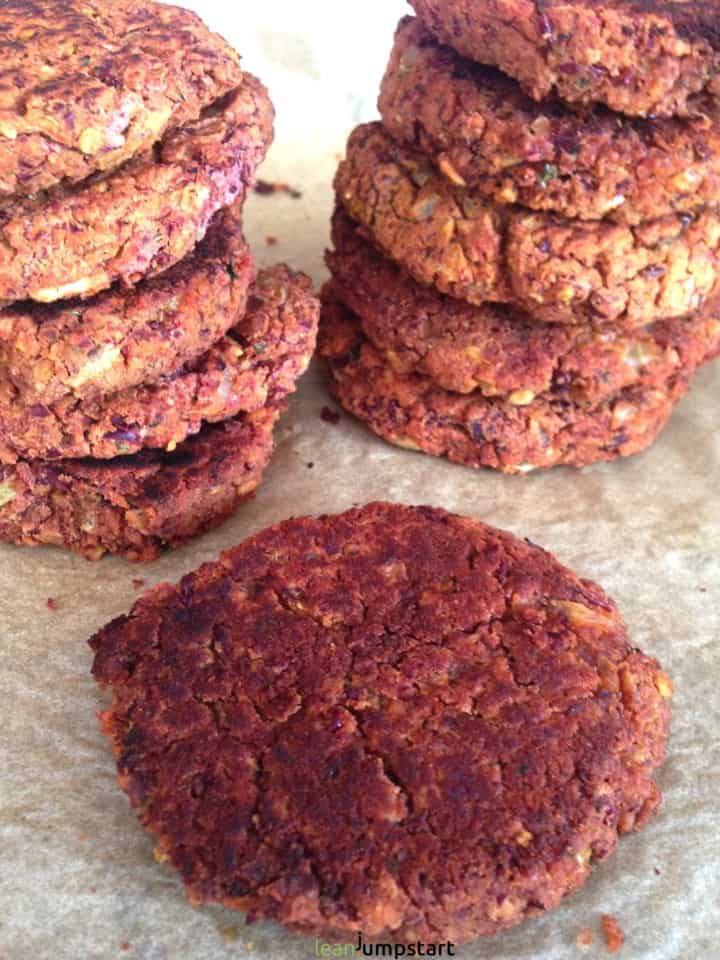 Tip: If you can get smoked red pepper powder, grab it! You can also use plain red pepper powder or even chili flakes instead, but for an ultimate burger taste experience "smoked red pepper powder" is the cherry on the cake.
Let's jump right into the easy kidney bean burger recipe.
Print
Kidney bean burger recipe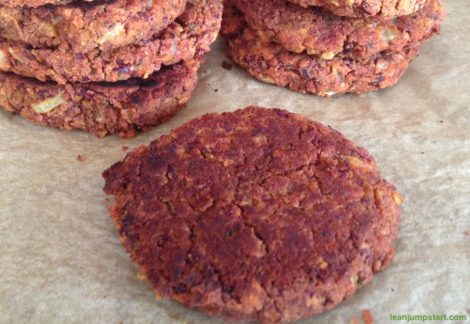 A delicious vegan bean burger
Author: Gabi Rupp
Prep Time:

5

Cook Time:

25

Total Time:

30

Yield:

8

1

x
Scale
Ingredients
2

cans kidney beans, well drained

2

–

3

onions, diced

2 tablespoons

mustard

4 teaspoons

ground turmeric

150 grams

rolled oats

1

–

2

tablespoons whole grain bread crumbs

2 teaspoon

(smoked) red pepper powder

1 1/2 teaspoon

salt or

2 tablespoons

miso

1/3

bunch of fresh parsley, hacked
(or 1 teaspoon dried parsley)

1 tablespoon

extra virgin olive oil (EVOO)
Instructions
Puree beans in a food processor or with a blender on high speed.
Add all other ingredients except for the oil.
Scrunch the bean mixture together with clean hands.
Divide into 8 – 12 balls, depending on your preferences.
Flatten into patties.
Heat olive oil in a non-stick pan over a medium heat.
When the pan is hot, fry the red bean burgers for 2 minutes on each side.
Place patties on a baking sheet and bake at 350 F/ 180 C° for 20min.
Notes
Tip 1: The better you drain kidney beans, the less whole grain bread crumbs you need for binding
Tip 2: For best results refrigerate patties for 30 minutes, prior to cooking.
Kidney bean burger: How to serve
These plant based roasts are ideal as patties for burgers, if they are thick enough to fry. If you want to use them as a clean eating side dish, I suggest making smaller patties and you'll also get more in return.
I usually serve these ultimate burgers with some greens, traditional potato salad and my homemade ketchup. This recipe is always a hit for my family as long as it results in spicy bean patties. You can screw it up however, if you use too little spices.
Fiber rich burger
As you can imagine, these plant based burgers are rich in protein due to their high legume content but this is something what you could easily get also from meat based burgers. The main difference however is that with the bean burgers you get also a huge portion of healthy fiber. Kidney beans are low fat, high fiber foods, while meat doesn't contain any fiber at all.
Kidney beans are ranking number 6 in the top 10 fiber rich legumes with 6.4 grams of fiber per 100 grams cooked beans (see chart below). If you replace kidney beans with black beans you could even maximize your fiber intake. In combination with oats and whole grain bread crumbs any bean burger is a real fiber power house. With its low fat content it is also perfectly suitable for weight management.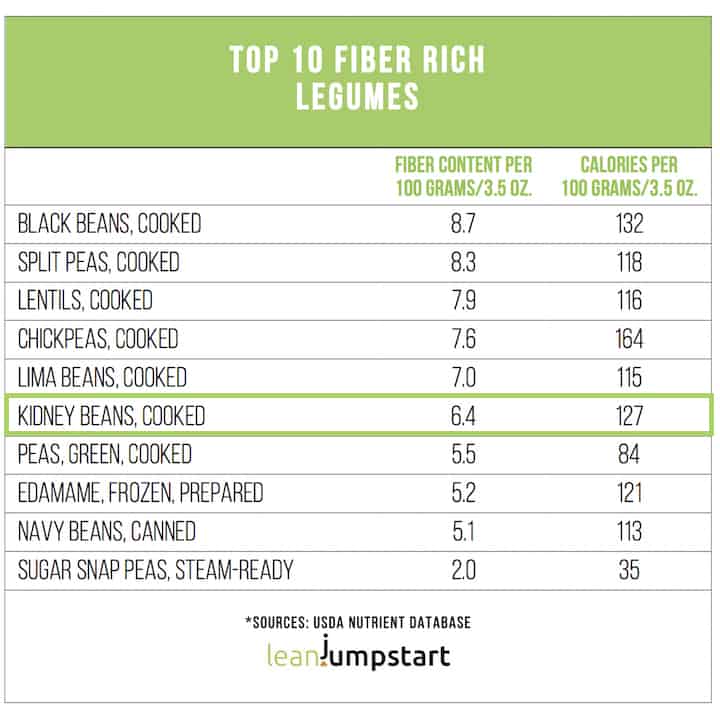 OTHER HEALTHY BURGERS YOU MIGHT ENJOY