Doesn't this red beet burger look just gorgeous? As "you eat with your eyes", you know that the look and feel is an important aspect of a great meal too. These clean eating veggie burgers taste absolutely delicious, are full of flavour and have the most incredible texture. On top of that they are lean and easy to prepare.
If you shy away from cooking beets don't miss my convenience tip at the end of this blog post.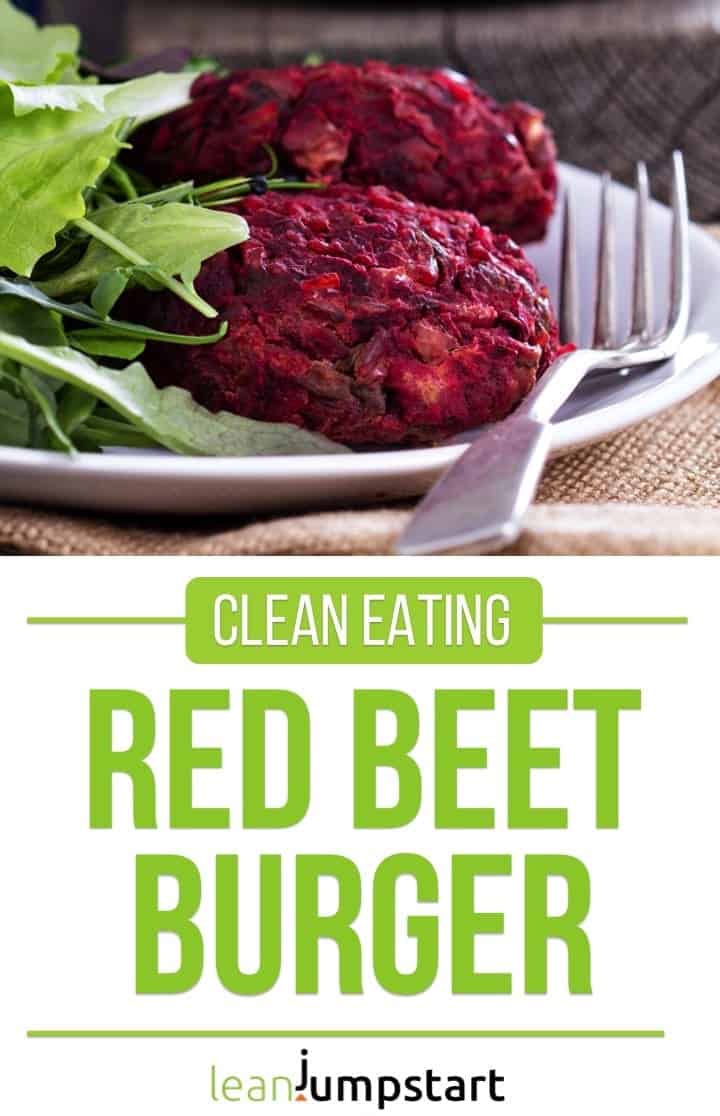 I'm not sure why I've always been fascinated by beetroots. Its incredible color might be one of the reasons, but I also enjoy its earthy taste which is not comparable to any other vegetable.
Red beet burgers: A no-brainer in your kitchen!
What I love best about these veggie burgers? After you've prepared the dough, the meatless patties can be baked within 25 minutes in your oven. When I have the choice, I always prefer the baking oven over the frying pan for my clean eating meals. Ok, it takes a bit longer in the oven than frying in a pan but still the advantages prevail…
Baking in the oven:
requires less attention as the patties cook,
saves unnecessary calories from cooking oil and
prevents smelly house after frying – what a pleasure!
And believe me – thanks to beetroots these burgers remain juicy, even after baking. Tip: If you prefer crispier veggie burgers cook them a bit longer than the suggested 25 minutes. Thinner and smaller burgers will cook faster.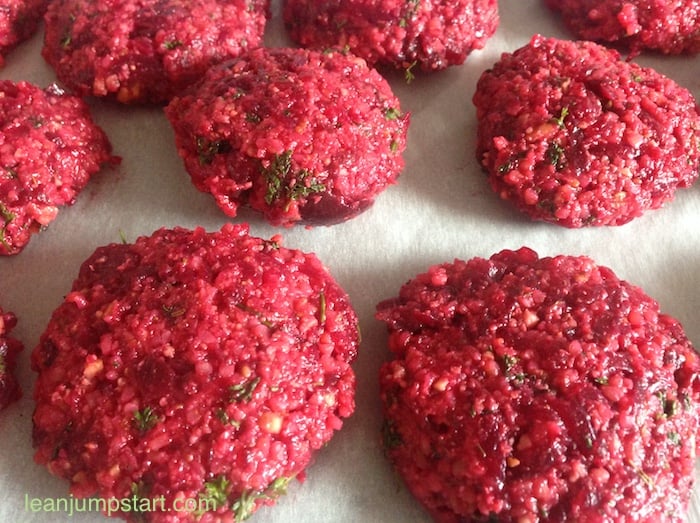 Trying out red beet burgers was on my wish list for a long time. When I researched the web for recipe inspirations, the long ingredient lists and complicated directions always discouraged me. In the end I was forced to experiment on my own and it was worth it!
Red Beet Burger with Whole Grains
Finally I proudly present my simplified red beet burger recipe. One important part of the dough are whole grains. I'm using the protein-rich millet that I grind for 2 seconds in my food processor to shorten its cooking time. Be sure not to process too long or the millet will turn into flour.
Millet like brown rice is a staple in my kitchen and I cook it often as a healthy and quick side dish. If you don't use millet in your kitchen, I highly recommend to give it a try. Similar to the pseudo-grain quinoa it has a high protein content. Instead of millet you can also use rolled oats.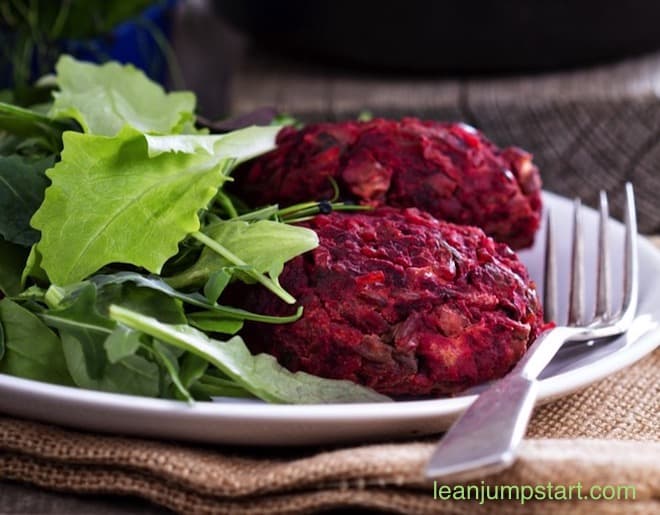 red beet burger recipe
2017-07-21 05:35:32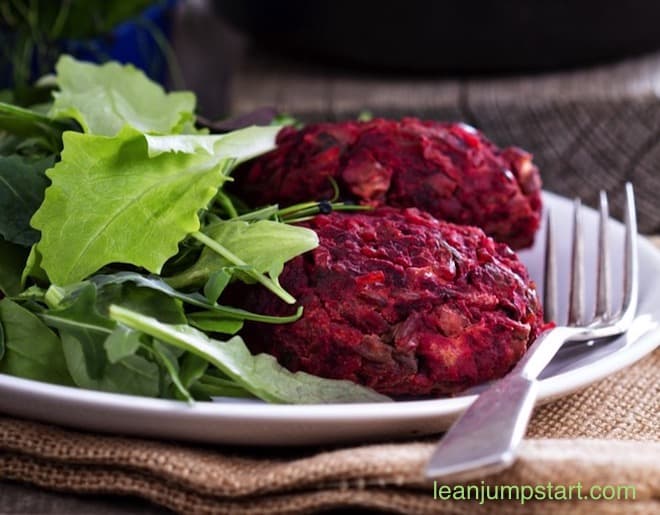 A delicious veggie burger
Ingredients
2-3 beets, grated and drained
100 gr. millet (grinded coarsely) or rolled oats
200 ml water
2-3 Tbsp parsley, hacked
1 tsp garlic powder
2 tsp walnuts or other nuts, hacked
2 tsp Cayenne pepper
salt
(optionally, some whole grain wheat)
Instructions
Roast nuts slightly in a pan.
Set aside.
Preheat oven at 360 F°/180°C.
Cook up millet or oats in 200 ml water.
Let it simmer for 3 minutes until all water is soaked up.
Put whole grain mush in a bowl.
Add red beet, parsley, spices and nuts.
Mix with your hand, I recommend to use gloves. (If dough is not firm enough, add some whole grain wheat or oats)
Form 8-10 burgers and place them on a nonstick baking sheet.
Bake at 360 F°/180°C for 25 minutes in baking oven.
Notes
Leftover patties will keep in an airtight container in the fridge for 2 to 3 days. You can also freeze cooled burgers for up to 1 month.
Leanjumpstart Clean Eating Habits https://leanjumpstart.com/
How to serve red beet burgers
Serve veggie burgers in a whole wheat bun, pita bread or as a wrap with your preferred clean eating toppings. You might also want to arrange it on a green salad plate for a light and colorful lunch. We love to combine it with our beloved potato salad sometimes "with", sometimes "without" fish.
How to cook beets or avoid it altogether…
I get beets regularly in my vegetable subscription box. My preferred cooking method is using a pressure cooker which saves me some time, but I still have to peel beets after cooking.
From time to time I buy precooked, whole, peeled beets you can get at supermarkets – here in Germany even at Aldi or online (see my picks below). They are vacuum-packed and in my opinion there is no difference between your own cooked beets or if you buy them vacuum-packed except for the price. On the other hand the convenience food is still appropriate for clean eating and saves you a whole bunch of time.


Have you ever used vacuum-packed beets? Let us know your experience and also how you liked the red beet burgers in the comment section below.