Are you someone who doesn't like beets too much in spite of its numerous health benefits? Do you have a high blood pressure?
If you confirmed at least one of the two questions with yes, then it's time to try this quick and easy beetroot soup recipe. You can thank me later, but first let me show you a way, how you can turn this root vegetable into your all time favorite!
This creamy and yet skinny clean eating soup is so gorgeous, so decadent, so comforting…
After taking the photo below ↓ I not only squeezed both plates of the soup, but managed to polish off a third. That's what I call a true beet soup obsession.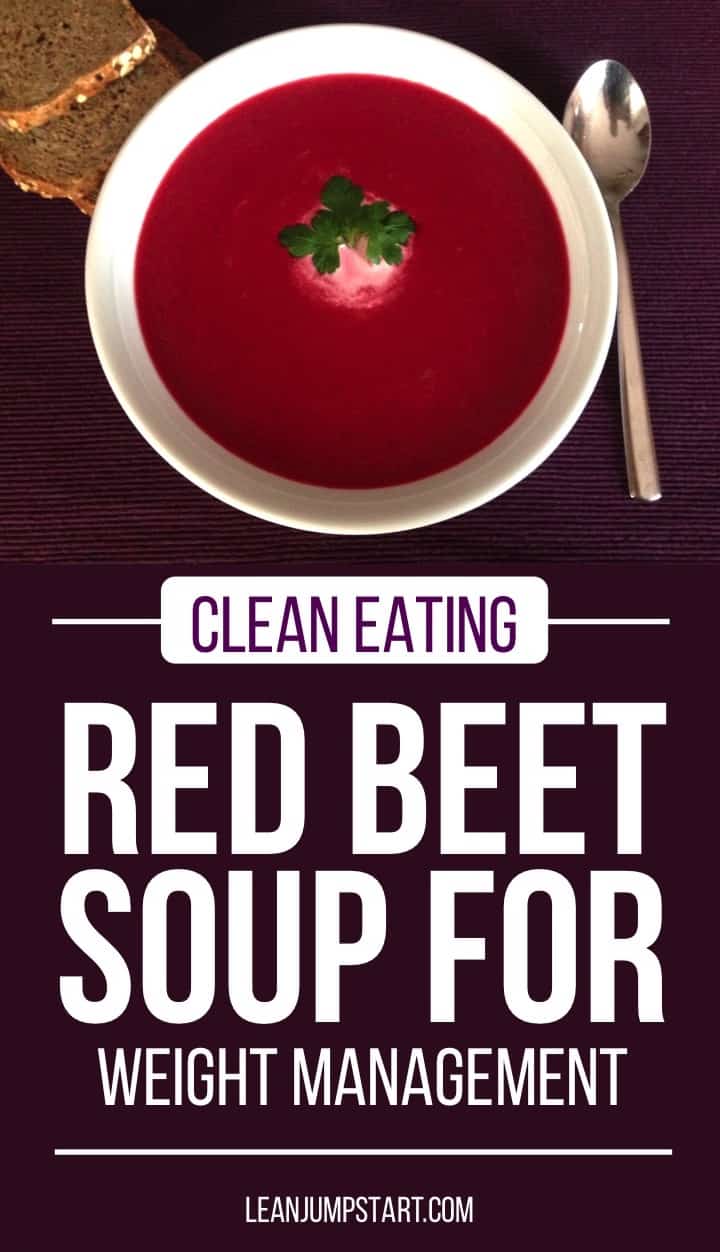 Beetroot soup recipe: Heads up!
And it was not the best idea for someone like me with a normal blood pressure. Red beets are known for their dietary properties to lower blood pressure (hypertension).
So, within hours of eating 3 plates of this delicious beet soup I felt dizzy and light-headed. A feeling I know already when I go overboard with my beloved red beets salad. This incident proved me again the potent healing power of plant foods.
If you are struggling however with a high blood pressure (a very common chronic condition in modern Western lifestyles) then I highly recommend considering beets as your natural means to lower blood pressure. I'll share more about the impressive body of research on this in a minute.
But first let's look on how to make beetroot soup?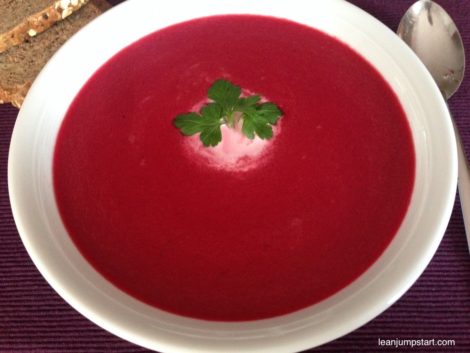 Beetroot soup recipe
2018-01-22 12:16:35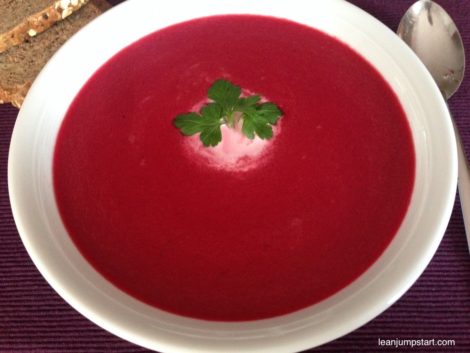 Serves 3
A delicious and
Ingredients
3 medium beets, peeled cut into cubes
2 celery stalks, cut into chunks
2 onions, chopped roughly
2 cloves garlic, minced
1 tbsp extra virgin olive oil (EVOO)
1 liter vegetable stock (4 cups)
2 tbsp (Balsamic) vinegar
1 tsp ginger, minced
1 tbsp coriander
1 tsp cumin seed
1 tsp black pepper, freshly ground
1 tsp salt
2 cups coconut milk
1 tbsp lime juice
Optional garnish: drizzle coconut milk, parsley
Instructions
Heat olive oil in a large saucepan (or Thermomix).
Add onions and gently fry for three minutes, until onions turn clear. (Thermomix Varoma, speed 1)
Add vegetable stock, beets, celery chunks, ginger, garlic, cumin, coriander, salt and ground black pepper and bring to a boil.
Reduce heat to simmer. Cover and cook for 10-15 minutes or until the beets are fork tender.
Remove from heat.
Stir in the coconut milk and lime juice and use an immersion blender on high to blend the soup until creamy and smooth.
Season with salt and pepper.
To serve add red beet soup to bowls and garnish with a drizzle of coconut milk each and some parsley.
Notes
This soup is great just plain with whole grain bread or with a side of brown rice.
Leanjumpstart Clean Eating Habits https://leanjumpstart.com/
How to naturally "beet" a high blood pressure
Talking about the several health benefits of beetroot soup in detail would be beyond the scope of this article. Let's concentrate instead on one of the most important health factors: blood pressure.
Several studies worldwide have identified high blood pressure, or hypertension, as the number-one risk factor for death in the world.
The good news is that hypertension may be a choice. You can take of the pressure if you concentrate your diet around unprocessed plant foods. Clean eating points you already in the right direction. In that context especially red beets have shown promising results in a number of studies.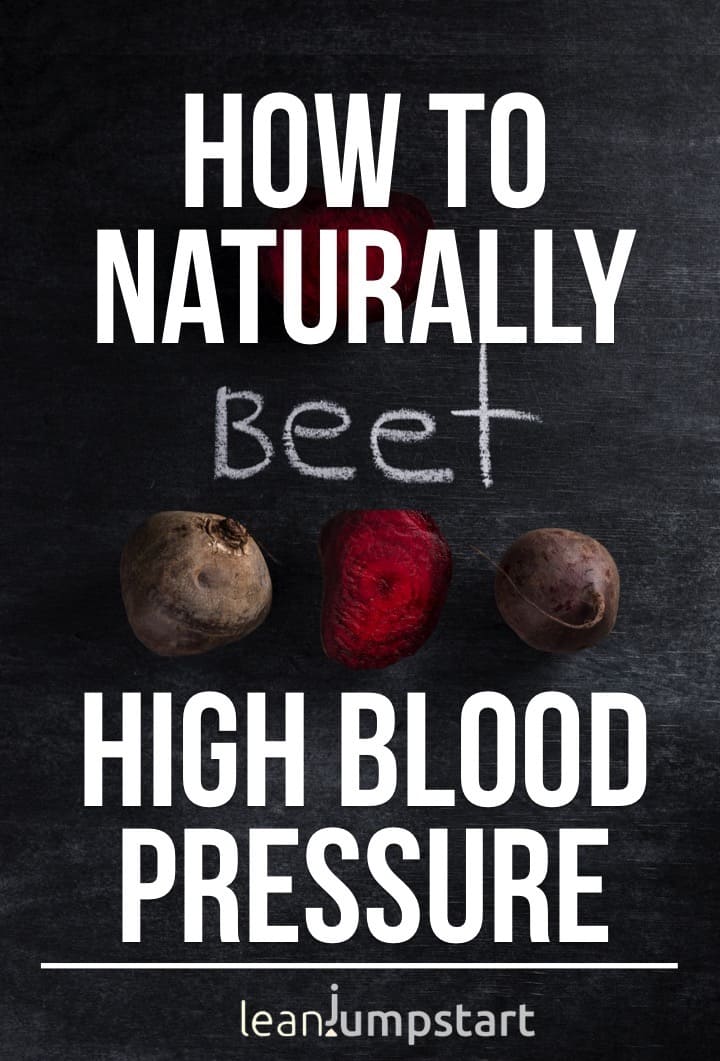 3 evidence based studies that prove the effect of beetroot juice on lowering blood pressure
A study published in the Nutrition Journal in 2012 proved that beets are a rich source of dietary NO3 [1] which is converted into nitric oxide in our body. Nitric oxide helps to dilate and relax our blood vessels, improve blood flow and lower blood pressure. The study found that drinking one glass of beet juice could lower systolic blood pressure by an average of 4-5 points in men. The lowered blood pressure stayed stable up to 24 hours after drinking. These results could be repeated in another study published in the medical journal "Hypertension," in April 2013.
Another study from 2008 proved that, drinking a little more than 2 glasses (500 ml) of beet juice per day might be enough to control a high blood pressure. (2)
And here is another study from 2015 that demonstrated that a glass of beet juice lowered systolic blood pressure by over 8 points (3). That's an effect equivilant to some anti-hypertensive medications.
I could go on with additional studies but I don't want to bore you…
Could beetroot soup achieve the same blood pressure reducing results
What I can tell you from my own experience is that eating too much cooked beets (e.g. beet soup, beet salad) can drop my blood pressure too low.
I can't specify however how effective beet soup is in contrast to plain beet juice. The studies I've seen all researched the effects of "raw" beetroot juice. But if you anyway can't tolerate beet juice but would like to test the blood pressure lowering effect of beets, then I highly recommend to give this delicious beetroot soup recipe a try.
Hopefully, after making this beetroot soup recipe you'll declare that from now on, beets are a regular part of your vegetable consumption:)
Disclaimer: The information herein cannot be construed as medical advice. If you are taking any medications, consult your physician before changing your diet.