I know that this easy sauerkraut soup recipe will provoke mixed feelings. Some people will love it others will not enjoy it at all. The sour taste of the firm to bite "kraut" is quite special. For some people it is "heaven on earth" and others will find it just awful. For those on the fence, maybe you'll read on when I tell you this soup is also perfectly suitable for weight loss?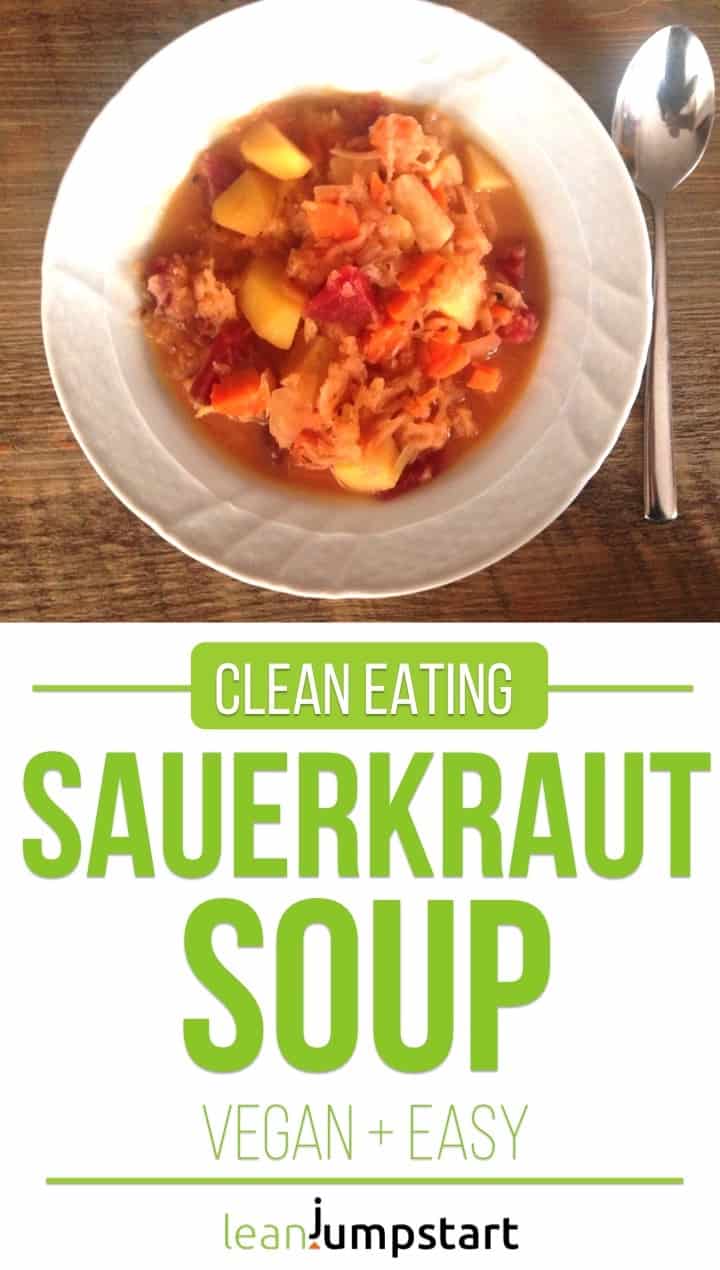 Even though it is considered to be an original German dish, sauerkraut probably comes from China.
The impressive health benefits alone motivate me to share our favorite homemade sauerkraut recipe with you. More about the kraut's benefits you'll find at the end of this blog post.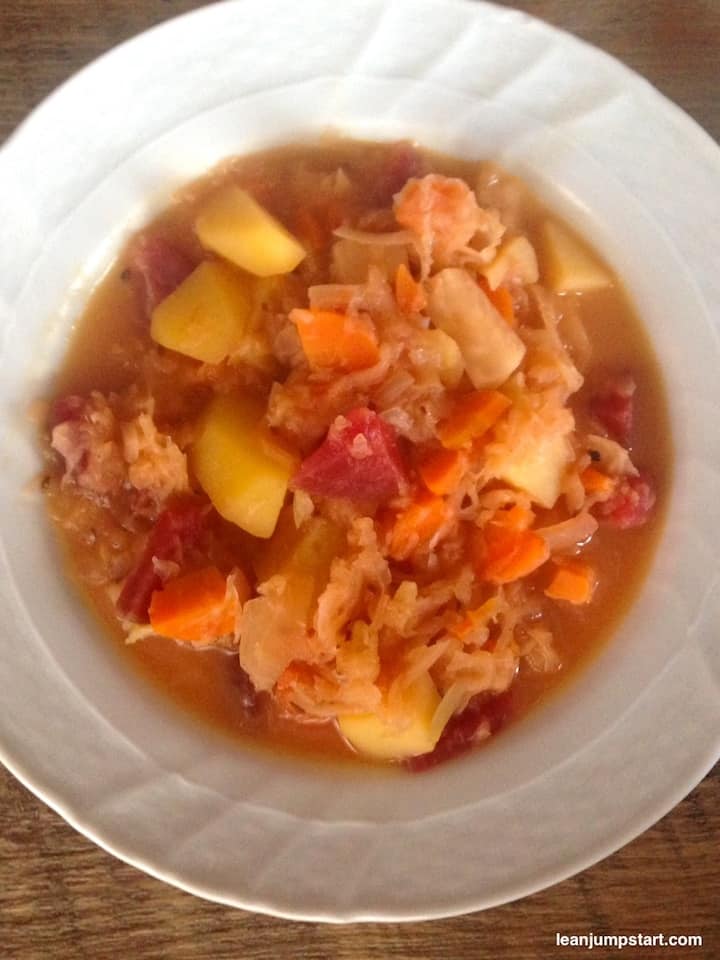 How to cook sauerkraut
The first recipe which comes to mind is probably the typical German specialty "bratwurst and sauerkraut". But cooking "kraut" doesn't have to result in a heavy and fatty meal taking hours in your slow cooker. This simple, light and quick sauerkraut recipe can be ready within 30 minutes. It can also assist you with your weight management in a powerful way.
How to make sauerkraut
Thinly grated white cabbage is mashed and traditionally fermented in a barrel. So here we have it again – another meal, based on the so important cruciferous vegetables.
Print
Sauerkraut soup recipe

A delicious and skinny cabbage dish
Author:
Prep Time:

5

Cook Time:

25

Total Time:

30
Ingredients
1 tablespoon olive oil
1 onion, finely chopped
1 carrot, finely diced
1 piece of celery, finely diced
1 red beet, peeled and diced
1 tsp caraway seeds
5 cups/500 g sauerkraut, strained, chopped
1 tsp sweet pepper
750 ml hot vegetable broth
3 medium potatoes, peeled and diced
Salt and pepper to taste
Instructions
In a large soup pot heat up the oil, add onion and fry for 2 minutes over a medium heat, stirring occasionally.
Add carrots, celery, caraway, and fry for another minute.
Add the sauerkraut, sweet pepper and stir and continue frying for another minute or so.
Fill up with vegetable broth, cover and bring to boil.
Add potato cubes, bring to boil again and let it simmer at medium high heat for 25 minutes
Season with salt and pepper.
Notes
Tip: As the kraut itself is salty DO NOT add salt until the soup is fully cooked

Sauerkraut health benefits and nutrients
Loaded with active probiotics and fibers, the vegetable has beneficial effects on the health of your digestive tract and cleanses the bowel. A recent study found that probiotic-rich foods can also balance immune function and reduce allergic conditions. (1)

The nutrients it contains include vitamin B12, which is required for the formation of blood and the structure of the cell nuclei, in addition to vitamin C, which increases the body's immune defense.
Vitamin B12 is usually found only in foods of animal origin (meat, especially liver, fish, milk, eggs). It is present in sauerkraut as a bacterial waste product.
Other healthy ingredients in this fermented food are minerals such as calcium, magnesium and potassium, trace elements such as iodine, iron and zinc as well as vitamins B6 and K.
No need to cook 
By the way, raw sauerkraut is particularly beneficial for body and health. Those who can tolerate it should enjoy a raw sauerkraut nutrition as often as possible. For variation, you can also mix the raw kraut with grapes, pineapple pieces or small diced red pepper.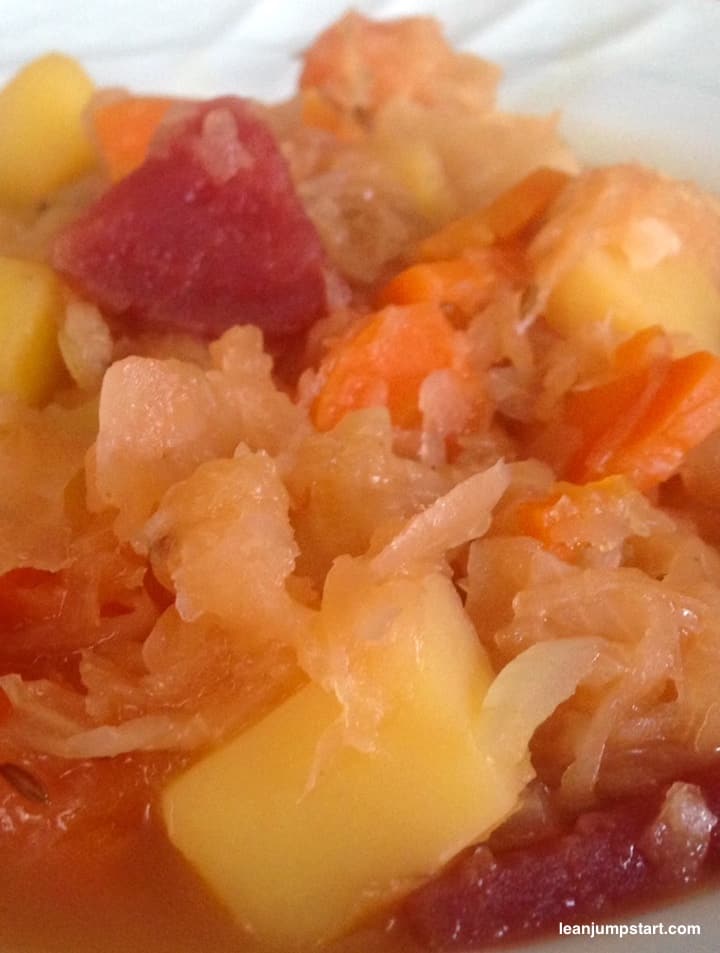 If you prefer to cook it don't overdo it – 25 minutes are more than enough, because long cooking destroys vitamins and leaves the vegetables rather bland and lax. For a sauerkraut salad it is not necessary anyway, because the fermented cabbage is already cooked.
Soup variations
If you leave out the beets, add 2 tablespoons sour cream and some mushrooms to the soup you'll almost have a vegetarian "kapusnyak". This an Ukranian sauerkraut meal which in original includes also smoked or fresh pork spareribs. The pork is of course far away from our clean eating kitchen and weight management.
If weight loss is your goal, then make sure to also check out my other clean eating vegetable soup based on cabbage.