Last Updated on November 25, 2022
Here you find my top 10 kitchen gifts for chefs that won't burst your budget. Most of them can be personalized with your name, initial or both.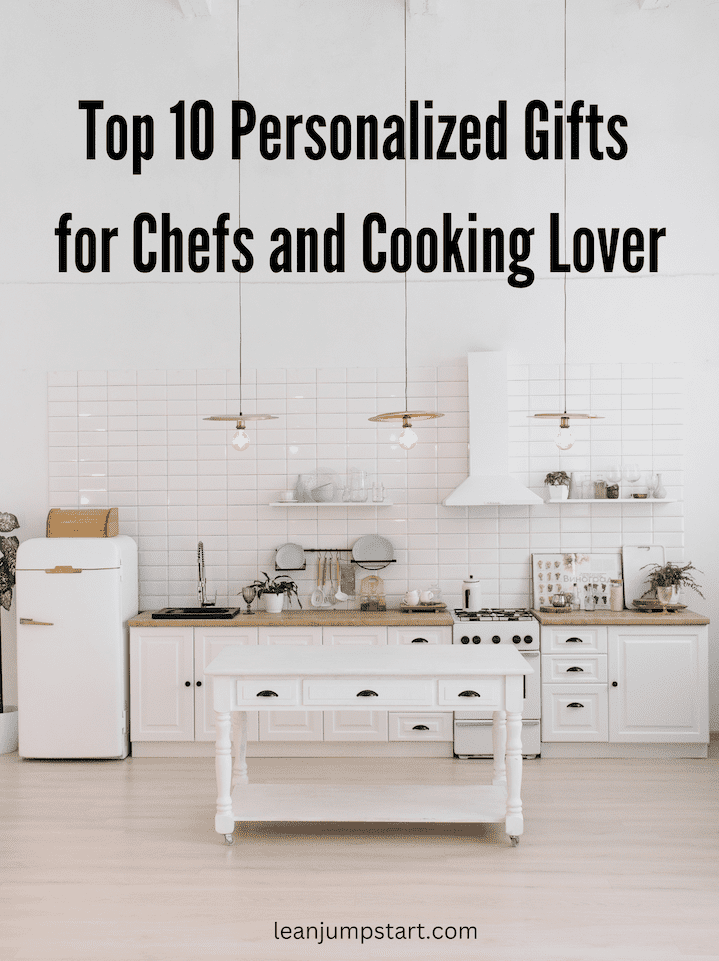 I've been always on a mission to inspire smart habits for cooking and self care. That's why in addition to this website I've opened up a Zazzle store. There you can find unique, modern designs for your kitchen, yoga and sports but also home decor and accessories.
For this blog post I've hand picked my best gift ideas for cooks, chefs and hosts. These items are not only perfect for the upcoming Christmas season but are also great for birthdays, potluck, holiday parties, mother's days, father's days and housewarmings!
The best part of it however is that you can easily personalize these pieces and make them truly your own.
1. Elegant personalized cooking apron
Whether you are preparing a meal in your kitchen, creating arts or hosting a barbecue – do so in style with this elegant customizable apron.
With a blush pink pastel color blocks design and a hand scripted white name it will definitely make a great impression on your guests. It comes in 3 sizes and is adorned with an adjustable waist string and a sublimated neck strap to ensure the best design results.
Click here for the elegant kitchen apron!
2. Homemade with love – Recipe Binder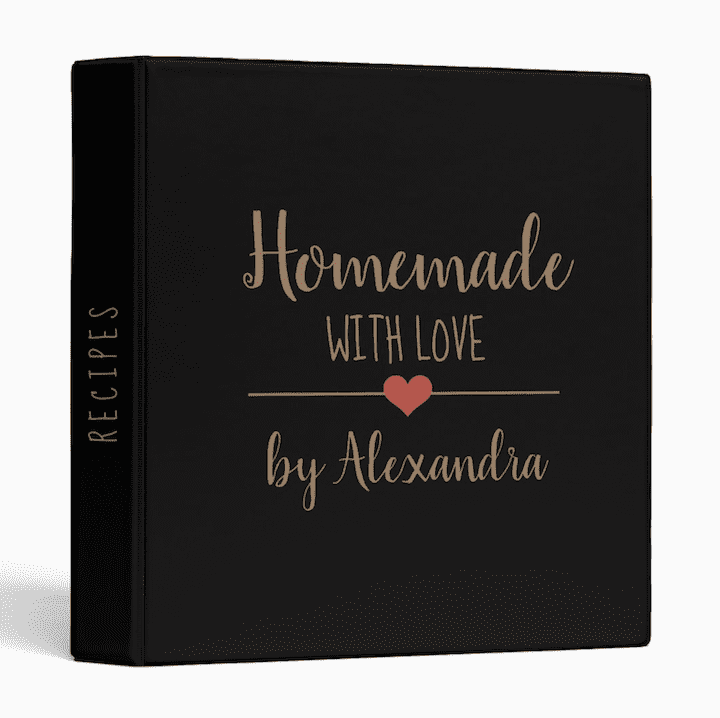 This gorgeous personalized three ring recipe binder holds heaps of recipe clippings and pages. It comes with a golden hand lettered script on a black background and a cute little red heart.
Personalize it with the name of the person you wish to give or with your own name. Perfect for holding all the traditional family recipes as well as all those treats found in magazines. You can also customize the text on the spine. It is available in 4 different sizes and many color combinations.
Click through to the recipe binder and make it your own right now!
3. Girly monogrammed name corkscrew
This unique double-hinged lever comes with a chic blush pink glitter design and a white script monogram with a dark gray typography name. It can be easily customized with your own initial and name.
The contoured handle allows you to open up bottles of wine, on demand.
There are also card bottle opener and regular opener available for you in this feminine collection.
Click through to the chic bottle opener!
4. Cute magnetic meal planner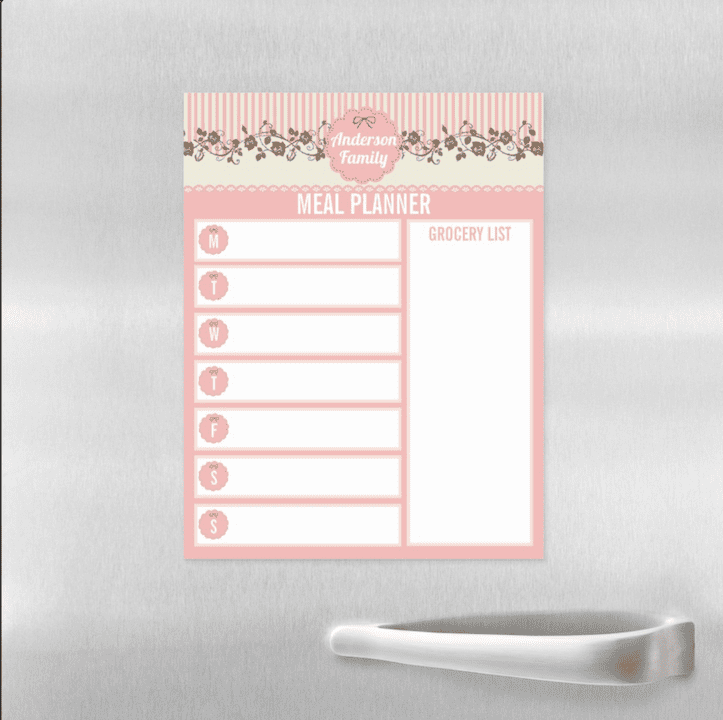 Reorganize your meal planning with a little help from this cute magnetic dry erase meal planner!
It is perfect for the fridge or any other magnetic surface and you can comfortably plan your cooking and shopping through the week. You can easily customize the family name and text.
Click through for the magnetic meal planner!
If you love this girly, floral design you will find in this collection also aprons for moms and daughters, mugs, recipe notebooks and binders, clipboards, dry erase boards, pencils, and many more.
Click here to see the complete collection on Zazzle.
5. Minimal "made with love" cake pan
Have a great appearance at any party with this cute cake pan filled with your yummy baked goods like wedding cupcakes, cookies, Birthday cakes, Christmas treats, Holiday sweets etc.!
The snap on lid is designed with a black scripted "made with love" and a cute little red heart. Personalize with your name and text.
Click through to this customizable cake pan!
6. Chic fluid marble kitchen towel
Style up any kitchen with this chic, new kitchen towel featuring a black, gold and white fluid marble design! Made of durable poly-blend, these towels are great for drying and will look vibrant with your gold scripted monogram and white typography name.
These machine washable gifts for chefs are made for a lifetime of use, look gorgeous and clean up well, too!
Click through to personalize this fluid marble kitchen towel.
7. Trendy monogram name rainbow glitter mug
This personalized colorful coffee mug makes every desk or kitchen complete. It is microwave and dishwasher safe and based on a strong, ceramic construction.
Customize this rainbow glitter mug with scripted initial and name for someone special, or treat yourself to a trendy design that brings you joy.
Grab your personalized mug here!
8. Stylish trivet with initial
With this high quality natural stone trivet, you can't wait for it to get hot dishes. It has a chic black and gold abstract design and a white monogram surrounded by a gold circle. Beautify your kitchen while keeping your surfaces safe at the same time.
This monogrammed trivet makes a great gift for so many occasions…. Anniversaries, housewarming, weddings, bridal showers, Mother's Day, or Christmas, to name a few!
Click through to add your initial to this elegant trivet!
9. Decorative cutting board with scripted name
With this custom glass cutting board you'll add style to your kitchen and entertainment areas.
It comes with a trendy blush pink abstract shapes design and is made with hand-pressed tempered glass.
Great for prepping and serving it matches any décor when printed with your custom name in black hand lettered script. This board is available in different sizes, and makes a perfect thank you gift for hospitality or housewarming.
Click through to customize your name on this stylish cutting board!
10. Pretty monogram name serving tray
Host in style with this pretty blush pink floral serving tray! Printed in full color, the monogrammed gifts for chefs come in two sizes with a natural or black wood finish.
Customize your typography name and scripted initial for a high quality serving tray that's perfect to match your décor or surprise your favorite hostess.
Click through to personalize your serving tray!
Head chef collection for him
I hope I could inspire you with my top 10 best kitchen gifts for chefs and cooking lovers. In case you are on the hunt for personalized kitchen gifts for him, please make sure to check my cool head chef collection!