In this week's challenge, quick and easy clean eating dinner recipes are in the spotlight. From this week on, you will know exactly what to make each day for dinner (at least when it comes to the main ingredients). Again, I will make this challenge so easy for you that you can't say no. Again all eaters are welcome, no matter if you are e.g. a vegetarian, pescetarian or vegan. The here presented smart ideas work for all of you.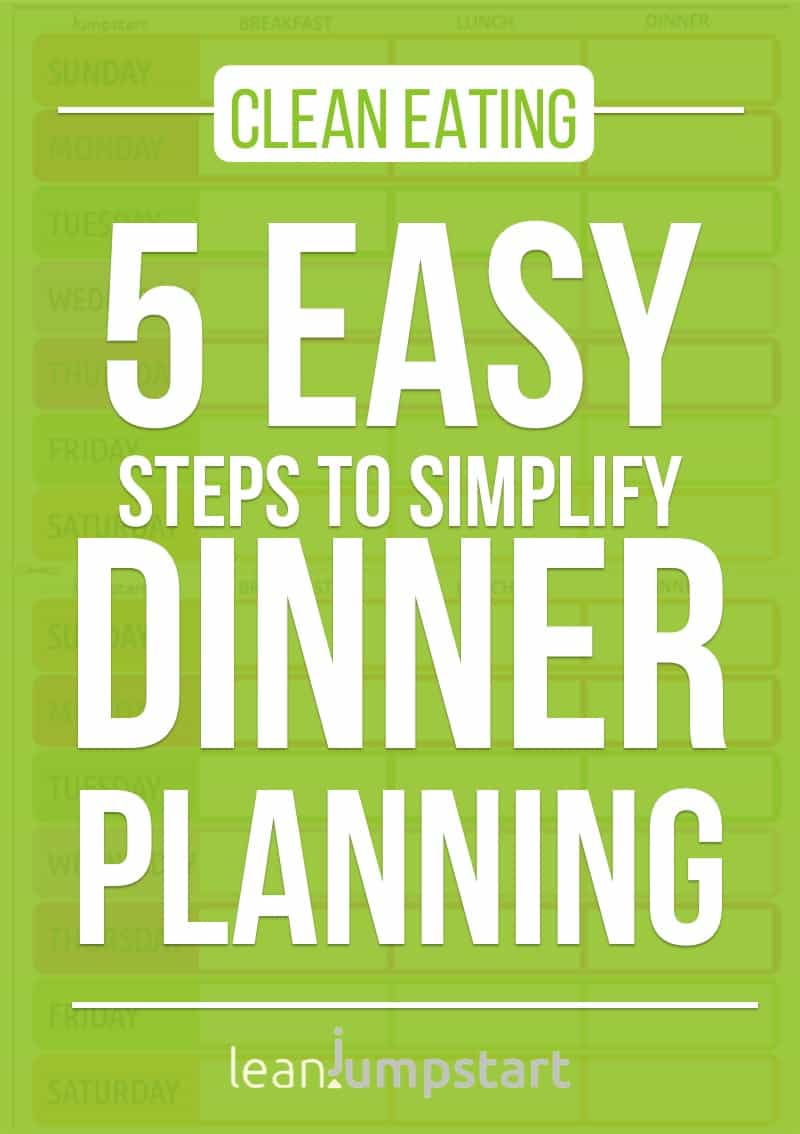 What to eat for dinner tonight?
If your family is anything like mine, the first question they ask when they come home: "What's for dinner tonight?" We've all been there. With today's busy schedules, you often do not think about what you be having for dinner until it's time to eat.
My 7-day clean eating menu will help you gain control, allowing you to spend more time with your family and less time worrying about healthy dinners.
Why does cooking seem so hard?
Simple dinner ideas promoted by the food industry promise you huge time and money savings. Many comments from you in my survey underline this idea. Here are just a few:
• Processed foods are so easy to grab and quick to prepare (most are already prepared).
• I work 8-10 hours in an office and commute an average of 3 hours a day. I find it difficult to commit to preparing complicated meals.
• I work full-time and have two kids that are very involved in activities so I am very busy. It is very difficult for me in the food department and we often grab quick meals.
Why home cooking is an important habit
First, I'm convinced that there's some strange thing going on between the food industry and all the crap they put in food; I think the pharmaceutical companies are manufacturing pills to "cure" us from the diseases caused by eating toxic food.
Remaining independent of the food industry and their processed food is the foundation of clean eating and healthy nutrition, but that doesn't mean that you should eat only self-baked bread and your homegrown vegetables. However, it is important that you know how your meals are put together.
The best way to fight against misleading marketing in your kitchen is a home-cooked meal. You decide what ends up on the plate. Your body will be grateful, satisfied, and even become leaner. On top of that, the cooking process itself makes you feel more full, meaning you eat less as a result.
I know from your early feedback that the habit of cooking healthy dinners can be tough to begin and continue. It actually involves many other routines at once. Again, I waited until now to go into this change because it is easier to get in the habit of preparing healthy meals for dinner when you've successfully implemented other routines.
9 changes that simplify your clean eating dinner meals
Eating more vegetables – week #3: By now you should hopefully get used to this keystone habit for successful weight management. You'll seldom find healthy meals for dinner that don't contain a big portion of high-fiber vegetables. Don't forget to also include starchy veggies like sweet potatoes, butternut squash or spaghetti squash.
Eat more whole grains – Week #8: Provided you have no gluten allergy or are sensitive to wheat, actively implement whole grain foods in your dinner.
Lean Meat – Week #17: Replace your fatty meat options like e.g. pork chops with leaner cuts or use protein heavy legumes instead.
Healthy Fish – Week #23: Include one healthy, low-risk fish in your meal plan once per week. I highly recommend salmon.
Eat more Legumes – Week #24: Legumes are great components for high-fiber meals that support weight loss. Make it a habit to incorporate lentils or beans in your meal planning at least once a week (better every day!). This could be as simple as a chickpea salad.
Cook a Steamed Dish once per week – Week #33: Cooking with a steamer is the simplest and best cooking method for vegetables, fish, and poultry.
Casseroles – Week #38: Casseroles or bakes are perfect for a clean eating lifestyle. Make it a routine to incorporate casserole recipes into your meal planning once a week.
Freezer Cooking – Week #39: Most healthy dinner recipes can easily be frozen.
Eat Quinoa – Week #47: Include the protein- and fiber-rich quinoa as a side dish or in another recipe once per week.
5 step habit change to make dinner planning stick (vegans included)
Below is a simple 5-step habit change that will help you automate your dinner planning. If you are eating plant-based then just replace all meat and fish recipe suggestions with one of these easy vegan recipes for beginners. For a nutrient-dense, high-fiber dinner I highly recommend to serve always a colorful salad as a starter. Click through to learn more about my favorite vegetable salad recipe.
In week 14, I showed you how to make a simple meal plan by relying on common sense. This week we push the envelope one step further.
1. Give each day of the week a special food focus
You want to make it a habit to implement as many above mentioned clean eating foods and components in your weekly meal plan as possible. This is best done when you give each day of the week a special clean eating focus. You will then derive easy, healthy meals for dinner based on your focus of the day. For example:
Monday: a meal with legumes, like lentils, black beans, green beans, peas etc.
Tuesday: whole grains or whole grain pasta with a vegetable sauce
Wednesday: steamed lean meat like chicken breast (or a vegan replacement) with vegetables or salad plate
Thursday: curry recipe with legumes and grains (gluten-free grains are buckwheat, brown rice or quinoa)
Friday: healthy fish (or vegan replacement) with a quinoa side dish
Saturday: soup or stew with whole grain bread
Sunday: casserole or bake dish
Planning your dinner with a special "food or dish focus" takes out much of the guesswork – and I love simplified approaches.
2. Plan a simple 7-day menu 
I've already done the work for you and implemented all above-mentioned foods and dishes in a simple 7-day menu with easy family dinners.
The words underlined are a link to the recipe on my website.
Dinner:
Monday: Red lentil soup with one slice of whole grain bread
Tuesday: Easy spinach artichoke pasta
Wednesday: Top 15 clean eating chicken recipes (or vegan replacement)
Thursday: Easy chickpea curry with grains
Friday: Steamed salmon with a quinoa side dish (or vegan replacement)
Saturday: Cabbage soup with 1 slice of whole wheat bread
Sunday: Baked cauliflower
You can use my simple weekly meal planning template for further planning.
3. Use a shopping list
Check the recipes and write down any ingredients you need for the dishes that you don't already have in your home. I suggest you make your own customized shopping list.
4. Stick to this healthy meal plan for a week
This week, train and try to stick to this healthy meal plan. If you want, you can adjust it to your preferences. If you have a slow cooker, make sure to use it!
Plan the following week accordingly and give each day of the week a special clean eating dinner focus using my suggestions above if they suit you. For example, I remember from my childhood, my mother made fish on Fridays – and I love to stick to this old family tradition. So on Fridays, we have most of the time fish with my best mustard potato salad.
For my vegan daughter, I have always some plant-based burgers at hand – like these delicious kidney bean burger. Maybe you want to include a family tradition in your meal planning too.
5. Reward yourself with safer cookware
When planning your dinner with a special "food focus" for several weeks, reward yourself with safer cookware, like a new ceramic pan – especially if you are still cooking with aluminum or Teflon cookware. Ceramic cookware is non-toxic and non-scratch – you cook evenly and it is easy to clean (e.g., Xtrema).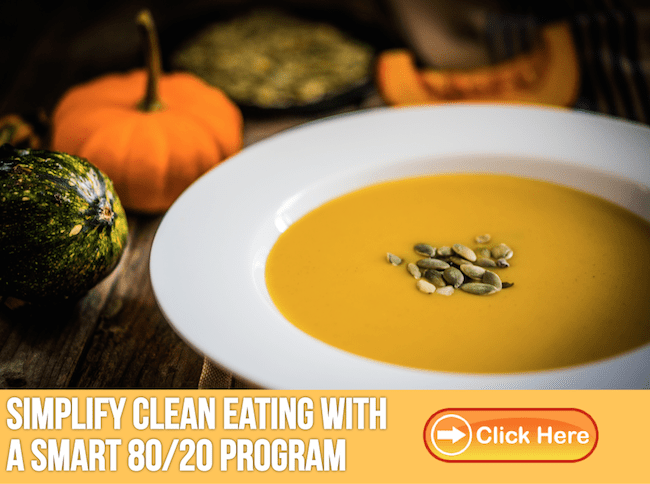 6 extra tips that support your quick clean eating dinner ideas
Shine your sink: If you are serious about home cooking, an organized kitchen is key to success. Develop this little habit: every night, clean off the counters, put your dirty dishes in the dishwasher, and swab and dry your sink until it's shiny.
Add healthy cooking oils to your kitchen: Try to consume no more than 1-2 tablespoons of healthy cooking oils per day. This is easily done with cooking habits or the daily routine of eating your salad with homemade salad dressing.
Clean eating soup recipes: If you need to lose some more weight, add a low-calorie, delicious vegetable soup as a starter before your dinner for successful weight management. Most of my soup recipes don't take you longer than 20 minutes.
Low sodium foods: Watch your sodium intake and replace your saltshaker with low- or no-sodium salt. Even better – use a pepper mill, red pepper flakes or a shaker full of herbs instead.
Healthy eating schedule: Develop regular eating patterns and try to have your clean eating dinner with your family always around the same time (e.g., 06:00 p.m. – 07:30 p.m.).
Spice up your life: Add the most effective spices and herbs for your health and weight management to your recipes whenever you can.
Leave comments below and tell me how you feel about the dinner suggestions. What are your favorite recipes?