For this easy chickpea curry recipe you just need a pan and 30 minutes. It is the perfect lazy dinner idea, especially if you have convenient chickpea cans in your pantry. Do you also want to know how chickpeas can help you with weight management? If yes, then make sure to read till the end of this blog post!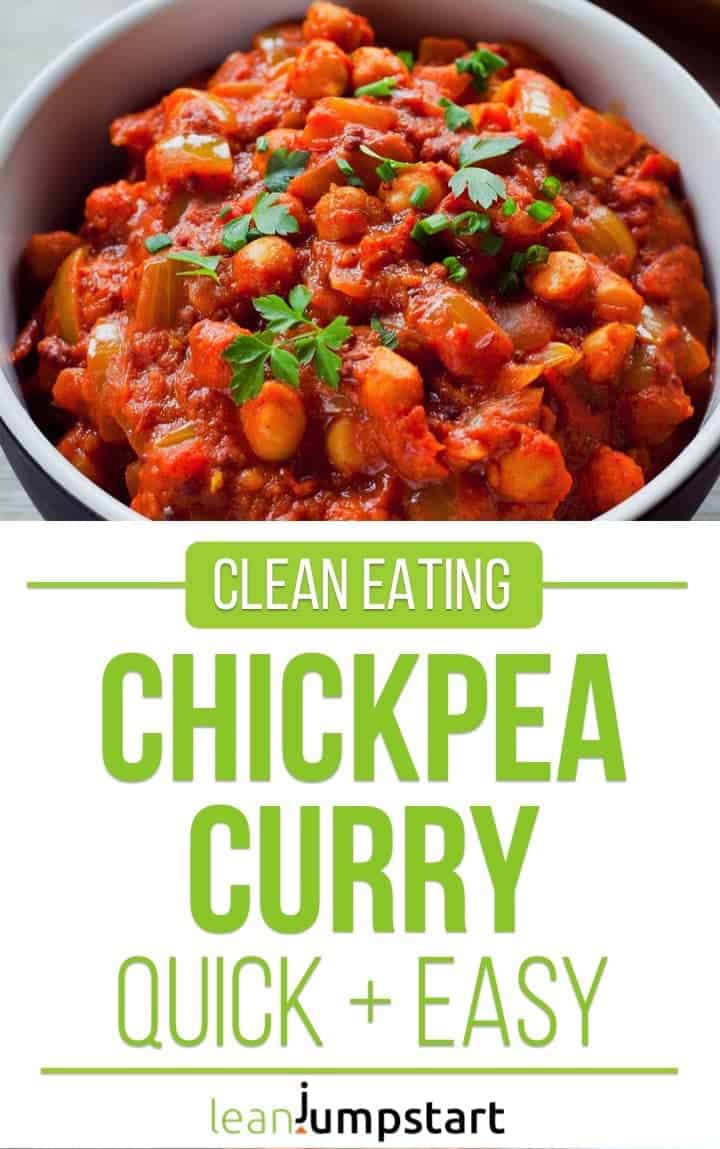 I hear you asking, but Gabi, are canned chickpeas really clean?!
Ok…here is my take on it.
Don't fall into the dogmatic "clean eating trap"!
There are many different styles of eating right. With my interpretation of clean eating I'm not following a strict rule or a dogma. When you follow a healthy eating theory or dogma rigidly, you're not aiming to satisfy yourself. Although the clean eating philosophy is based on unprocessed, wholesome foods, my 80/20 approach to clean eating allows me to take advantage of some nutrient-rich convenience foods. BPA-free canned beans, tomatoes or chickpeas – these items are all worth building into your grocery list.
In this context I love to repeat one of my favorite quotes:
"Don't let perfect be the enemy of good."
When you use some essential convenience foods in moderation, they add taste appeal and offer cooking shortcuts.
If you have the time feel free to cook chickpeas from scratch. But most of my readers are busy women over 40 with little time. They prefer quick and easy clean eating meals. A 100% clean chickpea curry would take them over an hour, not counted chickpea's soaking time (over 8 hours!) the night before…A 80/20 approach to clean eating prevents busy people from throwing the towel and order a stress free big pizza for dinner instead.
Complicated and time consuming clean eating recipes are one reason why some people can't stick to healthy cooking habits, crashing their best weight management intentions. Part of my mission on leanjumpstart is to simplify clean eating – that's why there will always be some room for convenience foods in my recipes too.
Ok, back to the easy chickpea curry recipe.
Easy chickpea curry – a taste revelation
Did you know that chickpeas get even more flavorful if you cook them up again in the sauce? I hope you guys love this vegetarian curry! It's creamy, savory-sweet, vegetable-packed, super satisfying, subtly spiced, delicious – and did I mention that it's quick and simple too?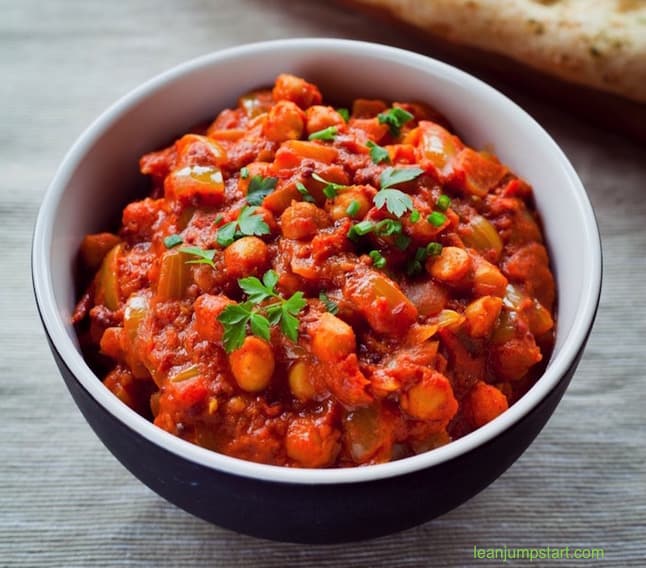 Easy chickpea curry
2017-07-10 09:13:49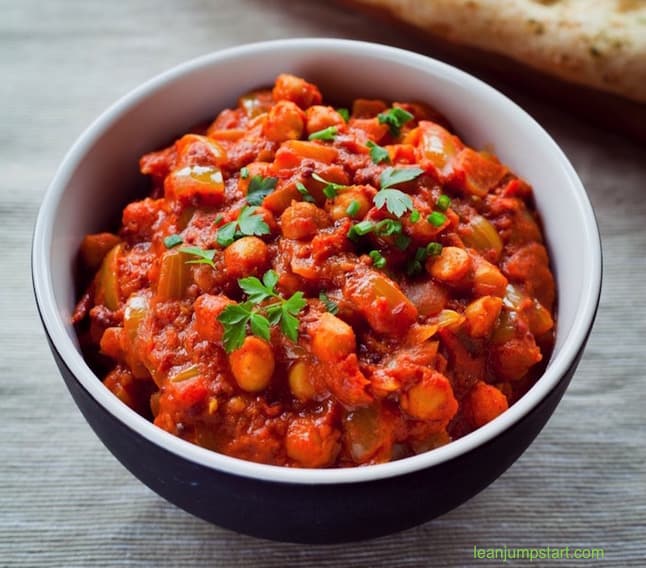 Serves 3
A lazy soulfood dinner
Ingredients
2 tbsp olive oil
1 teaspoon (5 ml) cumin
1 teaspoon (5 ml) ground turmeric
1 teaspoon (5 ml) Cayenne pepper flakes
2 medium onions, diced
2 cloves garlic, minced
1 2-inch piece fresh ginger, peeled and coarsely chopped
1 green pepper, diced
2 carrots, cut in cubes or slices
1 (14-ounce/398 ml) BPA-free can chickpeas, drained and rinsed
2-3 medium tomatoes in cubes (or 1 (14-ounce/398 ml) BPA-free can diced tomatoes, with juices)
1 (14-ounce/398 ml) (light) coconut milk (1 can = 1.5 cups)
1 cup vegetable broth
some salt and lime juice for seasoning
Instructions
In a large saucepan, heat the oil over medium heat.
Add cumin and toast for about a minute, until fragrant and lightly darkened in color (be careful not to burn them).
Stir in the onion, season with a pinch of salt, and cook for 3 minutes.
Add the garlic, ginger, turmeric and Cayenne pepper flakes. Stir to combine and sauté for a couple of minutes, until the garlic softens.
Add the green pepper, carrots, chickpeas, tomatoes with their juices, coconut milk and vegetable broth.
Stir to combine, cover, and simmer over medium heat for 20 minutes. (Mash a few of the chickpeas while cooking.)
Season with the salt and lime juice to taste.
Serve on a bed of cooked grains, e.g. brown rice or bulgur.
Notes
You can store the cooled curry in an airtight container in the freezer for up to 1 month or in the fridge for up to 4 days.
Leanjumpstart Clean Eating Habits https://leanjumpstart.com/
Power balls with great health benefits
More good news…Chickpeas are not only super yummy but also very healthy. The small "power balls" are members of the legume family which are rich in proteins and fibers. If you eat fiber-rich meals you feel more satisfied after your meal, which helps manage your weight in the long run. On top of that chickpeas contain iron and calcium. By the way, iron deficiency is the most common dietary deficiency in the world.
So, if you think you might have an iron deficiency, incorporating an easy chickpea curry in your meal plan from time to time might be a great idea.
How to follow an undogmatic approach to healthy eating
If you love the clean eating philosophy but prefer an undogmatic approach to healthy eating including cooking shortcuts then make sure to check out my 52 Chef Habits course. This Ecourse is especially for you if you are busy and want to lose weight with a simplified approach to clean eating.