In this challenge, you will learn why it is important to have some easy clean eating soup recipes on hand. If you are overweight, then this knowledge is crucial for you! I will also reveal to you my ultimate high-fiber recipe and why I think it is the most perfect idea for clean eating and weight loss! Again I've included a short "How to" video for you.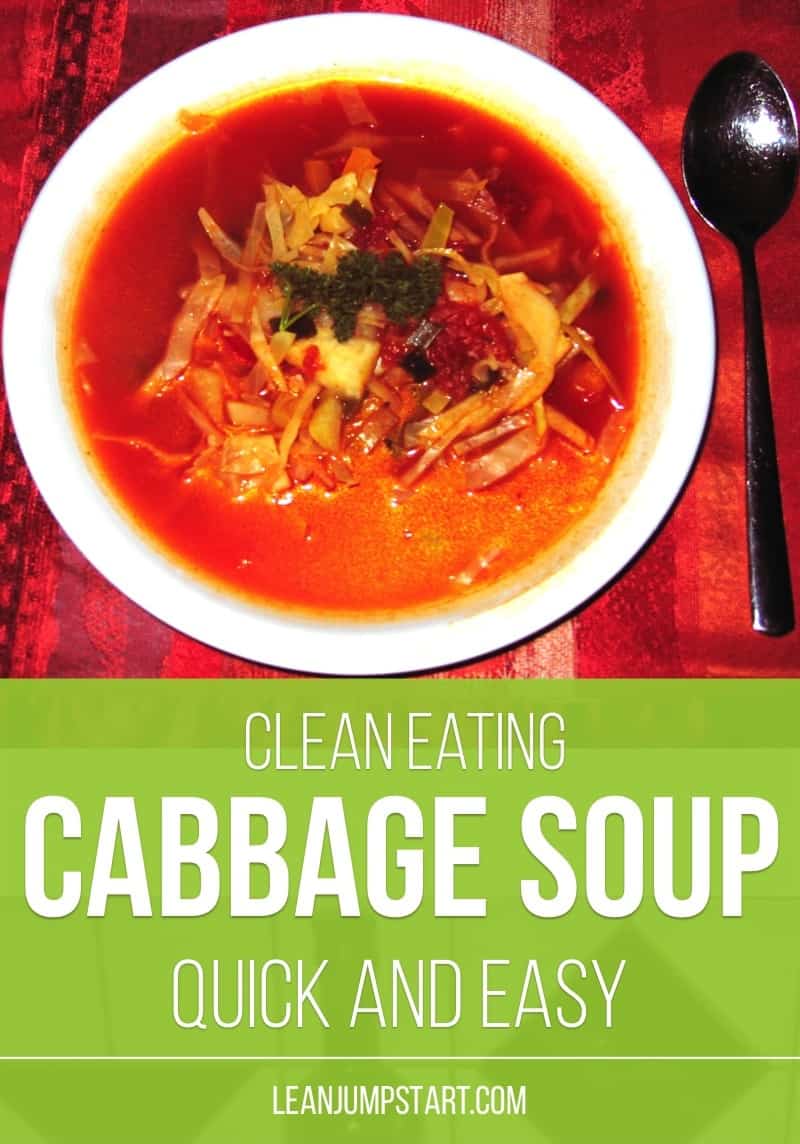 Two main reasons why eating soup regularly helps you lose weight
Have you ever said the following?: "I'll skip the soup because it will fill me up too much."
Clean soups as a weight loss aid should be taken seriously:
Dramatic satiety effect: It is much easier to cut down on your main course when it is preceded by a bowl of fiber-rich goodness. After having your starter, by the time the main course is brought, digestion has already begun, which results in the elimination of hunger.
Slows down the meal: The reason behind this is that soup is relatively complicated to eat. You need time and motor skills to consume it, which often causes people to eat less. This meal forces you to sit in order to eat comfortably. Plus you need a spoon and you are physically limited in the amount you can consume in each spoonful. It's not easy to gulp it down, and when you put it in a larger bowl, you often trick your body into believing you've had a larger portion.
Why cabbage is magic
People who followed my 52-week Clean Eating Challenge might know that I'm a big fan of cabbage. The 7-Day Cabbage Soup Diet was a big game changer for me more than twenty years ago. It not only helped me to shed some pounds successfully, but it was also a motivating catalyst toward healthy long-term nutrition. In fact, it is, in my opinion, one of the most efficient clean eating recipe ever.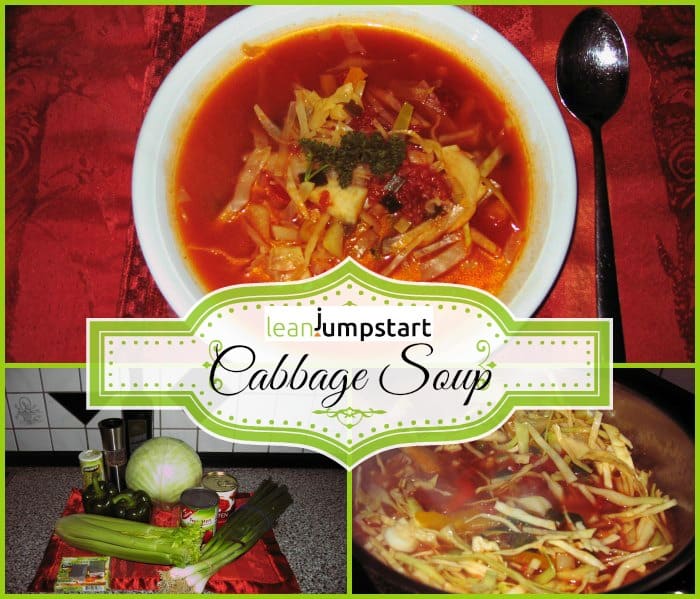 It was right after the seven days when the real magic began. I used cabbage soup as a starter before my regular meals whenever I could. This led, of course, to even more weight loss in the long run. What is more… it inspired me to a whole lifestyle change, resulting in my 80:20 clean eating nutrition regimen.
The typical gluten-free recipe uses vegetable or chicken broth (preferably low-salt) or water as a base with vegetables.
Although variation is important, those who eat simple become satiated quicker. That's why I avoid using a lot of different components in a meal or a soup. As a nice side effect, this smart approach saves me time and money too.
Cabbage is part of the Clean 7
The most important component of my favorite clean soup recipe is, of course, cabbage. The great thing about cabbage is that, even if it is conventionally grown, it will have the least amount of pesticides involved in their cultivation. You can save your money for organic versions of higher-pesticide fruits (like apples or strawberries).
Cabbage – the perfect vegetable for an 80/20 clean eating lifestyle
Cabbage is a vegetable you should always have on hand. With the use of different varieties and some forward planning, you can have cabbage pretty much year round. It is very affordable, clean, nutrient-dense, rich in fiber, low-calorie, super versatile and you can keep it for months in the fridge. Show me another vegetable that can compete in all mentioned disciplines!
Eating liquid as a starter is super effective
Many dieters will skip this important weight management tip, but the fact is, it is super easy to do, not to mention super effective! It may be that it just seems too simple when we have so much competing for information 'sold' to us by corporate weight loss organizations. Let's face it: the weight loss industry has no interest in letting you know it could be that simple.
Baby action-steps to automate your healthy habit
Add a tasty, low-calorie vegetable starter to your daily routine and you will lose weight in the long run.
Here comes a simple 3-step habit change that helps you to automate this healthy habit. You want to become the person who eats soup as a starter before your regular meal.
Step 1: Use your lunch or dinner as a trigger.
Step 2: Print out the WFPB (whole food plant based) recipe below or research other clean soups on the web.
Print
My Ultimate Cabbage Soup Recipe: Quick & Easy
Author: Gabi Rupp
Prep Time:

15

Cook Time:

15

Total Time:

30

Yield:

4

1

x
1

head cabbage

2

large green bell peppers

1

bunch celery

1

–

2

cans diced tomatoes (or

6

–

8

fresh tomatoes)

6

large green onions

34 oz

(

1

liter) water

3

–

4

cubes of organic vegetable broth (low sodium)
Instructions
Cut vegetables into small pieces and cover with water.
Heat it up and let it come to a boil. Add cubes.
Reduce heat and let it simmer for 10 minutes.
Season to taste with low-sodium salt, pepper, parsley, etc.
Notes
I picked this recipe from my cabbage soup diet 2.0 website. It is a great weight loss recipe to detoxify your body and shed some pounds in between.
Step 3: Develop the daily routine of eating your soup before your meal (lunch or dinner). Do it even on days when you allow yourself less healthy meals like chicken enchiladas or a pizza. It will enormously help you to cut down the portion of your main course. Your reward will be a smart and effective weight management system.
Soup on!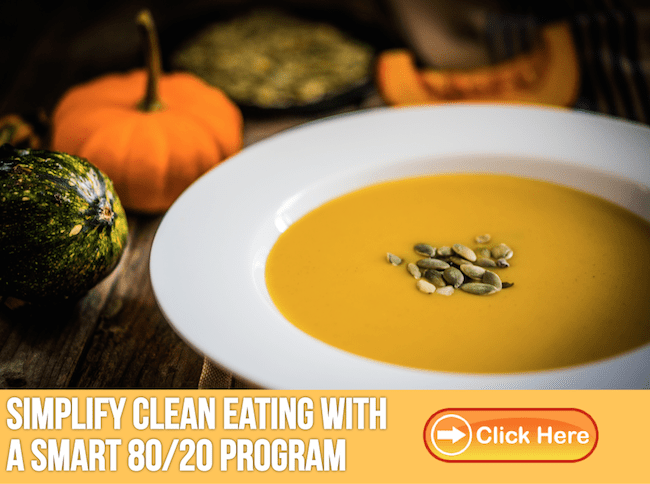 7 additional tips for a quick and easy meal
You can easily merge your cabbage soup into a main course if you add some chicken, crab, pasta, rice, beans or chickpeas to it and serve it with less broth.
Using a food processor to slice and dice the vegetables prior to cooking will speed up preparation.
Change texture through pureeing a portion in a blender (like e.g Vitamix, see below) and putting it back in the pot to thicken the dish.
This recipe is perfect for freezing. I recommend cooking the cabbage soup in large batches and freezing it for later meals.
If you don't like cabbage, replace it with broccoli, cauliflower or kale.
To avoid the flatulence that can be caused by cabbage, add a tablespoon cumin or caraway to your soup.
Don't know what to cook for dinner? Opt for a bowl of vegetable soup and a delicious salad combination. Here are seven other high-fiber soup recipes with:
So there we have it – a simple, yet effective strategy for sustainable weight loss.
Video: How to make my famous cabbage soup quick and easy
Check out my video below and learn how easy it is to prepare a mouth-watering weight loss meal. It is the same recipe I've published above but with a little twist.
To make the nutrient-dense high-fiber meal even more flavorful I've steamed the onions and peppers in some olive oil before I added the other ingredients. But you really don't have to make this extra step. It is for those of you, who love to cook the cabbage soup again and again and would like to have some flavor variation.

Make sure to subscribe to my Youtube channel for more videos to come!