Last Updated on January 25, 2021
I admit this leek and potato soup recipe is so simple and self-explaining that I asked myself before, if I should really publish the instructions. After cooking the quick easy soup and eating 2 bowls of it combined with my homemade whole wheat bread, I came to the conclusion that I should share this delicious recipe with the world.
If it can inspire only one person to cook it instead of opening a can of convenience soup, it'll make my day. I'm dedicating this recipe especially to all those people, who are still claiming that clean eating for them is too complex and time-consuming. With this chunky potato soup – which can be ready in under 30 minutes – the opposite is true.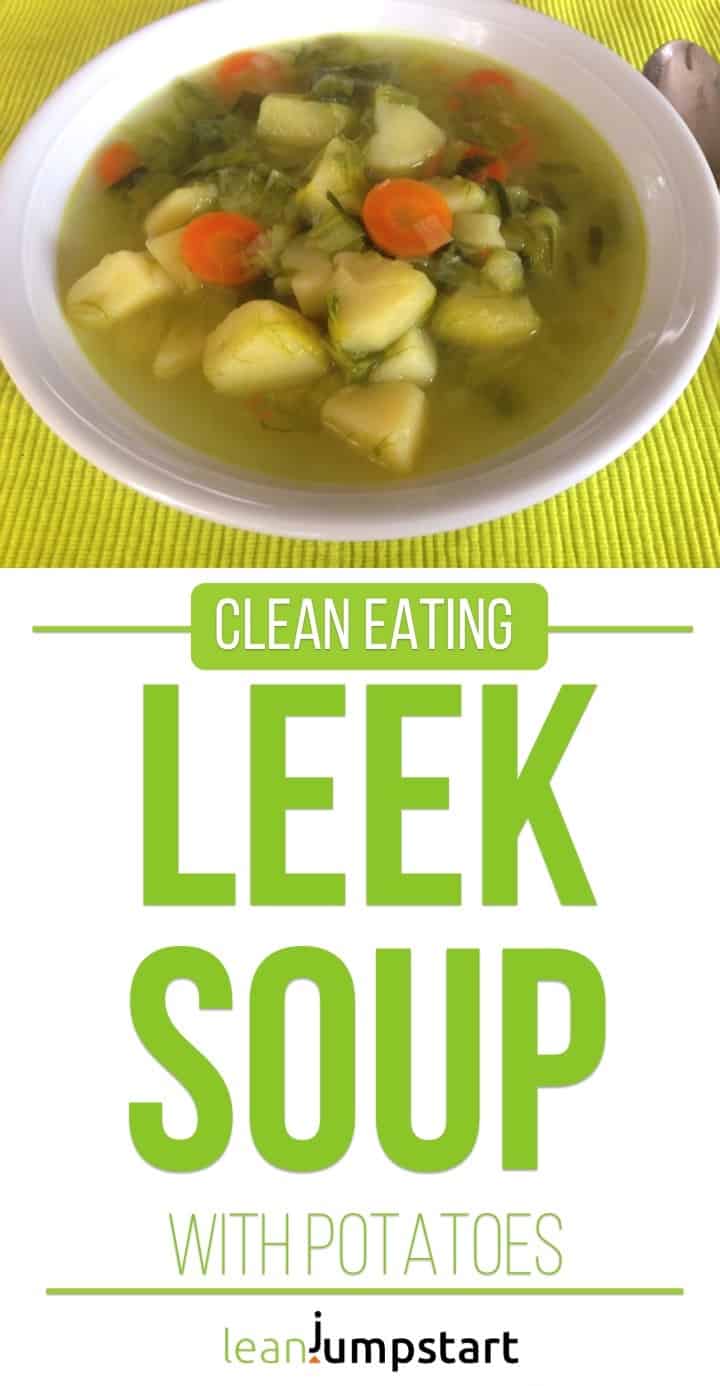 This simple leek and potato soup consists just of 3 main ingredients, you can guess them if you look at the photos: leek, potatoes and carrots, with leek playing the dominating role. Leek is together with onion and garlic part of the allium family, hence its aroma is similar to a mixture of onion and garlic, but milder in taste.
By the way,  you can get leek all year round. The summer leek is slimmer than the winter vegetable and in comparison it tastes a little milder and tender. I'll also add the top health benefits of leek at the end of this blog post. Hint: It is a great veggie to promote digestion and thus perfect for weight management.
That's what you'll need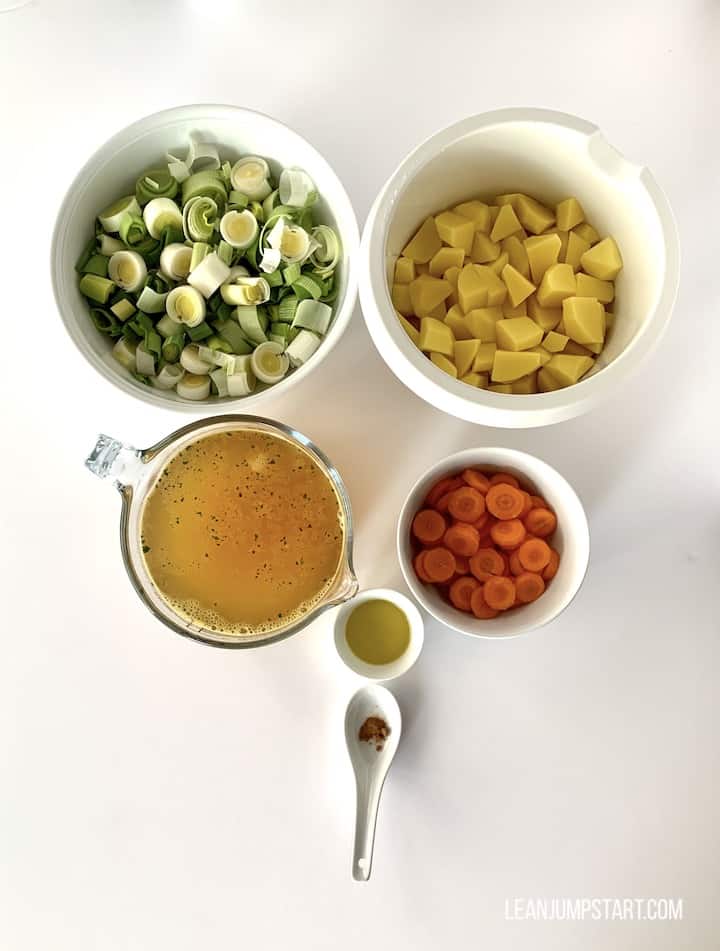 Ingredient notes
leek: Gourmet cooks recommend to use only the light and light green parts of leek for cooking. Not seldom sand and dirt collect between the leaves. But I'm using also some darker leaves from the inner part as long as they are clean. They give this plant-based soup a more intense taste and I love also the color contrast. It is best to cut the shaft lengthwise until right before the end of the shaft and rinse it thoroughly.
vegetable broth: if you can't get additive-free ant salt-reduced veggie broth, a great approach is to use homemade vegetable stock concentrate.
nutmeg: Besides of optional pepper and salt seasoning, nutmeg is the only 

season

 and I feel it is a great addition to the soup
Step by step photos
Step 1: Roast some leek and carrot slices in a bit of olive oil.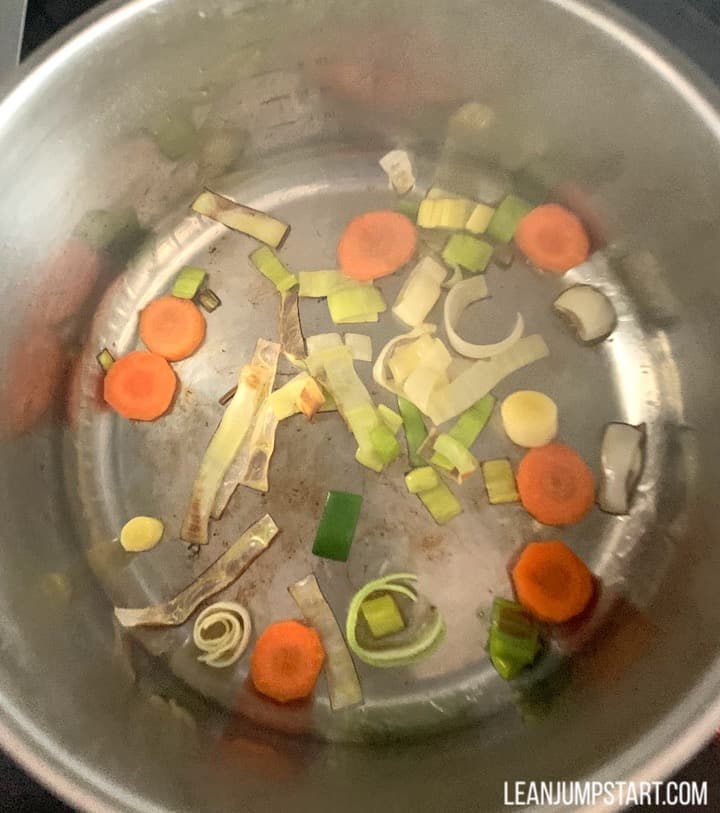 Step 2: Add the remaining carrots and leeks.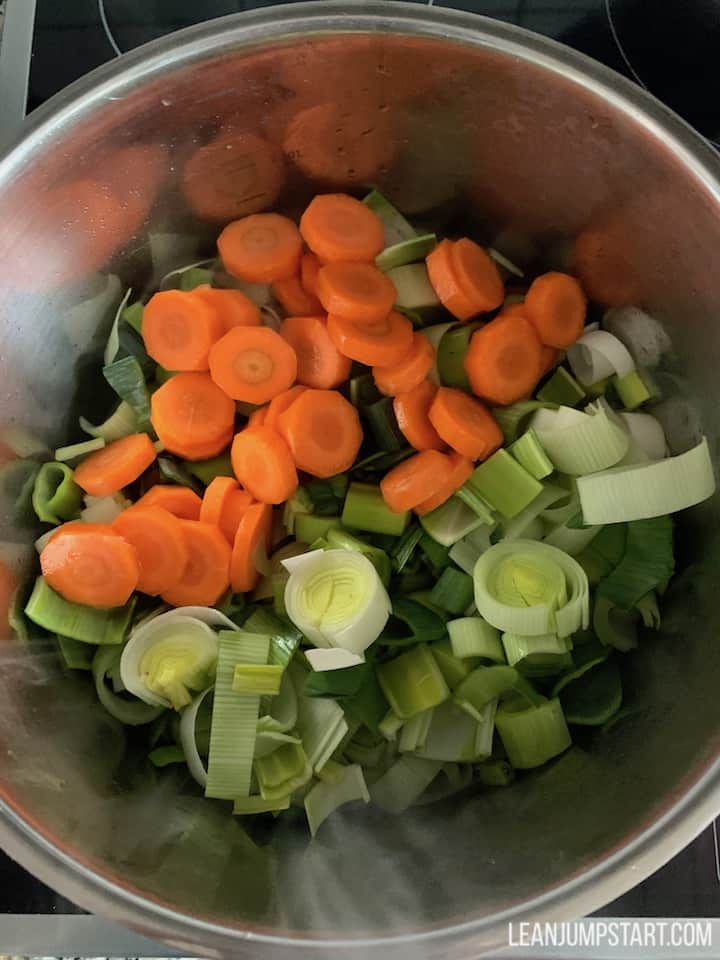 Step 3: Add the potatoes, broth and nutmeg. Bring to a boil, cover and let it simmer at low heat for 20 minutes.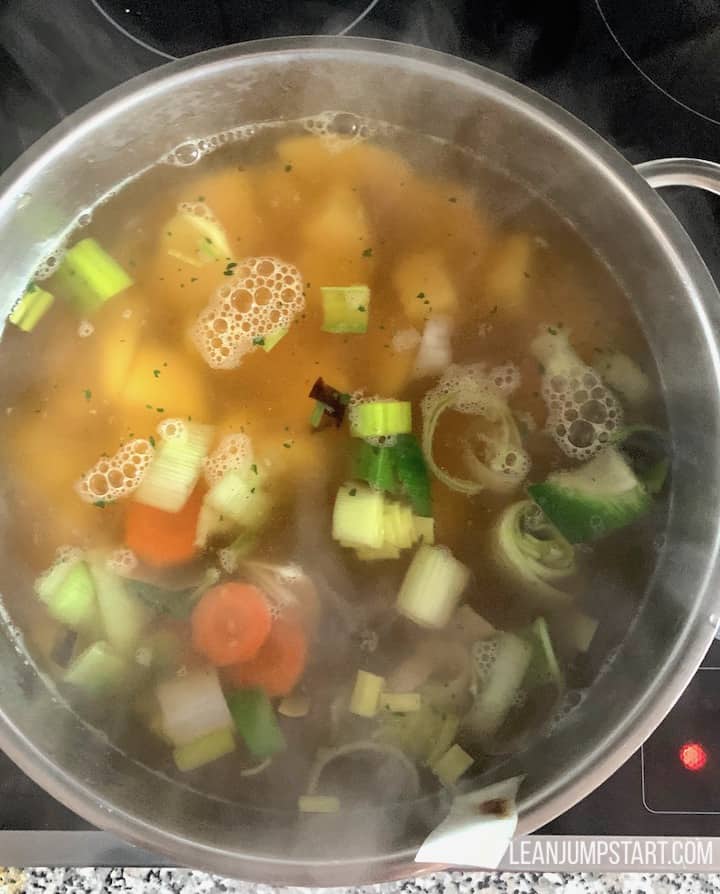 Serve it with whole grain bread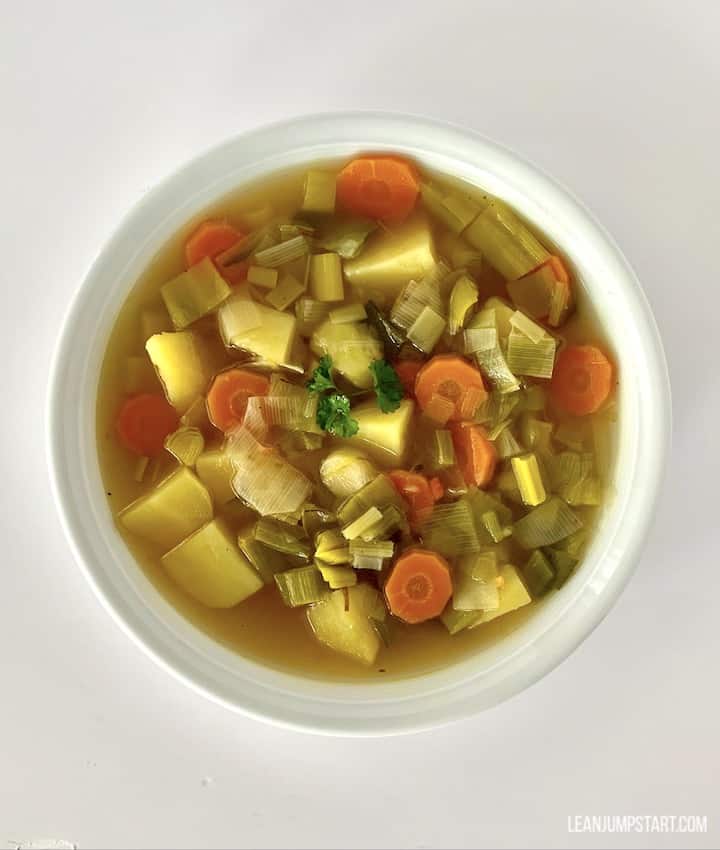 Here comes the full recipe.
Print
Leek and potato soup recipe
An easy and delicious one pot meal
Author: Gabi Rupp
Prep Time:

10

Cook Time:

25

Total Time:

35
400

gr./14 oz. leek, trimmed, rinsed well, and chopped in 1⁄4-inch-thick rounds

100

gr./3.5 oz. carrots, sliced

500

gr./18 oz. potatoes, cubed

1

–

2

tablespoon olive oil

1 1/2

liters/50 fl.oz. of vegetable stock

1

pinch of nutmeg
salt and pepper to taste
Instructions
Roast some leek and carrot slices in olive oil.
Add the remaining leeks and carrots, stir to coat with olive oil and let it sweat for 3 minutes, stirring occasionally.
Add the potatoes, broth, nutmeg, bring to a boil and let it simmer at low heat for 20 minutes.
At last season with salt and black pepper (optional).
Notes
I love to serve this simple leek soup just with slices of whole grain bread.

Top 5 healthy nutrients in leek
iron is among other things important for the generation of energy in the cell,
potassium plays an essential role in the transmission of impulses to the nerve and muscle cells,
vitamin C has a positive influence on many metabolic processes,
the sulfur-containing molecules in leek are supposed to promote digestion and have an anti-inflammatory effect.
Plus, the chemical kaempferol in leeks is associated with anti-cancer activity in all sorts of cancer cells
Leek soup for weight loss
The light clean eating soup offers many slimming benefits: it is good for warming up and makes you full and happy when your stomach grumbles. Due to its high water content it hardly supplies any calories. If you don't like cabbage soup at all then this low calorie leek soup could also make a perfect starter before your regular meals. Thanks to its satiating effect you won't go overboard with your main course.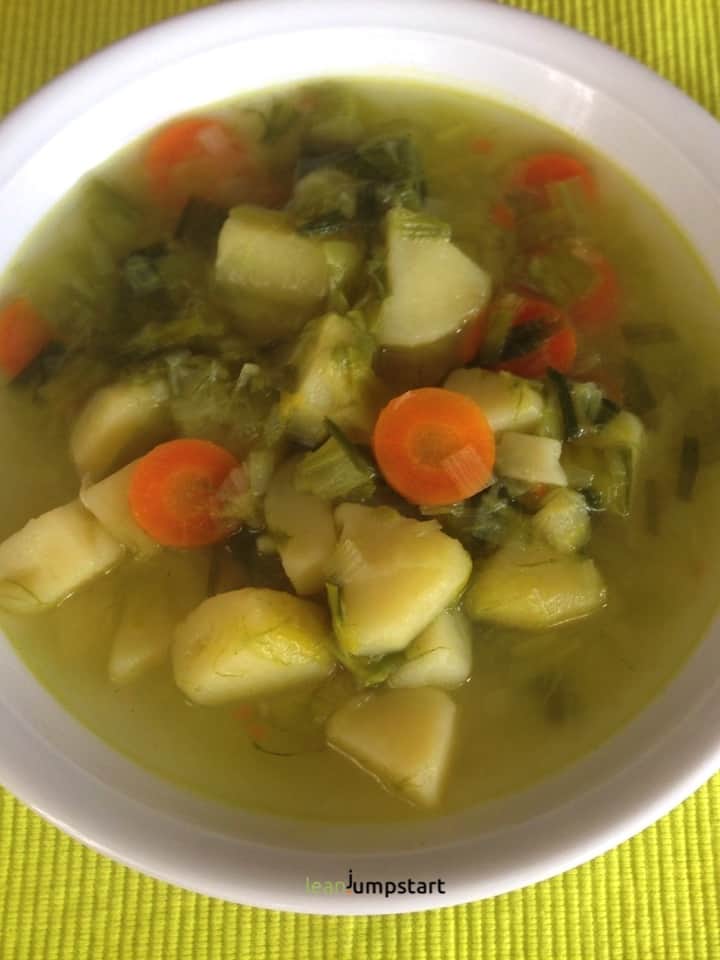 The top 2 anti-cancer vegetable
And if this is not enough to convince you, maybe the research from Dr. Michael Greger does. When it comes to anti-cancer properties, some vegetables are more beneficial than others. In fact he could find out that leek is right after garlic the number 2 top vegetable most adept at blocking human cancer cell growth in a petri dish.(1)
Overall he highlighted 2 super food classes: allium vegetables and cruciferous vegetables. Let's pretend you want to consume vegetables with the highest anti-cancer properties. In that case allium vegetables and cruciferous vegetables would be on top of the list.
Isn't this reason enough to not only keep my easy soup recipe handy but also to cook it for your next meal?