This is the perfect recipe for your veggie leftovers. This raw vegetable salad recipe that you could eat with a spoon is on my meal plan each week. I love the fact that it never gets boring as it never tastes the same. It is quick, easy and comes out almost like a surprise. Again I've included a short video tutorial for you.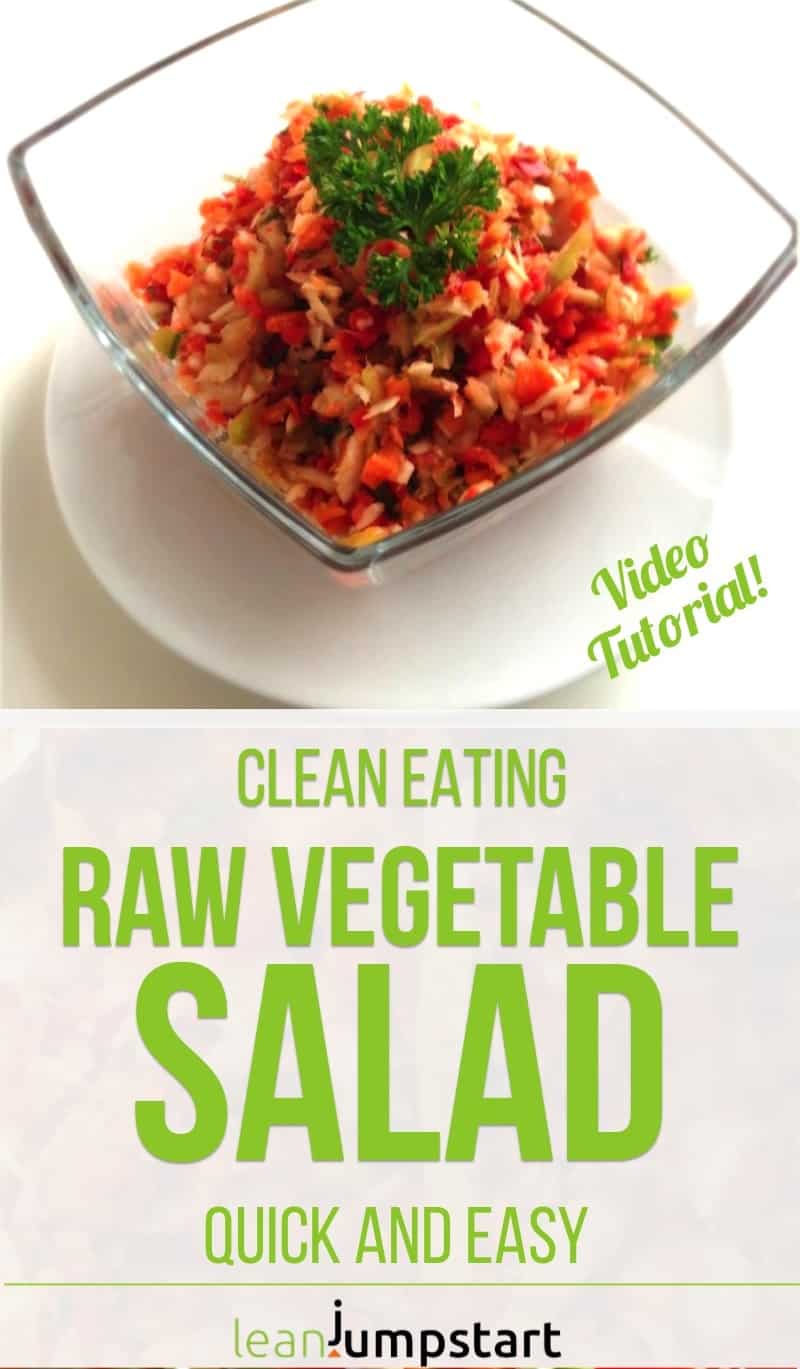 I never plan for the exact ingredients but the recipe depends on the vegetables left in my pantry. It is full of great flavors, colors, and textures, featuring raw vegetables of the season and a healthy dressing. This is also perfect for any holiday meal: you can let it stand and it stays crisp.
Print
Chopped vegetable salad recipe
a delicious vitamin bomb with leftovers
1

–

2

medium carrots

200 g

raw cabbage

100 g

leek

1

medium red capsicum
small bunch of parsley (put some aside for garnish)
dressing
1

–

2

tbsp olive oil

2 tbsp

lemon juice
some salt, pepper
Instructions
Place all ingredients in your food processor bowl and chop according to your preferences.
I'm using my beloved Thermomix and chop it for 5 seconds (speed 4)
Garnish with some parsley
Notes
Variations: you could use most raw vegetable types although some work better than others. Highly recommended for this clean eating salad recipe are all "sturdier" vegetables. E.G those from the cabbage family (Chinese, red, napa, savoy cabbage) but also fennel, celery, cucumber, kale, red beets, (spring) onions, radishes, zucchini, bell peppers, and even the softer tomatoes work great.
On weeks when my vegetable supply is almost depleted I even add an apple to this salad to add some volume. Especially celery is a wonderful addition.
Try to cover the different colors of the rainbow with this versatile clean eating recipe. Make sure to use for this chopped veggie salad the freshest seasonal vegetables your grocery aisle or farmer's market has to offer.

Watch my video above on "How to make my best vegetable salad quick and easy"
…and don't forget to subscribe to my Youtube Channel for more videos to come, if you haven't yet!
VEGGIE SALADS YOU MIGHT ALSO ENJOY: