Last Updated on January 6, 2019
This quinoa salad recipe with red beans and cabbage enables you to create a clean meal with a high satiation effect. On top, it is a wonderful lunch idea you can take with you to the office.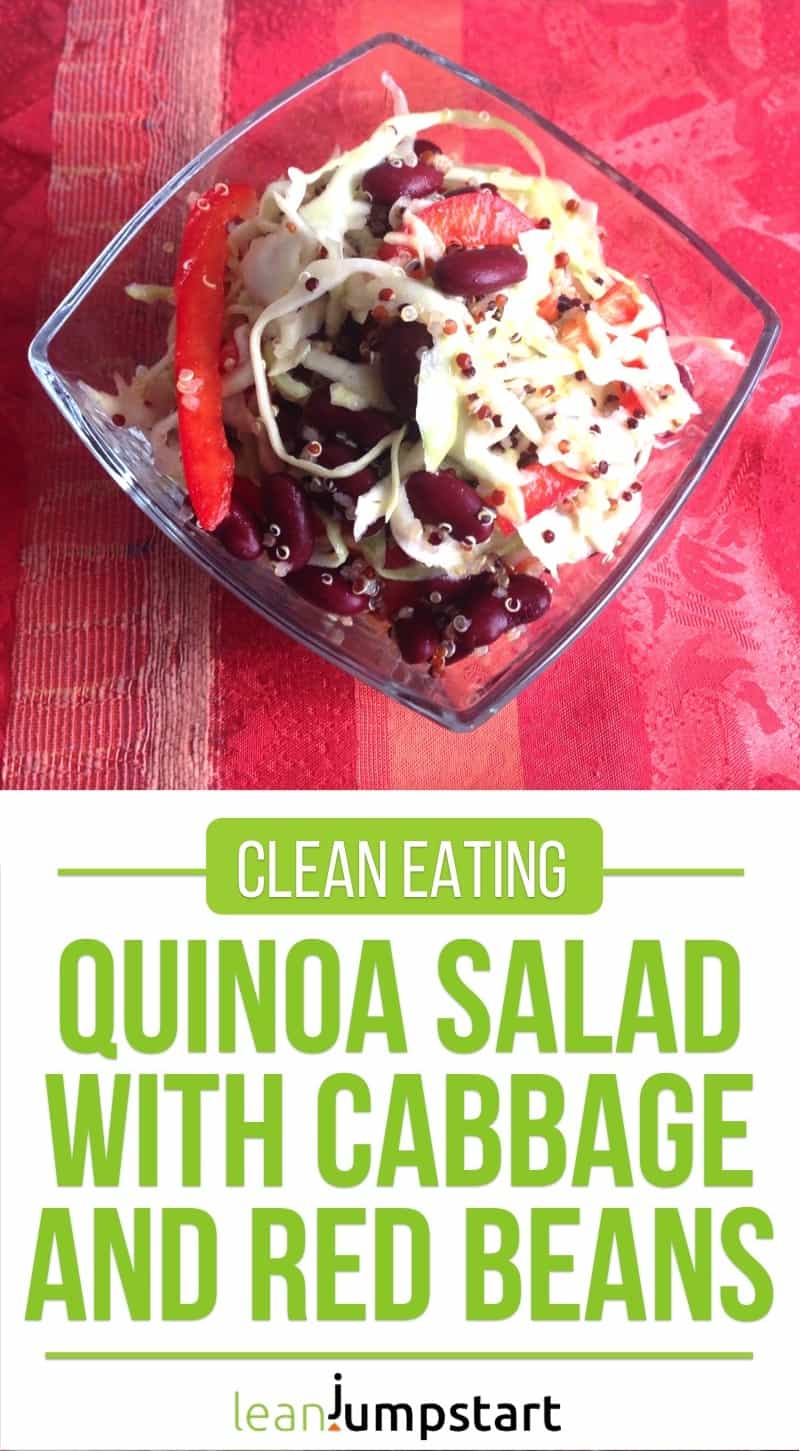 Quinoa is a genuinely healthy and a particular protein-rich alternative to pasta or rice.  Did you know that it supplies also a higher mineral content in comparison to conventional grain types? Find below my favorite organic picks on Amazon.


A quinoa bean salad recipe with a double portion of protein and fiber
We all know quinoa as a great source of valuable protein and fiber. Together with the protein in fiber-rich red beans, this salad is a nutrient-dense "protein bomb" that can stand on its own. Try out the following easy recipe – with healthy cabbage and red beans it is for me a typical winter salad.
Print
Easy quinoa salad with red beans and cabbage
A wonderful salad with high satiation effect
Author: Gabi Rupp
Prep Time:

10

Cook Time:

15

Total Time:

25
1 cup

quinoa, uncooked (you can use white quinoa or a blend of white, red & black grains)

2 cups

water

1

can red beans, drained and rinsed (you can also use black beans)

2

medium onions, chopped

1

red bell pepper, finely chopped

1/2

head of cabbage, finely chopped
Dressing
:

3 Tablespoons

lemon juice

2 Tablespoons

olive oil

2 teaspoons

garlic, minced

1 teaspoon

sea salt

1/4 teaspoon

black pepper
Instructions
Cook quinoa in 2 cups of water according to package instructions, (usually about 15 minutes). Fluff with a fork and allow to cool.
In a large bowl, combine grains, red beans, red pepper, cabbage, and onion.
Mix all dressing ingredients (lemon juice, olive oil, garlic, sea salt, and pepper) until well blended and pour over the salad, tossing to blend.
Serve it immediately or allow it to sit in your fridge for an hour to develop taste.
Notes
Tipp: Serve on lettuce leaves or stuff into whole wheat pita bread.
If you don't have quinoa you may want to replace it with millet.
 Learn more about Quinoa!
When you look at quinoa's versatility and the many health benefits you maybe understand why I feel quinoa should be a staple in every kitchen. That's why I dedicated a whole week's clean eating challenge to this superfood.
If you have a hard time to tolerate whole grains then quinoa again is your best choice. Get below even more ideas for high fiber foods.
Recommended reading:
Do you know some tasty quinoa recipe ideas too? Feel free to share it with us below in the comment section.
Another creative cabbage recipe
Most of you know that I'm a big fan of cabbage not only because it is super healthy but also because you can store it in your pantry or fridge for several weeks. While most of my vegetable supply is depleted quite quickly it is always a bit of cabbage left I can use to "pimp up" any clean eating recipe. Did you know that cabbage, wrapped in a mold kitchen towel keeps fresh in the crisper department of your fridge for several weeks?