In this week's challenge, some easy healthy party food ideas and smart strategies are waiting for you. They will help you to survive each party season.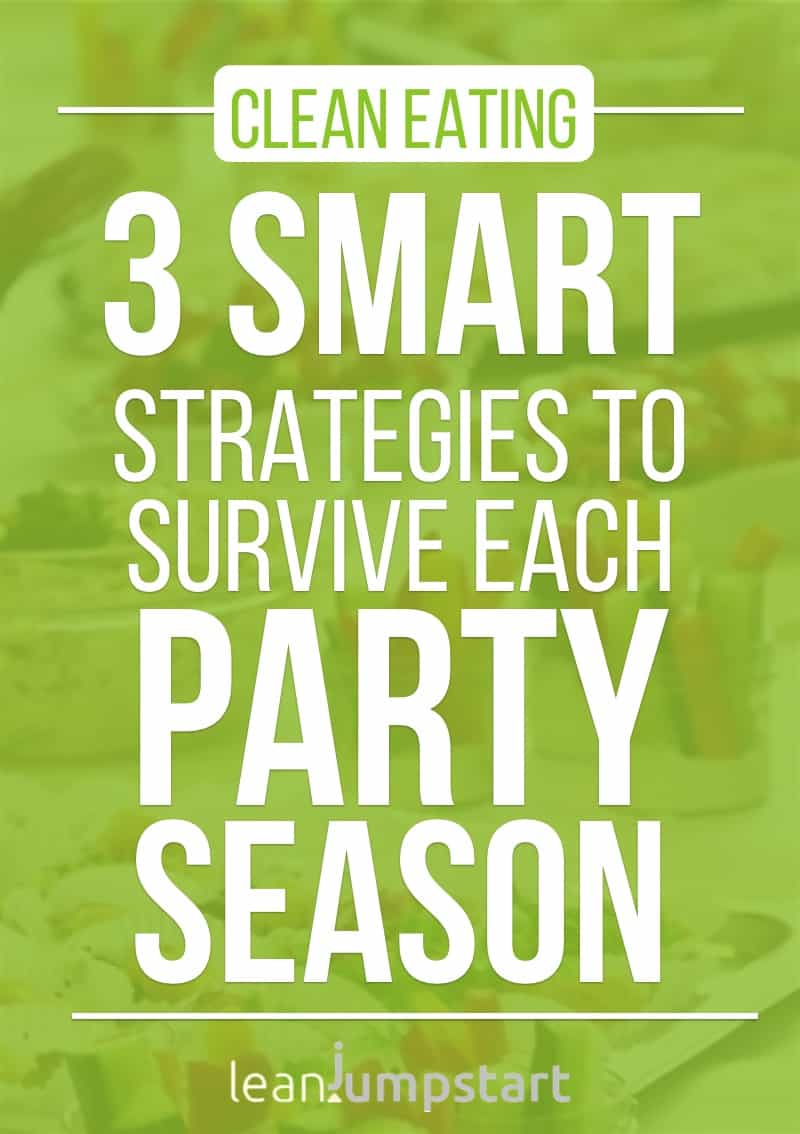 No matter what season you probably have always a number of special celebrations marked on your social calendar. Whether at bridal showers, weddings, birthdays or graduation parties, there's no reason you can't celebrate life's highlights with family and friends while sticking to a clean eating meal plan.
Those events are in general a good exercise for you. You can verify how deep your clean eating changes are already implemented.
In this week's challenge, I present to you three smart strategies you can apply during parties (depending on your individual situation). The third strategy is a very drastic one and is only recommended if you are sugar addicted.
Strategy 1: Bring clean food with you
An elegant way to survive the party season is to plan ahead and let your hosts know of any preferences that you may have. This is especially important if you have a medical condition, are diabetic or are vegetarian.
Offer instead to bring a food gift with you as a goodwill gesture. As a side bonus, your hosts will appreciate it. For example: bring a clean eating salad, a skinny dipping sauce or a healthy food tray. I will share with you some easy appetizer recipes below.
They both make a beautiful gift for the coffee or buffet table – and by bringing your homemade clean eating goodies, you make sure that you can have a healthy treat too. It's very likely you won't even need an explanation because nobody will say anything as long as you are eating…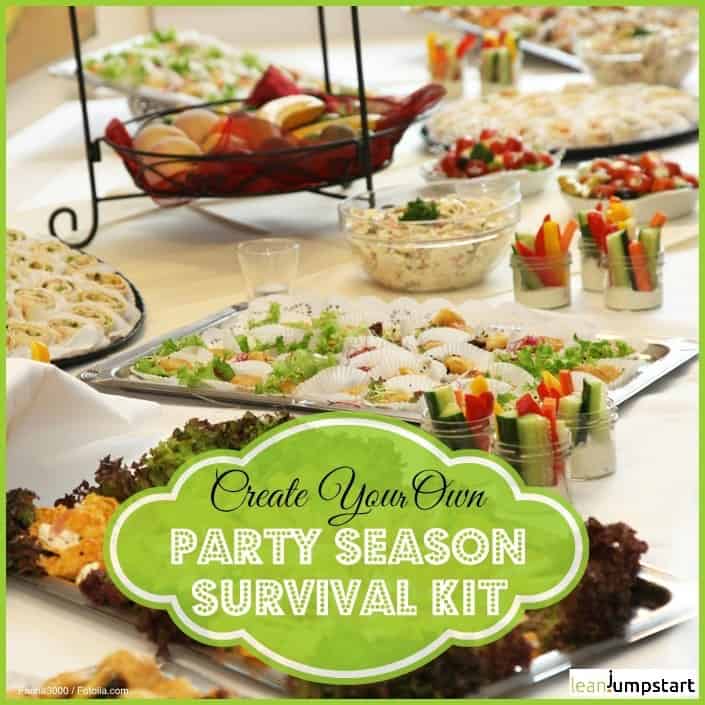 Strategy 2: The 80/20 clean eating approach
This is the principle of the 52-week clean eating habit challenge. We just aim for 80% clean eating while 20% is reserved for optional diversion from the concept. After the diversion, you continue with your clean eating habits and everything is ok!
With this strategy, it's important that you just focus on building the identity of someone who never repeats an unhealthy habit twice. Let's say you can't resist a piece of delicious cake at the party. If you eat another calorie-rich cake, right afterward, or even the next day you might starting to build a habit chain in the wrong direction.
But just one wisely chosen delicious indulgence over a span of one or two weeks is just a small setback. Remember: it takes more than one swallow to make a summer.
There are, however, limitations to this strategy, especially if you were sugar addicted and managed it to become sugar-free for a long period of time. Maybe you followed my four-week action plan to give up sugar totally. This is great!
In that case, it would be quite risky to eat that sugary dessert or cake. This one slice of cake might just be the trigger to provoke even more sugar cravings.
Very soon you'll find yourself back in trouble with sugar all over again. If you are a "sugar junky," then the third strategy might be smarter for you.
I'm not advocating this third approach.
I'm lucky that for me the strategies 1+2 work very well. But I know some of my readers who are using strategy 3 successfully as well. If you are really sugar addicted, you might need more drastic means to combat your addiction.
Strategy 3: White lie with a serious grain of truth
So here is the typical situation: your host is offering you a piece of a proudly presented birthday cake or a long-labored sweet. How can you graciously decline it? It's exhausting to explain that you are on a weight loss or clean eating diet.
You risk that your host will offer you "just a small piece." And, you guessed it already: refusing that cake might be seen as rude.
Even worse: your host might come back excitedly with a low-fat cake consisting mainly of highly processed sugars and starches.
In that case, saying "no thanks, I will just have coffee" doesn't really work.
You think you have no chance to survive this type of scenario? Do you feel there is no way to escape both sugar and starch free?
Sure you can!
There is one explanation that is always accepted without objection and it is not even a lie.
"None for me, thanks. I'm sensitive to sugars and starches. But the cake looks really yummy."
or
"Oh, that looks delicious … but I'm watching my sugar intake for health reasons."
Just keep the explanation as brief as possible.
A disease is always accepted. Allergies are nowadays very common due to global malnutrition and bad eating habits. Nobody will "gawk" or feel offended. And, it is just a "white lie" with a serious grain of truth.
One in three people, or 103 million Americans, experience sugar sensitivity. Another one in three Americans may be gluten sensitive. That means that the majority of the US population is latent sensitive to highly processed starches and/or industrialized sugar. But most just don't care.
This kind of short but friendly decline spares you follow-up discussions, treats your host with respect, and leaves everyone happy.
Just remember not to contradict yourself at a later party…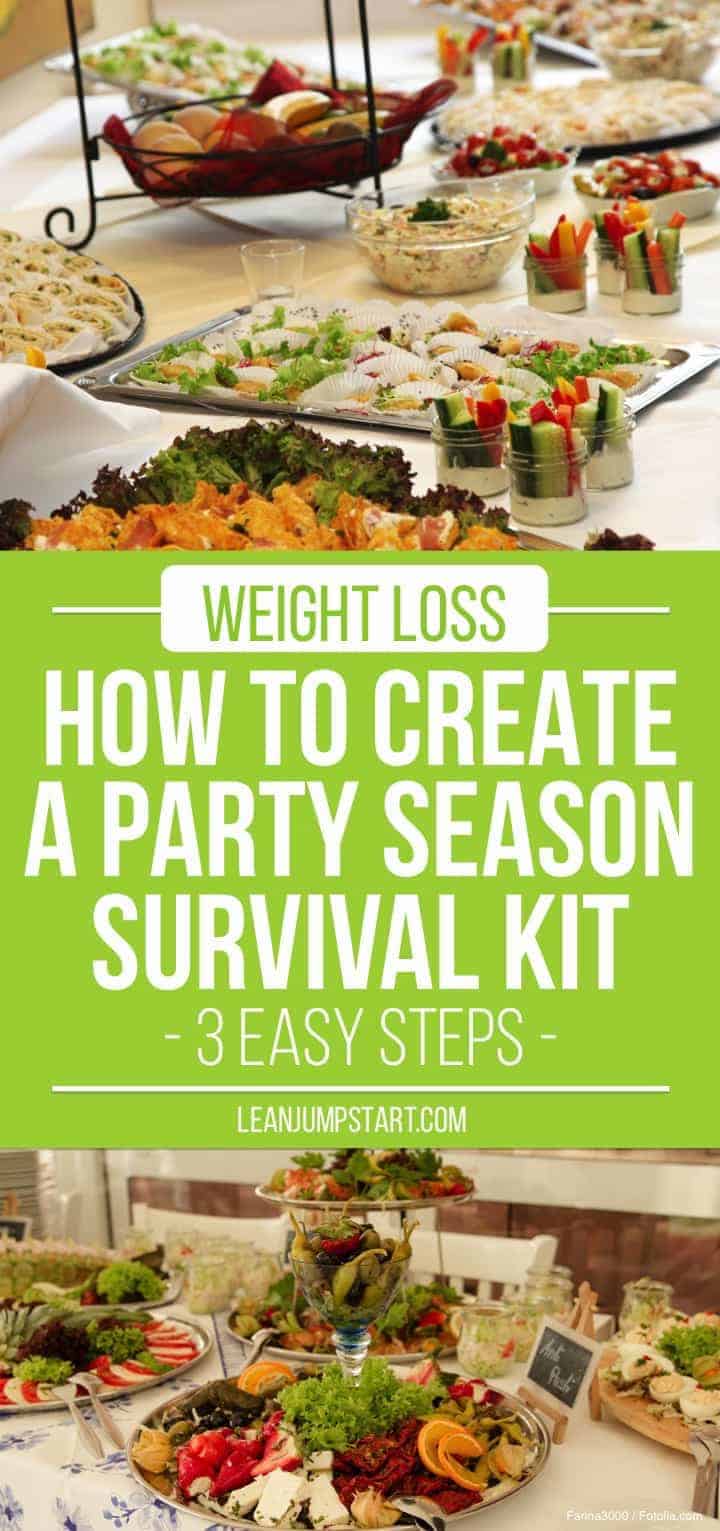 3 easy steps to create your individual party season survival kit
Use as trigger a future invitation or party. Be prepared for typical party appetizers like nachos, pita chips or pork skins to be waiting for you to grab them unconsciously. Being the cheapest and most convenient snacks, these salty finger foods seldom miss any party.
Determine in advance how you will follow the first strategy and what clean eating food to bring to a party.
Choose one of the recipes below or research another one on the web and print it out. Here are my best healthy party dips, salad, skewers, and other food ideas:
– Cowboy caviar
– Tomato mozzarella skewers
– Balsamic grilled mushroom skewers
– Clean eating raspberry muffins
– Easy artichoke spinach dip
– Baked sweet potato toasts
Prepare the healthy food according to the recipe and bring it with you. That way you make sure that you can eat at least one thing at the celebration that is clean. If you can't bring something with you, I recommend the 80/20 approach. At the party, eat various, plant-based high-fiber foods until you are almost satiated (below you'll get a few tips). This prevents you from unhealthy snack attacks. Avoid fatty dips like sour cream or cream cheese. If you want to close with something sweet, indulge wisely with your favorite cake or dessert treat. Just make sure you don't go overboard or add other treats in a row. Pay attention to how you feel about it. Is it working or does the "one treat" trigger more indulgences?
Are you sugar addicted? Then you may want to try strategy 3 with the help of a little "white lie." In this challenge, it's all about testing and finding your best party food strategy. Once you find it, stick to it as your individual survival kit!
Have you found your perfect strategy to omit junk food? Then it's time to make yourself a useful gift. How about a beautiful compartment tray that allows you to prepare an eye-catching healthy food platter? The next event is already waiting for you around the corner…


7 additional party survival tips
Here are some more tips that can help you to succeed with your weight management in spite of parties and invitations.
1) Integrate the event in your meal plan
You probably know the date of a special event at least a few days before. This gives you room to plan it actively into your meal planning.
Don't starve yourself. On the day of the event, you could have just a plain yogurt with fresh fruits as breakfast and a vegetable soup for lunch.
2) Resist calorie-rich meals at buffets
Usually, a buffet consists of many different foods and dishes. It shouldn't be a problem to choose clean eating food that is low in calories.
Be sure to include bigger portions of vegetables or salads on your plate as well as whole grains, like quinoa or brown rice, lean protein, including seafood or grilled chicken.
3) Something sweet for dessert?
A great alternative to sugar-loaded desserts is fruit salads, yogurt parfaits or fruit popsicles – even if the 80/20 approach works for you. Maybe you share your dessert with your partner? For me, often an espresso is enough after an extensive meal from a buffet.
4) Beverages
Be aware that alcohol prohibits fat burning and boosts your appetite. If the drinking culture at the cocktail party expects you to consume alcohol, then a spritzer or an alcohol-free beer could be the best alternative. If you are thirsty, water is your first choice. Drink a sufficient amount of water during the event.
5) Are you full?
Eat consciously, savor your meal, and pay attention to your satiety feeling. No need to empty your plate at restaurants or invitations, even if you were taught as a child to do so. Instead, praise the meal, rave about the fine flavor nuances and the wonderful coordination of ingredients (but only if you really liked it). In that case, the hosts will forgive you if you leave a little left on your plate.
6) There is more to enjoy than food…
Try to relax and not to focus all the time on food and their calories. There is so much more you can enjoy at parties instead of food – the atmosphere, good company, creative decoration, music, etc.
7) Moving helps
Get into the music! Maybe there is an option to dance after the meal. This is not only fun, but it is also a great way to burn part of the eaten calories. If you don't like to dance, then going for a walk around the block or walking home is great exercise too. Fresh air and movement boost your metabolism and body's ability to burn fat.
What strategy works best for you when you are invited?
Please share your best party season survival tips with us. Do you have any quick and healthy food ideas? Let us know in the comment section below!