Last Updated on November 4, 2020
Do you also love barbecues and grill parties? I enjoy especially the kind of summer get-togethers that offer a huge salad bar. When it comes to grilled meat however I could perfectly go without it as long as there are enough salad variations I could snack.
There is however a mouthwatering exception that could magnetically attract me to the backyard grill. Today I present to you delicious Balsamic grilled mushroom skewers.
Not sure if it is a gender issue but over the years I realized that many women prefer to gather around the salad bar over the backyard grill. How about you?
In most families I know, it's often a "men only area", when it comes to outdoor cooking. Wouldn't it be great if you could hand over some yummy vegetarian skewers to the grill master you can be sure many – especially vegetarian guests – would enjoy?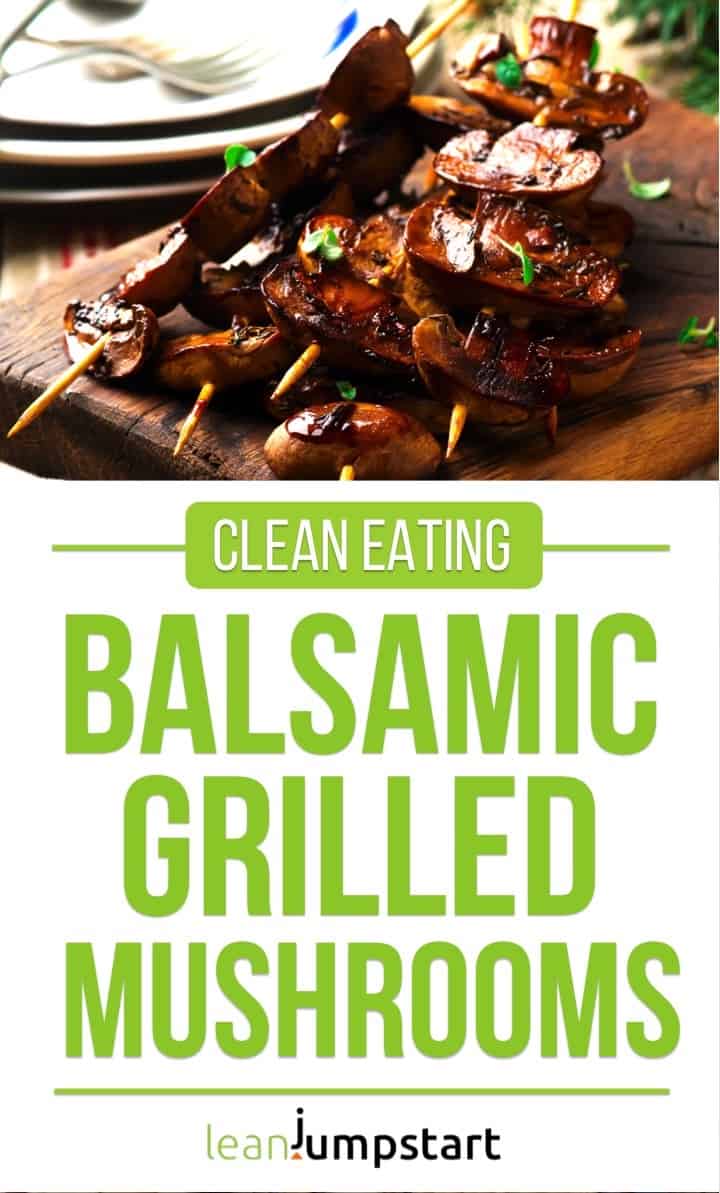 Or how about a vegetable based starter to appease the hungry crowd, before they tear the grilling master to pieces because the steak is not yet ready.
Clean eating recipe for the grill:
Balsamic grilled mushroom skewers
Timely during this summer season I'd like to share with you my favorite clean eating recipe for the grill that I'd always prefer over a rib-eye steak. On top oft that it is a perfect and clean alternative to red meat.
For these Balsamic grilled mushroom skewers you just need a few ingredients and a skilled grillmaster, ideally with a charcoal grill. The caramelization and smokiness from grilling really accents mushrooms's flavors making them so much better.
Print
Balsamic Grilled Mushroom Skewers
A delicious clean eating starter or vegetarian grilling alternative
Author: Gabi Rupp
Prep Time:

45

Cook Time:

8

Total Time:

60
2

pounds Portobello mushrooms (sliced

1/4

inch thick or quartered)

3 tablespoons

balsamic vinegar

3 tablespoons

olive oil

3

cloves garlic, chopped

1 teaspoon

thyme, chopped

½ teaspoon

rosemary, chopped
salt and pepper to taste
Instructions
Water 8 skewers for 30 minutes.
Mix all ingredients in a bowl with lid or put all ingredients in a ziplock bag and shake it.
Let it marinate for 45 minutes.
Preheat your (charcoal) grill to 190 °C indirect heat.
After marination slide the mushrooms on the skewers. (4-5 pieces per skewer)
Grill the Portobello skewers over direct heat and turn them occasionally for 7-8 minutes. Heads up: Don't let them burn but place them over to the unlit center portion of the grill (indirect cooking) until all skewers are ready.
At last season with salt and pepper according your taste and serve your Balsamic grilled mushroom skewers!
Notes
It's very important to water the wooden skewers before grilling otherwise they could burn.
As you can see these Balsamic grilled mushroom skewers are ready within a few minutes. Make sure to count in enough marination time. You could even marinate the vegetables the night before.
OTHER SKEWERS RECIPES YOU MIGHT ENJOY
How to survive this summer party season without gaining weight?
Are summer parties a challenge for you when it comes to weight management? Why not bring with you your own clean salad or the lean Balsamic grilled mushroom skewers? Did you know that my flagship program 52 Chef Habits is also featuring a "party season survival kit"? Click here to learn more!