Balsamic Grilled Mushroom Skewers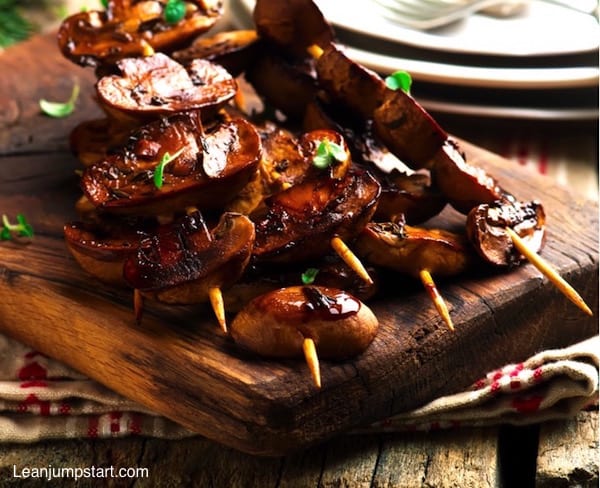 Author: Gabi Rupp
Prep Time:

45

Cook Time:

8

Total Time:

60
2

pounds Portobello mushrooms (sliced

1/4

inch thick or quartered)

3 tablespoons

balsamic vinegar

3 tablespoons

olive oil

3

cloves garlic, chopped

1 teaspoon

thyme, chopped

½ teaspoon

rosemary, chopped
salt and pepper to taste
Water 8 skewers for 30 minutes.
Mix all ingredients in a bowl with lid or put all ingredients in a ziplock bag and shake it.
Let it marinate for 45 minutes.
Preheat your (charcoal) grill to 190 °C indirect heat.
After marination slide the mushrooms on the skewers. (4-5 pieces per skewer)
Grill the Portobello skewers over direct heat and turn them occasionally for 7-8 minutes. Heads up: Don't let them burn but place them over to the unlit center portion of the grill (indirect cooking) until all skewers are ready.
At last season with salt and pepper according your taste and serve your Balsamic grilled mushroom skewers!
Notes
It's very important to water the wooden skewers before grilling otherwise they could burn.