These clean eating tomato mozzarella skewers will be a welcome eye catcher on every party and a creative twist to any Caprese salad.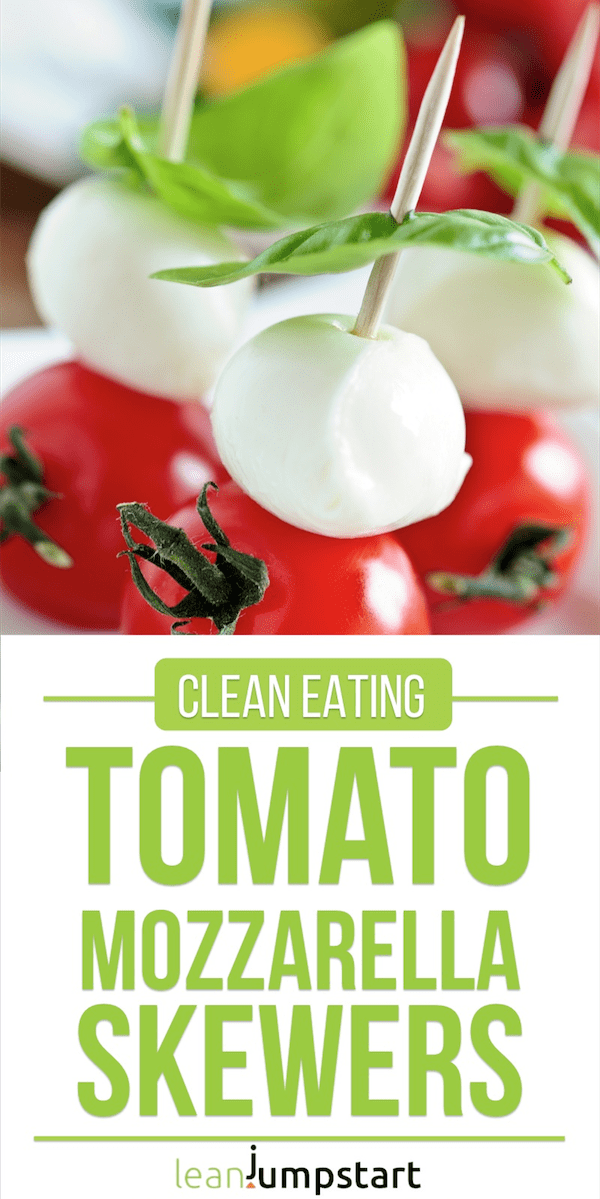 It is another smart clean eating recipe idea here on LeanJumpStart. It has just three main ingredients and is super easy to prepare.
Offer this healthy appetizer to your guests or bring it with you to the next summer party, I'm sure your hosts will appreciate it.
Print
Clean Eating Tomato Mozzarella Skewers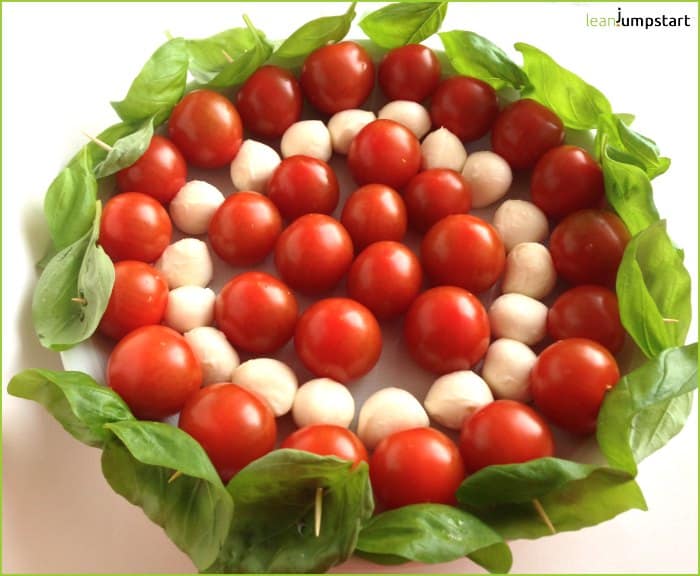 super easy and delicious summer party snack
Author:
Prep Time:

6

Total Time:

6
Ingredients
24 mozzarella balls
48 cherry tomatoes
24 basil leaves
24 toothpicks
Instructions
Slide one tomato on the stick, add a mozzarella ball and finish with a basil leaves.
Repeat for all 24 toothpicks.
Arrange on a round plate and put the remaining tomatoes in the middle.
Clean eating tomato mozzarella skewers: a smart alternative to traditional Caprese salad
Maybe you know the Italian appetizer trays with sliced tomato and mozzarella, garnished with basil leaves? I've learned recently that it is called "Caprese" salad in the US. Here in Germany they are also very popular and you can expect them on each party buffet.
Although the recipe seems quite easy, preparing such an appetizer can be sometimes a struggle…
First you have to cut tomatoes and mozzarella in thin slices. To make them look appealing you then have to layer and arrange them carefully. You invest quite a bit of time without guarantee that it will look how it should;)
The above presented "party tray for dummies" is different and brings relieve to all not so patient kitchen chefs like me;) It is ready within some minutes, fool-proof and of course it tastes yummy too.
And even if you use different sizes of cherry tomatoes and basil leaves – see picture above – the clean eating tomato mozzarella skewers still look wonderful!
It's up to you in which order you pick the tomatoes, mozzarella and basil. As you can see it works in all directions. And if you want to "green it up" it even more you don't need to remove the tomato leaves.