Last Updated on June 17, 2020
Soups simply fit all seasons. Today I present to you a delicious cream of broccoli soup with cauliflower, green peas, and spinach which could be ready in less than 30 minutes. A nutrient-dense, green soup is a perfect choice after a stressful working day because the "green" color has a proven relaxing effect.
Colors play an important role in my cooking and "green" is definitely one of my favorite colors. This culinary delight in the Irish national color, comes also handy for all those of you who are celebrating St. Patrick's day, on March 17th.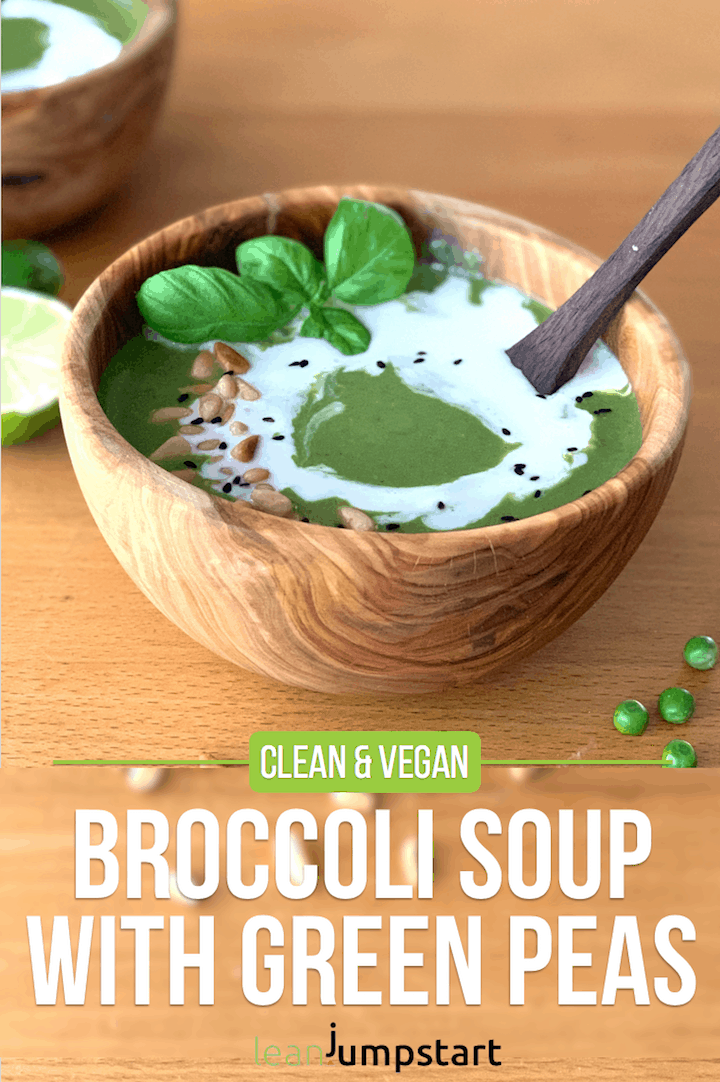 A filling blessing for your body
You might know that broccoli is the "superfood" for detoxification and in combination with cauliflower and spinach it is not only a blessing for your body, but it is also extremely easy to prepare. Filling but not heavy, this tasty vegan soup is suitable both as lunch or a light dinner.
The ingredient list for this plant-based recipe is a bit longer than usual, but I think it is worth it. Let's take a closer look at some main ingredients.
Cauliflower
You could, of course, leave out the cauliflower and just use more broccoli instead, but there is a good reason to combine these two cruciferous vegetables, especially if you can't tolerate broccoli very well. Due to its good digestibility, cauliflower has long been used not only for dietary purposes but also in holistic healing treatments.
Cauliflower's light color comes from the fact that its bracts protect it from sunlight, which prevents the formation of chlorophyll (green plant pigment). It has a very high vitamin C, vitamin K, and potassium content.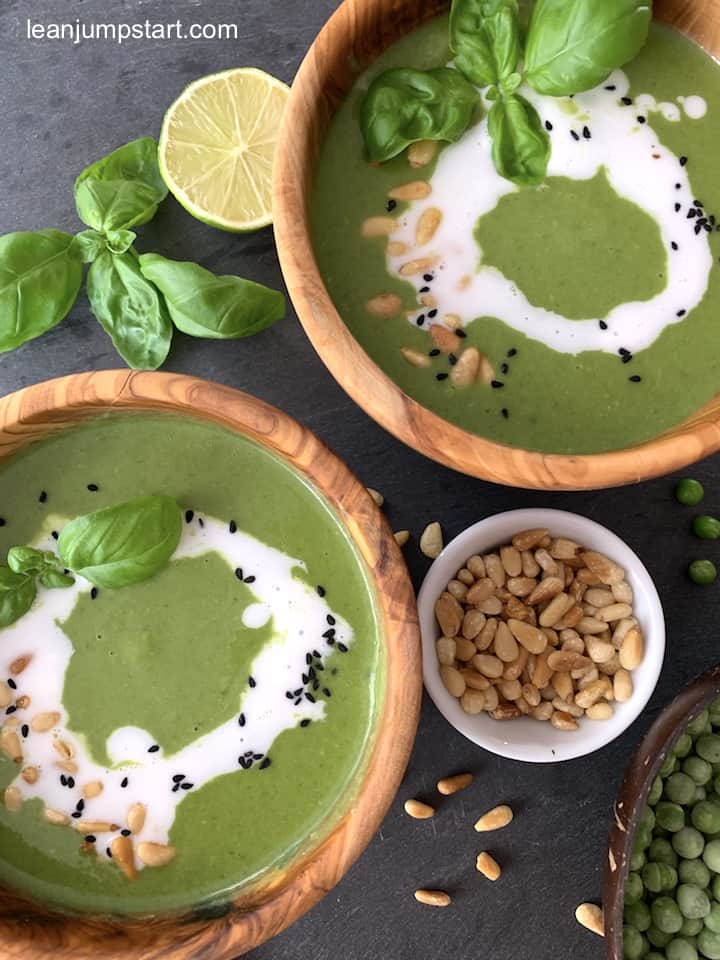 Broccoli
Compared to cauliflower, broccoli performs even better regarding its content of vitamins, minerals, fiber, and phytonutrients. Because of its properties, broccoli is often also called anti-cancer vegetable. Sulforaphane, a rockstar molecule, has been shown to play an important role in this context. (1) Due to its high content of antioxidants such as vitamin A, vitamin C, beta carotene, sulforaphane, and others, broccoli might also help to extend longevity.
Spinach
Luckily, my family has always loved spinach. That's why they also enjoy the subtle spinach taste in this soup. If you have fresh spinach at hand then make sure to use it for this cream of broccoli soup. When I get fresh spinach in my organic vegetable subscription box I often use it the same day. But I've always frozen spinach pellets in my freezer which I've used for this great recipe.
Although the myth of being an iron powerhouse has been debunked, spinach impresses with many other beneficial nutrients such as minerals, vitamins and some protein. In addition, spinach actually makes you strong, because its nitrate can strengthen the muscles. (2) Consuming a high dietary nitrate source like spinach or beets might also be an effective way to aid in the maintenance of cardiovascular health. (3)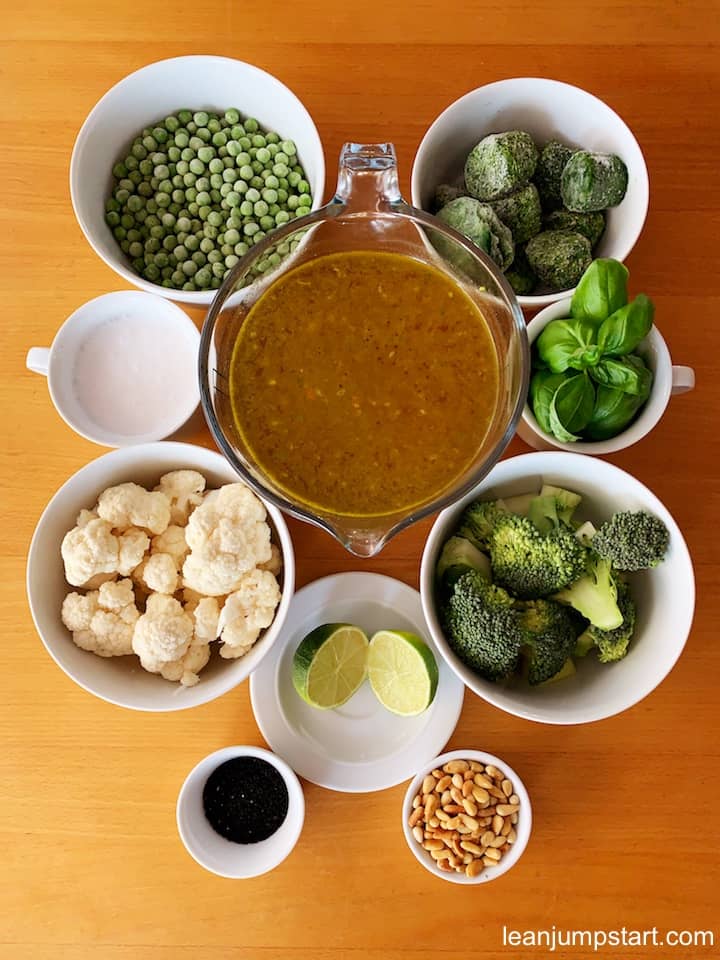 Green peas
Naturally, I have also always a package of green peas in my freezer. The slightly bitter taste of the vegetables is balanced by the sweetness of the green peas. On top, green peas are one of the best sources of plant protein and thus help to increase the protein content of the soup. Due to their very special combination of amino acids, pea proteins are particularly valuable for muscle formation,(4) the skin, hairs and for healthy connective tissue.
While the so far presented vegetables and legumes are very common in a clean eating kitchen, the toppings might be a bit special. But don't despair, I'll give you some tips for easy replacement. So let's take a closer look.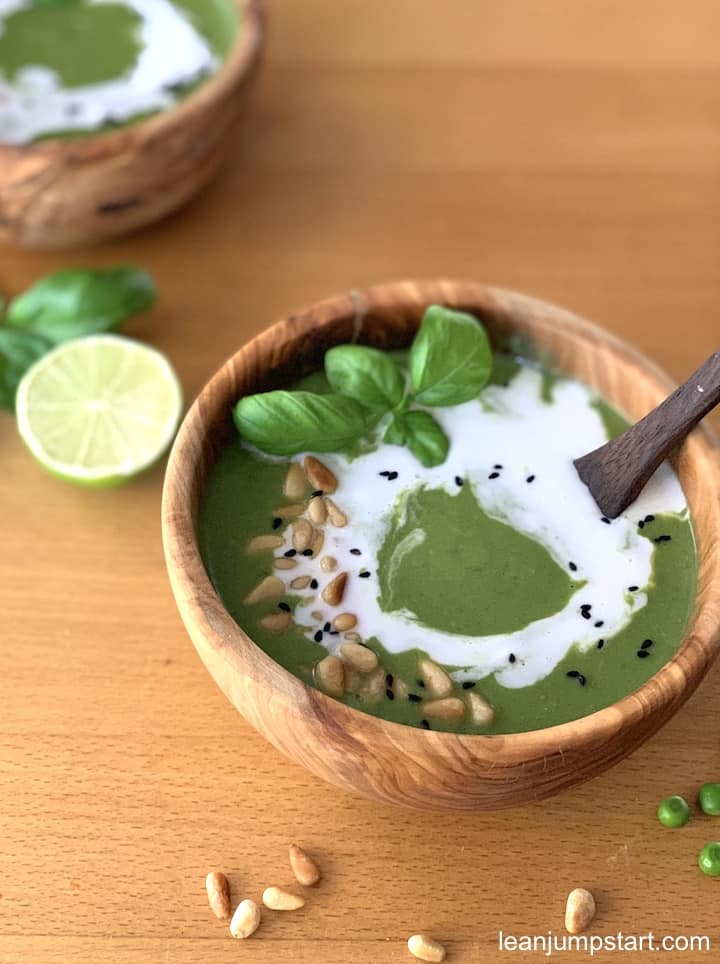 Pine nuts
I've roasted 2 tablespoons of pine nuts in a skillet without fat and sprinkled them over the ready bowls of goodness. You might know these precious nuts as a typical ingredient of Italian pesto. They have a fine, slightly almond-like, subtly resinous aroma and a creamy-soft consistency.
Pine nuts come exclusively from wild pine trees and must be harvested by hand. That's why they belong to the most expensive nuts ever. Most real pine nuts come originally from Spain, Italy, and Turkey. Instead of pine nuts, you could easily use the less expensive almond flakes. Just make sure to roast them a bit in a pan for best flavor.
Black seeds
Also called black cumin or Schwarzkümmel (German), it is an ancient medicinal plant, which has been credited with almost all-encompassing healing power in the history of many cultures. Some scientific evidence suggests that it might help lessen allergic reactions, boost the immune system, prevent cancer, and high blood pressure as well as promote digestion and relieve mucus. (5)
The exact effect of black seeds is still unknown. These seeds have a sharp flavor and strong aroma with a broad flavor profile that is hard to substitute. Sesame seeds will provide a similar texture although a different taste.
Here comes finally the recipe.
Print
Vegan broccoli soup with green peas, cauliflower and spinach
an amazing whole food plant-based soup!
Author: Gabi Rupp
Prep Time:

10

Cook Time:

20

Total Time:

30

Yield:

3

1

x
Category:

Entree

Method:

Boiling

Cuisine:

Asian

Diet:

Vegan
800

ml vegetable broth

200

gr. frozen peas

200

gr. broccoli florets and stalks cut in pieces

100

gr. cauliflower

10

spinach pellets (or

500

gr. fresh spinach)

150

ml of coconut milk

1 tsp

black cumin/black seeds
Juice of

1

lime

5

–

6

fresh basil sprigs for garnish (divided)

50

gr. pine nuts
sea salt and black pepper to taste
Instructions
Pour vegetable broth in a pot or large sauce pan and bring to a boil.
Add broccoli, cauliflower, and spinach pellets. (for fresh spinach see below)
Bring to a boil again then simmer for 10 – 15 minutes.
Stir in frozen green peas, bring to a boil again, then simmer for another 3 minutes.
Transfer the mixture to a blender or use an immersion blender, add 3 basil sprigs, and lime juice.
If you use fresh spinach you could add it now too.
Puree the soup until very smooth.
Stir in the coconut milk.
Season with salt and pepper to taste.
Garnish with toasted pine nuts, toasted black seeds, coconut milk and basil
Notes
Thin out with more water if the soup is too thick
If it's too thin add some nutritional yeast
Instead of basil sprigs you could also use mint sprigs
Lemon juice works of course too if you don't have lime
Instead of coconut milk and or green peas you could also use cashew cream or raw cashews
Vegetarians can replace coconut milk with sour cream
Keywords: broccoli soup, green pea soup, broccoli cauliflower soup
Soup recipe variations
You could really play around and experiment with different vegetable quantities. The presented combination works best for us regarding taste and tolerance.
If you don't like spinach, just increase the broccoli content. If broccoli is too heavy for your digestion just use more cauliflower. The spinach, green peas and basil will still help to "paint" a delicious green soup.
Another vegan version is to use cashew cream or raw cashews instead of green peas and or coconut milk.
All eaters could try chicken broth instead of the vegetable broth and use cheddar cheese instead of the coconut milk. The result would be a tasty broccoli cheddar soup.
Other cream soups you might enjoy
Get your recipes under control!
Do you need a convenient way to organize all your favorite recipes? Then don't look any further but click through learn about my new blank recipe book.

Ready to buy? Click below and order your customized recipe journal today on Amazon!