A yummy zucchini dish made with a vegetable spiralizer
I promised you a clean eating zoodles recipe some weeks ago, when I presented our new spiral vegetable slicer. So finally here it is and I've included even a short video (1:22 Min) for you.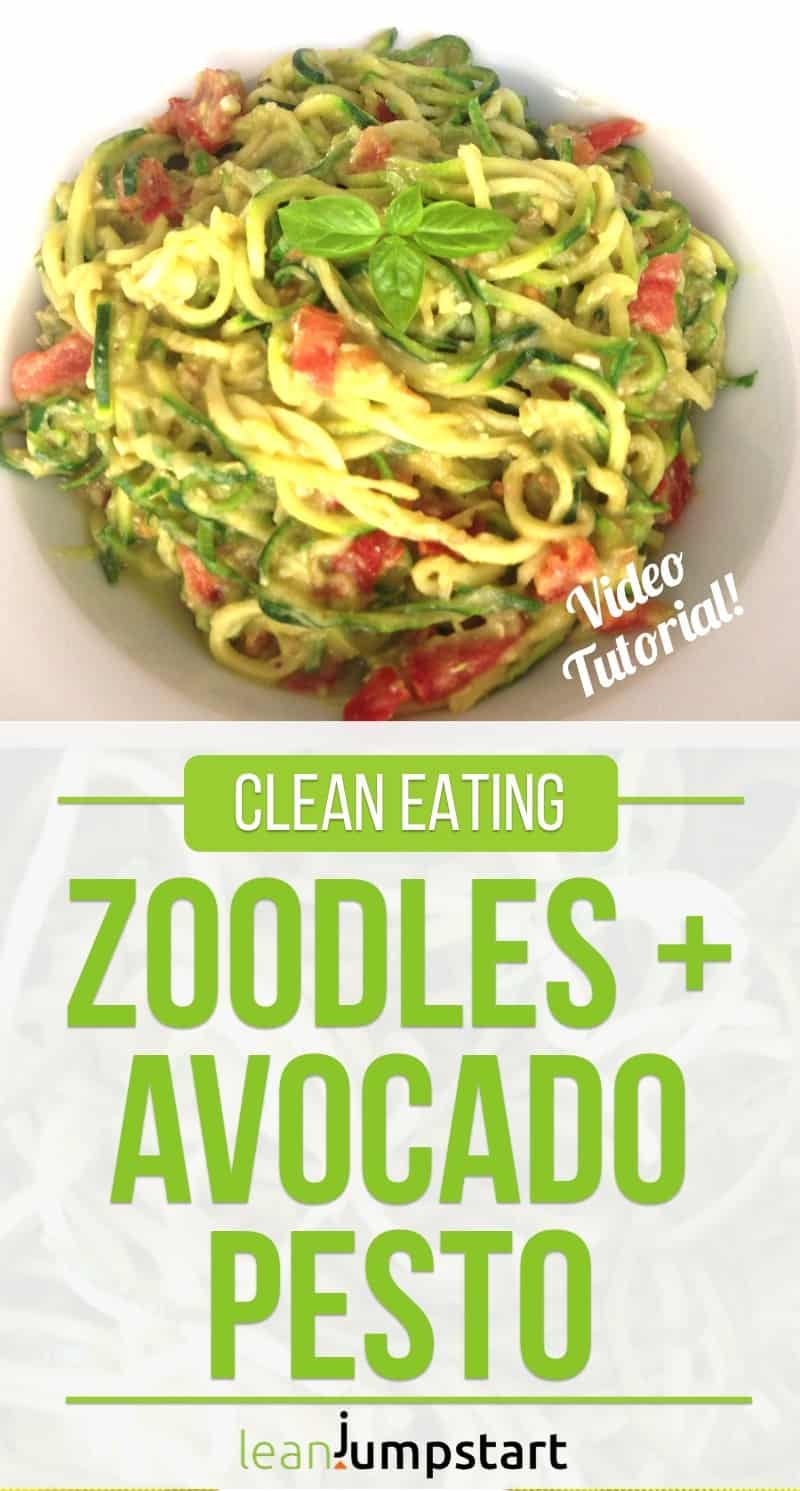 First of all I'm still new to zoodles and I can't believe that I've overlooked this healthy cooking trend for so long. The main reason for this is, that I thought preparing spiralized pasta might be too time-consuming.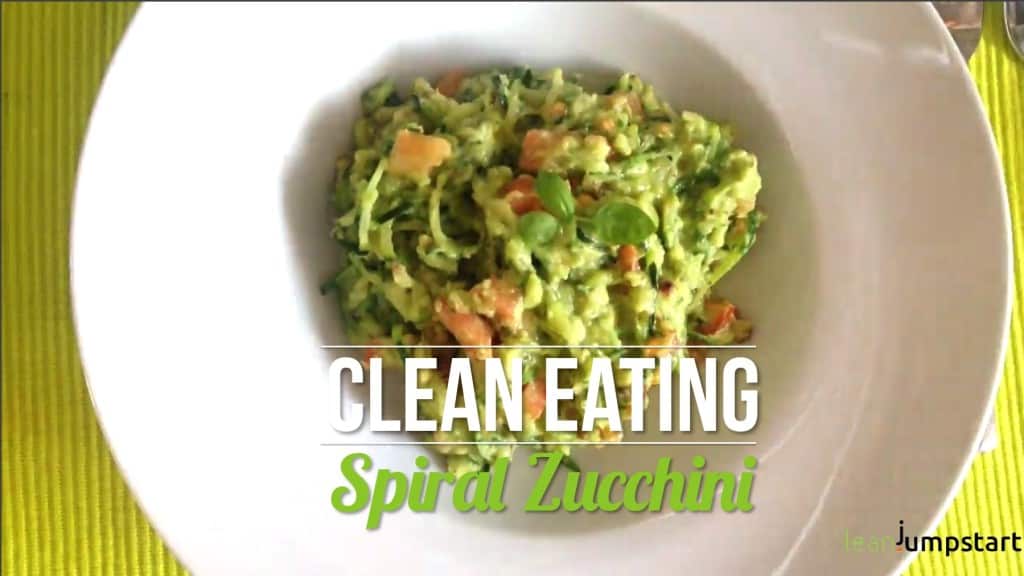 One thing is clear, the preparation process takes you of course a bit longer than jotting store-bought pasta in your pot. On the other hand you get a super clean, low-carb vegetable pasta that brings a playful creativity into your kitchen.
Check out my clean eating zoodles recipe below: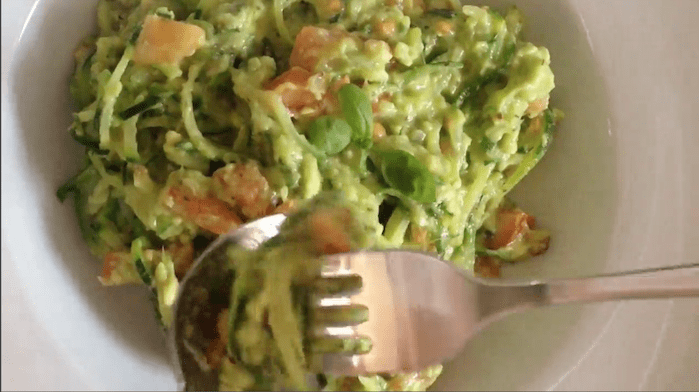 Zoodles Recipe: Spiralized Zucchini Pasta with Avocado Pesto
2016-04-13 08:11:59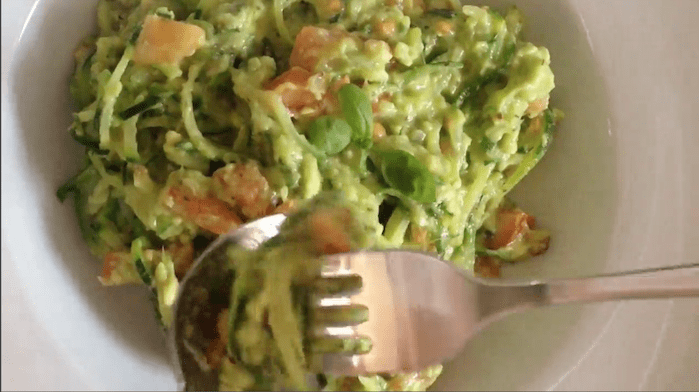 Serves 2
a delicious low carb, clean eating pasta dish
Ingredients
2 medium/large zucchinis
2 tablespoon water/3 tablespoon water
2 cloves garlic, minced
2 avocados, cut, sliced, pealed and pit
1 tablespoon lemon juice
2 tomatoes in cubes
1/2 teaspoon salt/or 1/2 tablespoon miso
some pepper
some fresh basil leaves, hacked
some basil leaves
1 tablespoon almonds, hacked (or hazelnuts)
Prepare Zoodles
spiralize 2 zucchinis to zoodles using a spiral vegetable slicer (e.g. Lurch Spiralizer)
Prepare Avocado Pesto
heat water/olive oil in a pan
add garlic
let it simmer for 3 minutes - in the meanwhile...
place avocado halves in a food processor
add lemon juice
add salt and pepper
process for a few seconds
add sautéed garlic
process again for a few seconds
Cook Zoodles
bring salt water to a boil
add zoodles
let it simmer for 1-2 minutes
drain zoodles
toss zoodles gently in a bowl together with pesto
add tomato cubes
add almonds
mix everything gently together
serve in pasta plates
garnish with basil leaves
Enjoy immediately!
Notes
For 2 portions I recommend to use a bit larger zucchinis.
Leanjumpstart Clean Eating Habits https://leanjumpstart.com/
Video (1:22 min): How to Make a Clean Eating Zoodles Recipe
When you watch the short video closely you will find 2 mistakes I made when preparing this clean eating zoodle recipe:
First of all I have forgotten to put the 1/2 teaspoon of salt in the Avocado pesto.
But I'm sure this is something you won't forget if you follow my recipe instructions above.
The second mistake is…something that really annoyed me a bit;)
When I first produced this video I had way too small zucchinis. The result was rather a zoodle dish for one person instead for two. In consequence I had too much avocado pesto left and you can see it by the end of the video or in the pictures above that the spiralized zucchini pasta is much more creamier than it should be.
That's why I decided to make a new video with two larger zucchinis. This is what you see at the beginning of my video. I've also added a new picture with the perfect recipe at the beginning of this post.
So… the zoodle quantity in the beginning of the video is much larger than the one I used for making the actual dish in the video. Sorry for that, I'm still new to the video production process…But I still hope that my video could inspire you to make your own clean eating zoodles recipe in future. By the way, I love the music it comes with;)
As mentioned in the beginning I've used for this recipe my new spiral vegetable slicer. If you want to learn why I absolutely love my new kitchen gadget and how my daughter could convince me to buy it, then feel free to read my Spiralizer Review on the Lurch Super Spiralizer
Do you have a Favorite Clean Eating Zoodles Recipe?
Already a fan of spiralized vegetables? Share with us your favorite zoodles recipe or other spiralized pasta in the comment section below!
OTHER ZOODLE RECIPES YOU MIGHT ENJOY: