Last Updated on July 1, 2020
It's hard to resist these mouth-watering peanut butter zoodles based on spiralized zucchinis. Luckily they are super-healthy and you are doing your body and soul a big favor. Instead of spiralized zucchinis you can use of course also whole-grain noodles.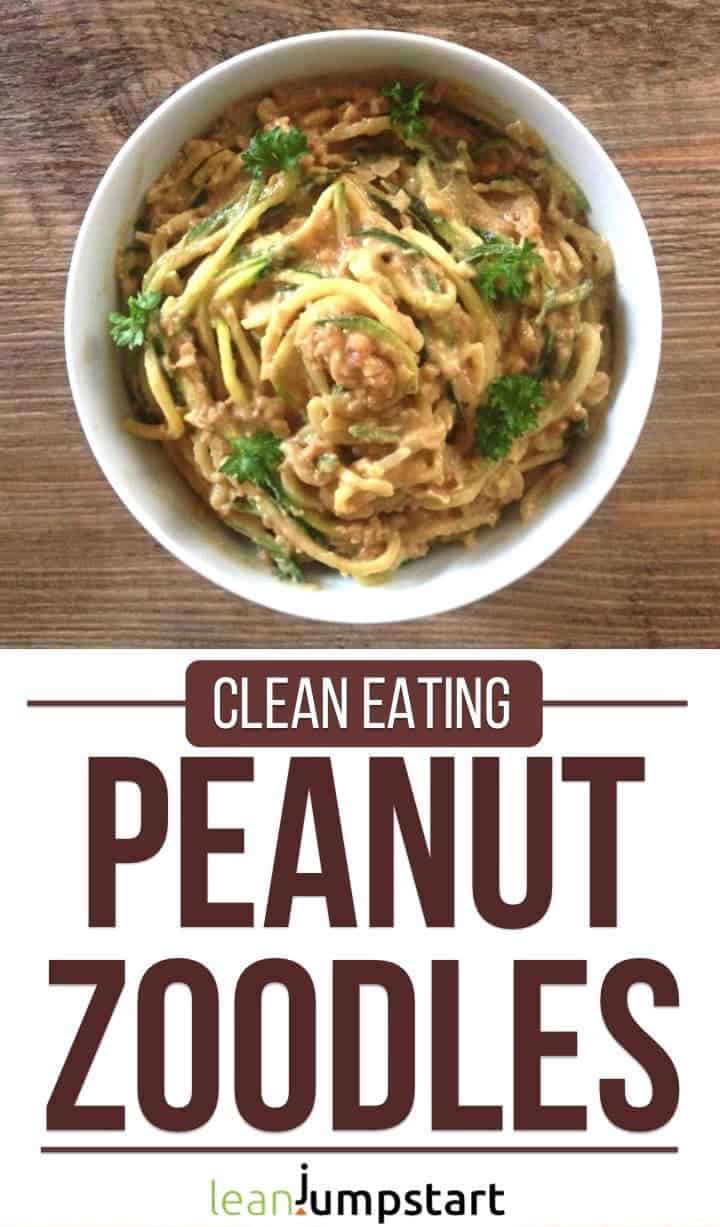 But as finally the zucchini season has started again, we can't have enough yummy and quick zucchini recipes at hand. And since I'm a happy owner of a vegetable spiralizer, I love to experiment with zoodle recipes.
I stumbled over this peanut butter zoodles recipe on Pinterest, where the lovely Kelly from kelleyandcricket.com has pinned a crazy good peanut butter noodles recipe that has been shared more than 280,000 times! Do you need more social proof for a yummy recipe?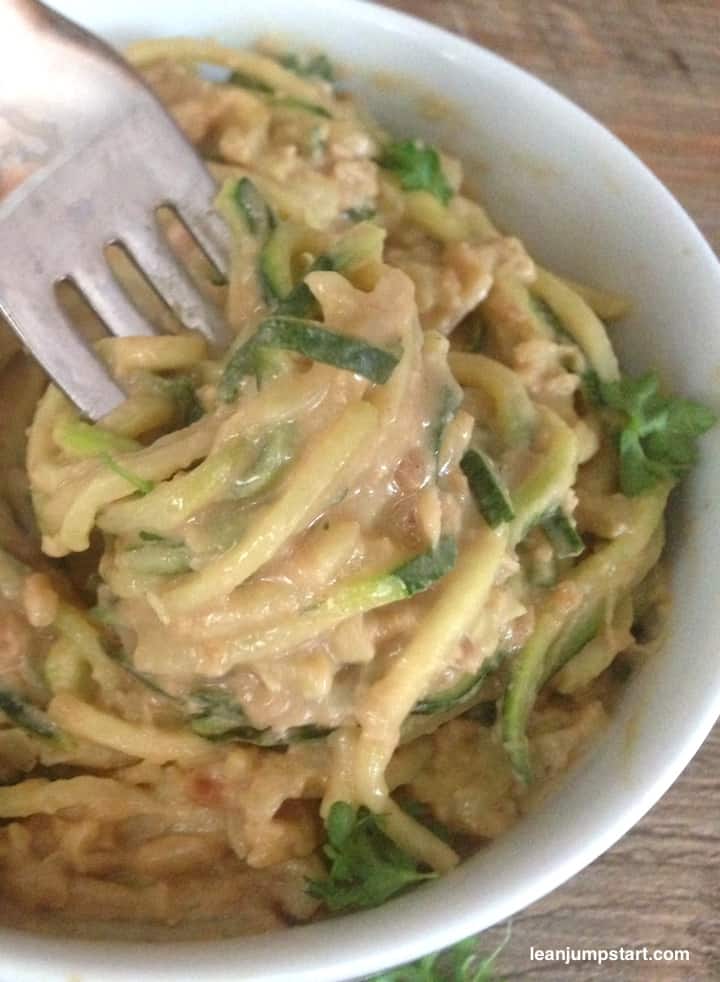 How to make clean eating peanut butter zoodles?
As I know that you are a lover of a simplified clean eating recipes I checked which ingredients I could replace with cleaner ones or omit them altogether without sacrificing taste.
The result is a simple, clean, yet very addictive zoodles recipe. I highly recommend to give it a try:)
Ingredients you'll need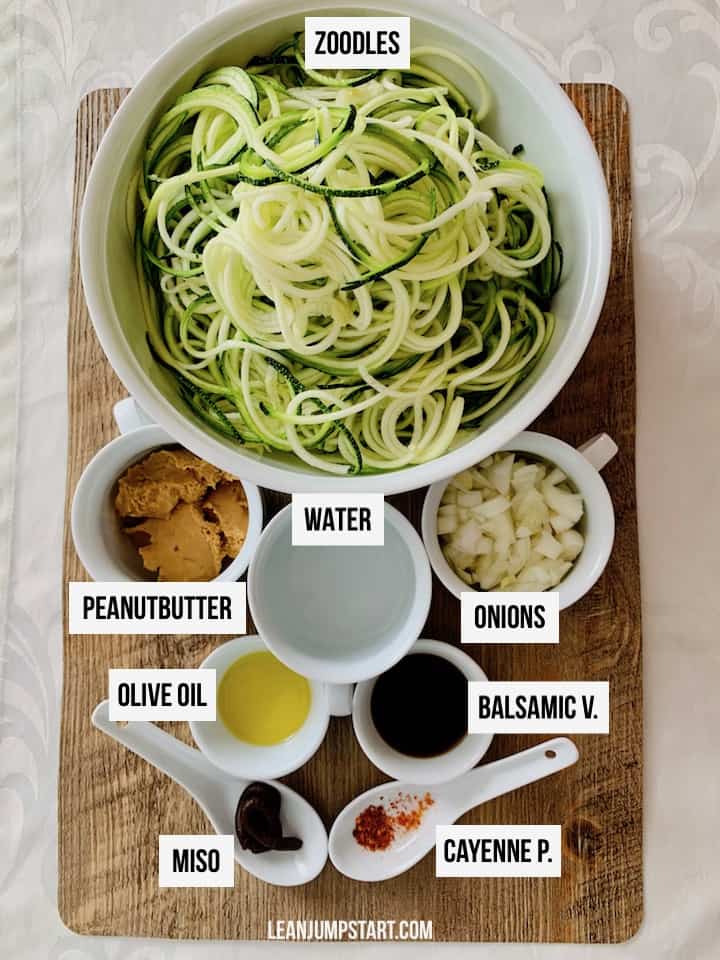 Ingredient notes:
Zoodles: Learn here how to easily make zoodles with my best ever spiralizer. You can always replace part or totally the zoodles with whole grain spaghetti for a higher satiation effect.
Miso: It's a fermented soy paste that adds a salty umami flavor to any dish.
This key ingredient in Japanese cooking is nutrient-dense and shouldn't miss in any health-conscious kitchen.
Ingredient swaps:
Zucchini: Instead of spiralized zucchini you can use rutabaga or daikon. I've added a photo below showing this recipe with spiralized rutabaga.
Miso: You can replace it with Soy sauce or salt.
Balsamic vinegar: You can use regular vinegar instead.
Water: For even more flavor use vegetable broth instead of water.
Step-by-step instructions
Step 1: Heat olive oil in a skillet, add onions and let it simmer for 3 minutes over medium heat.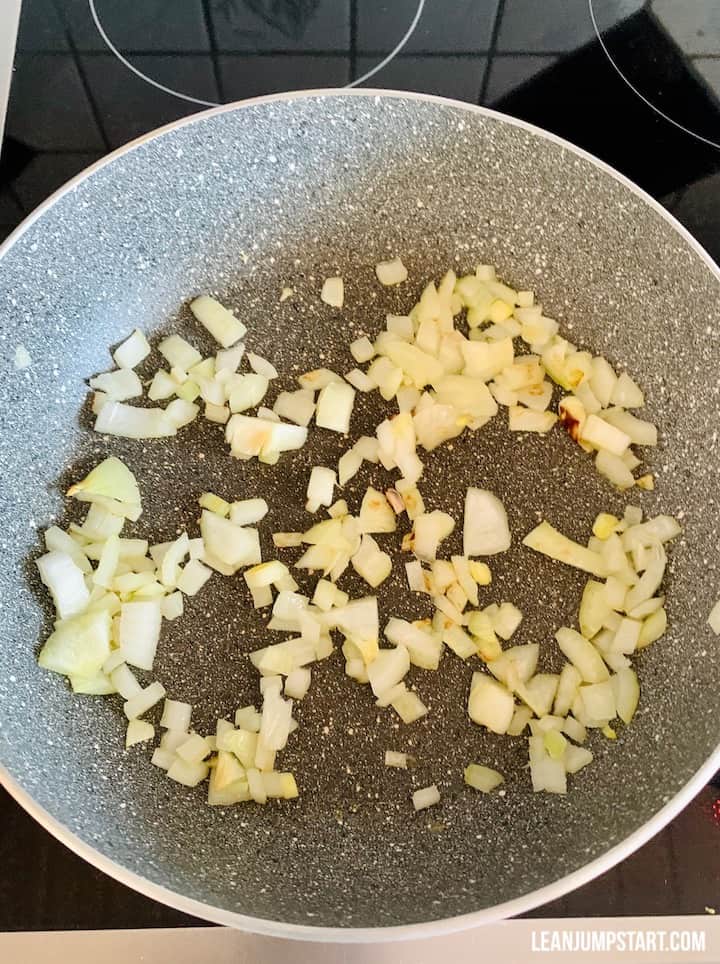 Step 2: Add peanut butter, vinegar, water, miso and Cayenne pepper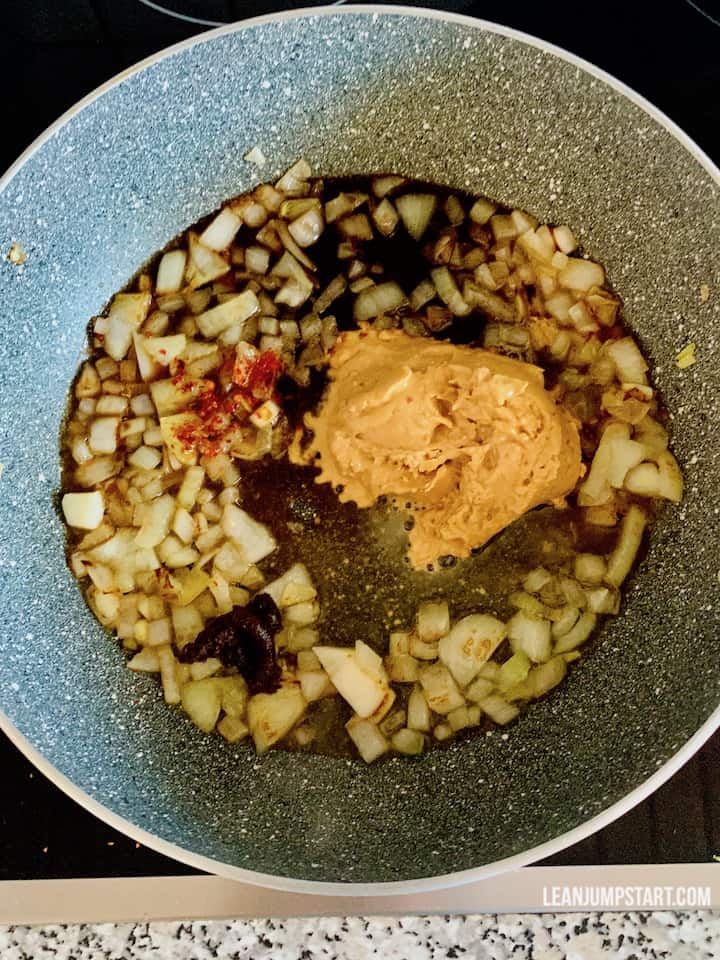 Step 3: mix for 2 minutes on low heat.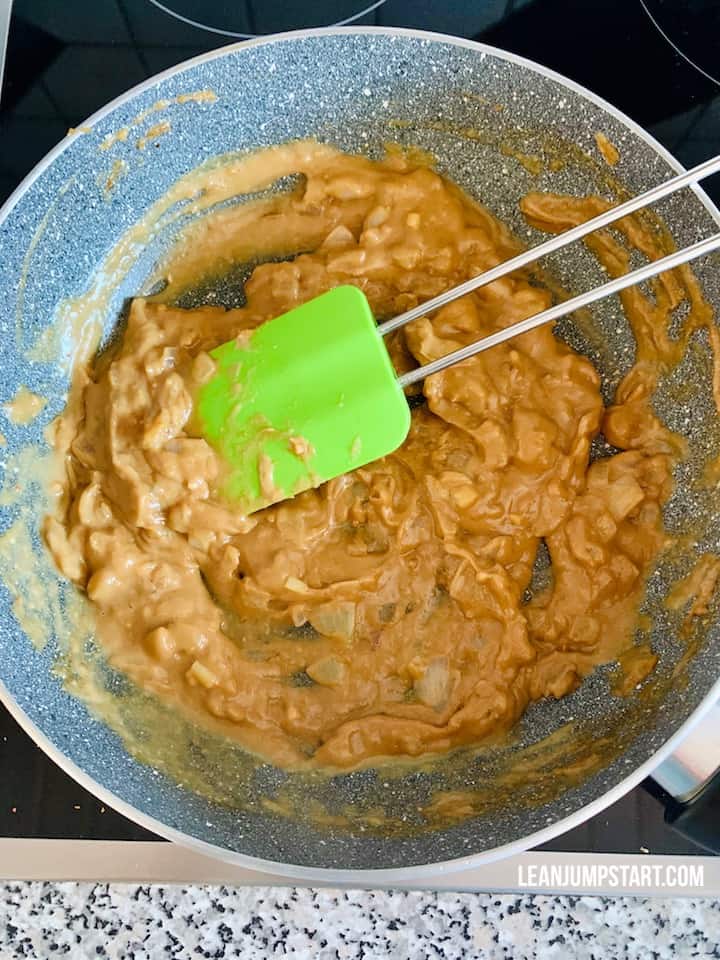 Step 4: Add spiralized zucchini (zoodles) and mix everything gently together.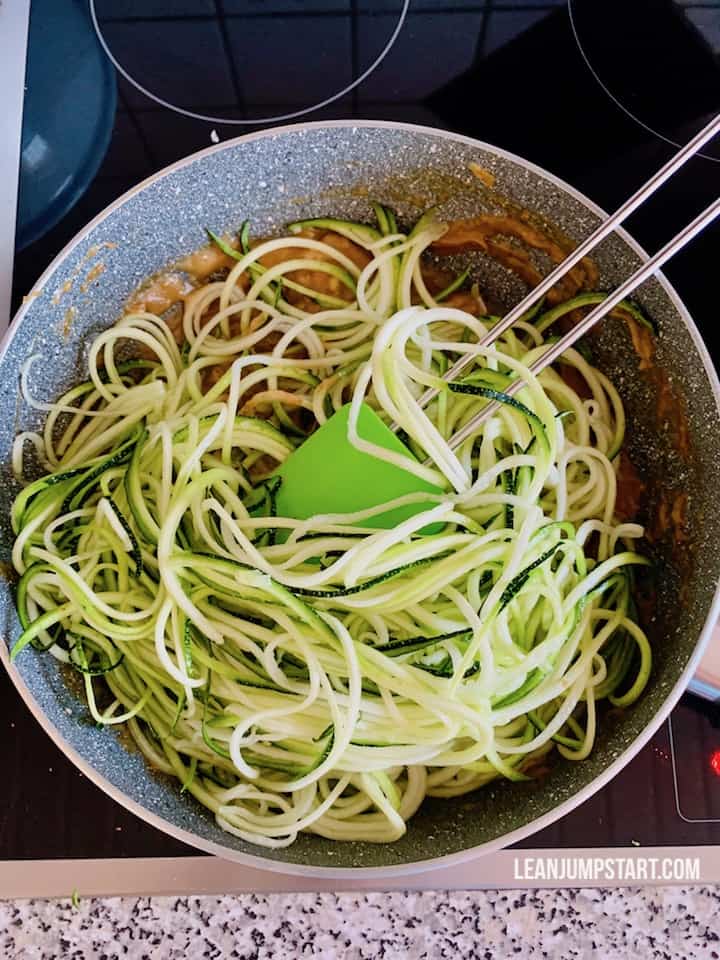 Step 5: Garnish with parsley and/or peanuts…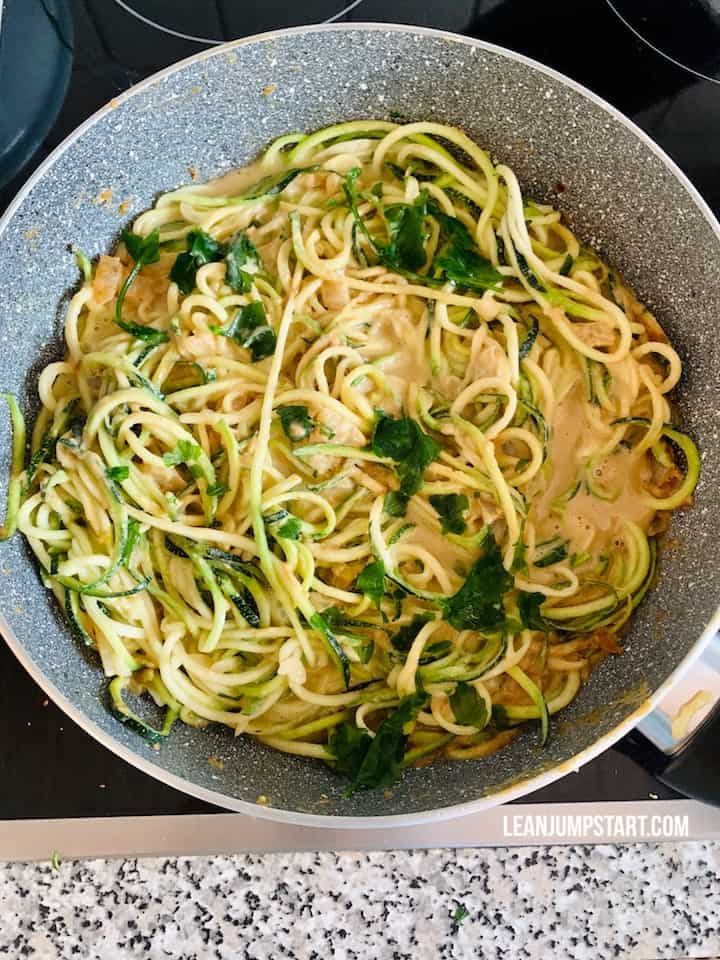 …and serve immediately!

Here comes the detailed recipe!
Print
Peanut Butter Zoodles
A mouth-watering zucchini meal you can't resist.
Author: Gabi Rupp
Prep Time:

10

Cook Time:

5

Total Time:

15

Yield:

2

1

x
Category:

Dinner

Method:

Spiralizing

Cuisine:

American

Diet:

Vegan
600 grams

(

2

medium/large) zucchinis, spiralized

2

onions, diced

3 tablespoons

peanut butter

1 tablespoon

olive oil

8 tablespoons

water (or more if needed)

2 tablespoons

Balsamic vinegar

1/2 tablespoon

miso

1/2 teaspoon

Cayenne pepper
chopped parsley or peanuts to sprinkle on top
Instructions
heat olive oil in a saucepan
add onions
let it simmer for 3 minutes over medium heat
Turn temperature down to low and add the remaining ingredients (peanut butter, vinegar, water,  miso, Cayenne pepper) and mix for 2 minutes.
At last add zoodles and mix everything gently together.
Let it simmer for another minute.
Garnish with parsley
Enjoy immediately!
Notes
Instead of water you can use vegetable broth
Instead of miso you can use soy sauce
Optional: Add 1 teaspoon sesame oil at the end
I use raw zoodles (spiralized zucchinis), but if you prefer you can cook your zoodles 2-3 minutes in salt water before you combine them with the peanut butter sauce.
Keywords: zoodles, spiralizer, peanut butter sauce
Video step-by-step instructions
Recipe variation
Maybe you want to make this recipe but zucchinis are not in season yet. Let me tell you that in that case I often replace it with daikon or rutabaga. On the photo below you see my delicious variation with rutabaga. To make the sauce more fluid I've used 10 tablespoons of vegetable broth instead of water.

Do you need a vegetable spiralizer in your clean eating kitchen?
My short answer is: No!
But there is always a but…
I suppose you are still reading because the peanut butter noodles recipe made you toying with the idea of buying a vegetable spiralizer, but you are unsure.
I can very much relate to your hesitation. Maybe you just don't want another kitchen gadget sitting unused in your pantry. Or maybe you've seen that it is becoming increasingly common to buy vegetables that have been spiralized on your behalf, realizing that spiralized veggies seem to be more than just a trend.
Let me tell you this – as a minimalist, our vegetable spiralizer was the first kitchen gadget I was investing since at least ten years. It was my daughter who convinced me and I never regret it. It brought fun and a new creativity to my clean eating kitchen, but that's not all.
Click here to read the whole story including my detailed spiralizer review.