The easiest and quickest clean eating cabbage salad recipe is to toss some chunks of cabbage in a food processor and mix it with a vinegar-oil dressing. Add some caraway seeds (helps to prevent flatulence) and you are done within some minutes.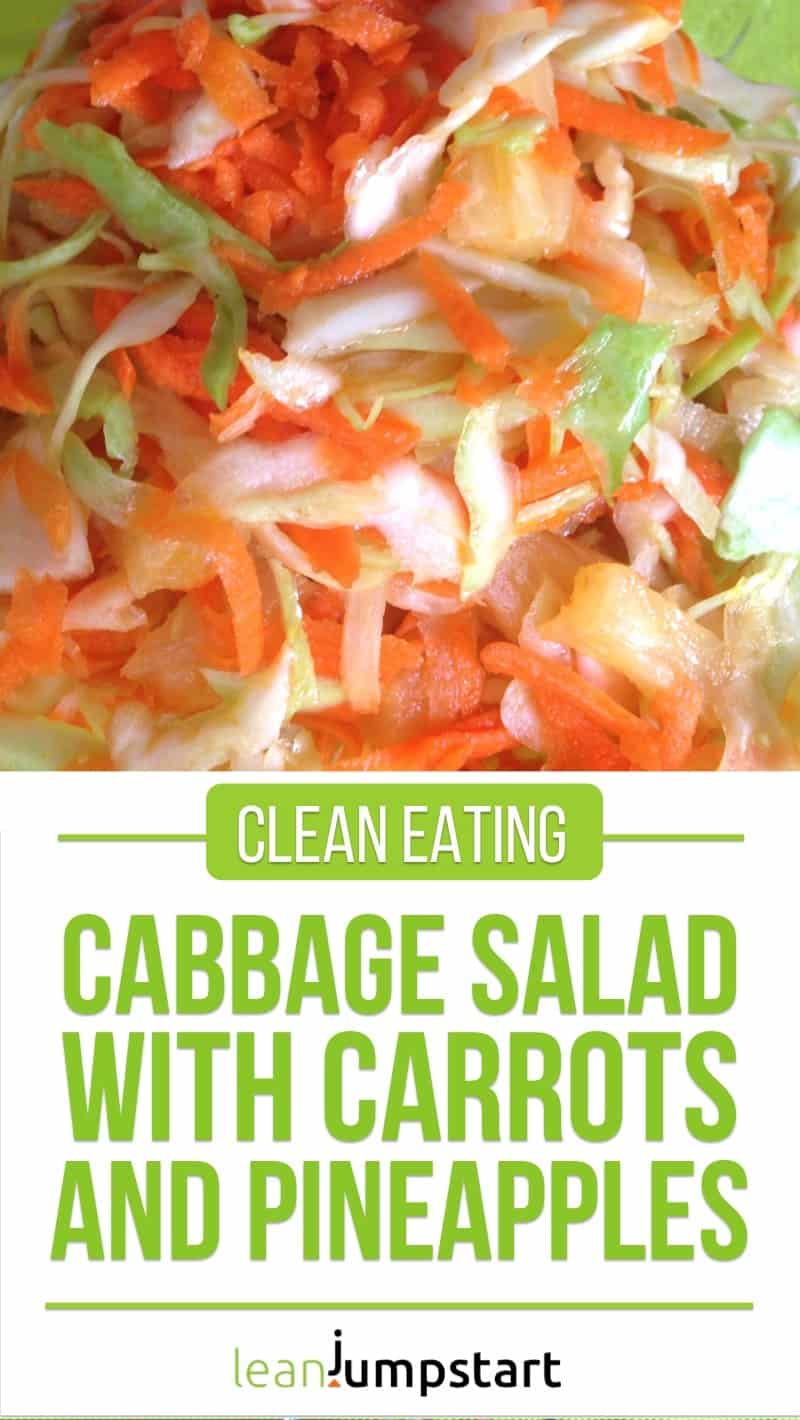 The problem with this kind of easy cabbage salad is, that the taste experience of processed cabbage is in my opinion inferior to thinly sliced cabbage with a cabbage shredder. Yes it takes some time to slice cabbage, but I think it is worth it.
You know that leanjumpstart.com is all about simplifying clean eating recipes. and habits. But for a yummy cabbage salad I feel it is worth to go an extra mile. I like in this context the quote by "Albert Einstein":
That's exactly how I think about the healthy recipe I'm presenting to you today.
As there are quite a few people who dislike caraway, I want to share with you a clean eating cabbage salad recipe that replaces caraway seeds with less common anti-flatulence foods: Pineapples! This raw salad tastes not only very refreshing but I love also its spring colors:)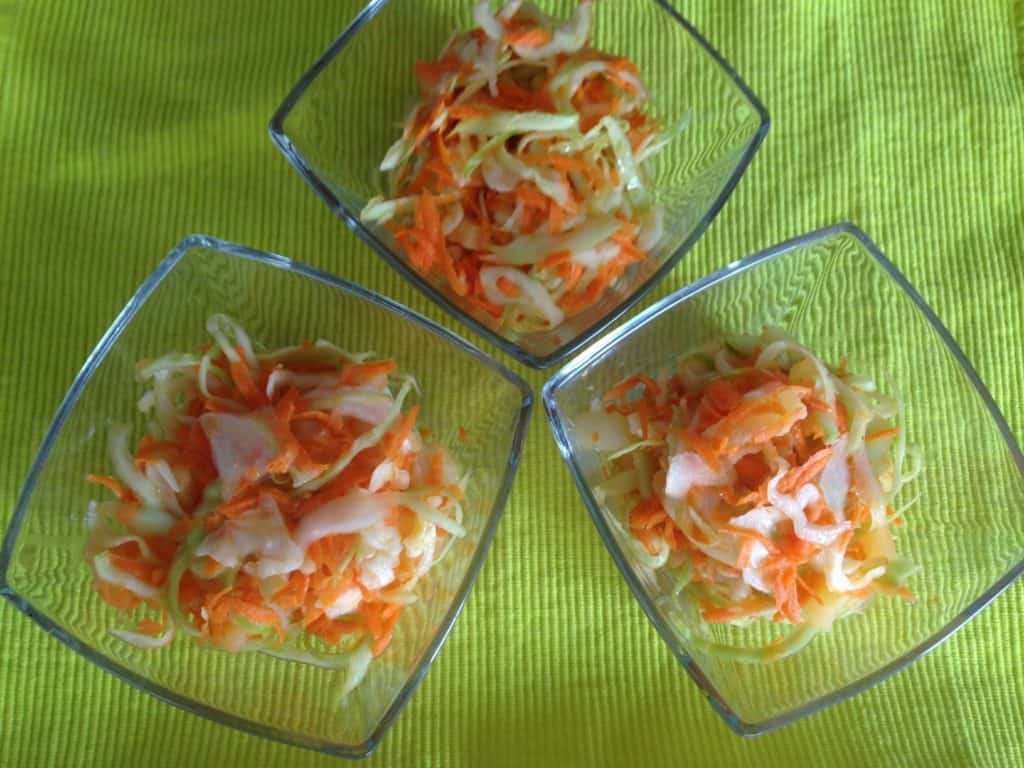 Clean eating cabbage salad with carrots and pineapples
2017-02-06 07:00:29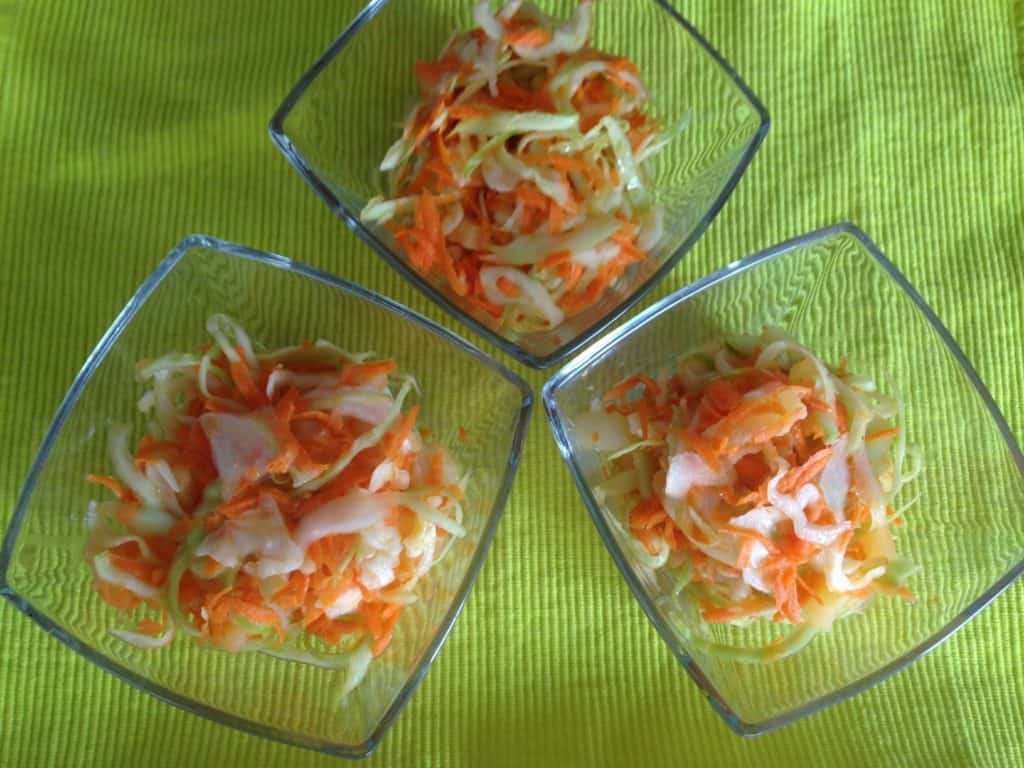 Serves 3
A delicious and refreshing raw salad
Ingredients
3 cups of cabbage, thinly sliced
2 cups of carrots, shredded
1 cup of small pineapple chunks (for a clean approach I use 8 oz cans pineapple slices in 100% Pineapple Juice, no added sugar, e.g. from Dole, see my Amazon picks below)
juice of 1 lemon
2 tablespoons olive oil
1/4 teaspoon salt
Instructions
Place cabbage, carrots and pineapples in a large bowl.
Blend lemon juice, olive oil and salt to a creamy dressing.
Pour dressing over vegetables and blend thoroughly.
Serve immediately or refrigerate.
Notes
Tip: The clean eating cabbage salad tastes even better if you let it sit for at least 2 hours before serving.
Leanjumpstart Clean Eating Habits https://leanjumpstart.com/
Recommended kitchen gadgets to simplify the clean eating cabbage salad recipe:
To thinly slice the cabbage I use a wooden cabbage shredder, see my recommendations below. To shred the carrots I recommend a boxed grater, I've also included in my recommended picks.
How I use cabbage salad
This clean eating cabbage salad recipe is not only wonderful as a starter but you will love it the next day in your lunch box too. And not to forget – it is a perfect match for each barbecue party.
Extra tip, if you want to prevent a too watery salad: Mix in a bowl sliced cabbage with salt and knead it with your hands until it releases a milky juice. Then let it sit for 30 minutes. Press cabbage through a strainer to remove excess water. BTW, as I prefer a "juicy salad" I never need this extra step.
5 aspects about cabbage and me: a 25-year old love affair
If you are a longtime reader of my blog posts, then you know that cabbage has played a crucial role in my life:
It was the magic cabbage soup that was a game changer for me, when I struggled with my weight over 25 year ago.
Based on my weight loss experience, I created my first website in 2004 with the focus on cabbage: www.successful-diet-cababge-soup.com.
With this website, it was the first time that I earned significant money on the web. This turning point encouraged me to turn my back on corporate work forever and to become a WAHM (work at home mom) and entrepreneur.
In my first book that I ever published on Amazon, it was again "cabbage" that played the main role: Cabbage Soup Diet 2.0 – The Ultimate Guide
If there is one single vegetable that I have always at home, then it is the "sturdy cabbage" that is super flexible and keeps fresh in my fridge or pantry for several weeks:)
Cabbage plays of course also an important role in my flagship product – my 52 Chef Habits Course.
OTHER RAW SALADS YOU MIGHT ENJOY: