Today I present to you my best butternut squash recipe ever: A simple baked butternut squash. You know I prefer yummy and easy clean eating recipes that are filling and yet perfect for weight management;)
This butternut squash you can enjoy as part of a stand-alone meal or use it as base for other recipes that call for squash or pumpkin puree. For a "Leanjumpstart" approach, I've reduced ingredients to a minimum, simplified the directions and let the squash shine in its full golden glory.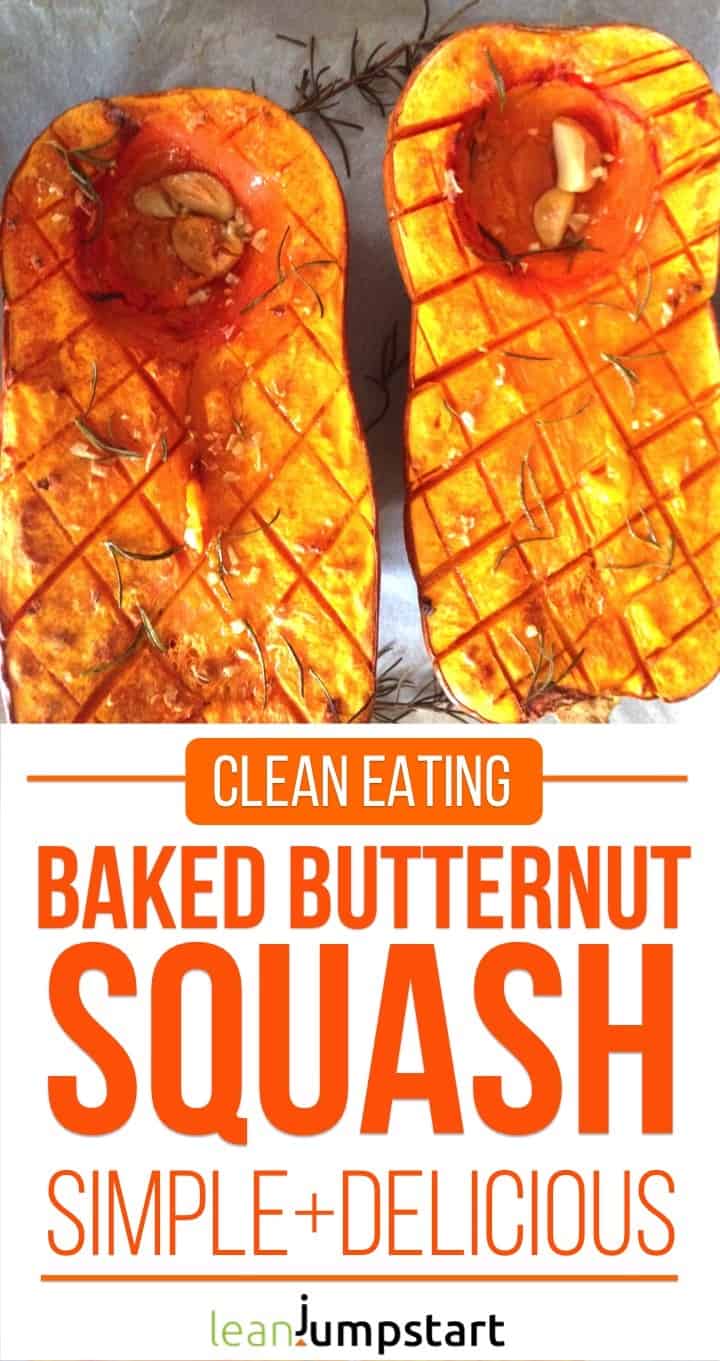 It is no secret when I tell you that I love to cook with Red Kuri squash also known as Hokkaido pumpkin. Hokkaido pumpkin's taste is delicious convincing but also the fact that you don't have to peel it. In consequence I've published quite a few Hokkaido pumpkin recipes on this website but totally neglected other squash types.
I'm aware that there's a world of winter squash out there and until now I've just scratched the surface. With this baked butternut squash recipe I want to bring a bit of variety in our clean eating kitchen. If you are living in the US chances are high that you cook more often with butternut squash than we do here in Germany. And yet I hope that this easy clean eating recipe will inspire you to test out my preferred preparation method.
It would take a while to enumerate the delights afforded by butternut squash. Just to name a few:
1) less seeds
2) more delicious flesh
3) rich buttery, creamy taste
How to bake butternut squash
One thing is obvious, baked butternut squash saves you the tedious step of peeling.
Yippee!
Still you need to carefully cut the vegetable in half down the middle (from the stem to the root end) using a large knife. Maybe you are lucky and you find a helping hand assisting you with this process. My hubby loves to cut squashes or pumpkins, so I'm happy to give him this job;)
You can bake this fall vegetable in the oven placed on a baking sheet or glass casserole, either flesh side down or flesh side up. I prefer to bake it flesh side up and turn it into an eye catching culinary delight.
So let's just jump right into the easy, oven roasted butternut squash recipe.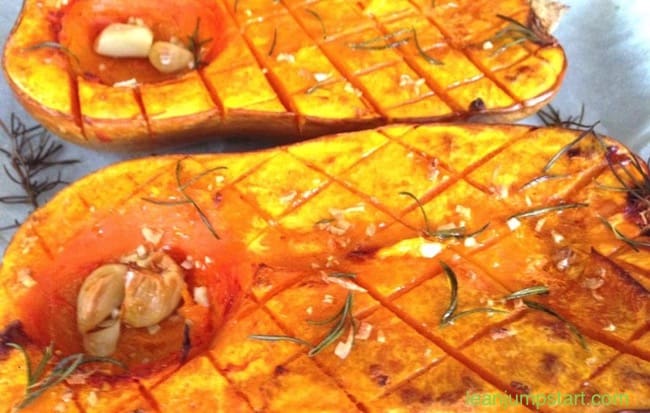 Clean Eating baked butternut squash
2017-11-01 09:38:51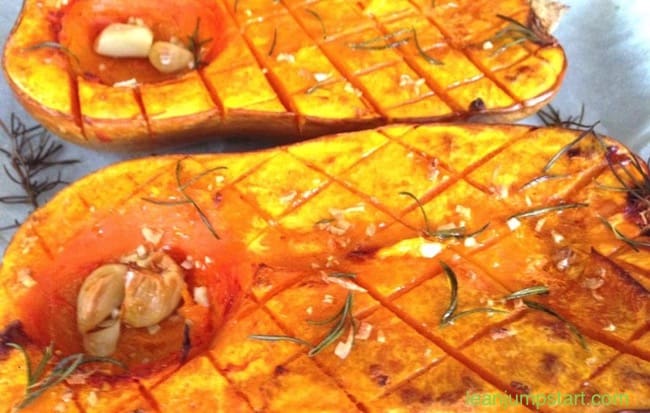 A delicious butternut squash bake
Ingredients
1 butternut squash cut in 2 halves
2 tablespoon olive oil
6 garlic cloves
2 garlic cloves, minced
2 tablespoon fresh rosemary leaves, finely chopped (you can also use fresh or dry thyme or oregano instead)
salt and pepper
Instructions
Preheat the oven to 400°F (200°C)
Line a baking sheet with parchment paper.
Scoop out the seeds with a melon baller. (Save pumpkin seeds for roasting or discard.)
Take a small knife and cut lines along the top of the squash.
In a small bowl, combine minced garlic with olive oil.
Slather the garlic oil all throughout the squash halves. I like to make sure that every part is covered.
Put 3 garlic cloves each in the hole of each squash half.
Sprinkle each half with, rosemary, salt and pepper.
You can also sprinkle some rosemary leaves on the baking sheet for a more intense aroma.
Place the squash halves in the pre-heated oven.
Bake in the oven for 45 to 60 minutes, depending on the thickness of your squash.
Remove from oven and serve immediately
Notes
I love to combine it with baked feta cheese.
See instructions below.
Leanjumpstart Clean Eating Habits https://leanjumpstart.com/
Baked Butternut squash combined with feta cheese
I love to serve oven-baked butternut squash with baked feta cheese. How? Create small feta cheese parcels (feta cheese wrapped with tin foil) and bake them for the last 10 minutes with the squash halves in the baking oven. If weight management is an issue for you I recommend not more than 3.5 oz./100 grams of feta cheese per person .
You can puree the remaining butternut squash (just the flesh) and use it for other recipes e.g. soup, baby food etc. Did you know that you can even freeze it? Just scoop the puree into freezer bags or appropriate glass containers, label, and store for up to 6 months in your freezer.
Butternut squash nutrition facts
The tender, orange flesh is rich in beta-carotenes (vitamin A) that is great for your skin, hairs and eyes. 3.5 oz./100 grams of butternut squash cover already 80% of your daily requirement for vitamin A. Rule of the thumb: the darker the orange flesh, the more beta-carotene and other nutrients the butternut squash contains. Like most squash types, it is also low in fat and a butternut squash nutrition can keep you perfectly in shape.
How to buy and store butternut squash
Although butternut squash is available year-round, it's best to buy it from early fall through winter, ideally on your local farmer's market. You can store whole squashes in a cool, dry place (e.g. pantry) for 1 – 2 months.