Last Updated on March 10, 2020
This delicious stuffed butternut squash with quinoa, cranberries, spinach, and chickpeas is an easy and satisfying recipe for the colder season. You could perfectly use it as part of a festive menu on Thanksgiving, Christmas or New Year's Eve. I bake it sometimes even as a weeknight meal.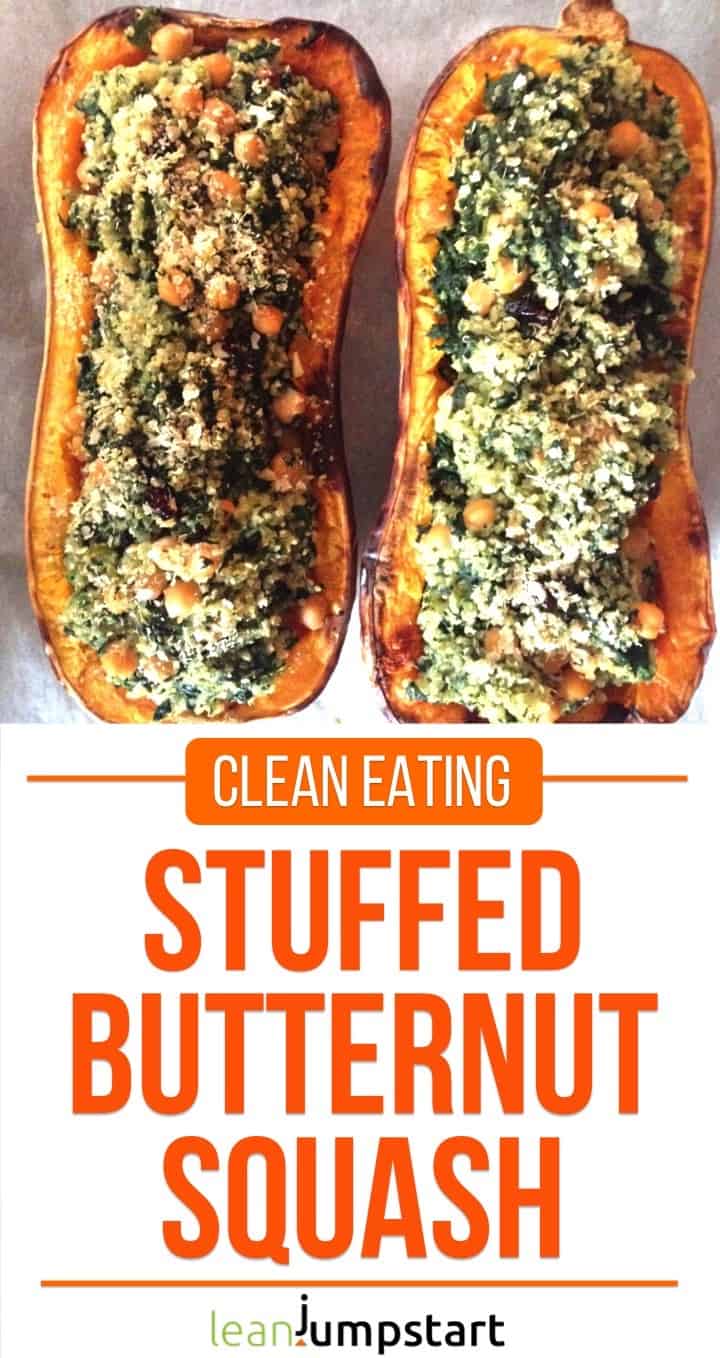 Lots of variations and favorable nutrition facts
In many parts of Africa, they create numerous high fiber meals with this pear-shaped and aromatic delicacy. Whether in a salad, soup, grilled or stuffed, you can enjoy the squash in a lot of variations.
The flesh of this popular fall and winter vegetable is tender, slightly buttery and nutty. It contains a lot of beta-carotene, which is good for skin, hair and eye-sight. This dish not only provides you with the important macro and micronutrients but also tastes great, lasts long and gives you a satisfied feeling!
In addition, you don't actually have to buy a huge 2-kilo squash, because the butternut is usually smaller than its big siblings.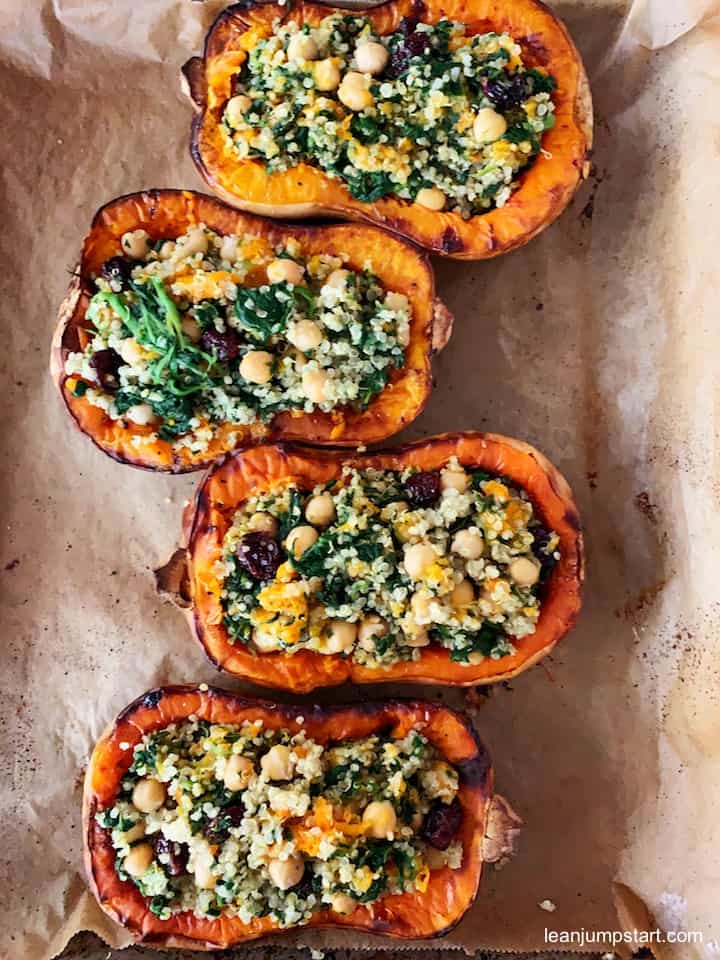 A mouth-watering spinach quinoa filling
Today I will present to you a vegan stuffed butternut squash. The filling itself is reason enough for trying this dish. Hearty and protein-rich chickpeas combined with fiber-heavy quinoa and aromatic, garlicky spinach. I've completed the entire package with sweet-sour cranberries, adding yet another dimension of flavor. Here comes the recipe.
Print
stuffed butternut squash recipe
a festive high-fiber, protein-rich vegan meal.
Author: Gabi Rupp
Prep Time:

15

Cook Time:

50

Total Time:

65

Yield:

2

1

x
1 medium butternut squash, about 2 1/2 pounds
or 2 small squashes

2 teaspoon

olive oil, divided

3/4 cup

quinoa

1 1/2 cups

vegetable broth

450 grams

frozen spinach pellets

2

cloves garlic, minced

1 teaspoon

dried oregano

1/2 teaspoon

salt (plus additional salt and pepper for roasting squash)

1/2 teaspoon

chili flakes

1

(15 ounce) can chickpeas, rinsed and drained

1/4 cup

sugar free dried cranberries
nutritional yeast
Instructions
The squash
Preheat your oven at 425 degrees °F./ 220 °C
Cut squash in half lengthwise then scoop out the seeds.
Arrange the cut sides on a with parchment paper covered baking sheet, sides up.
Season lightly with salt and pepper.
Drizzle with olive oil.
Bake squash halves for 45-55 minutes, just until they are fork tender.
Remove from the oven and let cool enough to handle.
Turn down the oven temperature to 375 degrees °F/ 190 °C.
The filling
While the vegetable is baking, pour the broth in a small pot and bring to a boil.
Add the quinoa, return to a boil.
Reduce heat, cover, and let it simmer for 12 minutes at medium-high heat. (Most of the broth should be absorbed)
Remove from heat and let it sit, covered, for 15 – 20 minutes minutes.
Fork through the grains then set aside.
In a large skillet or pan, heat the remaining olive oil over medium high heat.
Add the frozen spinach and cook until wilted, about 5 minutes, then reduce the heat to medium-low.
Add the garlic, oregano, salt, and chili flakes.
Cook one additional minute, until garlic, is fragrant.
Stir in the cooked quinoa, chickpeas, and cranberries.
Cool slightly, then scoop out the squash flesh, leaving a 3/4-inch-thick border along the bottom and a 1/2-inch border around the sides.
Add flesh to the spinach/quinoa mix or reserve it for another use. (I added it to the filling mix)
Stuff the spinach/quinoa filling into the vegetable halves, sprinkle nutritional yeast on top of each one, then pop the squash into the oven again.
Bake about 10 additional minutes at 375 degrees F°/ 190 °C until hot.
Notes
As an alternative, the filling also tastes incredibly well in sweet potatoes.
Variation: serve it as one pot meal
I could really sit in this filling while cooking and almost forget about the roasted butternut squash. So, if you don't feel like having filled butternut squash anymore, you can also serve the filling alone as a clean, plant-based one pot meal. For all others…enjoy the gluten-free, stuffed squash delicacy!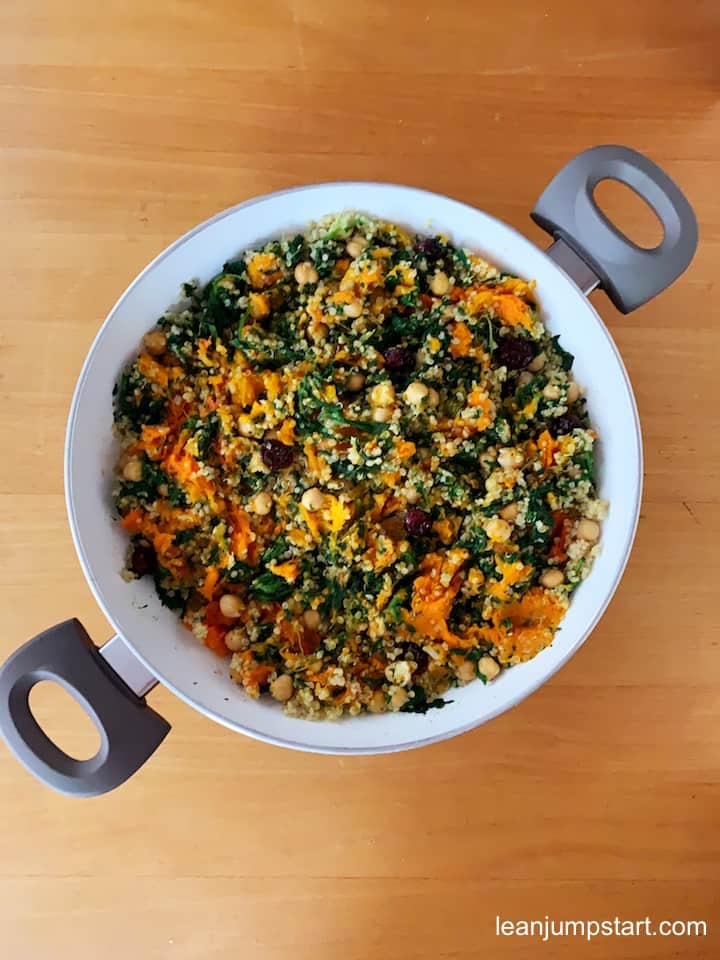 OTHER SQUASH RECIPES YOU MIGHT ENJOY: