Last Updated on November 4, 2020
Recently I've tried this summer light savoy cabbage stir-fry and could not get enough of it. As you might know I'm a huge fan of the whole cabbage family, also known as cruciferous vegetables. If you are on the hunt for easy and quick clean eating recipes then this whole grain pasta meal will expand your cooking repertoire.
I'm sure you can imagine that similar to white cabbage, savoy cabbage is also a fantastic weight loss food. If you don't know what head to look for at the farmer's market, don't panic. I've included a picture of fresh savoy cabbage, later in this blog post. Besides of the recipe I've also researched the health benefits of savoy cabbage for you. Hint: There are quite a few;)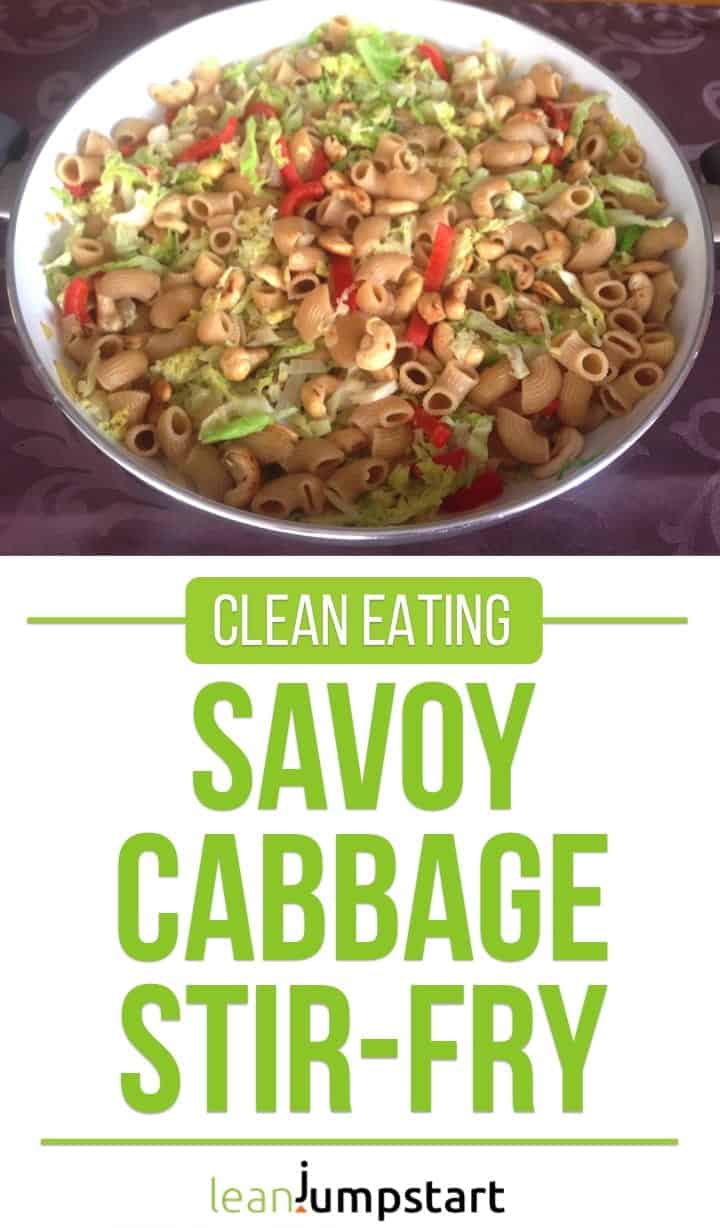 But first let's look into the recipe. For this stir-fry I've used the milder summer savoy cabbage which is now in season. Did you know that the tender cabbage with its loose curly leaves is in season all year round? Rule of the thumb: The later its harvest the more intense its taste.
Enriched with coconut milk and cashews
But for a summer dish like this – I love its lighter flavor in combination with exotic coconut milk and cashews. This is also a great recipe if you have some pasta leftovers in your fridge from the day before. If not, make sure to have cooked whole grain pasta at hand when the recipe calls for it.
Print
Clean eating Savoy Cabbage Stir-Fry
A delicious whole grain pasta meal
Author: Gabi Rupp
Prep Time:

15

Cook Time:

10

Total Time:

25
1

savoy cabbage, washed, trimmed and cut in thin stripes

1

onion, in cubes

1

clove garlic, minced

1

red pepper in stripes

1

(14-ounce/398 ml) (light) coconut milk (1 can =

1.5 cups

)

200

gr. Cashews

1 Tbsp

olive oil

200

gr. whole grain pasta, cooked
salt and Cayenne pepper to taste
Instructions
In a large saucepan, toast Cashews over medium heat.
Set Cashews aside.
In the large saucepan heat oil over medium heat.
Add onion cubes and toast for about two minutes
Stir in the garlic, and cook for 1 minute.
Add the red pepper stripes. Stir to combine and sauté for two minutes.
Add the savoy cabbage and coconut milk.
Stir to combine, cover, and simmer over low heat for 10 minutes.
Add whole grain pasta, Cashews and combine.
Season with salt and Cayenne pepper.
Serve immediately.
Notes
In my recipe Cashews and Pasta have a similar shape. For a more appealing contrast I recommend to use a different whole grain Pasta shape (e.g. Whole grain Rotini or Fusilli)
Health benefits of savoy cabbage
Savoy cabbage like other Brassica vegetables (e.g. white cabbage, broccoli) contains phytonutrients which can protect our cells against harmful free radicals. Most of the anti-cancer properties are believed to be linked to the glucosinolates they contain. Vegetables like broccoli, brussels sprouts, and – yes, you guessed it right – savoy cabbage contained the highest levels or glucosinolates according to a study published in Acta Horticulturae in 2010.
On top of that these phytonutrients strengthen the immune system and have anti-inflammatory properties.
But that's not all!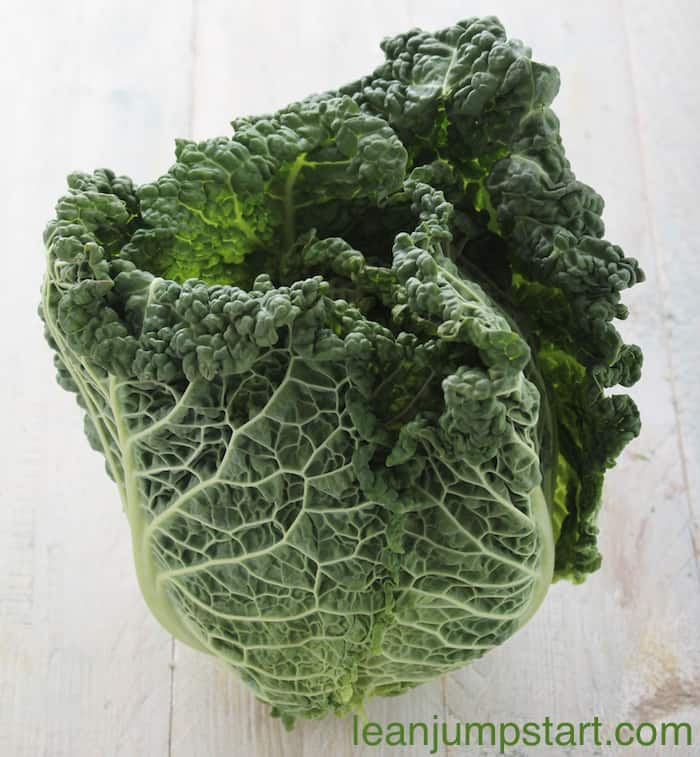 Savoy Cabbage and weight management
Savoy cabbage is also a good source of insoluble fiber that provides bulk to stool, speeding up time to pass out the waste. Eating savoy cabbage regularly offers a natural way to prevent indigestion, constipation and bloating.
While it is not "real pounds" you are gaining with constipation it's way more likely that you're feeling heavy and sluggish … and instead of the gym, the couch is calling your name. So eating fiber-rich meals is an important habit for weight management. Click through to learn more about high fiber foods.
I hope that the health benefits of savoy cabbage and the yummy, plant based recipe can convince you to include this cruciferous vegetable more often in your meal plan.
Triple fiber power
This curly cabbage is ranking number 10 on the list of the top 30 high fiber vegetables. But it is not the only source of fiber in this meal. Cashews are another good source of this important roughage. Combined with whole grain pasta you can maximize its fiber content.
Sometimes I pair the remaining veggie sauce just with slices of homemade whole wheat bread. So yummy!
How do you like this savoy cabbage recipe?
Now I'm curious. Let me know how you like this fiber rich recipe in the comment section below! Do you have your own recipe variation? Feel free to share it with us too.
OTHER SAVOY CABBAGE RECIPES YOU MIGHT ENJOY: