Last Updated on January 18, 2021
No matter if you are looking for a red lentil pasta recipe or a pasta based on legumes you've come to the right place. You'll get here information on both. Let's start with the delicious recipe first. I've also included a stap-by-step video for you. If you need info on lentil pasta nutrition, please jump to the end of this blog post.
A great tasting vegan pasta sauce
This is a very simple but super yummy whole grain pasta recipe with a delicious legume sauce. I've cooked it already before my daughter started to live vegan and I'm still amazed how incredibly tasty this plant-based "Bolognese" sauce is.
Although I love to experiment and vary my plant-based meals regularly, this pasta is one of those recipes I cook again and again. Most of its ingredients are sitting in my pantry anyway.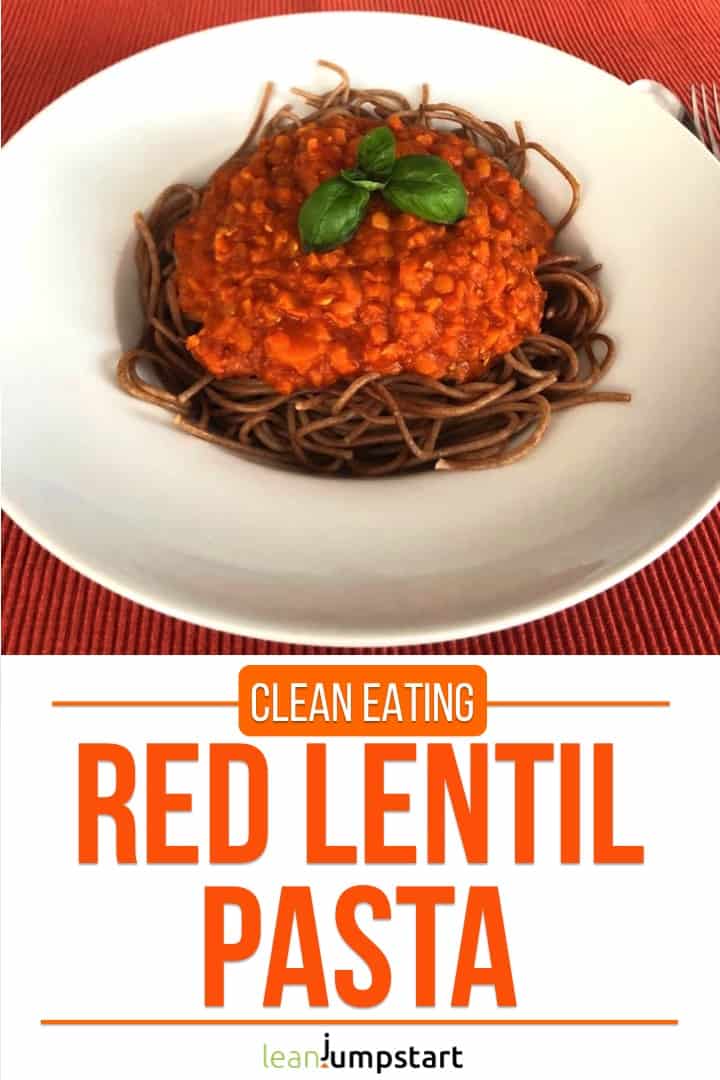 A very flexible red lentils recipe
The veggies in the sauce can also be easily varied according to your own taste and pantry/fridge contents. Great additions are for example celery, zucchini or fennel.
I love to combine wholegrain spaghetti with this aromatic sauce, but you can use any noodles you want in this pasta dish. To prevent blood sugar spikes I highly recommend whole grain pasta, legume pasta or even brown rice.
That's what you'll need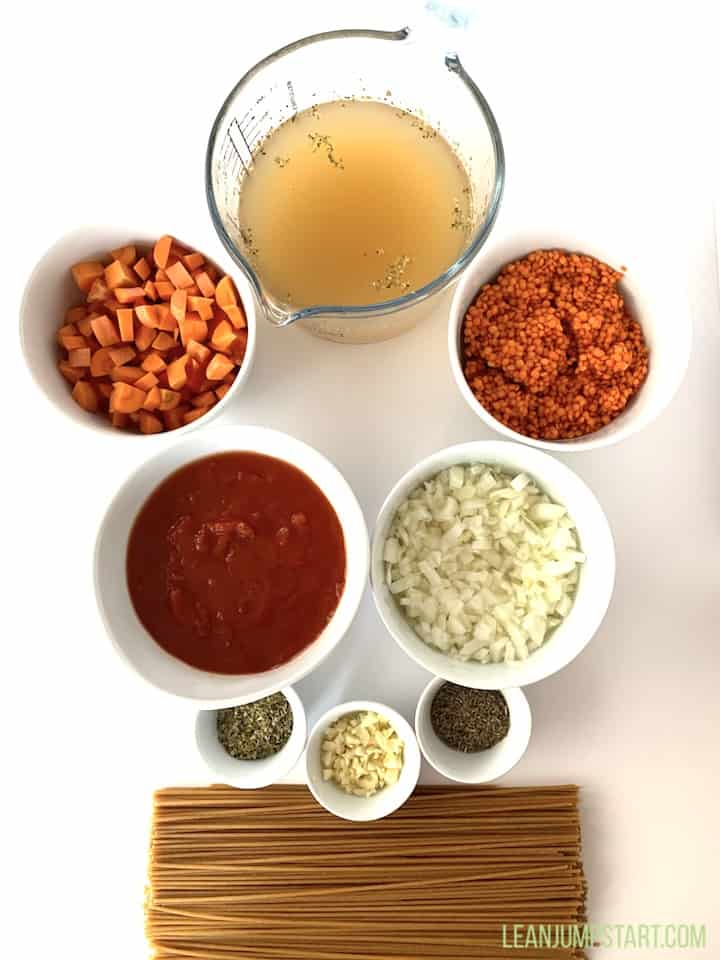 Ingredients:
red lentils
carrots
onions
garlic
tomato cubes
vegetable broth
olive oil (optional)
Italian herbs like thyme and oregano
whole grain pasta
3 reasons why I use red lentils
For a vegan, legume-based Bolognese sauce you could probably use any lentil type, but I have good reasons to stick with my preferred red lentils:
no need to be soaked, precooked, etc.
very short cooking time (depending on lentil type: 15-25 minutes)
a very delicate and light nutty flavor, which harmonizes perfectly with the fruity tomato sauce.
Furthermore, I find it a nice way to improve the quality of a rather simple tomato and vegetable sauce by increasing the satiating protein and fiber value.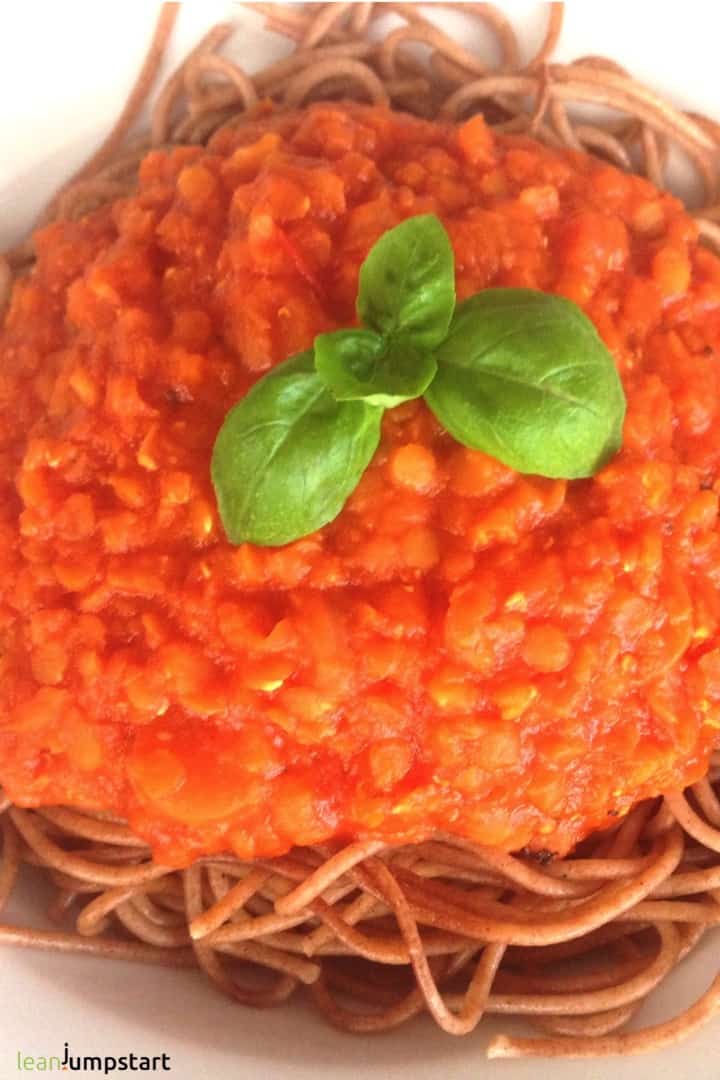 Step-by-step photos
Before I present to you the detailed recipe, check out in the following the 6 most important steps.
Step 1: Sweat diced onions and minced garlic in a bit of oil for 2-3 minutes. For a more intense taste you may want to roast them at higher heat.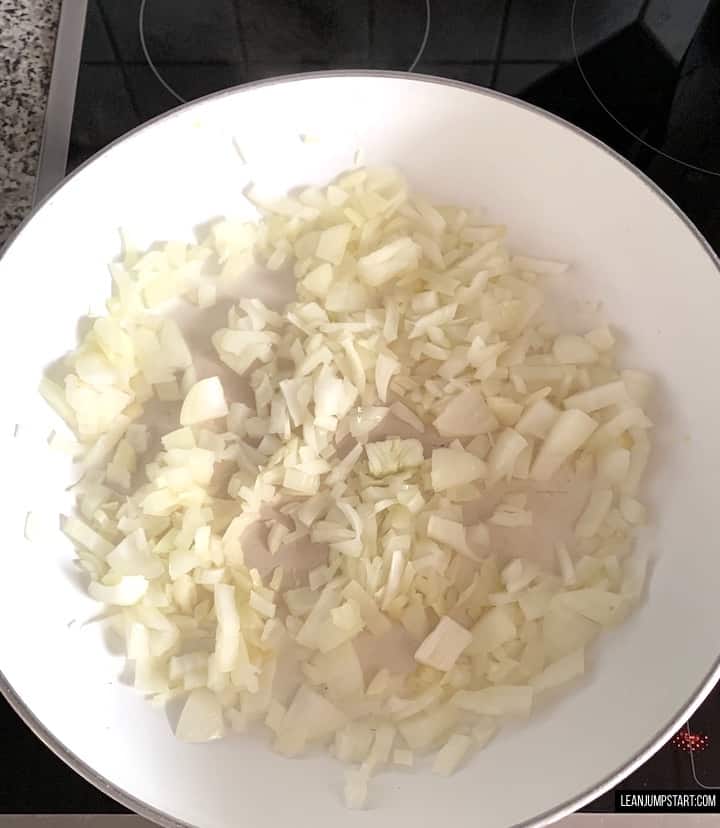 Step 2: Add hacked carrots and cook for another 2-3 minutes. You can seat with water instead of oil but especially carrots need to be eaten with some fat to absorb the beta carotene.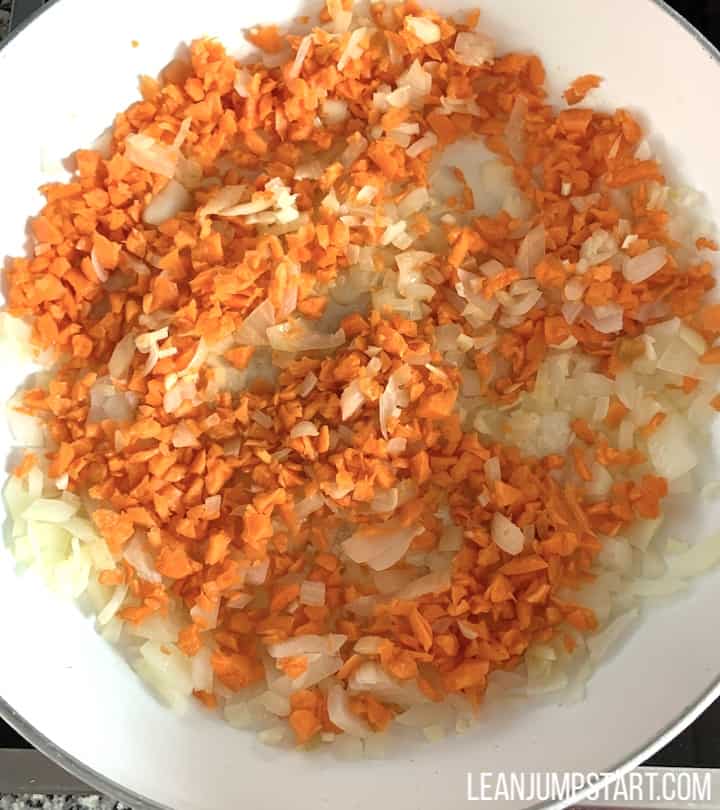 Step 3: Cover the mix with red lentils.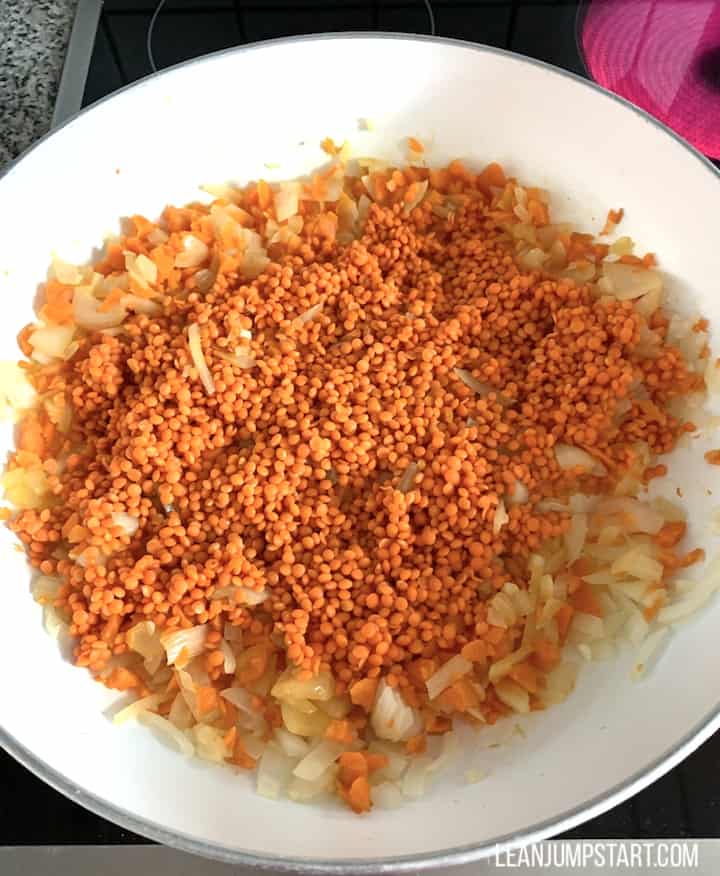 Step 4: Add the tomato cubes.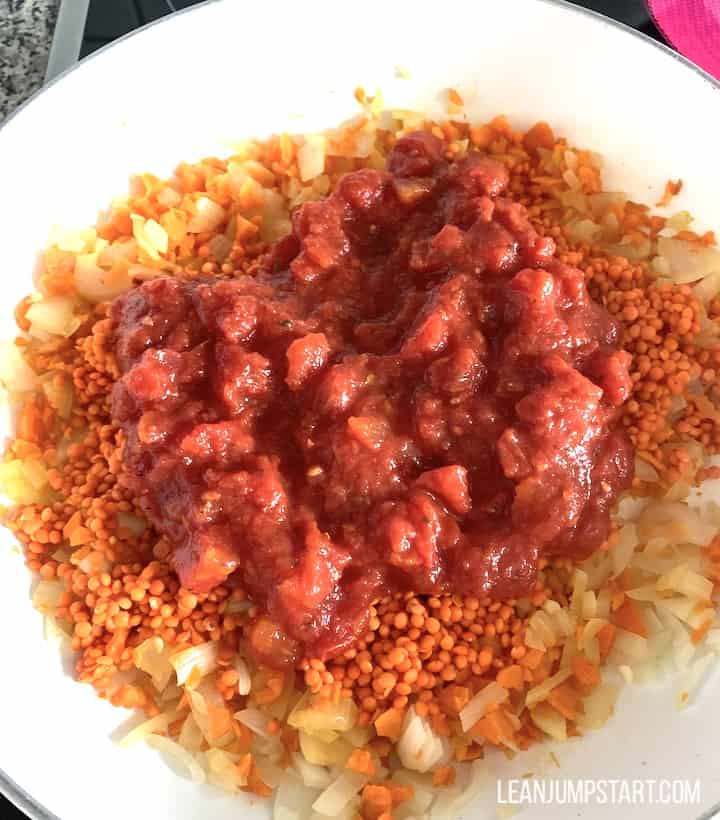 Step 5: Pour in the vegetable broth.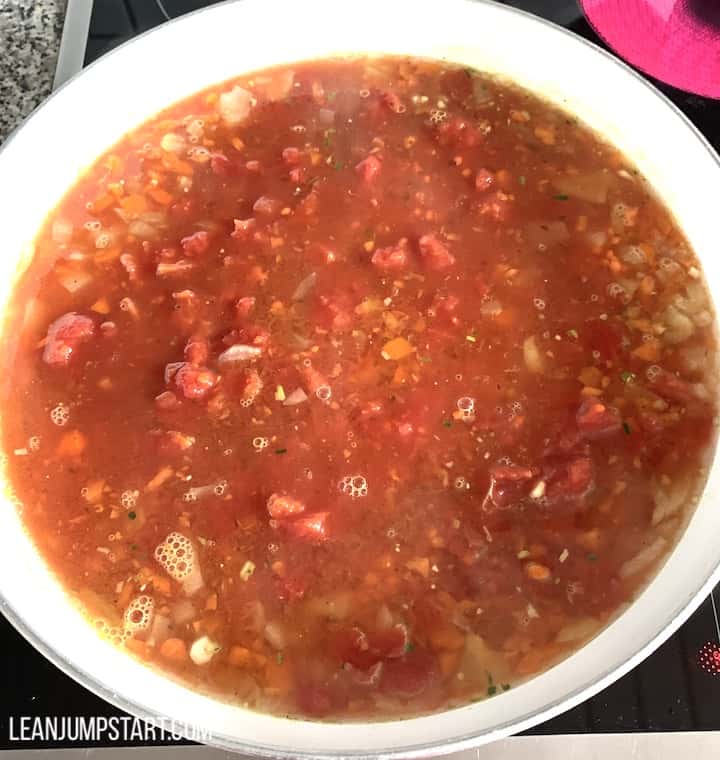 Step 6: At last add the herbs and let it simmer for 25 minutes.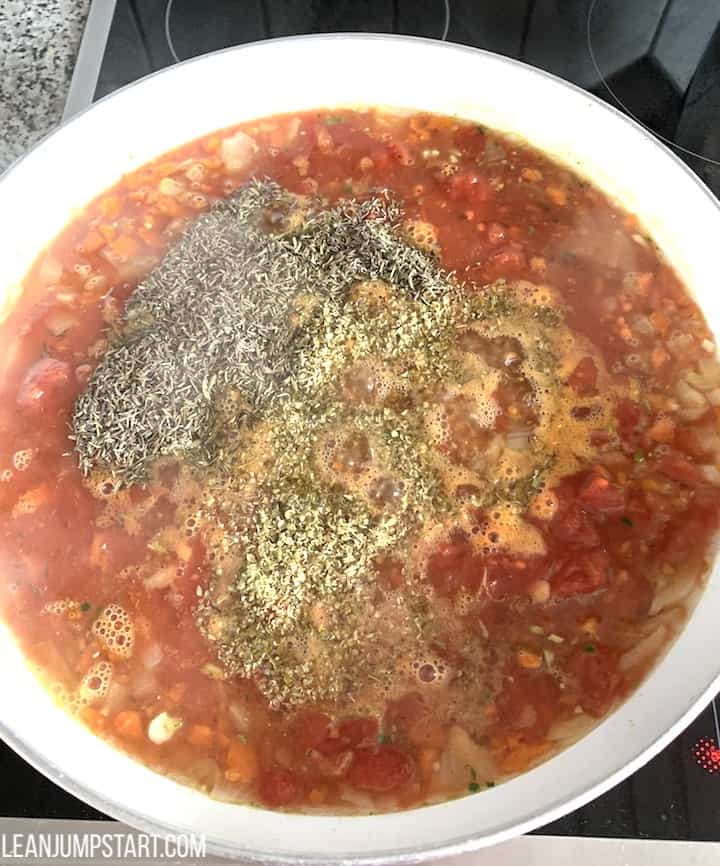 So here you have this fiber-rich one-pot-meal needs just 6 simple steps.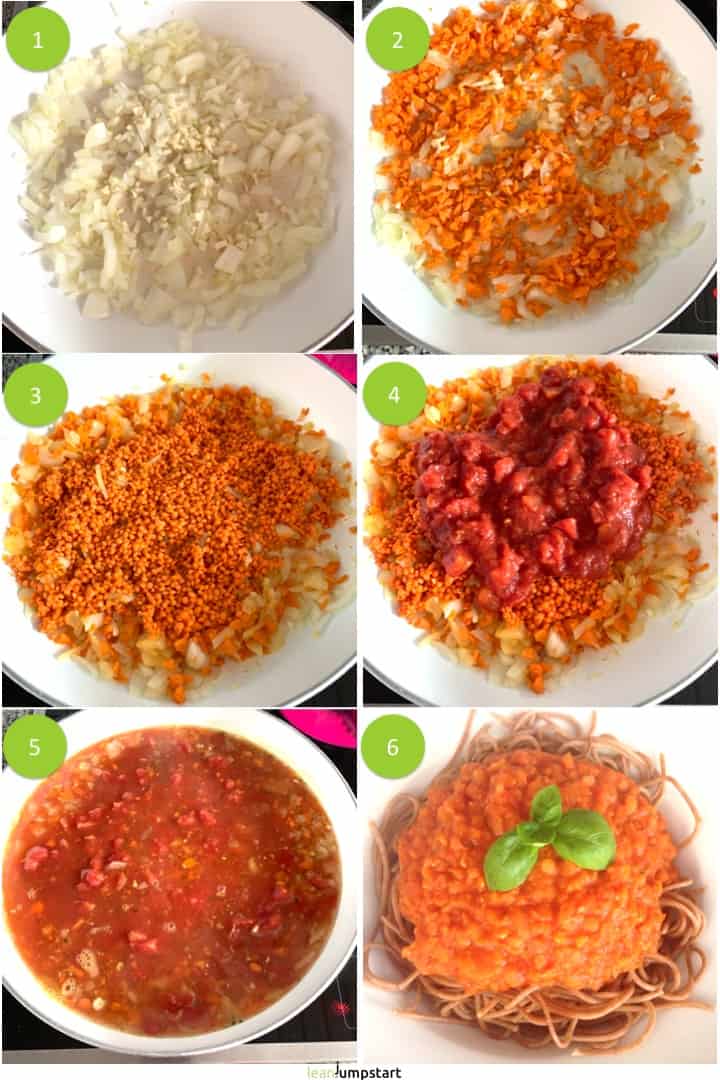 All summed up, this is a fine, tasty and filling sauce, which is inexpensive and quite quick to prepare.
Print
Easy red lentil pasta recipe, clean and vegan
a flavorful plant-based Bolognese sauce
Author: Gabi Rupp
Prep Time:

5

Cook Time:

30

Total Time:

35

Yield:

3

-4

1

x
 1 tablespoon extra virgin olive oil (EVOO)

3

onions, diced

3

garlic cloves, minced

2

medium carrots, finely grated

150 g

red lentils

600

ml vegetable broth

400 grams

/ 14 0z. tinned chopped tomatoes (BPA-free)

2 tablespoon

oregano

2 tablespoon

thyme
salt and pepper to taste
fresh basil

500 grams

whole grain Spaghetti, cooked according to package instructions
Instructions
Cook your whole grain pasta in a large pot with salted water according to package instructions.
Set aside.
Heat oil in a large pan (or Thermomix) and add the onions and garlic. Sweat for 2-3 minutes over medium heat and then add the carrots. Cook for another 2-3 minutes.
Add the lentils, tomatoes, vegetable stock, oregano and thyme, stir to combine and bring to the boil. Reduce to simmer and cook for 25 minutes until the lentils and vegetables are soft. (stir in between occasionally).
Taste with salt and pepper.
Serve immediately with cooked whole grain spaghetti or other pasta and garnish with some fresh basil.
Notes
If you want to intensify the tomato taste you can add 2 tablespoons of tomato paste
Sprinkle some red pepper flakes for a spicier taste
If you prefer your red lentils al dente, then cook them not longer than 15 – 20 minutes
Step-by-step video
What is so special about lentils?
Lentils are high in protein and fiber and also contain many complex carbohydrates. Due to their high roughage content, these legumes have a low glycemic index (GLYX).
In consequence they raise the blood sugar level only slowly (similar to whole grains) and thus trigger only a slight release of insulin. A brand new study confirms that lentils significantly reduce blood glucose levels. (1)
The dietary fibers also promote long-lasting satiation and a good digestion. It's also great to know that lentils support the immune system by absorbing and removing toxins from the digestive tract.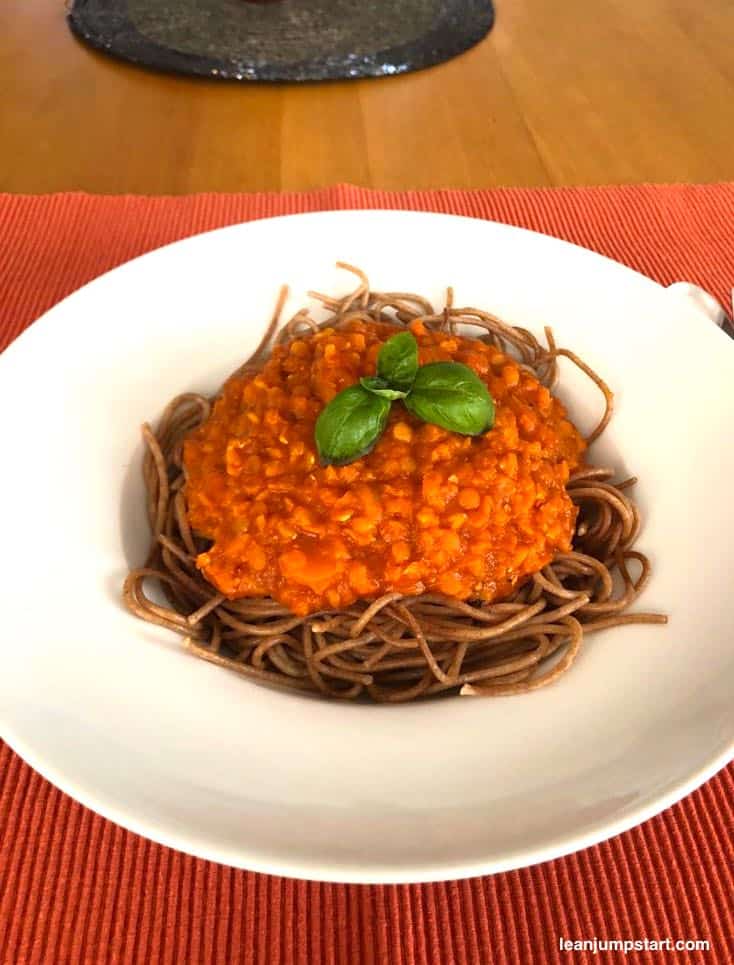 Lose weight with pulses
With all this in mind, it probably doesn't surprise that lentils, peas, chickpeas, and beans – in short pulses – can contribute to a moderate weight loss. This is also the result of a review by the Li Ka Shing Knowledge Institute of St. Michael's Hospital in Ontario, Canada. The analysis of 21 clinical studies revealed a data pool of 940 men and women. (2)
They found out that a portion of about 130 grams of legumes per day led to an average weight loss of 0.34 kilograms – in a study period of six weeks. Although 0.34 kilograms doesn't sound like a lot at first, it gets relevant when you know that the participants weren't encouraged to reduce other foods.
If you calculate the annual weight loss with the consumption of legumes, you get a notable loss of about 2.5 kilos! What is even more important, a regular pulse consumption prevents you from gaining it back after you lose it.
So if weight loss is your goal, then I gave you another reason to include simple red lentil recipes more often into your nutrition.
OTHER LENTIL RECIPES YOU MIGHT ENJOY
Pasta based on legumes like red lentils or peas
Another smart way to include more lentils in your nutrition would be to use lentil based pasta instead of whole grain noodles. The list of ingredients for legume pasta is usually very short. Most gluten-free products consist of 100 percent lentil, pea or chickpea flour. This makes them just as "clean" as conventional whole grain pasta.
But in one aspect, legume pasta is one step ahead. While both pasta types contain many dietary fibers and slowly digestible carbohydrates, red lentil and bean pasta contain high-quality plant-based proteins.
Visually they are hardly distinguishable from classic noodles and also the preparation is just as simple. The short cooking time of four to six minutes is another advantage.
Legume noodles: Any objections?
What looks like noodles does not necessarily taste like noodles. The flavor of gluten-free pasta made from lentils and peas reminds a bit of the basic ingredient. Moreover, being a bit floury and crumbly, you can't fool your mouth feeling. That's why they taste best with a strong sauce (see recipe above). In that combination, the strong taste of its own is no longer so important.
Even if the red lentil rotini, black bean penne, and other noodles have great nutritional values, they cost e.g. at Trader Joe up to four times more than regular whole grain noodles. This raises the question of whether we should not put legumes on the table in their regular form, instead of pasta made from pulses. You may want to start with my recipe.