It's time to look at make-ahead freezer meals. We will use the coolest spot in your home as a smart tool that supports your clean eating habits and saves you time in the kitchen.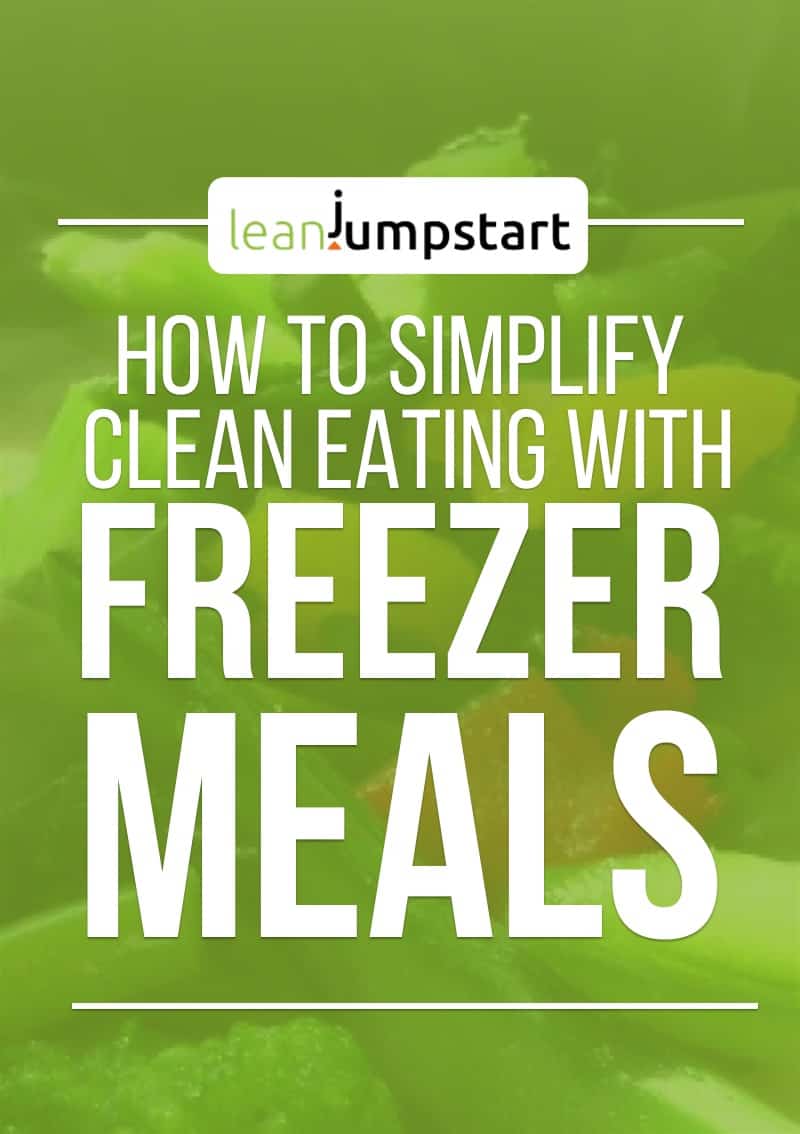 Maybe you've heard of the "once-a-month freezer meals" method. You spend a complete Saturday cooking healthy freezer meals that last an entire month. The thought of this might feel a little overwhelming for you, given the fact that Saturdays are often crowded with house cleaning, shopping or social events.
Don't panic though! That's not what this challenge is about. We will start again with just a tiny habit that is so easy that you can't say no. Luckily, freezer cooking can fit into anyone's busy life once you pick the method that will work for you and your family.
Why are freezer-friendly meals, made ahead of time so popular?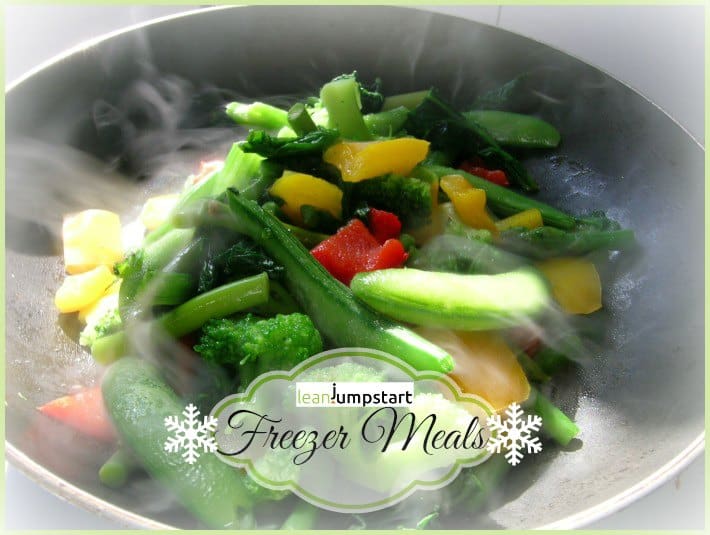 Freezer cooking is another strategy that can help you in your efforts to eat clean, create home-made food, plan meals and eat out less. But there is more…
Clean Eating Freezer meals are:
Budget-friendly: Freezing leftovers, or making larger batches of cooked dishes and freezing them in portions, can save you loads of money in the grocery store. On top of that, defrosting just the amount you want helps to reduce waste.
Schedule friendly: Storing your nutrient-dense meals in your "coolest spot" gives you plenty of flexibility in the sometimes hectic course of life. You can quickly pull out a frozen dish or the components to make a meal "fresh" in under 30 minutes (sometimes even under 20 minutes). This cuts down your time in your kitchen significantly and avoids the last-minute panic.
Taste and calorie friendly: Freezing is a natural way of preserving meals without additives or preservatives for future use. You'll find on the web many delicious clean freezer meal recipes.
What clean eating meals to freeze?
Although theoretically you can freeze and defrost any meal, some foods are better suited for freezing and reheating than others.
Spaghetti sauces and chilis: I love self-made tomato sauces and always have them ready-made in my freezer. Often I use seasonal vegetables from my garden or local farmer's markets and cook large batches of delicious noodle sauces for freezing.
Cooked grains as side dishes: Brown rice, quinoa, millet, buckwheat, etc.
(Cabbage) soups, stocks, and stews: You can freeze them as complete meals or a single portion for your lunch at work. One of my favorites is butternut squash soup. Self-made stock freezes well in ice cube trays or medium freezer containers (500-750 ml).
Cooked meat, meatloaf, chicken breasts, and poultry left-overs: you can use these alone or reuse them in sauces, soups or stews. My cooked shredded chicken I add to soups, casseroles, chicken salads and sandwiches. But I also store several portions of browned ground beef (95% lean) in my freezer. That way I can easily create spaghetti sauce, stews, tacos or burritos.
But there is more…
Casseroles: Last week I presented to you clean eating casseroles – they are also perfect freezer-friendly dinner options.
Quiches and pies: These frozen food delights allow you to satisfy and surprise guests easily.
Cakes and muffins: Just bake a little extra and you'll have sweet and wholesome indulgences at hand when you expect guests.
Unbaked pizza dough: Store it frozen and use it to prepare a lean, self-made clean pizza.
Slow cooker meals: Of course you can also freeze most slow cooked meals too.
Most of the presented cooked dishes will keep for two to three months in the freezer.
Clean foods that are less suitable
You can freeze sweet potatoes that are boiled sliced, diced, baked, or mashed. Freezing regular potatoes in the skin or salted potatoes can, however, affect the taste. When hardboiled eggs are frozen, the protein turns glassy. Less suitable are also meals with (sour) cream, yogurt, and other dairy mixed in as freezing causes flocculation.
Start slowly with meals you love
Once a month cooking, once a week cooking or double batch cooking are all possible options for freezer cooking. Currently, no prescribed method exists.
And yet, to prevent being completely overwhelmed, I recommend starting slowly. You might want to choose a couple of healthy meals that you know your family will like, cook twice as much, freeze one and try them out as easy frozen meals.
Or you can start even slower…
Baby Steps: How to include this smart habit into your weekly clean diet
A great way to test if freezer cooking is something for you is by just focusing on individual ingredients. So many cooked ingredients can be frozen, including grilled chicken, browned meat, cooked lentils, beans, rice, and more. That way you can add individual ingredients to many recipes quickly and easily.
Step 1: Think about food you use a lot. Examples: pre-soaked and cooked black beans, grains, shredded chicken, browned ground beef 95% lean
Step 2: This week, cook a large portion of your staple food. A great time-saver for legumes is to use an instant pot. When it's done, let it cool down completely.
Step 3: Divide it into individual portions and put it into appropriate freezer bags (e.g. zip-top bags) or containers with a tight-fitting lid. Remember that air is responsible for freezer burn. Don't forget to label what your food is and add a date. Now you have the staple food that you can quickly add to clean eating recipes to save a step.
My frozen homemade kidney or white beans are patiently waiting for me as perfect ingredients for my chili or a hearty bean stew.
Step 4: When freezer cooking for several weeks, reward yourself with a convenient set of containers. An excellent choice would be freezer-safe glass containers like those from Pyrex or Corningware.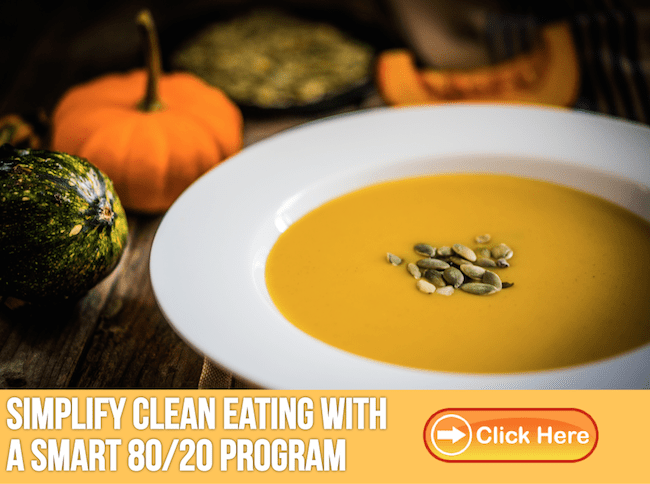 Get your clean eating under control with 3 additional cooking tips
1) Cool Down
Cool down your nutrient-dense meals or single ingredients totally before freezing.
Try to cool down ready cooked meals as quickly as possible. This is best done when you place your hot pot in your sink or in a large bowl, filled with cold water. Soups, stews, and sauces cool down faster when you stir them from time to time.
2) How to defrost safely
Don't defrost your food at room temperature. The surface of it can warm up quickly, allowing bacteria to grow. The only exception is baked food.
The slowest, but also the safest method for thawing, is in your fridge. Smaller quantities defrost within a few hours; bigger quantities will thaw overnight or need even longer.
You should thoroughly heat defrosted meals and eat it within the shortest amount of time. Exception: You can put frozen stock directly into your soup, stew, risotto, etc. without thawing. There exist also some great freezer to oven recipes.
3) Dig deeper with my recommended book by Tiffany McCauley.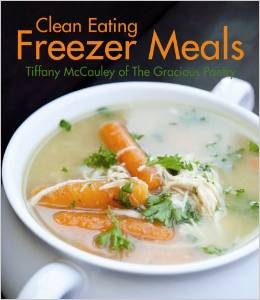 If you are looking for an additional resource or book on freezer cooking then check out the popular book "Clean Eating Freezer Meals" from my dear friend Tiffany McCauley. I'm a huge fan of Tiffany's yummy recipes she publishes on her blog Thegraciouspantry.com. Expect easy to prepare, time-saving delicious meals, proving that tasty and healthful are compatible.
She was so kind as to leave a quote here for my readers:
" Clean Eating Freezer Meals will help you always have an answer to the "what's for dinner?" question. These clean meals will help you stock your freezer so you are never at a loss for something to eat. Simply thaw, warm and enjoy!"
I've luckily got a sneak peek…
I was lucky enough to get a sneak peek of her pre-released book and I can tell you that she again is over-delivering with this book. The photos are gorgeous and I would right jump into many of her meals. My favorite dinner recipe is a delicious "lime and mango salmon". As a dessert, I could not resist her mouth-watering chocolate peanut butter fudge (for seldom indulgences).
Check out the book on Amazon here)! (Affiliate Link) 
To finish up…
What are your thoughts? Which is your preferred frozen food or meal and why? Let me know in the comments section below!