This quick and easy endive salad recipe has been requested by family and friends countless times and I'm hoping that you will enjoy it as much as we do.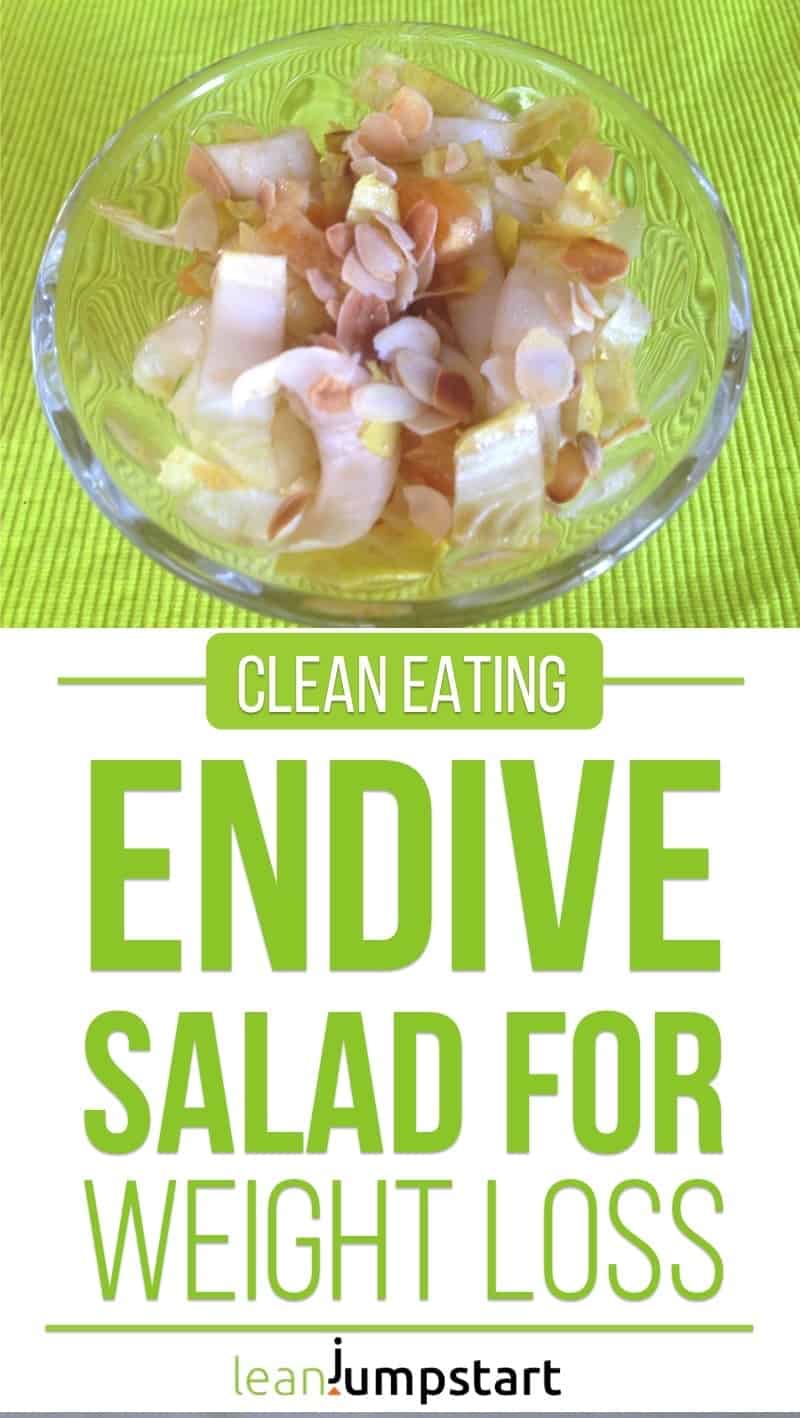 Don't screw it up!
Preparing an endive salad is not really a challenge but you can easily screw it up, and you will never make it again, if you don't do it right for the first time.
Let's first take a look at what I'm talking about, as the meaning of "endive" is often confused. As clean eaters we can't gather enough knowledge regarding vegetables. This is especially true if they help to lose weight, detox and strengthen gut flora. I'll share more about endive's weight loss effects at the end of this healthy salad recipe.
What is endive?
Endive is a member of the chicory family, which includes escarole, radiccio, curly and frisee endive. This winter leaf vegetable is often also called "Belgian endive" or "leaf chicory". Typical are its boat-shaped leaves that can serve as the perfect serving utensil for a variety of ingredients and dips. Especially during holidays you can easily create "endive bites" – those delicious and eye-catching appetizers.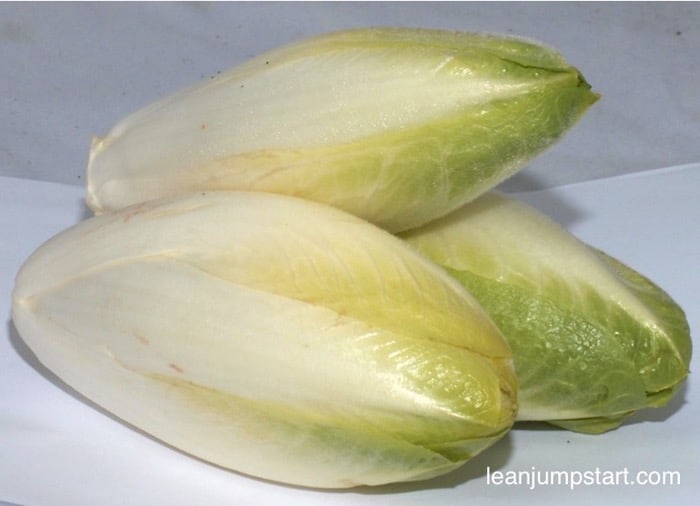 Heads up: Don't confuse "Belgian endive" with "true endive" including the green, curly endive salad, a different species.
Endive salad recipe with a citrus twist
For a clean eating salad, most people just combine endive leaves cut in slices with a self-made dressing. But wait – the result is usually a bitter-leaf salad that is of course very healthy, but it will make it hard for you to enjoy.
A perfect way to temper endive's bitter flavor is to mix it with orange slices like I have done in this fresh and light endive salad recipe.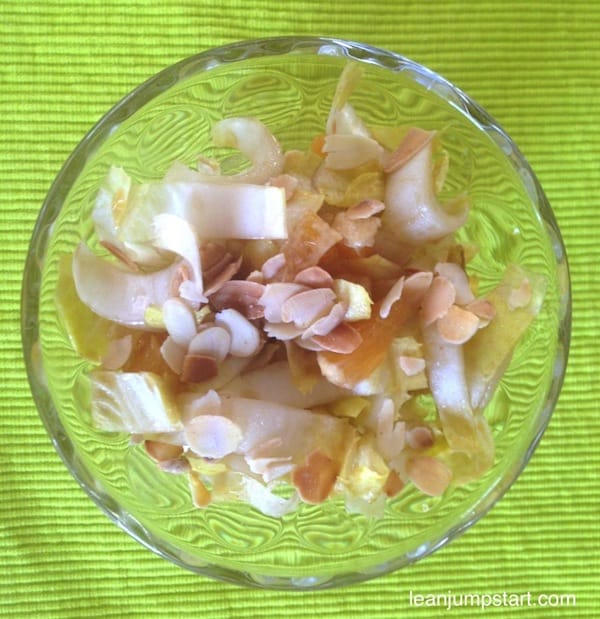 Clean eating endive salad with oranges and almond flakes
2017-03-21 06:13:06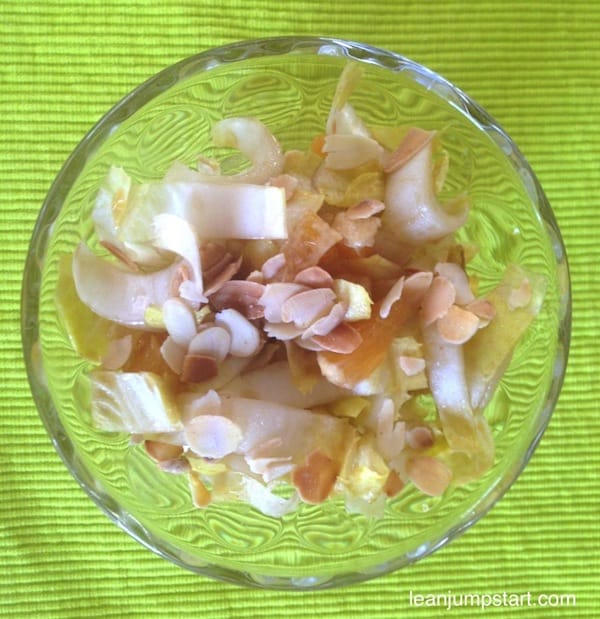 Serves 2
a delicious weight loss salad
Ingredients
2 Belgian endives
1 medium-sized seedless orange
1 tablespoon vinegar (or aceto Balsamico)
2 tablespoons olive oil
salt, pepper
almond flakes, roasted
Instructions
Separate the endive leaves, discarding the base, slice crosswise 1/2 inch thick.
Peel orange and cut away all peel and white pith, quarter and slice.
Combine endive and orange slices in large bowl.
Whisk vinegar and olive oil in medium bowl to blend.
Season with salt and pepper.
Add vinaigrette and toss to coat.
Let it sit for 20 minutes
Sprinkle with almond flakes before serving.
Leanjumpstart Clean Eating Habits https://leanjumpstart.com/
4 Health Benefits of Belgian endive
In Belgium these endives are also known as "white gold" and that with good reason. Endive is flexible enough to be eaten raw in a salad or steamed in a vegetable stir-fry. When looking at its health benefits you cannot serve it often enough.
Natural Fat Burning:
With one calorie per leaf, chicory is a real slimming wonder. The white-yellow-green leaves contain the bitter compound lactucopicrin (intybin), among others. Lactucopicrin activates the liver and boosts metabolism. (1) On top of that this bitter compound is a natural fat burner. It disposes nutritional fat for fat burning instead of storing it in your hips, stomach or bottom.
If you want to lose weight and feel great in just 5 minutes a day without dieting then check out my 52 Chef Habits Course!
Lowering Bad Cholesterol:
The bitter compound can even more. It decreases the cholesterol level, stimulating bile and pancreas to produce a special secretion. This secretion consumes cholesterol in the blood, reducing the damaging LDL-cholesterol up to 10 percent, which again can prevent cardiovascular disease. Another benefit for your heart: Endive contains 135 milligrams potassium per 100 grams, a mineral essential for a healthy heart.
Detoxification:
Besides of potassium, Belgian endive contains also phosphor and calcium. Our body needs all three minerals to neutralize excess acid. (Acids develop e.g. when animal protein is digested.) Excess acid can lead to allergies and inflammation.
Protecting gut:
The white part of chicory contains a large amount of the soluble dietary fiber "Inulin" stimulating the growth of beneficial intestinal bacteria. In consequence endive is especially favorable for the gut flora and hence strengthens the immune system. A study by the Friedrich-Schiller University in Jena, Germany could even prove that inulin can reduce colon cancer risk.(2)
It's time to test my endive salad recipe
Given all those fabulous health benefits of leaf chicory the presented endive salad recipe might be the perfect inspiration for you. Enjoy!
OTHER LEAF SALADS YOU MIGHT ENJOY