Last Updated on November 4, 2020
Here comes another filling clean eating dinner idea I really love: coconut rice and beans. While I'm putting together this easy recipe for you I wonder why I don't prepare it more often.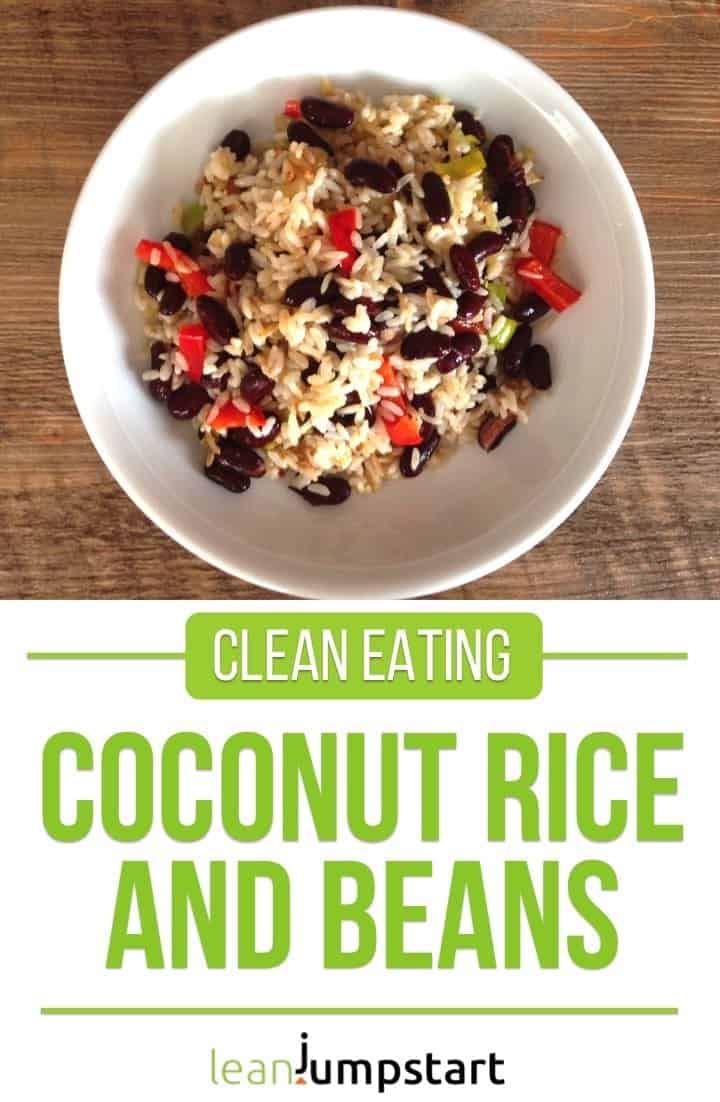 This rice and beans with coconut milk combines everything I feel is important in a simplified clean eating recipe. It is easy, quick (ready within 30 minutes), flavorful, provides a high satiation effect and still keeps you in shape if eaten in moderation. Most of the ingredients you usually have in your pantry.
OK, I admit it – maybe not all.
Especially coconut milk we use up very quickly for other nutrient-dense, creamy clean eating meals with an exotic flavor. Given the frequency we need it, coconut milk should be a staple in our kitchen like cans of tomatoes or kidney beans and yet…
Jotting it down in our running shopping list immediately after we use up coconut milk is a habit my daughter and me are still working on;) Did you know that you can get occasionally coconut milk cans even at Aldi?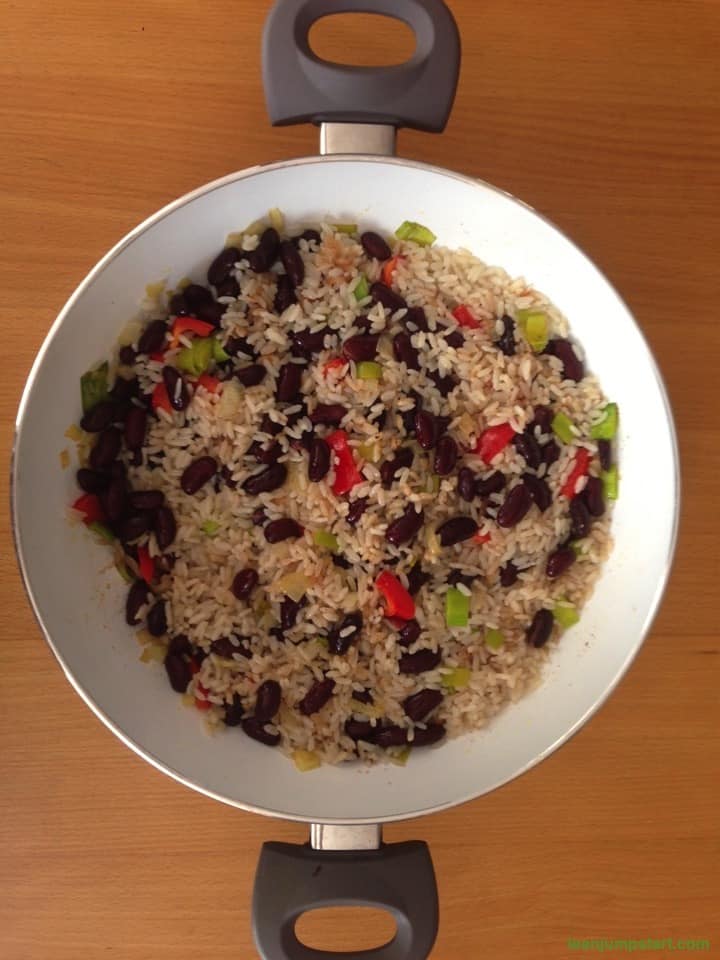 How to make coconut rice and beans
Preparing the grains for this high fiber meal couldn't be easier. You'll be cooking rice in coconut milk instead of water or regular milk. As a result you get a fragrant rice that is already a taste revelation by itself.
It is also the first step for the vegan beans recipe below.
Print
Coconut Rice and Beans
a delicious and filling clean eating dish
Author: Gabi Rupp
Prep Time:

15

Cook Time:

30

Total Time:

30
For the coconut brown rice
200

gr./7 oz. brown rice (ca.

1 cup

)
pinch of salt

400

gr./14 oz./2 cups coconut milk (light)

1

can kidney beans or black beans, drained

2

cloves garlic, minced

1

red or yellow pepper, cut in small cubes

3

spring onions cut in thin rings

2

table spoons olive oil

1

pinch of cinnamon

1/2 teaspoon

cayenne pepper
salt and pepper
Instructions
Cook your rice according to package directions but replace water with coconut milk and a pinch of salt.
Stir occasionally with a large spoon to prevent the grains at the bottom of the pot from burning or scorching.
Cook until rice is tender. Add some water, if necessary. (You can prepare the grains also in your rice cooker if you have one.)
In the meanwhile heat oil in a large coated pan or wok.
Sautee peppers and spring onions for 3 minutes at medium high heat.
Add garlic and stir fry for another 2 minutes.
At last add whole grains, kidney beans and chilly pepper and heat it up shortly.
Season with salt, pepper and cinnamon.
Serve immediately!
Enjoy your meal!
Notes
I you prefer however a sticky red beans and rice dish you would need to use white rice that is more processed and hence not as healthy as brown rice or parboiled rice.
OTHER RICE RECIPES YOU MIGHT ENJOY
A very special fatty acid
Curious why consuming coconut milk in moderation is still a great strategy for weight management? A coconut milk nutrition does not only deliver less fat than cream for example but also a very special fat – the rare "Middle Chain Triglycerides" (MTC).
While other types of fatty acids actually make your fat zones grow, MTC is less likely to be stored as fat. Unlike longer-chain fats, coconut milk's middle Chain Triglycerides move from the digestive tract directly to the liver (1).
The 80/20 approach to clean eating for weight loss
Heads up: Coconut rice made with regular coconut milk is still not a light meal. If you are watching your weight and want to make it lighter you could always use "light coconut milk".
From a clean eating standpoint it is more processed and of course not as clean as regular coconut milk. But sometimes you just can't have it all and you have to make a decision – especially if weight loss is your goal.
My 80/20 approach to clean eating aims for 80% clean eating while 20% is reserved for optional diversions from the plan. In my case this means, I'm switching between regular and light coco milk dependent on the season or if holidays are around the corner.
Did you know that the 80/20 approach to clean eating is also an integral part of my 52 Chef Habits Course?