If you love pears then I'm sure that you will enjoy this quick and irresistible pear walnut salad with baby spinach. Although I often integrate apples in many of my meals, I used to eat pears only as a fruit snack. With this fiber-rich recipe, however, everything changed…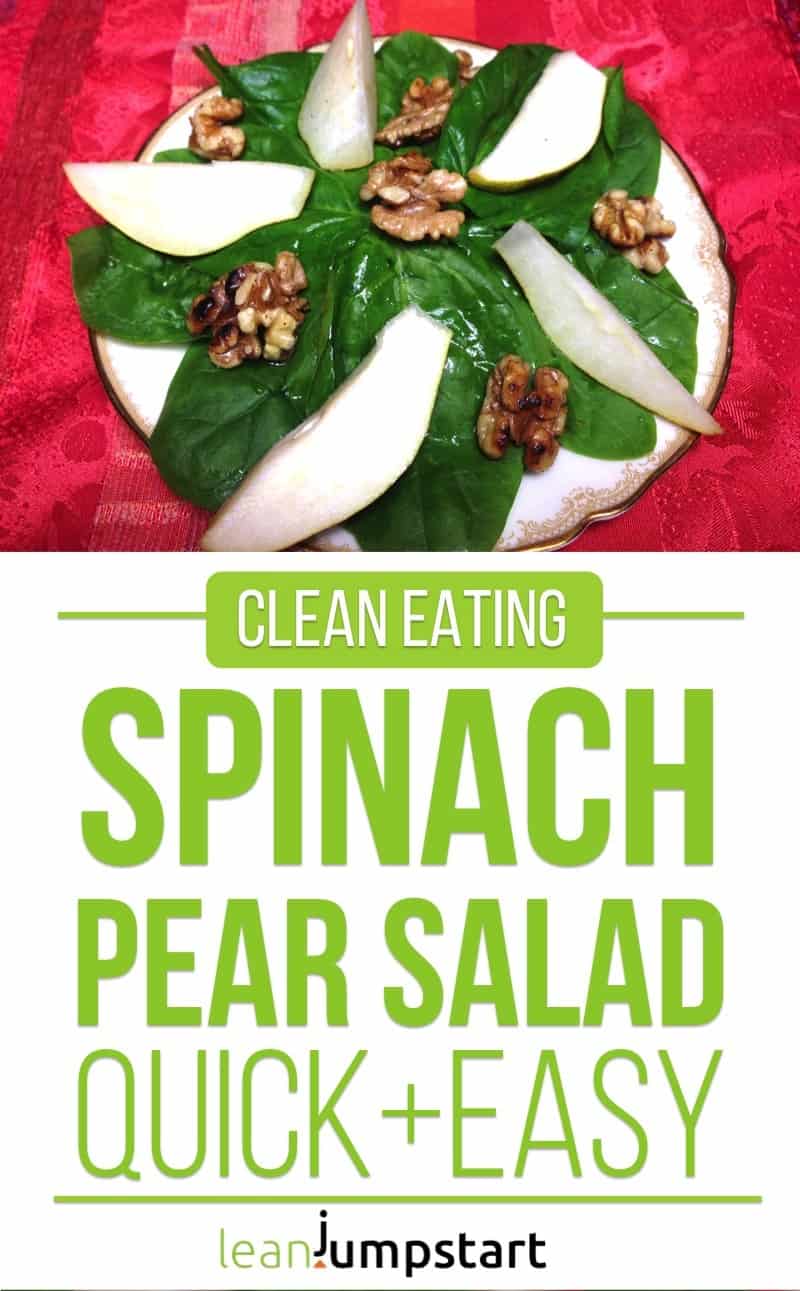 This winter delight is a great starter for no matter what occasion. It is simple enough to be included in your weekday meals. On the other hand, it is refined enough to be offered on special occasions or if you have guests.
A nice side effect – it combines fruits, nuts, and veggies in an elegant way. Increasing your fruit and vegetable consumption couldn't be easier.
Print
Pear walnut salad with spinach
a divine clean eating creation!
2

pears sliced

2

handful baby spinach leaves

1/2 cup

walnuts

4 teaspoons

maple syrup

4 teaspoons

coconut oil

2 tablespoons

lemon juice
pinch of salt
Instructions
Heat a medium sized pan over medium heat.
Add walnuts and stir for 5 minutes.
Turn off the heat and add maple syrup, coconut oil, and salt. Toss to coat the walnuts.
Spread the spinach on 4 salad plates, add the fruit slices, sprinkle over the lemon juice.
Garnish with the walnuts and the coconut oil mixture.
Notes
This salad works perfectly alone but also in combination with feta, fish or chicken
How healthy are pears?
Although they taste so adorably sweet, pears are also suitable for you if you are weight-conscious.
It is true that there are fruits with fewer calories, but pears are rich in dietary fibers, vitamin C and potassium (1). They are especially easy to digest and are therefore extremely gut-friendly foods that even babies and sick persons can tolerate very well. Click through for all top 26 high-fiber fruits.
How do you like the fruit salad?
So don't wait and try this spinach pear salad with walnuts as soon as possible…And don't forget to tell me how you liked it in the comment section below!
OTHER FRUIT SALADS YOU MIGHT ENJOY