Last Updated on January 10, 2019
This eye-catching orange salad recipe was a child of necessity. Recently my veggie stock was totally depleted except for some greens and red onions. My vegetable subscription box was due the next day and I didn't have time for grocery shopping…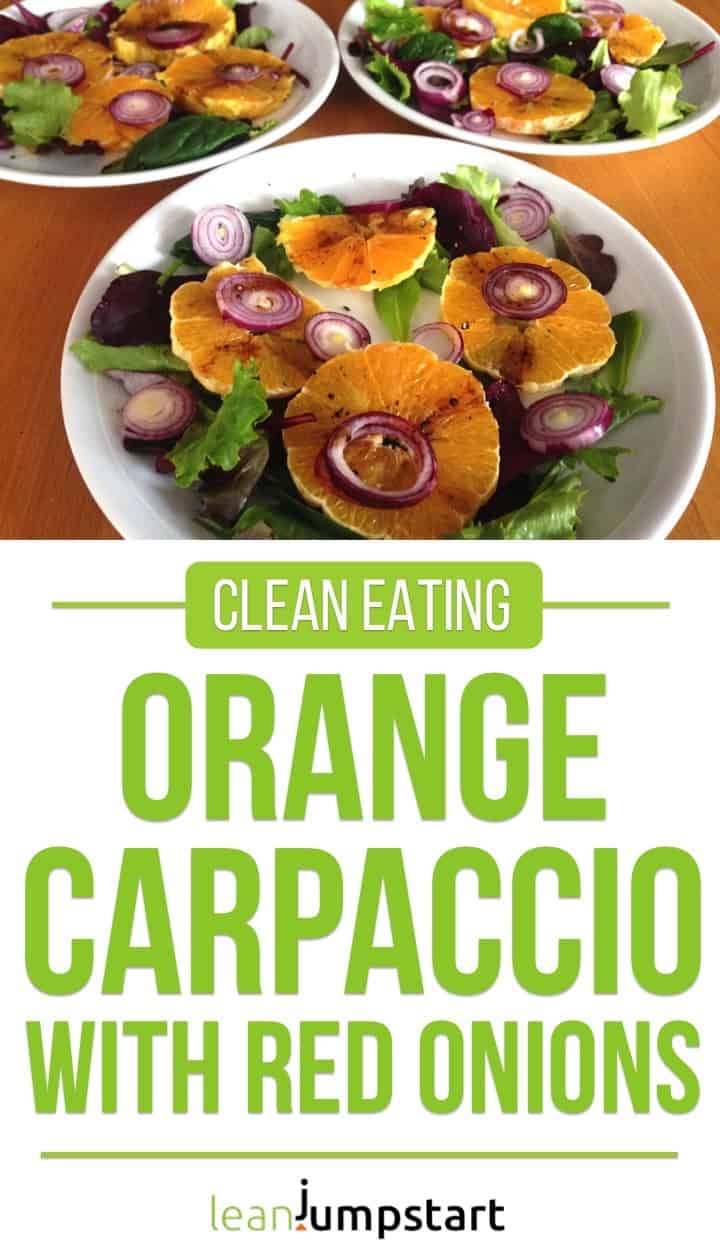 I knew that combining greens with red onions would barely make a salad for all three of us. Luckily I spotted two oranges in our fruit basket and experimented a bit. You know that I love to serve my family a vitamin rich salad as a starter before our regular meal.
While I have many vegetable salad recipes at hand I'm not so well equipped with fruit salad ideas. But after my family tested this orange salad recipe, I knew that it is a real keeper!
Oranges with red onions – a match in heaven
What surprised me is how well oranges harmonize with red onions. The bracing red onions playfully interact with the sweet, juicy orange slices and together they seem to be a match in heaven.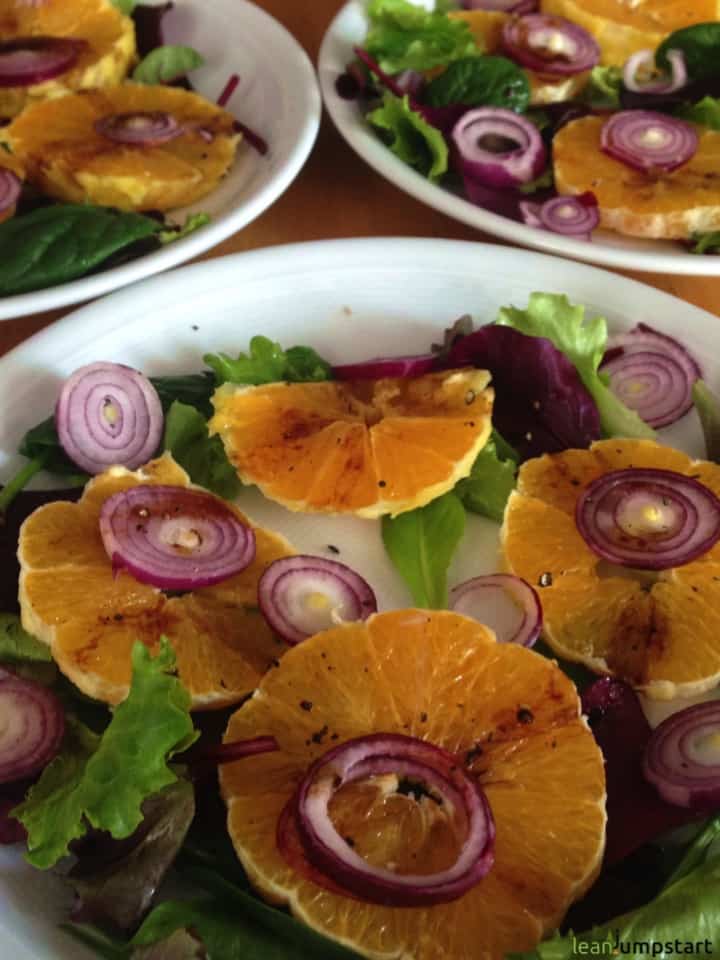 I divided the mixed greens on three plates, placed some orange slices on the salad bed and topped it with some red onion rings each. I've sprinkled some dressing over the creation and ready was a wonderful winter fruit salad. As simplified fruit salad dressing I used just balsamico dressing with ground black pepper.
Health benefits of orange's white skin and pith
As you can see I didn't remove the white skin and pith (the white part between skin and fruit) of the orange for a good reason.
Both contain important dietary fibres, which are beneficial for the digestive system. Also these fruit parts, which are often discarded have nearly the same amount of vitamin-C as the orange flesh. What is more…the consumption of isolated fibers from citrus fruits has been shown to lower blood cholesterol levels. (1)
Antioxidants are abundantly present in the pith and give your immune system an extra powerful boost.
To play it safe however I recommend to use organic oranges. If you want to turn this salad in a festive gourmet starter make sure to read until the end of this blog post.
So here comes the recipe for orange carpaccio with red onions and greens.
Print
Orange Carpaccio with red onions and greens
A delicious winter fruit salad
Author: Gabi Rupp
Prep Time:

10

Total Time:

10
2

organic oranges, peeled, in slices

5

–

6

red onions in thin slices

2 cups

mixed greens (baby romaine lettuce, radicchio, beets, baby spinach, arugula etc.)

2 tsp

balsamico vinegar
some ground black pepper
Instructions
Divide the mixed greens on three plates.
Place some orange slices on the salad bed.
Top it with some red onion rings each.
Sprinkle some balsamic vinegar over the salad.
Season with ground black pepper.
Notes
Tip: Forget about the salt, I think black pepper is the only seasoning needed.
Orange salad recipe: 3 tips for a gourmet salad
As usual there is always room for improvement. I presented to you in the beginning an easy fruit salad version. Because I know that you are busy, this orange salad recipe is simple and won't take you long time in your kitchen.
If you are expecting guests or you have some more time you could easily create a festive gourmet salad using this recipe. There are 3 areas for improvement, which could make a huge difference in look and feel of this vitamin bomb:
The white membrane of the orange: For a gourmet-style orange it is important to remove all white membrane from the orange. This can be a quite time-consuming task. A trick is to pop the orange for 3-4 minutes in hot water and then to start peeling from the thicker skin end to the thinner skin end. Some people use successfully an orange peeler. Especially in gourmet restaurants they generously cut away the white skin resulting in octagon shaped orange slices. But I think this is food waste and not necessary.
The thickness of the orange slices: For my healthy fruit salad I've cut quite thick orange slices. You can take it to the next level by carefully cutting thinner slices. Not only could you then prepare up to 4 salad plates, but overall thinner orange slices have a more elegant and gourmet style appearance.
Crunchy toppings: Sprinkle some toasted almond flakes or walnuts over the salad. For an extra festive impression sprinkling some pomegranate seeds could bring this red onion and orange salad to perfection.