Last Updated on January 6, 2019
This delicious spiralized apple cranberry salad I've happily served to my family already twice. The first time I used it as starter before a regular meal, the next time as a healthy dessert. Both times this simple but creative salad was a winner. The cranberries provide the subtle sweetness while the almonds add crunchiness to the salad. With a little twist you could even turn it into a refined Thanksgiving slaw. More about it in a minute.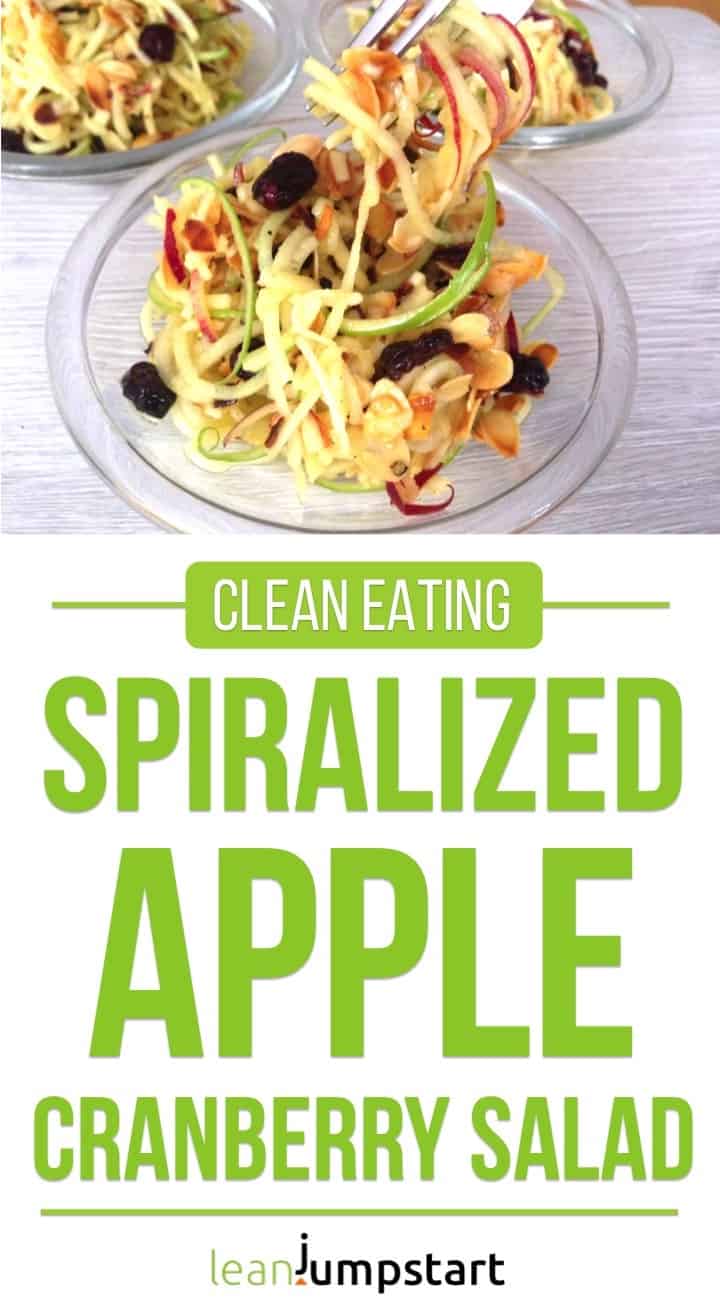 My easy access to organic apples
And yes, it can be ready within 10 minutes! As the fall fruits are used with skin you get an extra portion of vitamin C. You can even top the vitamin C content if you pick fresh apples directly from the tree. I count myself lucky as my father and also my mother in law own both a huge garden with apple trees. That's why I have access to plenty of organic apples almost all year around.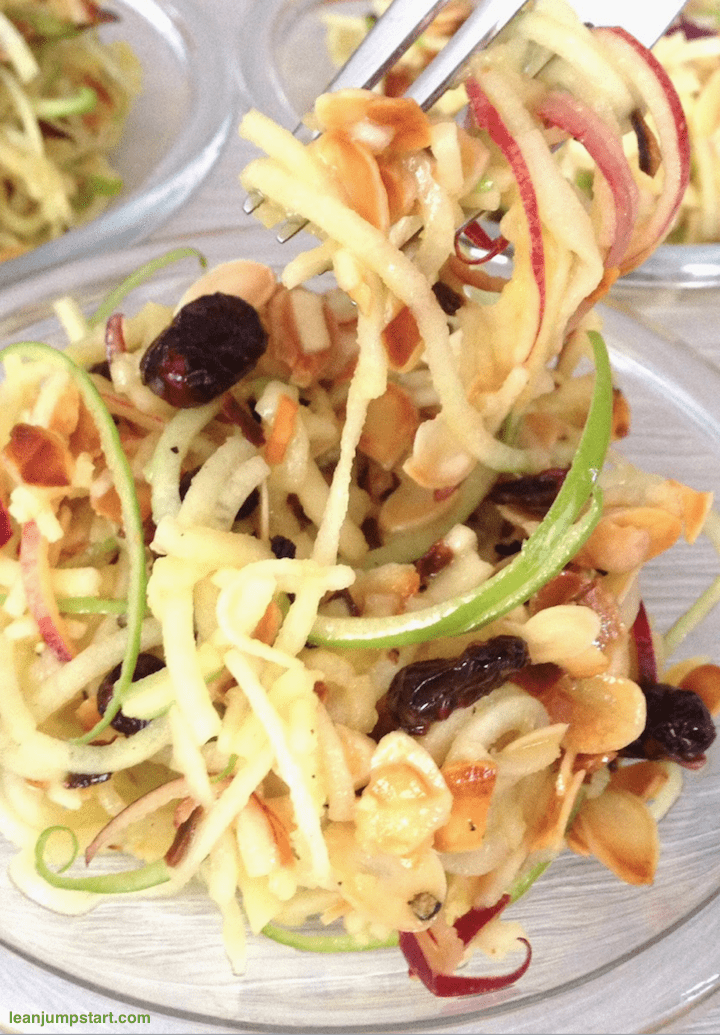 A vitamin rich salad all year round
If you are an avid clean eater you probably try to serve a salad to your meals as often as you can?! In our little family we are just three of us, plus two rabbits and yet our vegetable supply is often depleted very quickly.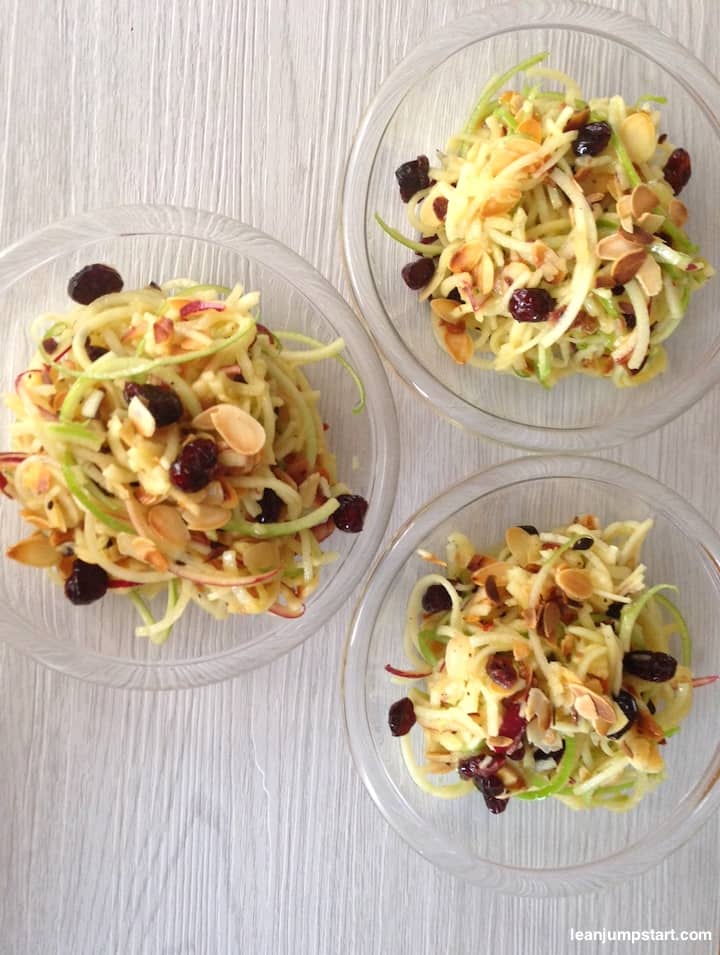 One food you will always find in our pantry is…of course apples, due to their long shelf life. This healthy salad recipe comes really handy for times when you want to serve some fresh vitamins to your family but you just don't have the vegetables at hand. So now, you don't have any excuses…
Print
Spiralized apple and cranberry salad
A delicious and crunchy apple salad
Author: Gabi Rupp
Prep Time:

10

Total Time:

10
1

spiralized red apple

1

spiralized green apple
(if you don't have a spiralizer simply cut the fruits into matchsticks.)

50 grams

almond flakes, roasted (or walnuts)

50 grams

dried cranberries
for dressing
1 tablespoon

dijon mustard

1 tablespoon

extra virgin olive oil (optional)

3 tablespoon

lemon juice

1 tablespoon

honey/maple syrup/date syrup (optional)
pepper/salt
Instructions
Combine spiralized fruits in large salad bowl.
Whisk lemon juice, (olive oil), mustard (and honey/maple syrup) in small bowl to blend.
Season with salt and pepper.
Add dressing to fruits and toss to coat.
Sprinkle with cranberries and almond flakes and toss slightly again.
Serve immediately.
Notes
Make sure to store this salad not longer than an hour in your fridge as otherwise the apples might turn brown. Also the almonds will lose their crunchiness after a while.

4 delicious salad variation tips
You can imagine that there a many ways how you could vary this simple apple salad creation.
One yummy variation is with roasted walnuts to create an apple cranberry walnut salad.
To create a filling lunch with a great flavor for vegetarians you can add goat, feta cheese or blue cheese?  The thin slices of salty dairy bring a great contrast to the sweet-sour salad.
You could also replace one apple and increase the vegetable content with a spiralized turnip or kohlrabi for a less sweet entree. Minced red onions are a great addition too.
Turn this salad easily into a Thanksgiving slaw. How? For 8 servings just double the dressing, cranberries and almonds. Spiralize 2 apples and a small head of green cabbage. Yes, you can spiralize cabbage too, just make sure to use a good quality spiralizer and choose the broader blade. Combine all ingredients as described above and ready is a delicious Thanksgiving slaw.
What I wish you for Christmas
Some might know that I'm a big fan of vegetable spiral slicers, hence I can't have enough recipes that call for spiralized veggies or fruits. They bring so much creativity and happiness into my clean eating kitchen.
Are you a lucky owner of a spiralizer too? If yes, then congratulations – the spiralized apple and cranberry salad is a perfect addition to your healthy recipe collection. If no, make sure to add this genius kitchen tool to your Christmas wish list. To learn more read my
"Lurch spiralizer review".