The clean eating peanut butter oatmeal recipe I'm presenting you today is a real breakfast treat. I only recommend it to enjoy, if you feel that you "deserve" it. What do I mean by this? I'll explain it in a minute.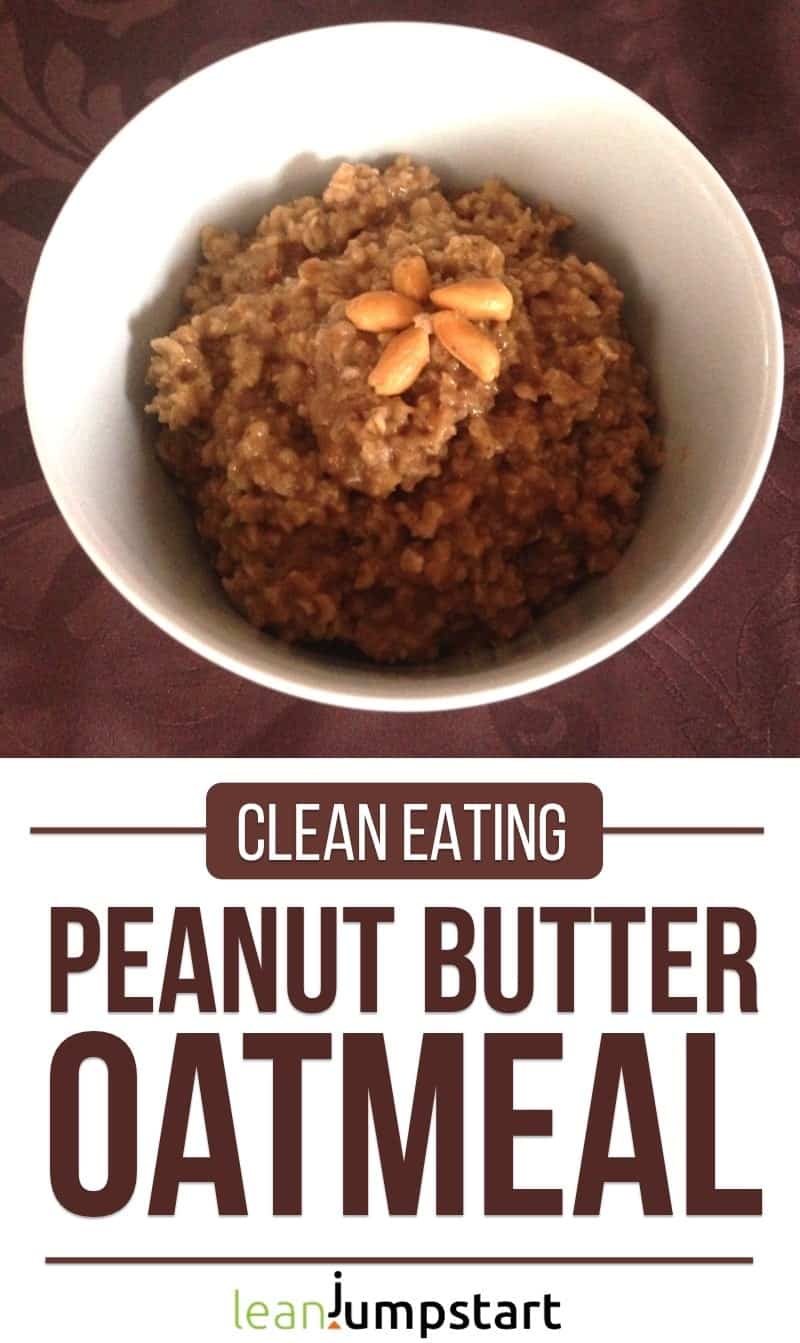 One of my central goals on leanjumpstart is helping you to manage your weight with smart habits. Eating a filling breakfast each day is a crucial habit. The question is, what kind of breakfast?
Clean eating peanut butter oatmeal keeps you satisfied longer
The great thing about this high fiber breakfast is that the combination of oatmeal with peanut butter will keep you satisfied longer. As long as you take this satiation effect to your advantage it is no problem. Just eat in consequence a bit less throughout the day and you are fine. Or maybe you've had an exhausting workout in the morning, then again the peanut butter oatmeal comes handy.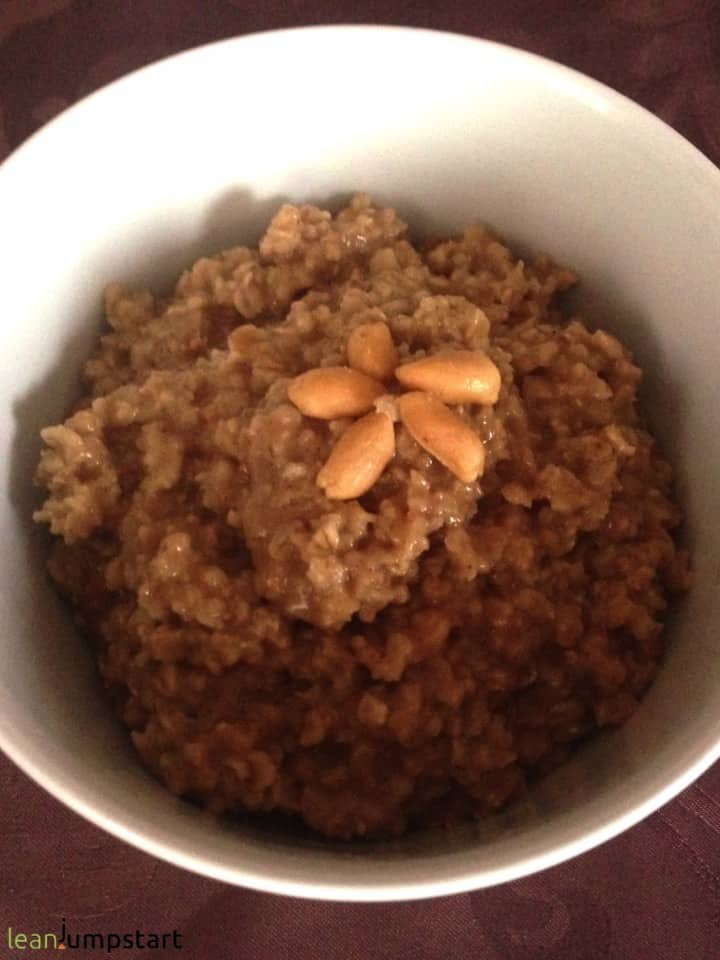 A seldom treat for the 80/20 clean eating lifestyle
I would not recommend this oatmeal bowl however on a daily basis, if you need to drop some pounds. And yes, consuming clean eating peanut butter oatmeal in excess will inevitably lead to weight gain. If you are an advocate of my 80/20 clean eating lifestyle then the 20% gives you some room for seldom treats. The clean eating peanut butter oatmeal IS such a seldom treat.
And now without further ado here comes the simple recipe.
Print
Peanut Butter Oatmeal Recipe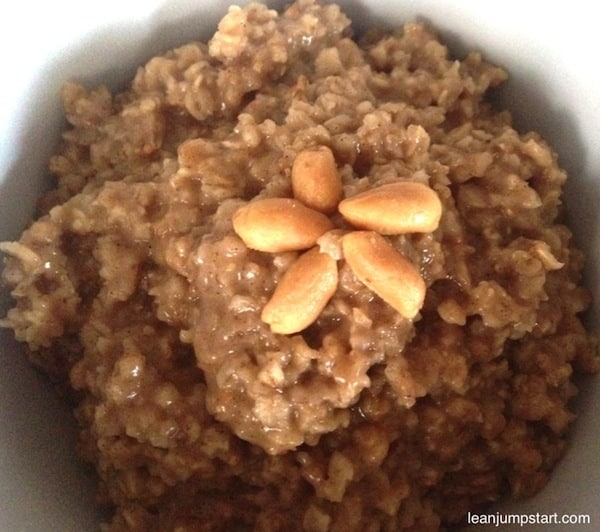 A delicious and very filling breakfast
Author:
Prep Time:

5

Cook Time:

5

Total Time:

10
Ingredients
1 cup of rolled oats
1 cup of water
2 tablespoons clean, creamy peanut butter (check out my clean brand recommendations below)
1 tablespoon honey
1 teaspoon ground cinnamon
1/8 teaspoon salt
Instructions
Bring water and salt to a boil (in a small saucepan).
Stir in rolled oats.
Cook over medium heat for 5 minutes, stirring occasionally.
Combine immediately all ingredients in a bowl or pot and stir until well combined.
Notes
You can optionally add some apple chunks or banana slices.
Natural peanut butter benefits
Peanut butter is not only calorie-loaded but also rich in nutrients. A quality peanut butter contains many simple polyunsaturated fatty acids, vitamin E, vitamin B3, protein and zinc. Especially for bodybuilder, protein butter is an important source of healthy protein and fat. 35% of the consumed calories derive from unsaturated and polyunsaturated fatty acids. According to evidence based studies, fat from unsaturated fatty acids found in nuts, olive oil or rape seed oil is much healthier than fat from saturated fatty acids like bacon or margarine.
How to choose peanut butter?
It is not easy to find a natural and clean peanut butter. Most of them are loaded with corn syrup, sugar and additives. The shorter the ingredient list, the better. Ideally you find one with 1 single ingredient: peanut butter! If you don't have to watch your salt intake, then peanut butter brands with added salt are ok too. Here are some clean peanut butter brands for your convenience. Most of them you can buy online (see my picks below!):
Trader Joe's Organic Peanut Butter
MaraNatha
Adam's Peanut Butter
Smucker's Natural Peanut Butter – Creamy
365 (Whole Foods store brand)
Clean Eating Breakfast: Integral part of 52 Chef Habits
Did you know that simplifying your breakfast habits for weight management is an integral part of my 52 Chef Habits Ecourse, featuring yummy clean eating breakfast recipes that are quick and easy. Click here to learn more!