Last Updated on November 4, 2020
You probably won't find any dish richer in protein on leanjumpstart.com than this spicy vegan jambalaya with quinoa. So just in case you need an extra boost in protein, don't look any further: Different legumes combined with quinoa will result in a yummy protein powerhouse full of fiber.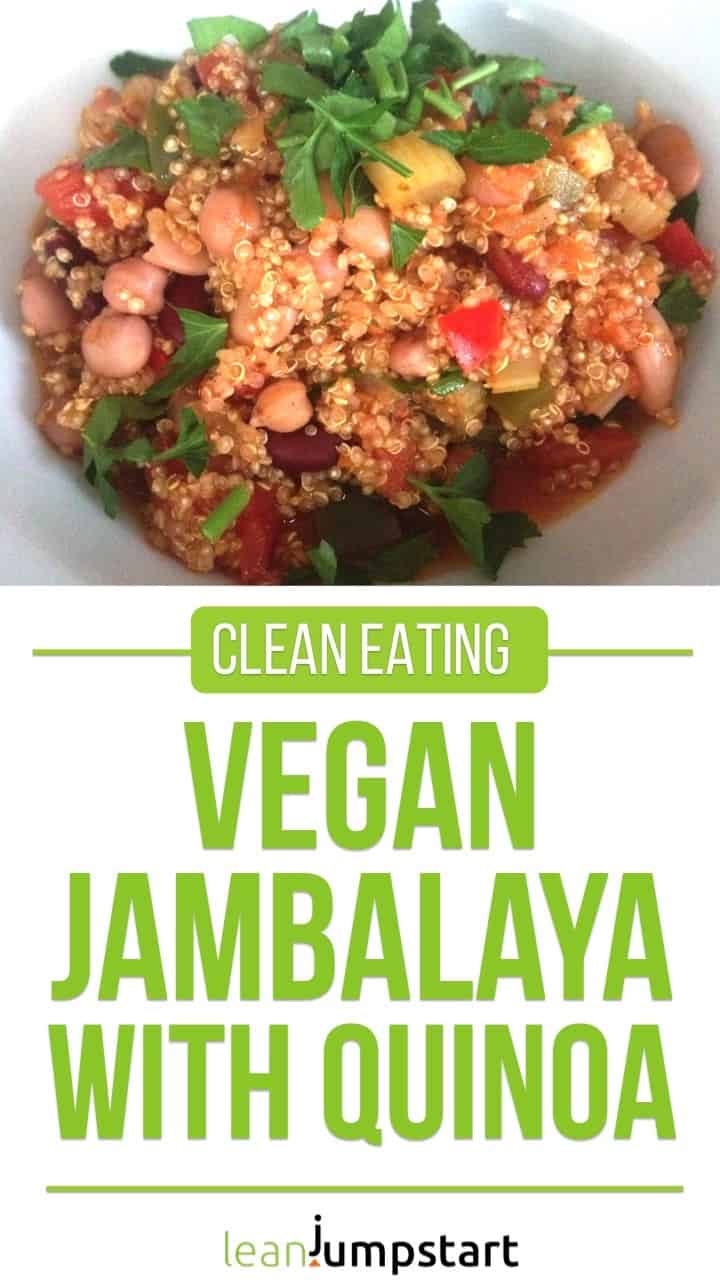 If you live in Louisiana you might know, that the authentic Cajun dish "jambalaya" is made of meat, shrimps, veggies and rice. Typical for me – I gave this easy recipe my own twist and made it with basic staples available in my pantry.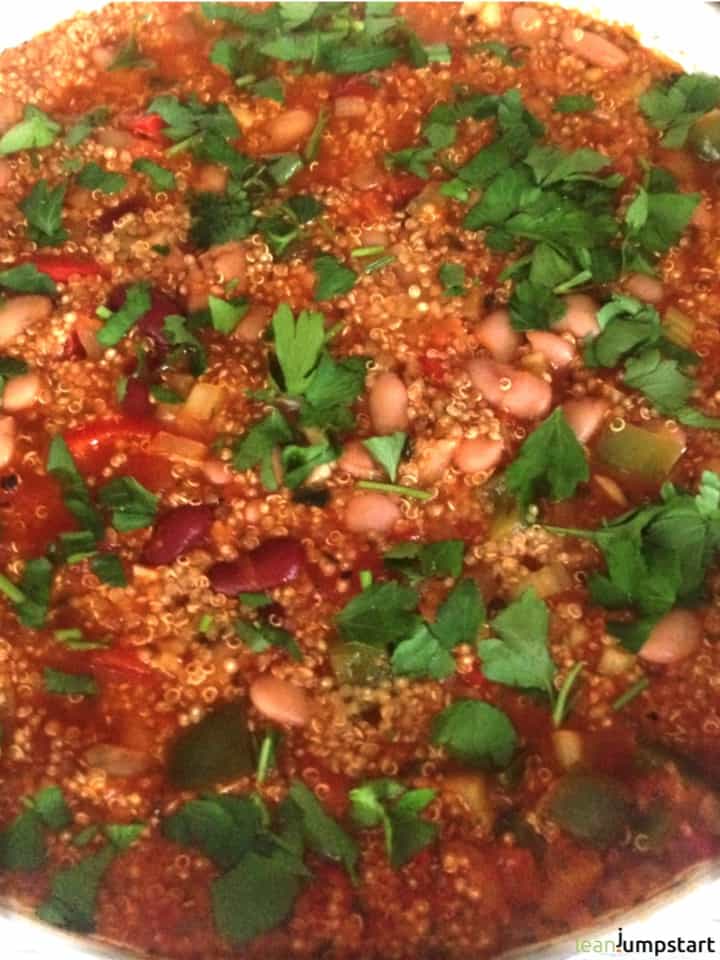 Easy vegan quinoa jambalaya – ready in 30 minutes
I turned this yummy dish into a whole-food-plant-based delight and as whole grain rice was out I replaced it with the protein richer pseudo grain quinoa. Not sure if I could still call it "jambalaya" then – but I just love the sound of this "dish". Of course it is again a simple clean eating recipe that can be ready within 30 minutes.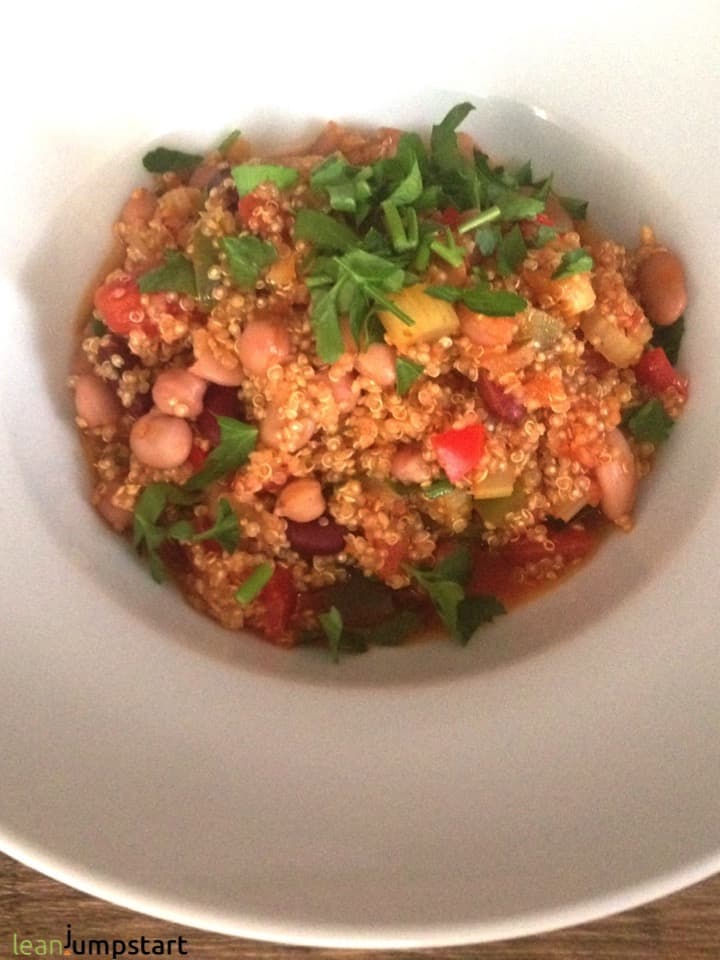 By the way, don't miss my story about my first jambalaya disaster many years ago at the end of this blog post.
But first let's jump into the clean eating recipe.
Print
Vegan jambalaya recipe with quinoa
Author: Gabi Rupp
Prep Time:

5

Cook Time:

20

Total Time:

30
Half a green pepper, diced
Half a red pepper, diced

2

celery stalks, chopped

1

onion or green onion, diced

4

cloves of garlic, minced

1

can (400 grams / 14 oz.) crushed tomatoes

4 cups

(

1

liter) vegetable stock

1 teaspoon

dried oregano

1 teaspoon

dried thyme

2 teaspoons

sweet paprika

1 teaspoon

dried cayenne pepper
Pepper, to taste

2 cups

(

400 grams

) uncooked quinoa (washed)

3 cups

(

500 grams

) mixed beans (I used white beans, kidney beans and chickpeas)

1 cup

fresh chopped parsley
some lemon to taste or up to 1 teaspoon salt (optional)
Instructions
In a large pan over medium heat sauté the onions and garlic in a splash of water for three minutes, until the onions + garlic turn clear.
Add the peppers and celery, and another splash of water and saute until almost sof.
Add the vegetable stock, crushed tomatoes, spices (except the salt), herbs and quinoa.
Bring to a boil then reduce to medium high heat and cover the pan.
Let it simmer gently until the quinoa is cooked and the hot sauce is absorbed – 15-20 minutes.
To prevent the quinoa from sticking, stir from time to time.
Once the quinoa is tender, stir in the beans and give them a minute to heat.
Serve with fresh chopped parsley.
Notes
Instead of lemon or salt you could also taste it with some soy sauce.
My cooking disaster
I cooked my very first jambalaya on a Caribbean sailing trip with friends over 20 years ago. It was thrilling to sail among the islands Martinique, St. Lucia, St. Vincent and Grenada. My task on the boat was concentrated mainly in the kitchen or better cabin. At that time I had no family yet and I was far away from being an experienced cook. But my sailing knowledge was even worse…
I will never forget the large one pot rice dish I made for us with too little water. So the hungry crew had to munch on hard rice kernels. Although it is a story we can laugh about nowadays, you can imagine that it was a particularly unenjoyable experience for all of us then;)
But we all learn from our mistakes…and believe me, after this cooking mishap I never ever served again almost uncooked rice kernels to anybody.
But I digress.
Hopefully cooking my healthy Jambalaya recipe will result in an enjoyable experience for your family and/or your guests.
OTHER VEGAN RECIPES WITH KIDNEY BEANS YOU MIGHT ENJOY