Last Updated on January 6, 2019
Could clean 2 ingredient cookies really taste well? Could they even be a perfect snack in between to satisfy sugar cravings?
These were my first thoughts when I stumbled over this healthy oat cookies recipe on the Internet. In the beginning, I was skeptical. But as a lover of minimalist recipes, I felt the urgent need to try it out…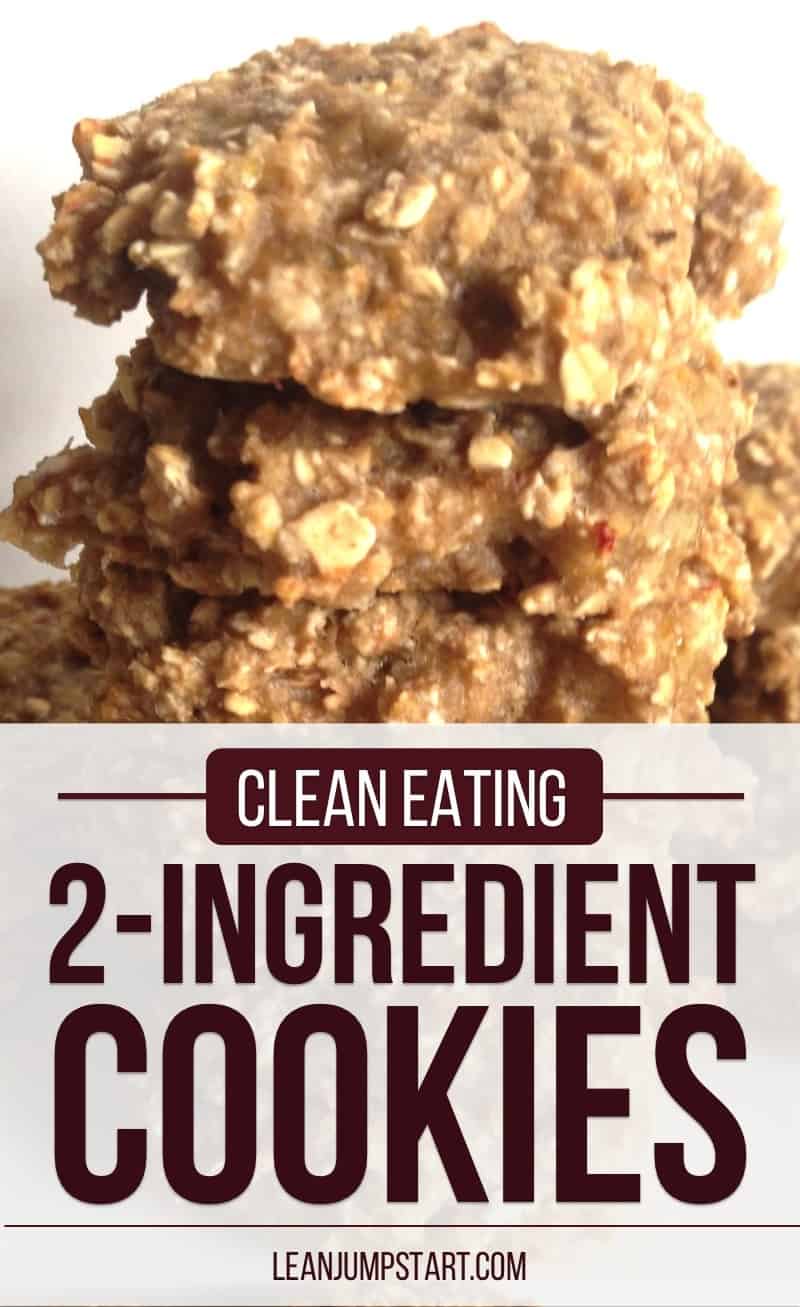 The perfect snack for sugar-addicts
If you a former sugar addict like me then you know that a sudden sugar craving can happen at any time. One strategy from me to combat these sugar cravings is to just don't have any sugar-loaded indulgences at home. Ok, my husband knows how to break this rule, but this is another story…
Instead, I have always a few sweet clean eating snacks at hand like dried fruits, my coconut chocolate bites in the fridge or my brownie bites in the freezer. But until now there was still something crunchy missing in our survival box.
For this cookie recipe you don't need any eggs, flour, butter or weird processed ingredients – just bananas and oats, that's it. Bananas I have at hand as I need them for clean eating smoothies or since this year for my beloved 1-ingredient banana ice cream. And oats are anyway our preferred breakfast cereal/grain either in muesli or granola.
Reality Check
Ok, don't expect the taste of chocolate or Oreo cookies. Also, these clean eating cookies are rather mellow treats and not crunchy at all. But surprisingly these "sweet power bites" still taste really yummy and have the potential to appease sugar cravings.
For me, these are the best healthy cookies I ever tried and I think you could even use them as fiber-rich breakfast cookies…but only until I find a crunchier, minimalist recipe. 
Print
Two ingredient cookies with banana and oats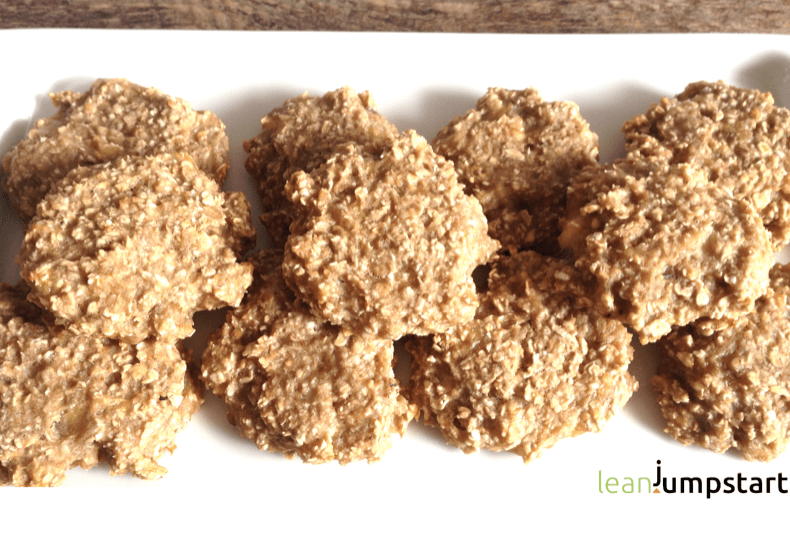 a delicious healthy snack to appease a sweet tooth
Author: Gabi Rupp
Prep Time:

5

Cook Time:

15

Total Time:

15

Yield:

12

1

x
Scale
Ingredients
For 12 medium clean eating cookies
1

large, ripe banana (or

2

small bananas)

5 oz

./100 g fine oats
Instructions
Preheat oven to 375 degrees F/190°C.
Peal Bananas.
Mash Banana(s) with a fork or a potato masher.
Combine mashed banana with oats in a large bowl until smooth. (You could also put both ingredients in a food processor.)
Add additional oats if needed to.
Place on non-stick baking sheet with teaspoon or tablespoon and flatten the top.
Bake it for 12-15 minutes.
Let it cool down on a wire rack.
Notes
Also great as a high fiber breakfast option.
It is said that these clean eating cookies will keep fresh in a covered container in the fridge for a few days. I can't tell you for sure as ours don't survive the first day;)
Different mix-in options 
You can always pimp your banana oats cookies with additional clean ingredients as the possible add-ins are endless. My favorite, clean variations are with cacao powder, cocoa nibs, nuts, raisins or dried cranberries. Add a pinch of cinnamon and you have your first taste of Christmas. When you replace oats with coconut flakes you have a perfect snack for low carb fans.
Bottom Line: You can't have enough high fiber foods
I'm really in love with these high fiber snacks and it takes just 15 minutes to make them. On top of that, they are dairy free, nut free, vegetarian, vegan and even gluten-free if you use GF oats.
I hope you like these clean eating cookies too. Let me know what add-ins you prefer most in the comment section below.
If you need a crunchier clean eating snack
…then you will love my two following recipes: