Last Updated on January 6, 2019
Can healthy Christmas cookies also taste great? For a long time, I thought healthy sugar free cookies for the holiday season and great taste just don't go together. How could they compete with a staggering number of different and mouth-watering traditional Christmas cookies?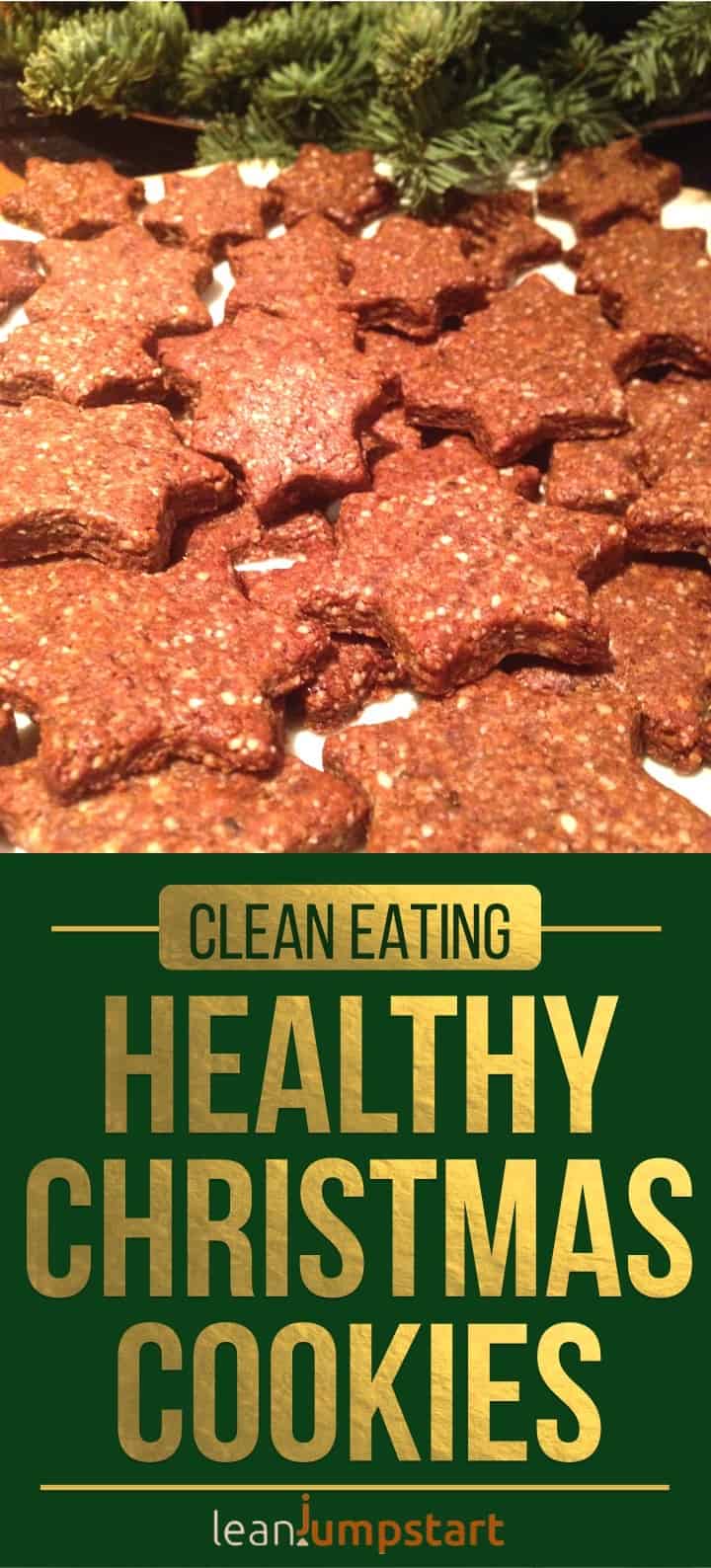 Here in Germany, each family has their own favorite Christmas cookie recipes, its own distinctive taste, baking habits, and history. My mother-in-law bakes a huge variety of cookies, while I tend to bake only a few of our very favorites. But so far they were never clean for a good reason.
Especially at Christmas time, I prefer to follow my 80/20 approach to clean eating. The 20% is reserved for seldom indulgences like the seasonal gingerbread, walnut crescents or speculoos. With this relaxed approach to clean eating, baking healthy Christmas cookies never came into my mind.
Dairy-free Christmas cookies with coconut sugar
Until recently when I learned, that a friend of mine was sadly diagnosed with diabetes. I wanted to cheer her up with Christmas cookies she could enjoy without guilt. I had read that coconut sugar has a low GI and tends to be a great sugar alternative for diabetics. On top of that, it contains small amounts of vitamins, mineral, and phytonutrients offering some health benefits table sugar cannot.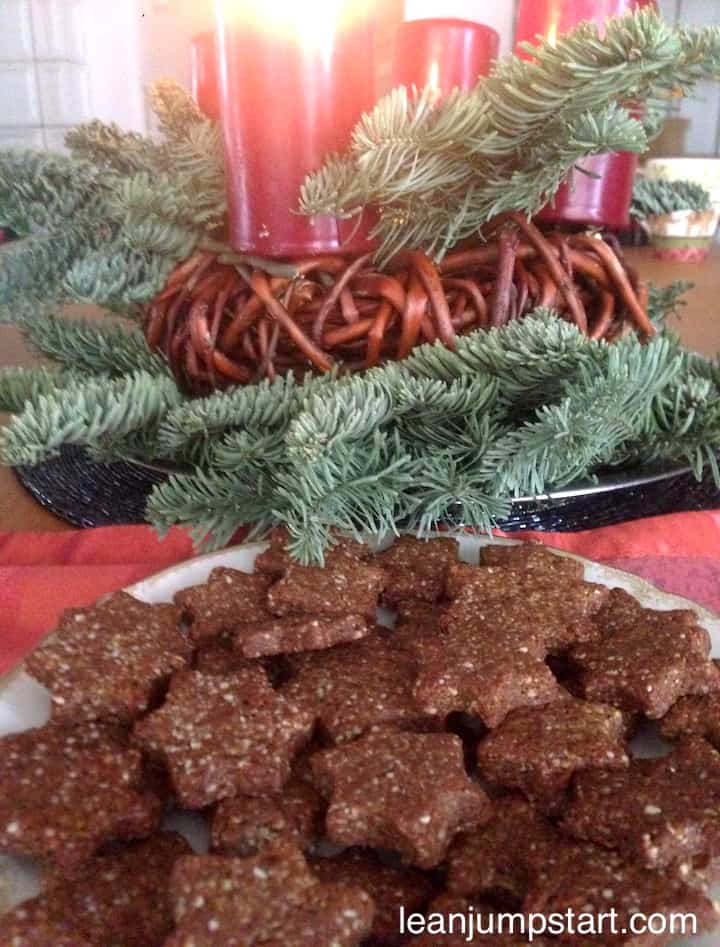 To my surprise, the healthy Christmas treats not only convinced my friend but also my family. I had to promise to incorporate these healthy cinnamon stars in future into my selected Christmas bakery.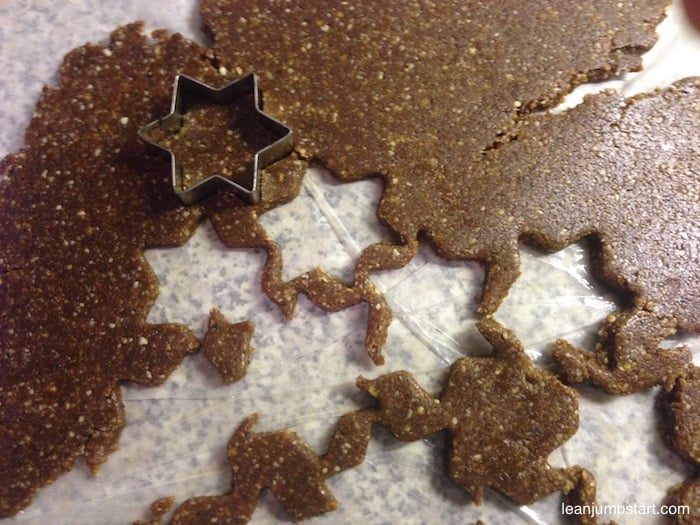 …And probably I'll have to bake another sheet before Christmas;)
What I didn't expect is that these cinnamon stars are really super crunchy, so better not to serve to people with weak teeth – don't tell me that I didn't warn you. But especially this crunchiness is something I totally enjoy when nibbling cookies.
Why are these Christmas cookies healthy?
This clean eating recipe comes again with just a few ingredients and most of them can be called healthy or at least healthier than butter, sugar, white flour etc. you usually find in Christmas cookies.
When you snack on those Xmas treats you get a good portion of healthy fats from almonds, you reap the numerous health benefits of chia seeds and you profit of coconut sugar with a low GI that doesn't play havoc with your metabolic system. If you are however watching your weight you shouldn't go overboard with them. Read why at the end of this post.
Here comes the recipe inspired by the fabulous Lynn from heavenlynnhealthy.com.
Print
Vegan and gluten-free cinnamon stars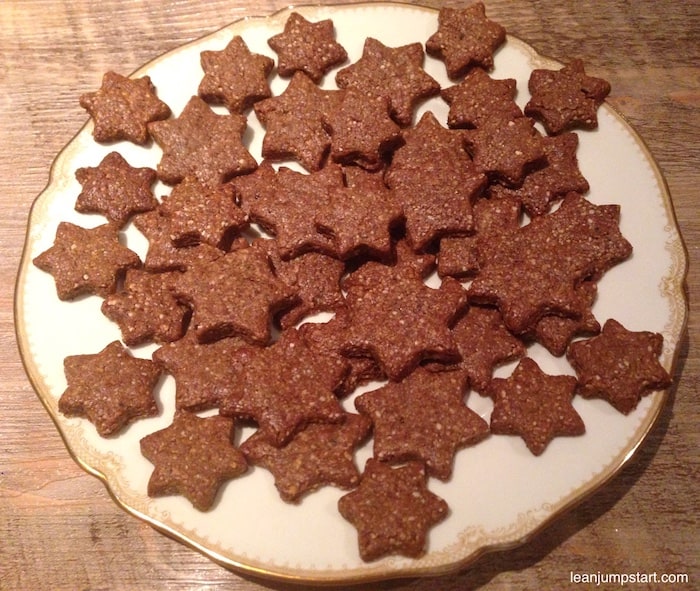 A delicious and clean Christmas treat
Author: Gabi Rupp
Prep Time:

20

Cook Time:

8

Total Time:

28
Scale
Ingredients
9 oz

./250 gr. ground almonds

3.6 oz

./100 gr. organic coconut sugar

1 tablespoon

ground chia seeds

2 tablespoons

cold water

2 tablespoons

maple syrup

4 teaspoons

cinnamon
Instructions
Use a small bowl and mix chia seeds with 2 tablespoons of water.
Let the chia mix soak in in the fridge for at least 10 minutes.
Blend ground almonds, coconut blossom sugar and cinnamon either in the food processor or with a hand mixer.
Add maple syrup and Chia seed mix and blend again until it forms a sticky dough.
Wrap cookie dough in plastic foil and let it sit in the fridge for approx. 30 minutes.
Preheat oven at 340 F°/170°C.
Roll out the dough between two baking papers using a rolling pin, always starting in the middle.
Continue to roll away from you until it makes a 1/4″ (6 mm) sheet.
Cut out stars or any other Christmas cookie shape you prefer.
Place cookies on a baking sheet laid out with baking paper
Bake for approx. 10 minutes at 340 F°/170°C.
Watch them closely as they can burn quickly. Better to be on the safe side and remove them when they're slightly underdone.
Allow to cooling down for 10 minutes before removing from baking sheet
Enjoy!
Notes
To preserve crunchiness store them in airtight cookie containers
Weight loss and other challenges
Please indulge wisely if you are watching your weight. Ok, you save some butter or egg calories but with the almonds, coconut sugar and maple syrup these cinnamon stars still remain calorie powerhouses. Be aware that although coconut sugar tends to be more natural and healthier than table sugar, it is similarly high in calorie content as regular sugar.
A lower glycemic index combined with a bit lower amounts of fructose turns coconut sugar into an acceptable occasional "proceed with caution" sweetener like honey or maple syrup. But nutrients aside it is only a slightly better alternative to table sugar and can challenge your blood sugar and liver in a similar way.
Still, I'm convinced that if you want to give clean eating Christmas treats a try, then this crunchy cookie recipe is a winner.