The best clean eating pumpkin soup you've ever eaten
It was only some years ago when I tried for the first time the red kuri squash soup recipe I'm presenting to you today. Since then it has become a clean eating soup staple for my family and me – at least in autumn/winter time.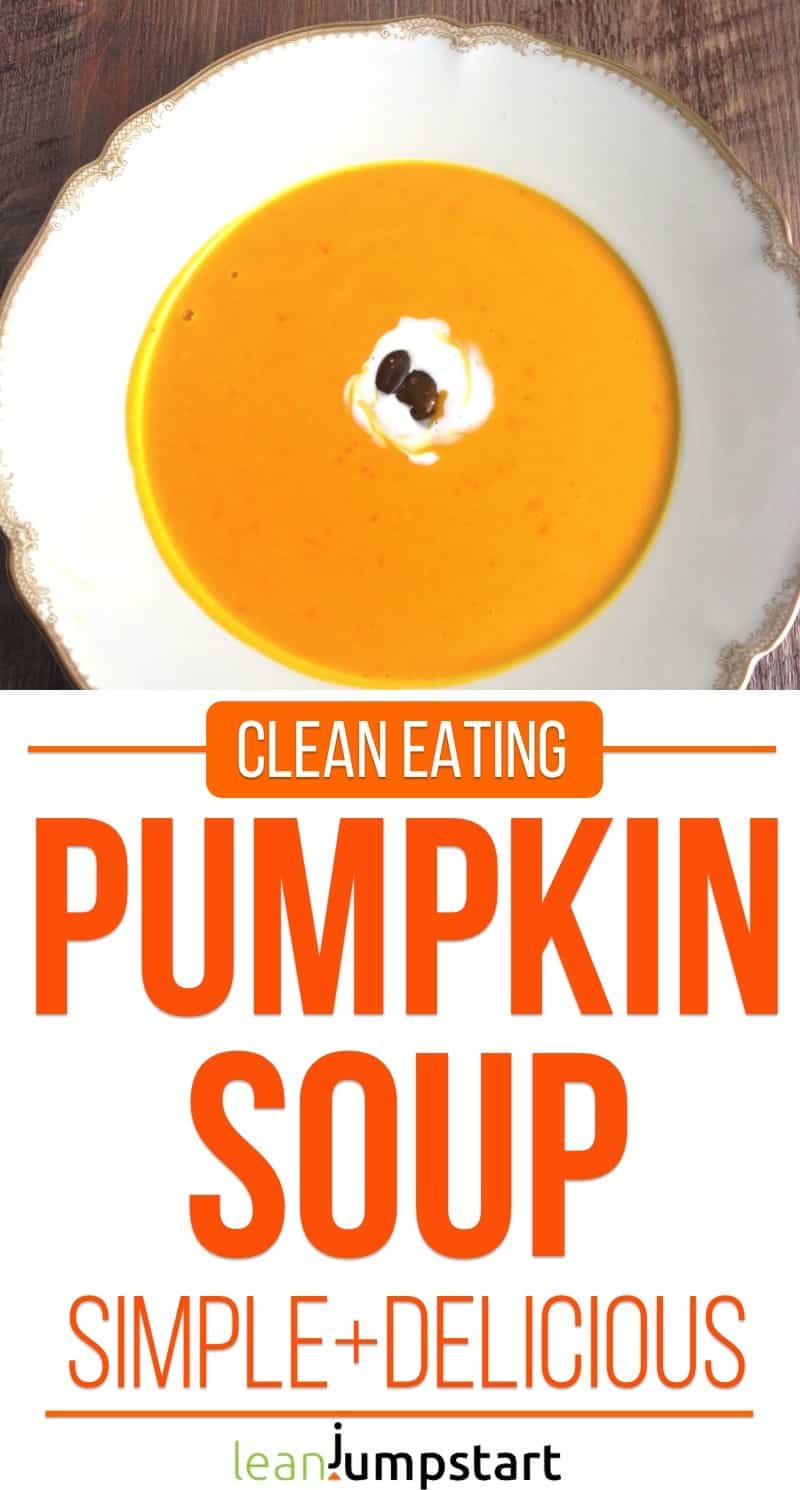 I have to admit that for most of my life pumpkins where only part of a colorful indoor and outdoor fall decoration.
Hokkaido squash: gorgeous, delicious and healthy
This simple, creamy soup however that is also known as Hokkaido pumpkin soup, changed everything. Look at the picture above. Is this not the most gorgeous color you've ever seen in a vegetable soup? By the way its "saturated orange" comes from the beta-carogene, a pre-cursor to Vitamin A that is known for its huge antioxidant power.
And then its taste…Nutty, chestnut flavored and sweet, this squash soup is hard to resist.
The Hokkaido pumpkin is not only my favorite of all pumpkins but preparing it as a red kuri squash soup is also my preferred way to use it. I promise, once you'll try the following healthy soup recipe you will be hooked too.
Easy Preparation: No need to peel red kuri squash!
As most of my clean eating soup recipes it is also easy to prepare and can be ready within 30 minutes. The good news about Hokkaido pumpkins is that you don't have to peel them.
The hardest part in the preparation process is to cut the Hokkaido in two halves.
Patience and a good chef's knife should do the trick or maybe you can ask your better half for help. I'm lucky as my hubby enjoys carving pumpkins anyway so most often he will split open the pumpkin for me, deseed it and cut it into cubes…
Without further ado, here is my Hokkaido pumpkin recipe: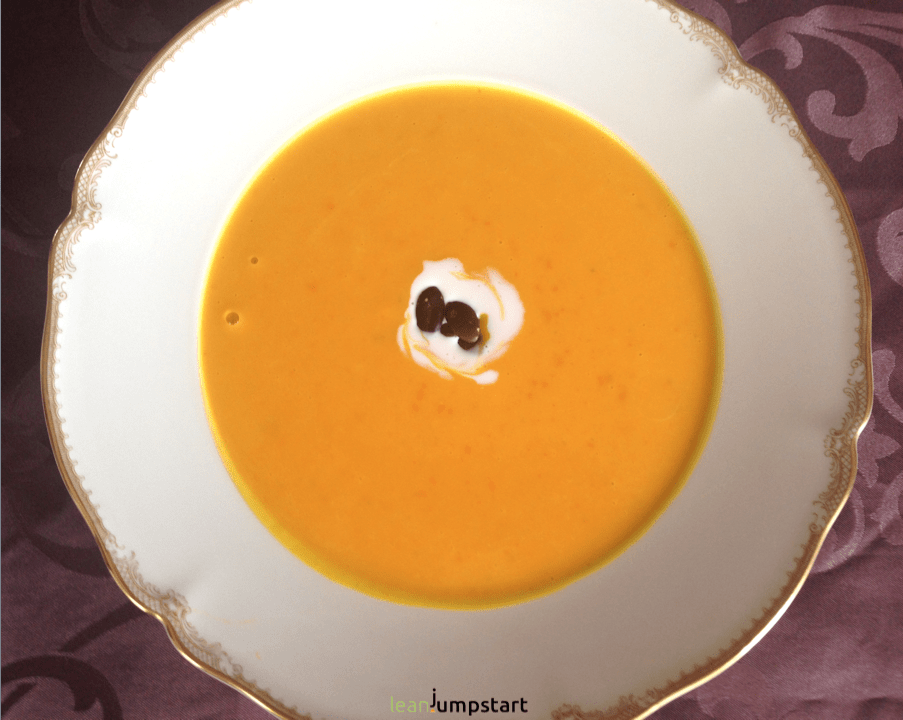 Red Kuri Squash Soup Recipe
2016-10-19 06:14:41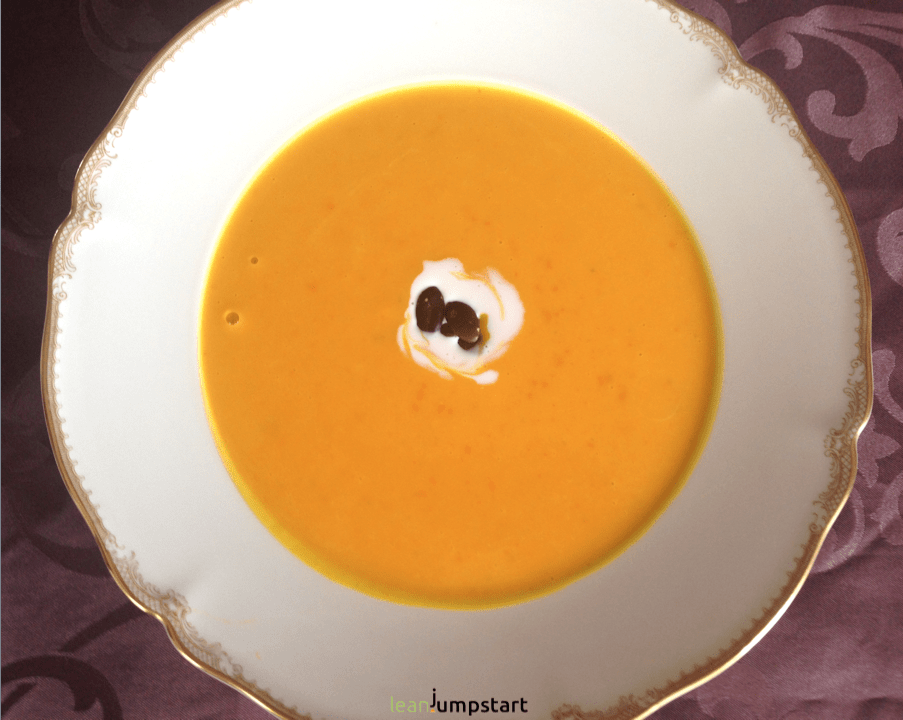 Serves 4
A delicious and healthy Hokkaido pumpkin soup
Ingredients
2 lb /900 gr Hokkaido pumpkin cubes
1 medium onion, finely chopped
some vegetable broth (3 flu oz./90 ml)
2 tablespoons olive oil
1 tablespoon lemon juice
1 inch piece of ginger, minced
1 teaspoon salt
1/4 teaspoon freshly ground pepper pepper
25 flu oz./750 ml milk
8 flu oz./236 ml whipping cream/heavy cream
Instructions
In a large saucepan or pot, sauté onions and Hokkaido pumpkin cubes in hot olive oil for three minutes, stirring occasionally.
Add vegetable broth and let it come to a boil.
Reduce heat to simmer.
Cover and cook about 20 minutes.
Add milk and cream.
Purée with a hand blender.
Taste with lemon juice, ginger, salt and pepper.
Garnish with some cream and pumpkin seeds before serving.
Notes
Tip 1: Serve it with some whole grain bread
Tip 2: Red kuri squash soup can be frozen for up to 2 months
Leanjumpstart Clean Eating Habits https://leanjumpstart.com/
Red kuri squash soup – adjust ingredients for weight management
To save animal fat you can use skim milk although I know that it is more processed and not as clean as whole milk. But hey, with my 80/20 approach to clean eating this is a great compromise.
If however you want the pumpkin soup to be creamier and richer you can increase the amount of heavy cream while decreasing the amount of milk at the same time.
If you need a vegan version make sure to check out the tip for vegans in the comment section below.
Replace Hokkaido pumpkin with butternut squash
If you like butternut squash you can replace the Hokkaido pumpkin for it in this autumn soup recipe. But I feel the soup still tastes much better with red kuri squash. Let me know what you think in the comment section below.
Red kuri squash recipe variation
Hokkaido pumpkin is a typical winter squash that I get often delivered in my vegetable subscription box from October till March. After several rounds of red kuri squash soup meals I sometimes bake red kuri squash wedges for variation. For the red kuri squash wedges I use the same marinade (some olive oil with rosemary) as I would use for (sweet) potato wedges.
Other squash recipes you might enjoy