The inspiration for this delicious pumpkin coconut curry I got on our family vacation in the Maldives this summer:) The Maldivian kitchen is fresh, rich in vegetables, full of spice and closely resembles Indian and Sri Lankan cuisine.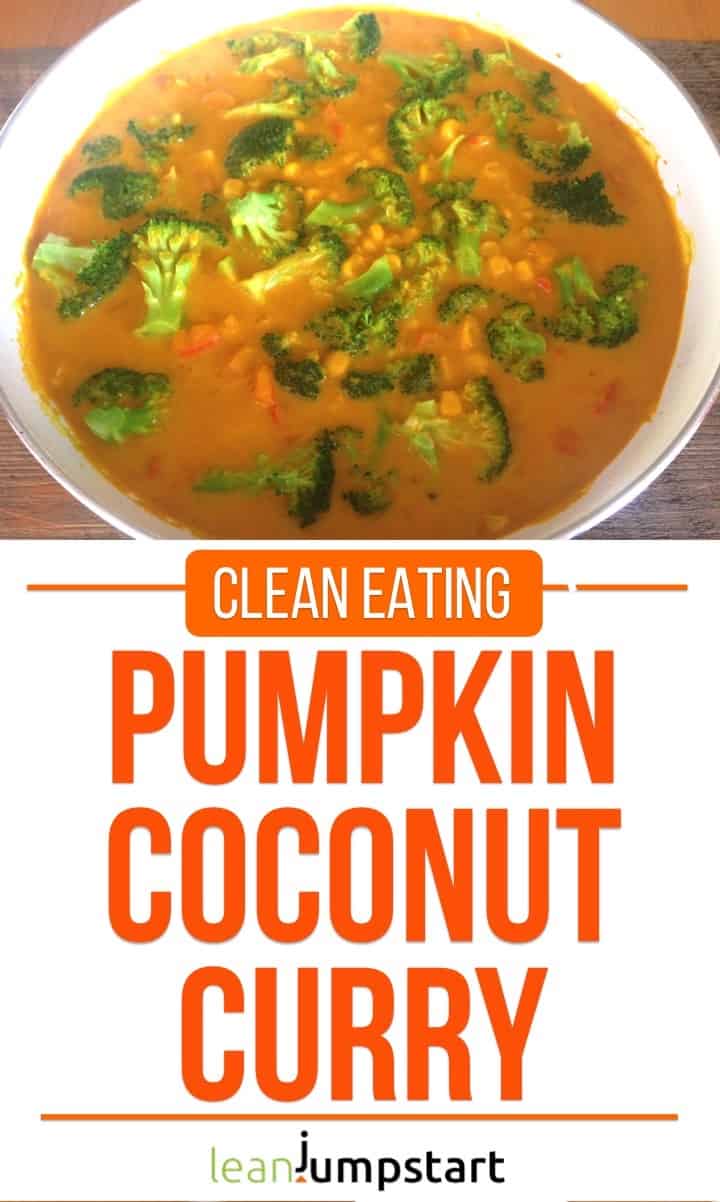 We not only fell in love with our dream island but also with all those different coconut curry recipes. Vegetable coconut curry, curry with fish, curry with chicken…
I knew then that I wanted to cook a coconut curry by myself once I return home – but I wanted a pragmatic approach.
Buying a whole bunch of new spices for a special exotic recipe would have probably turned me off. Part of my mission on leanjumpstart.com is to provide you with quick and simplified clean eating recipes, with short ingredient lists. This curry recipe comes quite close to my mission – on top it helps with weight management too. More about this effect at the bottom of this post.
Luckily for Indian curries you can use some spices most of us have always at hand like ginger, garlic or red chilly pepper. If you cook often Indian style, you might have also red curry paste at home, which would give this recipe an even higher authenticity.
While I've spotted a huge variety of vegetables in the Maldives (I tried for the first time "Okra" and loved it!) – I can't tell you for sure, if I've seen there any pumpkins. Nevertheless – as the pumpkin season is now in full swing, I decided to combine the coconut curry with pumpkins I got in our vegetable subscription box. Result: We loved it!
Why I prefer red kuri squash for this pumpkin coconut curry
You can make this pumpkin coconut curry recipe either with butternut squash or red kuri squash (Hokkaido pumpkin). I used for this easy recipe red kuri squash which is my absolute favorite pumpkin for two reasons: Gorgeous taste and simplicity as you don't peel Hokkaido pumpkins. Butternut squash on the other hand has a rather tough skin you don't want to eat. So, if you have the choice, I highly recommend to use red kuri squashes for the sake of simplicity.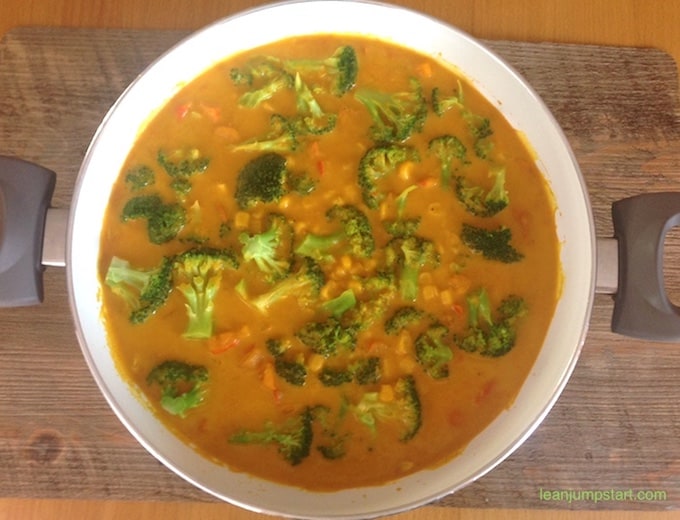 Pumpkin Coconut Curry
2017-10-05 03:04:18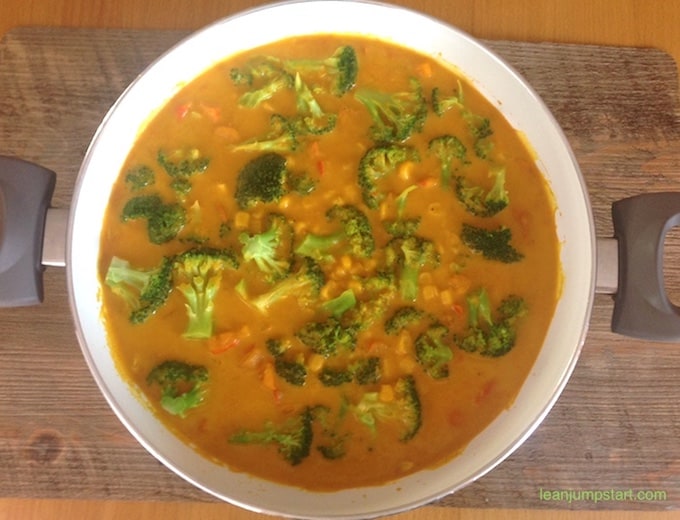 Serves 2
A delicious vegan curry recipe
Ingredients
1.5 lb/600 grams red kury squash cubes (Hokkaido pumpkin)
0.75 lb/300 grams broccoli florets
150 grams baby corn (optional)
9 flu oz./250 ml coconut milk
9 flu oz./250 ml veggetable broth
1-2 tablespoons red chili pepper
2 teaspoons ginger, sliced
2 garlic cloves, minced
coriander, chopped (optional)
1 teaspoon salt
additional salt to taste
Instructions
Pour half of the coconut milk into a saute pan or wok, over medium heat.
Add ginger, garlic and red chili pepper.
Stir to prevent the coconut milk from burning at the bottom.
Add red kury squash and stir to coat squash with curry sauce.
Add the veggie broth and the remaining coconut milk.
Simmer for 15 minutes or until the pumpkin is soft.
Add Broccoli florets and cook for 3 minutes more.
Switch off the heat.
Taste with coriander and salt.
Serve hot with wholegrain rice.
Notes
To give it a more exotic taste you could use red curry paste instead of the red chilly pepper.
Leanjumpstart Clean Eating Habits https://leanjumpstart.com/
Another lean recipe for weight management
Have you seen how light this coconut curry with pumpkin and broccoli is? Combined with wholegrain rice it is not only delicious filling, but a perfect meal for weight management. The only fat in this recipe comes from coconut milk. If eaten in moderation coconut milk's fatty acids can melt your fat zones. The special property of these rare "Middle Chain Triglycerides" is, that your body burns them faster for energy.
Other squash recipes you might enjoy