Last Updated on June 18, 2020
Here comes a wholesome superfood you probably don't know yet. It's the perfect meal to treat yourself when you are hungry but your body needs to rest after an opulent birthday party or holiday season.
I've combined spiced mung beans with buckwheat to create a simple kitchari recipe.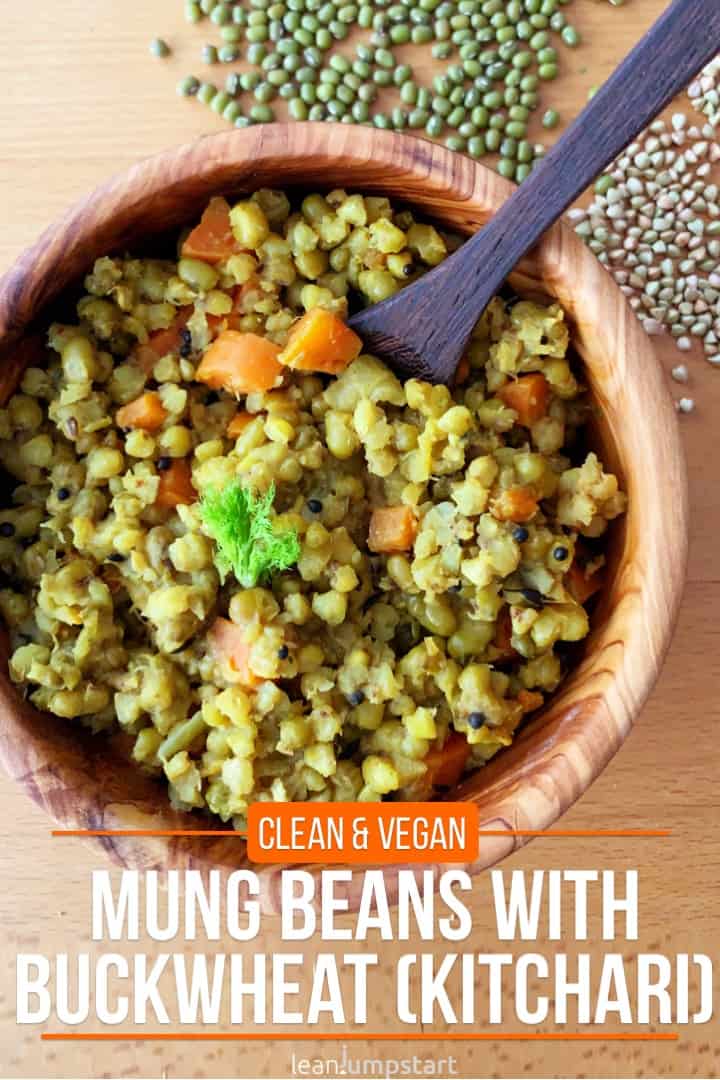 This is another proof that you can find many inspirations for whole food plant-based recipes if you look across the border. As I had several packages of mung beans I needed urgently a nutrient-dense recipe. This is what I've come up with. Where all those mung beans in my pantry are coming from, I'll tell you later…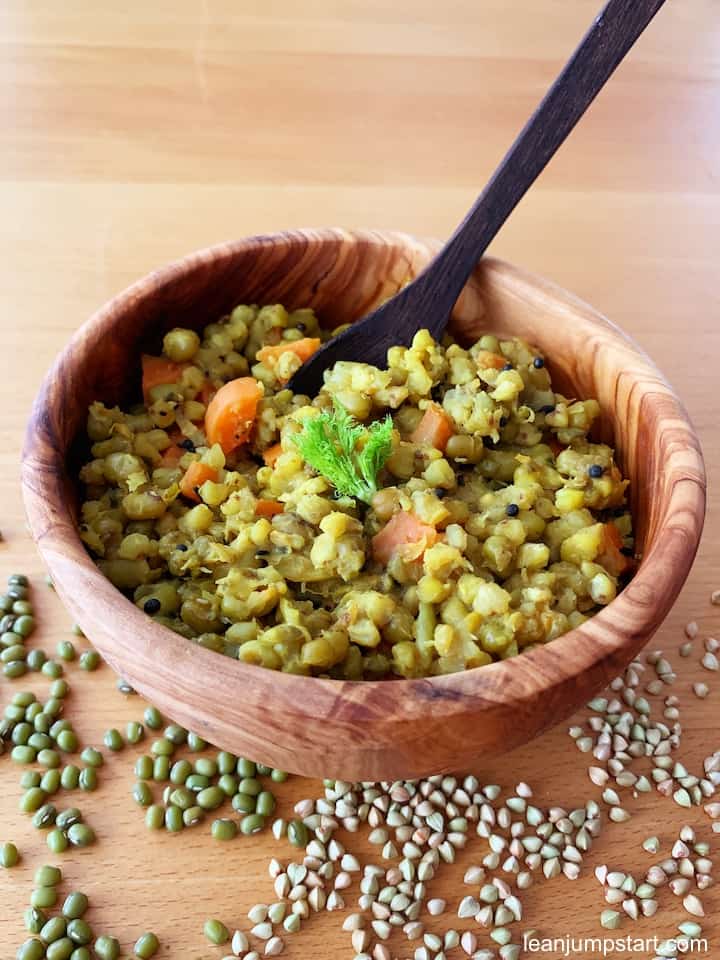 Often referred to as the Indian "food for the soul", kitchari is a simple porridge-like blend of beans and rice. My recipe is a variation of traditional kitchari in which rice is replaced with buckwheat, commonly called as daro, kutto or kutti. We love buckwheats as a preferred ingredient for this meal due to its nutty flavor, low glycemic index, and high fiber content.
An easy digestible one-pot meal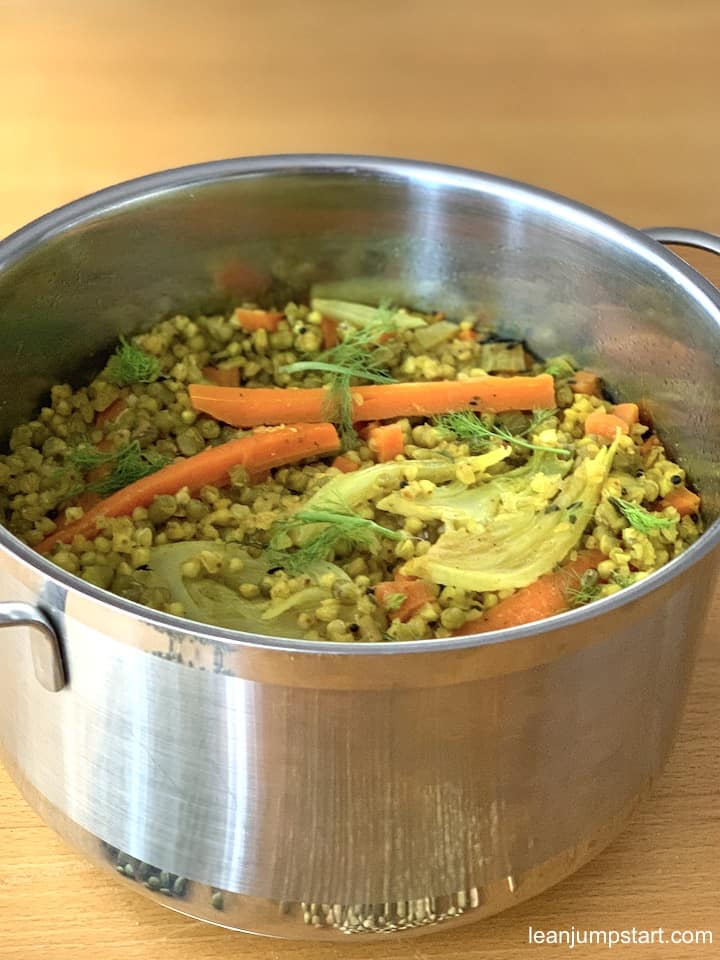 Appreciated for its balancing properties, kitchari is easily digestible, particularly nutritious and tasty. It contains complex carbohydrates, proteins, and fats and is ideal for relieving the digestive tract. Especially mung beans are very easily digestible, and the spices support the digestive process. In consequence, less flatulence occurs than with other legumes.
The traditional Indian dish for healing and cleansing
Kitchari is also known as Khichdi or Khichadi. It has been used for a long time in Ayurveda, the oldest holistic healing practice of mankind. Traditionally Ayurvedic kitchari was used to cure the sick and the elderly or as the first solid food for babies. Healthy people use it during cures and spiritual practice.
Ok, now after you've seen the ingredients it's time to show you how to make kitchari. A little warning: Although it is an easy one-pot meal it first was a bit challenging to gather all the spices. Nevertheless, it was worth it.
Print
 Simple kitchari recipe (Buckwheat khichdi)
deliciously spiced mung beans with buckwheat
Author: Gabi Rupp
Prep Time:

720

Cook Time:

30

Total Time:

12 hours 30 minutes

Yield:

6

1

x
Category:

Dinner

Method:

sauté

Cuisine:

Indian

Diet:

Vegan
1 tablespoon

coconut oil

1 teaspoon

cumin seeds

2 teaspoons

mustard seeds

1 tablespoon

 minced ginger

2

cloves garlic, minced

1

yellow onion, diced (yields about

1 cup

)

3

carrots, peeled and diced

1 teaspoon

ground turmeric

1/4 teaspoon

ground cloves

1 teaspoon

salt

1/4 teaspoon

ground black pepper

2 cups

(

200 grams

) buckwheat, rinsed

2 cups

(

200 grams

)  mung beans (soaked overnight)

4 cups

(

1

liter) vegetable broth

1 cup

 of water
Fennel froths for garnish
Optional toppings: some fennel and carrots sliced (optional)
Instructions
In a medium pot, heat the coconut oil over medium heat.
Add the cumin seeds and mustard seeds and toast them until the mustard seeds start to pop. (1-2 minutes, stirring frequently to keep the spices from burning)
Add the onions, garlic, ginger, and carrots and sauté for 5 minutes, until golden and fragrant.
Once the vegetables have softened add turmeric, cloves, salt, and black pepper and stir.
Add buckwheat or brown rice, soaked mung beans, vegetable broth, and water.
Bring everything to a good boil.
Turn heat to low, cover with some sliced fennel and carrots (optional) and let it simmer for 25 minutes.
Check for doneness.
Continue cooking for 5 to 10 more minutes if necessary. Some buckwheat or rice grains take longer.
Once it is done, spoon into bowls, top with fresh fennel froths, cilantro or parsley
Season with a pinch of salt, pepper, and a squeeze of lemon.
Notes
Tip 1: Instead of mung beans you could also use dried moong dal or red lentils
Tip 2: you could replace buckwheat with brown rice
Keywords: Kitchari, Mung Beans with buckwheat, khichdi, traditional Ayurvedic dish
Where I got those mung beans?
Do you still want to know why I have several packages of dry mung beans in my pantry? The answer is quite simple. My daughter surprised me with a huge food package for Christmas. As she loves supporting my food blogging habit, she knew that I'll like that kind of stuff. Besides several packages of perfect wild rice, it included also those packages of mung beans.
More kitchari benefits
In traditional kitchari, white basmati rice is used for cooking because it is similar easy to digest as mung beans. It is this characteristic that makes Kitchari such a healing dish. It can support our metabolism and body in its natural detoxification, cleanses the liver and purify our blood. By the way, a kitchari cleanse or meal is also very beneficial after an illness, or when stressed out.