If you wonder how to make a salad in a jar then you will enjoy this super easy recipe. If you love Greek cheese, then you will love this meal too.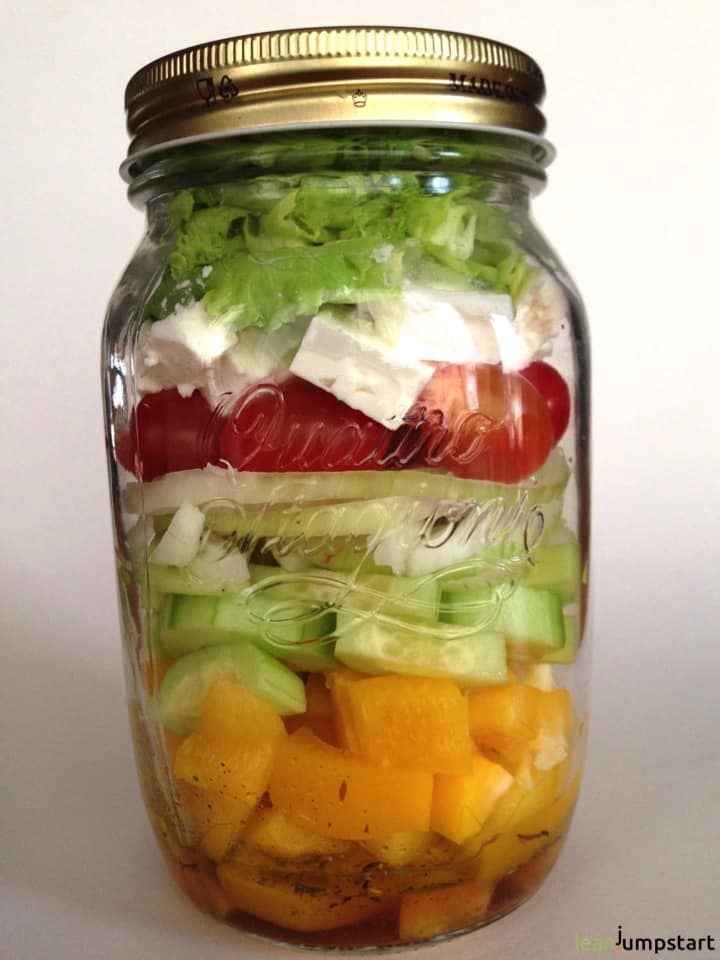 Print
Mason jar Greek salad
A vegetarian vitamin bomb that saves you time and money
Author: Gabi Rupp
Prep Time:

30

Total Time:

30 minutes
• 5-quart size wide mouth mason jars
• 10 tablespoons Greek vinaigrette (see below)
• 5 yellow peppers sliced
• 3 cucumbers, peeled and sliced
• 5 onions cut into rounds
• 1-quart cherry tomatoes
• 4 ounces Greek cheese
• 5 cups lettuce salad
*************************************
Easy Greek Vinaigrette
(will make enough for 4-5 mason jars)
• 3 tablespoons red wine vinegar
• 2 tablespoons lemon juice
• 5 tablespoons extra virgin olive oil
• 3 garlic cloves, minced
• A good pinch of the low sodium salt
• freshly ground pepper, to taste
• 1/2 teaspoon dried basil
• 1/2 teaspoon dried oregano
Toss all ingredients together in a small bowl.
Instructions
Layer each mason jar with the ingredients beginning with dressing then adding peppers, cucumber, onions, tomatoes, Greek cheese, finishing with lettuce leaves. Keep them cool in your fridge. Just grab it when you need it.
Give the ingredients a shake and arrange them on a plate.
Notes
I recommend packing the layers tightly without much air in between, that way your meal remains longer fresh.
It's only recently that I stumbled across salads in jars on Pinterest.  
So…I'm rather late to this party.
Unfortunately, most German households are flooded with plastic food storage containers from Tupperware…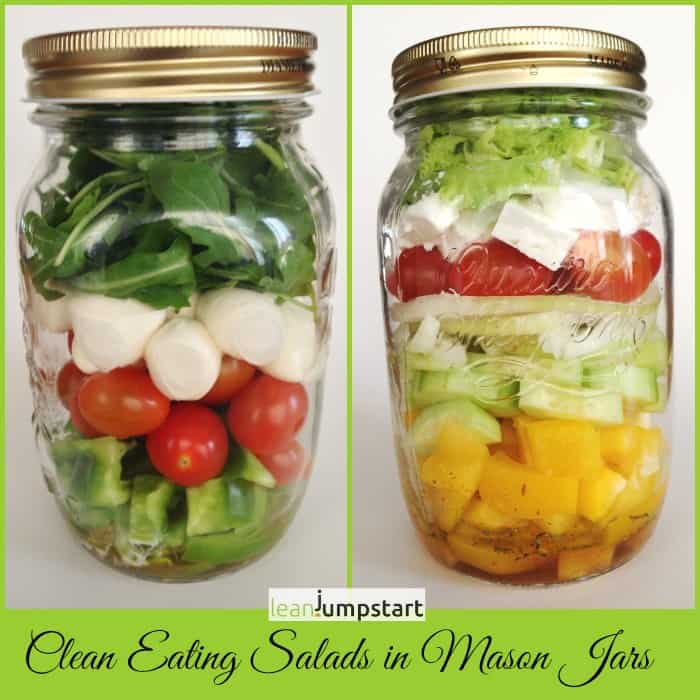 Why I love them
In the meanwhile, I'm a big fan of mason jar salads – and I wished I knew this concept many years ago when I was still commuting to work…
Did you know that there exist even practical Lunch Bags for these jars? I spotted some times ago Jars to Go Lunch Totes on Etsy.
My lunches then were processed canteen food or fast food salads with artificial dressings…
I know that many of you have full-time jobs, kids and are commuting. In this context maintaining a clean eating lifestyle is a special challenge.
I started researching convenient homemade lunch box solutions…until I finally found, in my opinion, the best solution for commuters.
There are many reasons why I give these meal to go options a raving review. Check them out, I've explained the reasons here: mason jar salad
What is your favorite salad jar idea? 
Share your best recipe with us in the comment section below. I'm looking forward to your inspirations:)