Last Updated on January 31, 2019
Today I have a delicious treat for chocoholics. My best flourless chocolate cake recipe without table sugar or butter. It is also perfect if you are watching your weight.
Yes, you've read that right. More about weight management in a minute.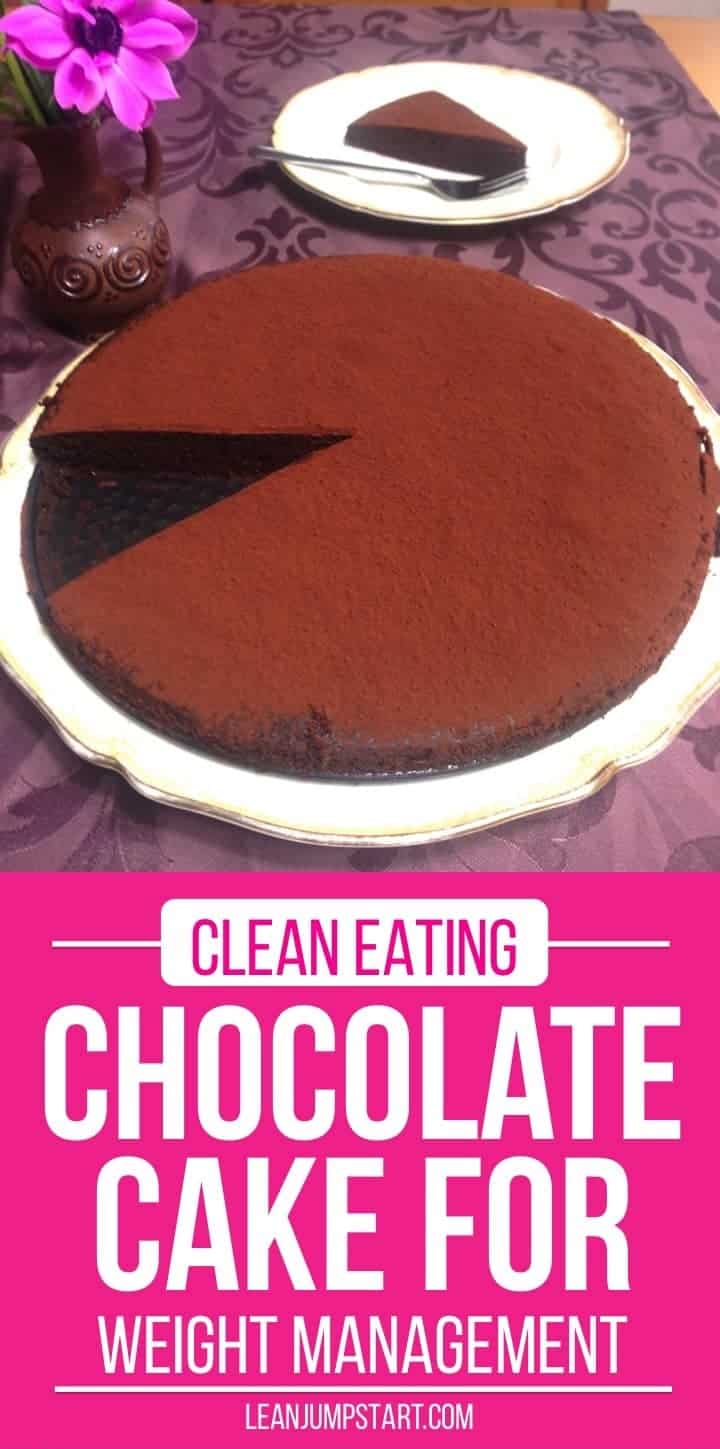 Maybe you ask yourself how you can bake a flourless chocolate cake when it needs neither grains nor almond flour. I've seen already vegan cakes on Pinterest based on black beans, avocados, beets or other vegetables.
But this is not what I wanted.
I didn't want any healthy taste compromise
I needed an easy chocolate cake recipe my family would love and appreciate without "taste compromise" for the sake of health.
We all know those healthy, gluten-free ideas with strange ingredient combinations you bake exactly for one time and then you are happy if you find voluntary eaters for it.
My husband is a real chocoholic and very critical when I bake something new. He would be the first to tell me politely not to bake it again if the sweet food doesn't meet his taste expectations.
After he asked for a third slice, I knew I was heading in the right direction with this fudgy and moist chocolate cake.
Baked with a secret ingredient
In fact, this clean eating cake is based on a secret ingredient that you won't see often in recipes: Prunes!
And yet I was convinced that it might work because I love the taste of dark chocolate fruit bars with prunes since my childhood. The prunes give the cake the perfect moist consistency, provide a fudgy mouthfeel and a light sweetness.
By the way: As somebody who creates E-courses that help the busy woman to simplify their clean eating habits my skinny recipe uses only natural ingredients.
Another aspect I love is the simple cake design that can be done within a minute and it is still very appealing.
How to make a water bath for the cake
Ok, I admit it, there is a caveat. As easy as this recipe might be it is not the quickest and calls for more steps than you might be used with my simplified recipes. But I think it is worth it. The following recipe instructions will ask for a water bath you create around the spring-form pan. This is another factor to keep the cake moist.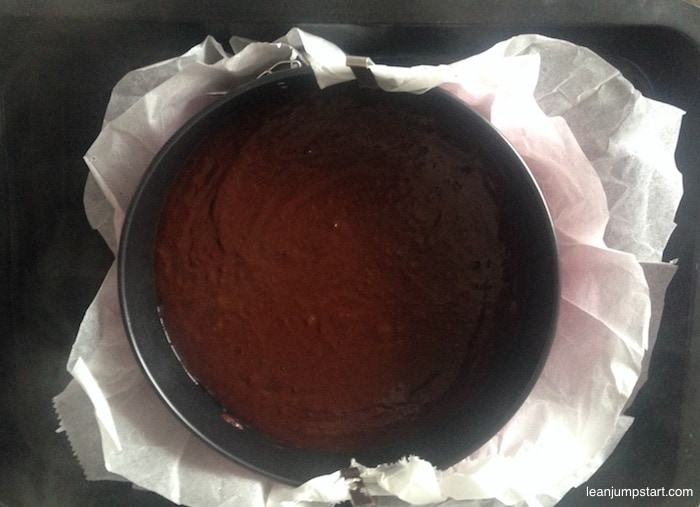 On the picture above you see how you wrap the form for a double layer of parchment paper to prevent any leaking.
Print
Best flourless chocolate cake recipe
A delicious treat for chocoholics
Author: Gabi Rupp
Prep Time:

15

Cook Time:

40

Total Time:

210
1 cup

pitted prunes, about

15

1 cup

unsweetened, sifted cocoa powder

3 ounces

/85 g dark chocolate, finely chopped and melted

4

large eggs

1/3 cup

maple syrup

1 cup

boiling water, plus more for water bath

½ teaspoon

baking soda

¼ teaspoon

salt
some oil for coating
Instructions
Place prunes in a heat-proof small bowl. Pour 1 cup boiling water over them and allow to soak and cool (about 30 minutes).
Meanwhile, preheat oven to 350 degrees F. /175 °C.
Use a 9-inch spring-form pan and coat it with some oil.
Wrap springform pan in a double layer of baking paper to prevent leaks (see picture above).
Set in a large roasting pan.
Puree prunes and their soaking liquid in a kitchen machine or blender until smooth.
Add eggs, maple syrup and puree until smooth.
While motor is running drizzle melted chocolate through feed tube and puree until fully combined.
Mix cocoa, salt and baking soda in a large bowl.
Pour prune puree mixture into the cocoa mixture and stir with a spatula until completely combined.
Spread mixture in the prepared pan.
Create a hot water bath for it by pouring boiling water into the roasting pan, around the spring-form.
Transfer the roasting pan to the oven and bake for 40 minutes (It will firm up as it cools).
Take out from the water bath and carefully remove baking parchment from sides.
Cool on a wire rack.
When cooled down chill in refrigerator until firm and cold (about 2 hours).
Remove pan sides.
Decorate with sifted cocoa powder.
Slice to serve.
You can serve this treat at coffee time or as a light and delicious chocolate dessert.
Notes
By the way you can also freeze it easily and have always a healthy cake at hand when you need it.
4 weight management aspects
The great thing about this baked dish with prunes is that the intense cocoa taste satisfies a deep chocolate craving very quickly. This helps you to indulge wisely and minimizes the potential to go overboard with the treat. Ok, this is true for me if you have a chocoholic partner he might still want another slice;)
While dark chocolate and cocoa powder, sometimes can lead to constipation and hinder a proper weight management, the laxative effect of prunes counteracts successfully.
For many people (me included) the sum of healthy and unhealthy fats, they consume per day influence their weight considerably. With 8 grams fat per serving this low-fat cake recipe is a winner.
As you have seen I'm using maple syrup instead of industrial sugar in the recipe. It is more natural than white sugar but can cause the same reactions in your body. So if you are sugar-sensitive and get easily insulin spikes after consuming sugar on an empty stomach, this might happen to you also with maple syrup. Tip: Eating sweet treats after a healthy meal, helps to prevent insulin spikes.
I think this easy chocolate treat could become a staple in our family. Maybe I experiment a bit in the future and try to replace the eggs with bananas for a vegan version. I will let you know how it worked.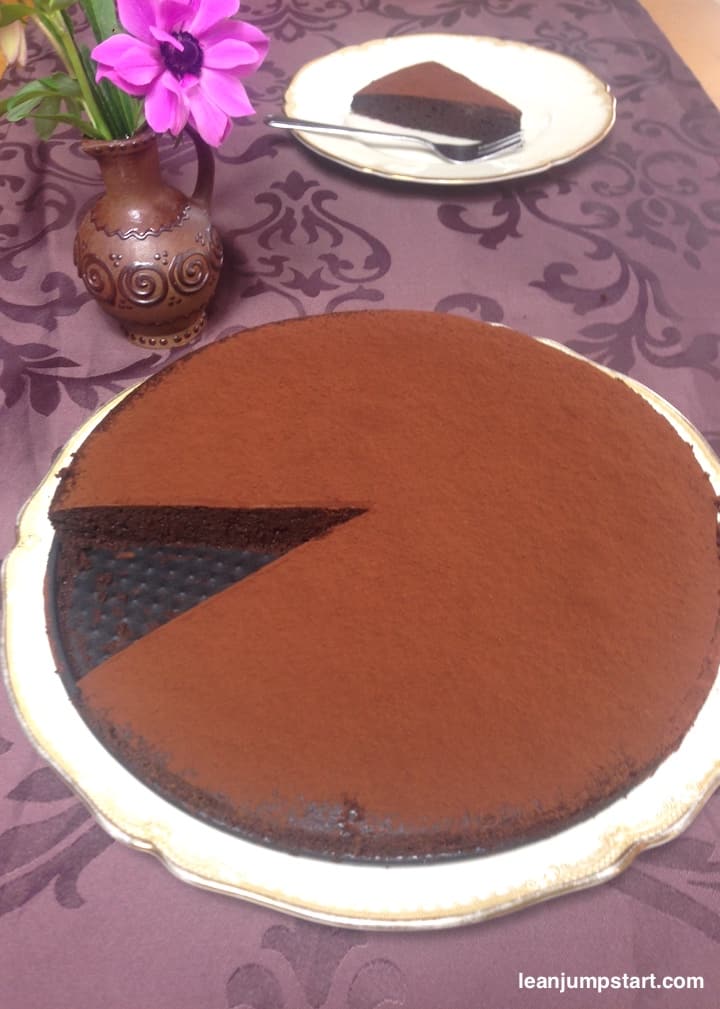 How to simplify clean eating for weight loss?
If you love the idea of simplified clean eating for weight loss but still want to treat yourself from time to time with delicious cakes and dessert, then you should check out my 52 Chef Habits Ecourse. Click here to learn more!