Last Updated on November 4, 2020
Here comes a really "cosy" soul food that warms you up and lifts your spirits for times when the weather is unpredictable and often changing hour-to-hour: Buckwheat noodles with creamy savoy cabbage mustard sauce.
If buckwheat noodles – as an unparalleled soul food – meet a creamy, mustard sauce with vitamin C loaded savoy cabbage, then nothing can really go wrong.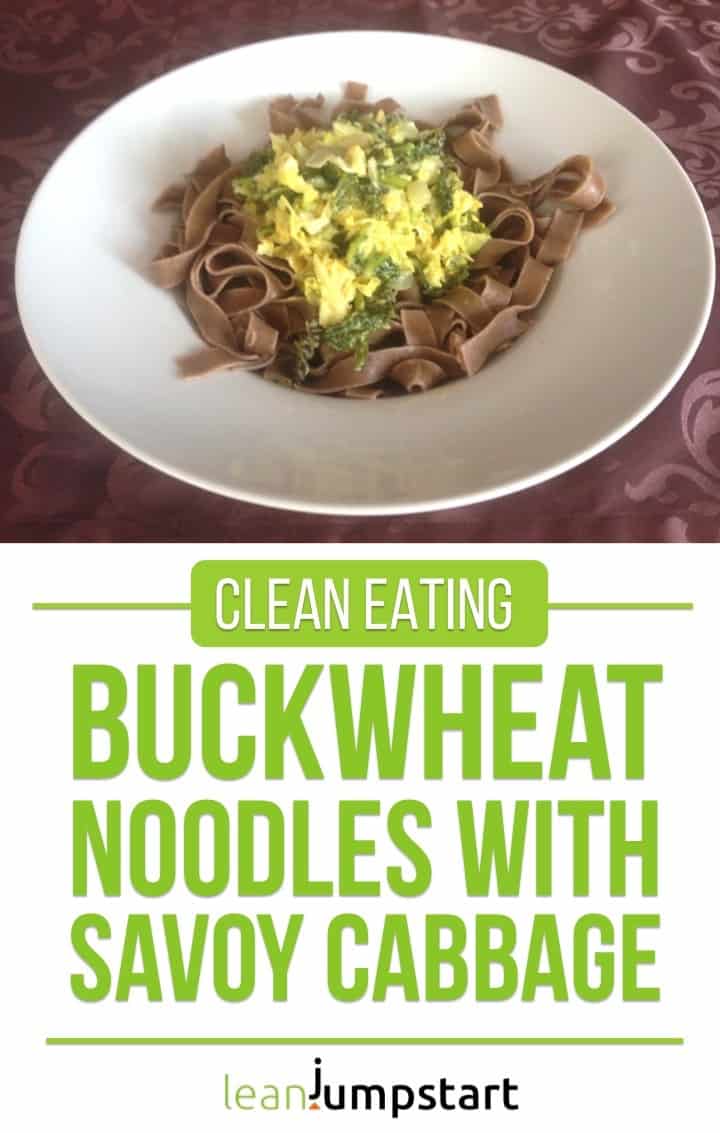 Savoy cabbage is not only super healthy, but compared to white and red cabbage it also tastes slightly smoother. Combined with mustard and cream, these vegetables make an incredible tasty pasta sauce. And best of all, it's all there in no time and you don't have to stand by the stove for long.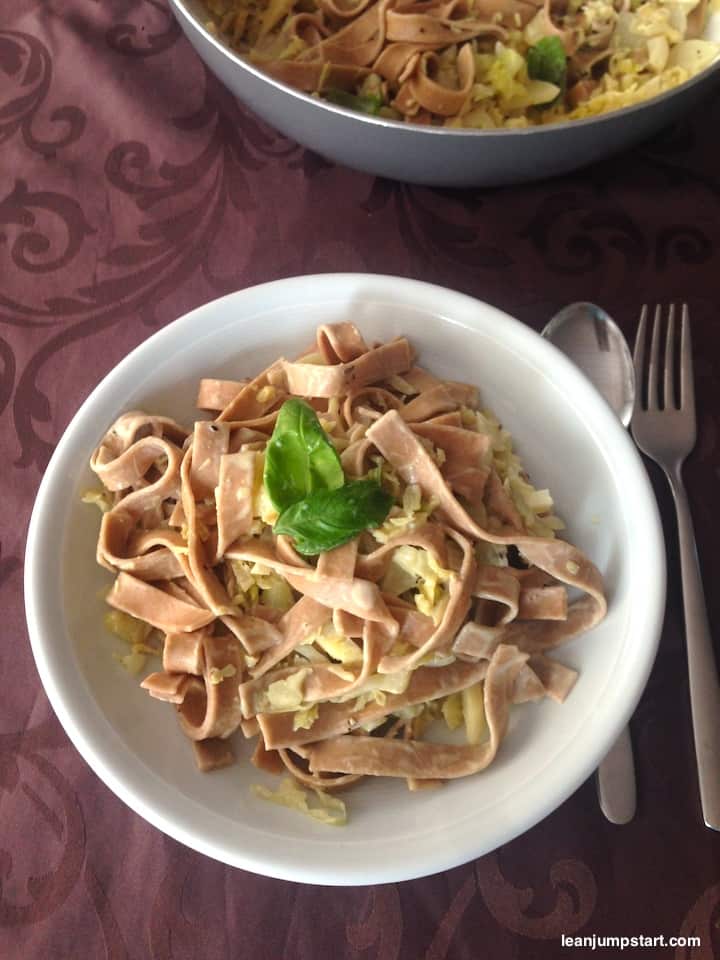 Why you should try buckwheat noodles
Of course you can combine this creamy savoy cabbage sauce with any pasta but as I love to experiment I've chosen this time buckwheat noodles which I've bought recently at Aldi when they were on sale. The pasta contains only organic buckwheat and water. Whole grain tagliatelle work perfectly too.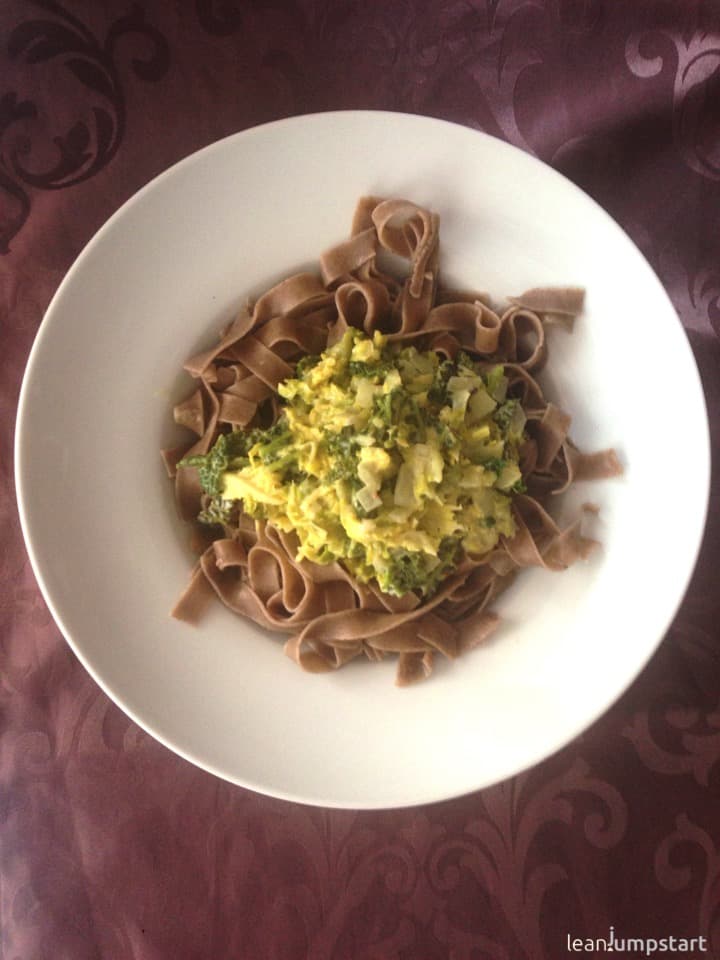 The pseudo-grain buckwheat is similar to quinoa or amaranth gluten-free and very nutritious. Because of its warming effect, buckwheat is often cooked in wet and cold weather – perfect for a stormy April day;)
Print
Buckwheat noodles with creamy savoy cabbage mustard sauce
A delicious whole grain pasta meal
Author: Gabi Rupp
Prep Time:

10

Cook Time:

15

Total Time:

25
750 grams

savoy cabbage

1 tablespoon

olive oil

2

onions, diced

1/2 teaspoon

date syrup

125

ml vegetable broth

100

ml coconut cream or soy cream

2 tablespoon

mustard
some caraway, ground
salt and pepper to taste
Instructions
Quarter savoy cabbage, remove stalk, cut into fine strips.
Blanch for 3 minutes in boiling salted water, then strain into a colander and set aside.
Heat oil, sweat onion and date syrup in it, add the lightly squeezed savoy cabbage and fry briefly.
Deglaze with vegetable stock and cream, add mustard and simmer open in the pot for 10 minutes, stirring occasionally.
Season to taste with salt, pepper and optionally caraway powder.
If you want it to be leaner, replace the sweet cream with sour cream (only 10% fat and also very tasty!)
Notes
Combine savoy cabbage sauce with cooked buckwheat noodles or other whole grain pasta.
Is it really necessary to blanch savoy cabbage?
Maybe you are wondering why you have to blanch savoy cabbage if it has to simmer for 10 minutes anyway?
The reason for this is that blanching helps to make the cabbage more digestible. The "flatulence agents" contained in the cruciferous vegetable leak into the water during blanching, but the cabbage still remains crisp resulting in a culinary delight without regret.
Tip: if you have only little time you could skip the blanching step but instead season with more ground caraway which is also a great flatulence remedy.
OTHER SAVOY CABBAGE RECIPES YOU MIGHT ENJOY
MerkenMerken
MerkenMerken
MerkenMerken
MerkenMerken