Last Updated on March 18, 2019
With this barley risotto, I offer you another creative way to include more fiber-rish whole grains into your nutrition. It took me many years before I published this first clean eating recipe with this amazing whole grain on leanjumpstart.com.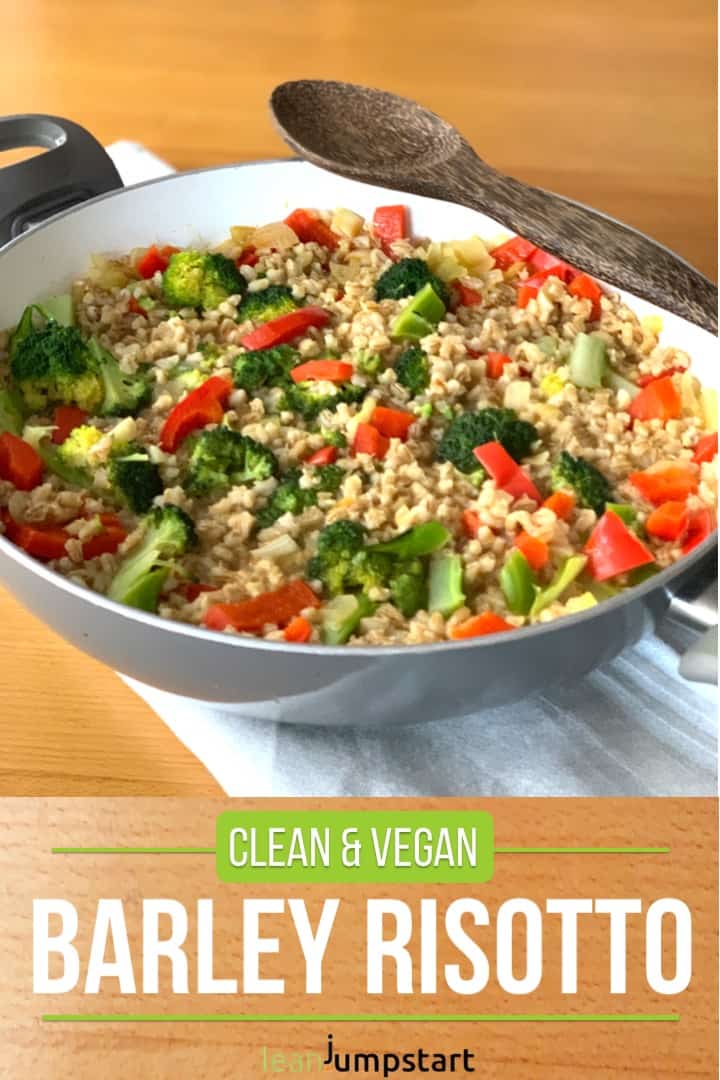 As often, you won't get only the recipe but I've also included some fascinating background information regarding barley's health benefits at the end of this blog post.
It' s not that we don't love barley, but the fact is that there are many other grains around that are just quicker to prepare. Think of bulgur that can be ready to eat in 15 minutes or quinoa or millet, both pseudo grains are cooked in under 20 minutes.
How to cook it?
Whole grain barley is different and you have to simmer it for up to 90 minutes! in sufficient (1:3) broth or salted water, before you can serve it. Don't run away yet…especially if high cholesterol levels are an issue for you.
Some types need only 45-60 minutes. Soaking the cereal the night before can also reduce cooking time.
I think you can understand, that the long cooking time doesn't give this grain the best preconditions to play a dominating role in my simplified clean eating kitchen.
Alternative: Pearl Barley
You can save some time by using the less nutrient-dense but still healthy pearl barley, which can sometimes be ready within 45 minutes. Make sure to check cooking instructions on the package.  I've also used pearl barley for this recipe and was surprised to learn how this "bran-stripped" grain could still keep some significant health benefits. I'll explain it later.
The number 1 most important seasoning!
An important seasoning for this dish, in my opinion, is nutmeg. I feel that with or without nutmeg you can make or break this recipe. As it is a heat-sensitive seasoning I recommend to add nutmeg only versus the end of your cooking process. You can use ground nutmeg or take a whole nutmeg which you then grate finely with a micro planer, a specialized nutmeg grinder or the smallest holes of a standard cheese grater.
Print
Barley risotto
A delicious, vegan whole grain risotto
Author: Gabi Rupp
Prep Time:

10

Cook Time:

55

Total Time:

65
500 g

/18 oz broccoli florets

1

red pepper, in fine stripes

1 tbsp

olive oil

2

onions finely diced

2

cloves garlic mined

200 g

/1 cup pearl barley

120

ml/1/2 cup white wine or

1 TBSP

white Balsamico

1

liter/4 cups vegetable stock

1 tsp

. ground nutmeg
salt and black pepper to taste
Instructions
Heat olive oil in a large skillet set over medium heat.
Add onions and garlic and sauté for 1-minute.
Add the barley and cook for 1-minute stirring.
Now, add the wine or white Balsamico and cook until it is evaporated.
Then add all the vegetable stock to risotto skillet, stir well and cover it.
Reduce heat to low and simmer risotto, stirring frequently, for 45 minutes, or until all liquid is absorbed. By then it should be thick and creamy.
Once the dish is almost fully cooked, about 10 minutes in, add red pepper stripes and broccoli florets.
Cook for 5–10 more minutes, stirring occasionally, or until the grain is tender.
Season with nutmeg, salt, and pepper.
Notes
If you are an "all eater" you can sprinkle some Parmesan cheese over this one pot meal.
Health benefits of barley
The so-called "holy grain" used to be a staple. Then it was forgotten for a long time. But researchers have now rediscovered this useful grain. And they found something amazing: It protects the intestines and lowers cholesterol levels.
The intestinal flora with its bacteria plays a decisive role in the preservation of health. For example, it can prevent pathogens ingested through food from entering into the bloodstream via the intestines.
A healthy intestinal flora also protects against irritable bowel syndrome, allergies and has a positive effect on the mood. Poor nutrition however or taking antibiotics can easily upset the balance of intestinal bacteria.
In such a case you should try barley: It contains the so-called "beta-glucan". This dietary fiber serves intestinal bacteria as food.
In an experiment, Italian researchers let study participants eat 100 grams of a barley-pasta for two months daily. At the end of the experiment, the number of useful intestinal bacteria had increased among the participants. What is more, the number of harmful bacteria decreased significantly. Positive side effect: The cholesterol level also dropped.
Click through to learn what else high fiber foods can do for you.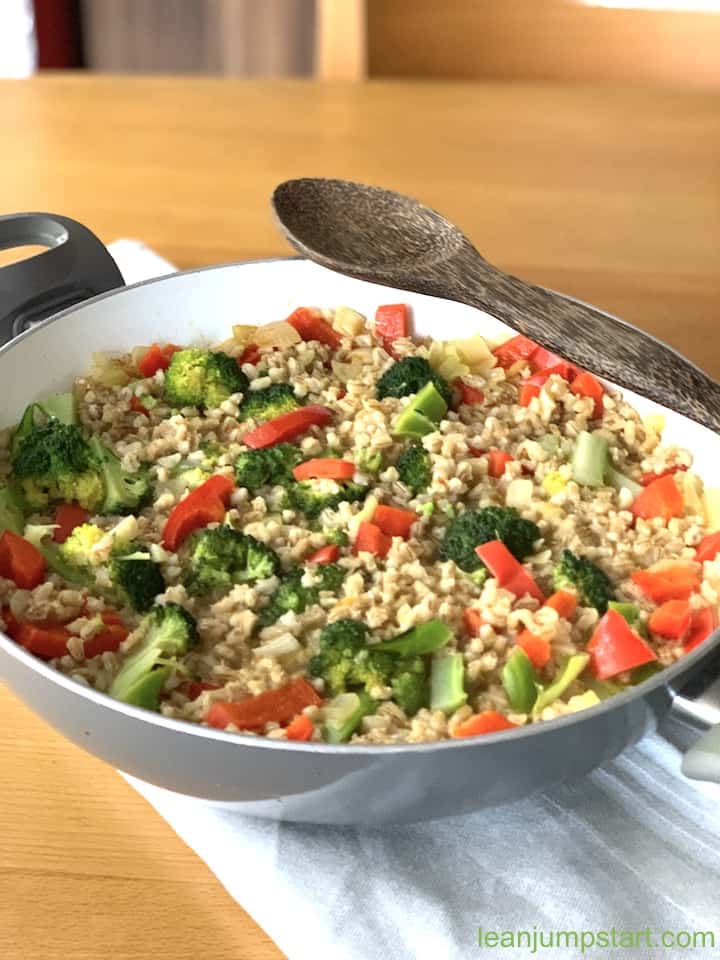 Nutrition facts 
Whole grain barley is surrounded by a protective coating known as husks. Since grains and husks are fused together, the cereals contain a high proportion of cellulose. This is typically between eight and 15 percent. Cellulose belongs to the dietary fibers and is therefore indigestible.
100 grams of barley also contains the following ingredients:
12.7 grams of water
9.8 grams of protein
2.1 grams of fat
63.3 grams of carbohydrates
minerals and vitamins B and E
It is particularly rich in magnesium, potassium, calcium, iron, and phosphorus. This fiber-rich grain also contains many essential amino acids.
Types of barley  
Besides the whole grain or hulled barley, you can purchase also pot barley and as mentioned the most popular "pearl barley". As the name suggests pearl barley goes through extra rounds of pearling which removes the hull and the bran layer. Pot barley has still most of the bran intact as it has been processed for a shorter amount of time.
Rule of the thumb: You can expect that the less of the hull and bran layer is intact the shorter the cooking time. Of course, removing hull and bran layer will reduce some benefits and yet there still remain some significant health advantages.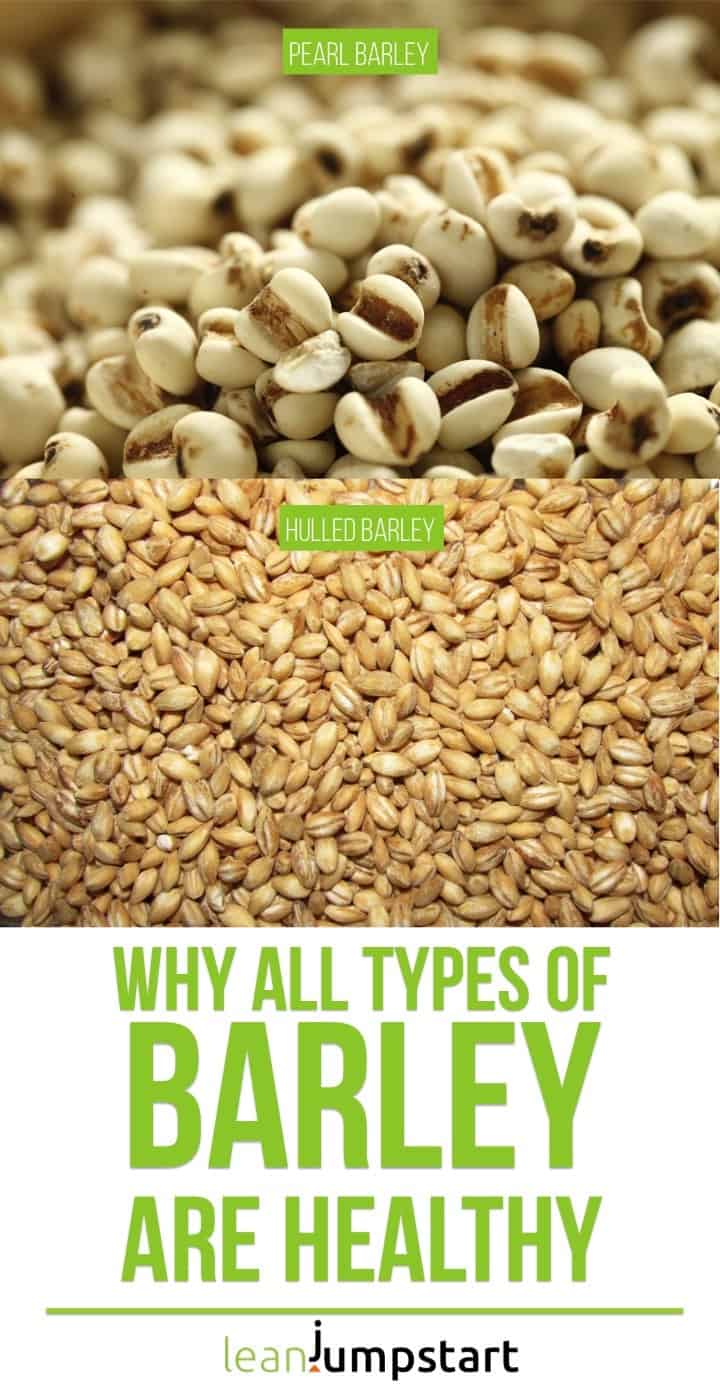 Why all types are healthy 
Good news for those of us who prefer grains with shorter cooking time. No matter which grain you choose, rest assured that it is always beneficial for your health.
Pearl, pot or whole grain are all included in the Health Canada adopted claim. This claim concludes that scientific evidence exists regarding a relationship between the intake of three grams of barley beta-glucan daily and lower cholesterol levels, keeping your heart healthy.
So maybe you ask, how can a "bran stripped"pearl barley still contain beta-glucan?
Evidence-based answer: While in some other grains, the fiber is only found in the outer bran layer, the Beta-glucan soluble fiber is found throughout the entire barley kernel.

Isn't that amazing?
3 additional whole grain recipes
Besides this risotto, there are many other ways to increase fiber in your diet. Here are 3 suggestions:
Mushroom barley: Use the recipe above and replace the broccoli with 500 g chanterelles or other mushrooms. Cook for another 7-10 minutes.
Barley vegetable soup: Just cook up a regular vegetables soup and add cooked barley to it. The result is a comforting and filling one pot meal that benefits your intestinal system.
Barley bread: Take my popular whole wheat bread recipe and replace a maximum of one-third of the whole wheat flour with barley flour. Just use your food processor to grind your grains. This is another smart way to vary your whole grain bread recipe.