Last Updated on November 4, 2020
A very simple and delicious recipe for me is turmeric millet with sugar snaps. It is a protein-rich clean eating dish that can be ready within 20 minutes. You may expect in this blog post also a comparison between the pseudo-grains quinoa and millet.
If you know millet only as a bird food you probably don't have any millet recipes at hand. Hopefully, after reading this blog post I can convince you to include this nutrient-rich, tiny grain in your weekly meal plan.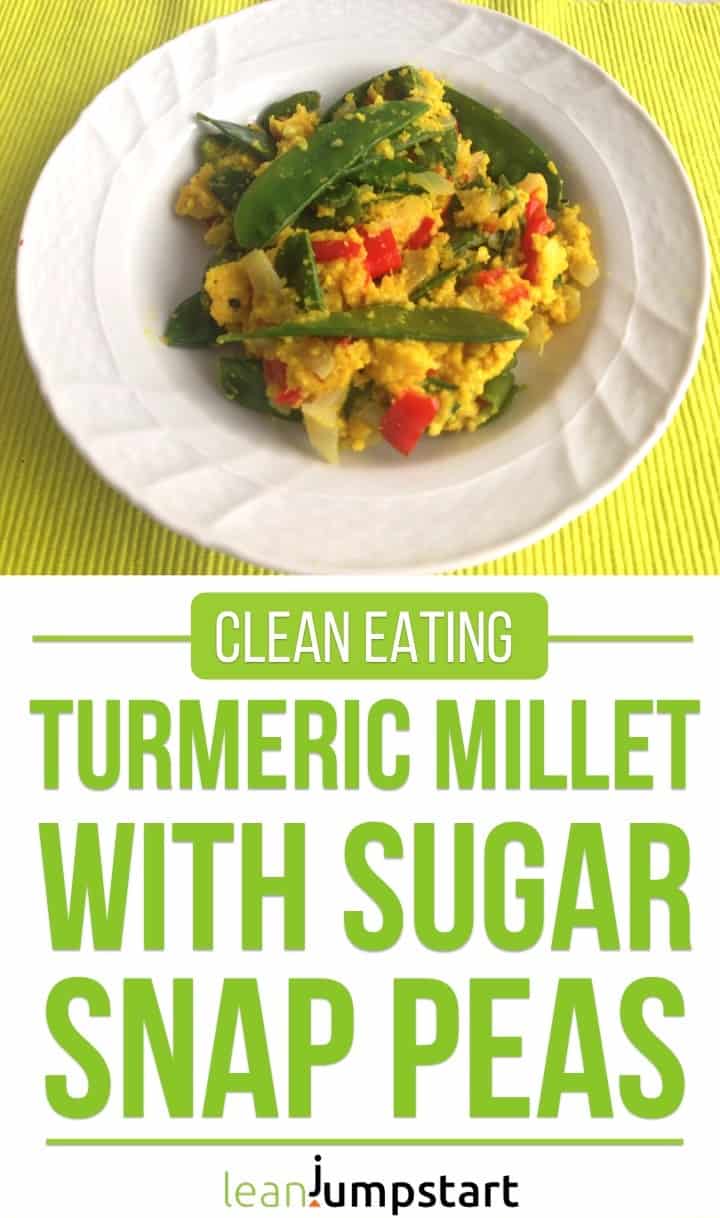 Before I get to the actual turmeric millet recipe with sugar snaps let me shed some light on millet. If you are storing this superfood already in your pantry, then jump right to the recipe!
What is millet?
Millet is actually a seed, although it is often called a whole grain, because of its grain-like consistency, use, and health benefits. The tiny yellow, round beads are naturally gluten-free and have a long tradition. More than 8,000 years ago people ate already flatbread made of millet flour. Its delicate, light nutty flavor makes it suitable for just about anything.
Millet nutrients & health benefits
Millet offers an impressive content of important nutrients like 5-15% protein, vitamin B complex, some ß-carotene, and vitamin C.
Mostly however this pseudo-grain is a fantastic source of minerals and trace elements. Millet contains significant amounts of the blood building iron and the heart-protecting magnesium that helps maintain normal muscle and nerve function. To maximize the bio-availability of iron it's best to eat millet with vitamin C. Red pepper in this turmeric millet recipe is such a vitamin C powerhouse that helps to improve the bio-availability of iron.
On top of that, the yellow grain is rich in fiber and antioxidants, which help fight off disease-causing free radicals.
Click through to learn what foods are high in fiber.
Turmeric millet: How to cook millet and sugar snap peas
After you have washed millet thoroughly it's very simple to prepare. Dependent on the type it can be cooked in broth or salt water within 15-20 minutes – quicker than any brown rice I know.
In the following recipe, I added the potent spice turmeric which boasts several health-boosting properties (1) and provides millet with an intenser yellow color. To aid the uptake of the curcumin in turmeric it's important to add black pepper to the recipe.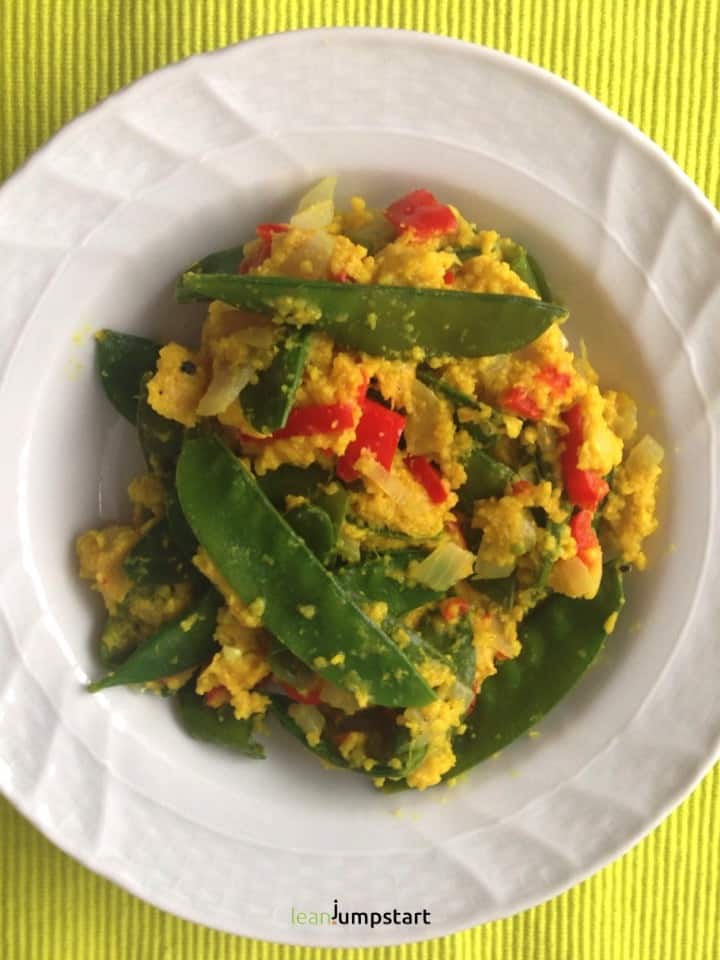 I just realized that this is my first clean eating recipe with sugar snap peas on leanjumpstart.com. It's high time, given the fact that this healthy legume can be cooked within 5 minutes!
Print
Turmeric millet with sugar snap peas
Author: Gabi Rupp
Prep Time:

5

Cook Time:

20

Total Time:

25
1 tbsp

. olive oil (EVOO)

1

onion, in cubes

2

garlic cloves, minced

1/4 tsp

. chili flakes

1

large bell pepper, cut in cubes

1 cup

millet

2 cups

vegetable broth

1 tsp

. ground turmeric

8 oz

./230 gr. sugar snap peas (stem end and string removed and discarded)

1/4 tsp

ground black pepper
salt to taste
Instructions
Heat olive oil in a skillet over medium heat.
Add onions, garlic, chili flakes and bell peppers.
Sauté for 2 minutes, stirring often.
Then add millet and cook until it starts to release a nutty taste (around 3 minutes)
Next pour the vegetable broth and add turmeric.
Let it simmer over medium heat for around 10 minutes.
At last add snap peas and let it simmer for another 5 minutes until they are crisp tender and/or until the millet is cooked through and soft.
Add pepper and salt to taste.
Notes
If you need to save more time replace millet by couscous and reduce cooking time accordingly.
It saves you around 5-10 minutes cooking time.
Quinoa vs. millet
I'm glad that I learned about millet in my twenties. At that time it was always a welcome variation to brown rice and nobody knew the nowadays so popular quinoa yet.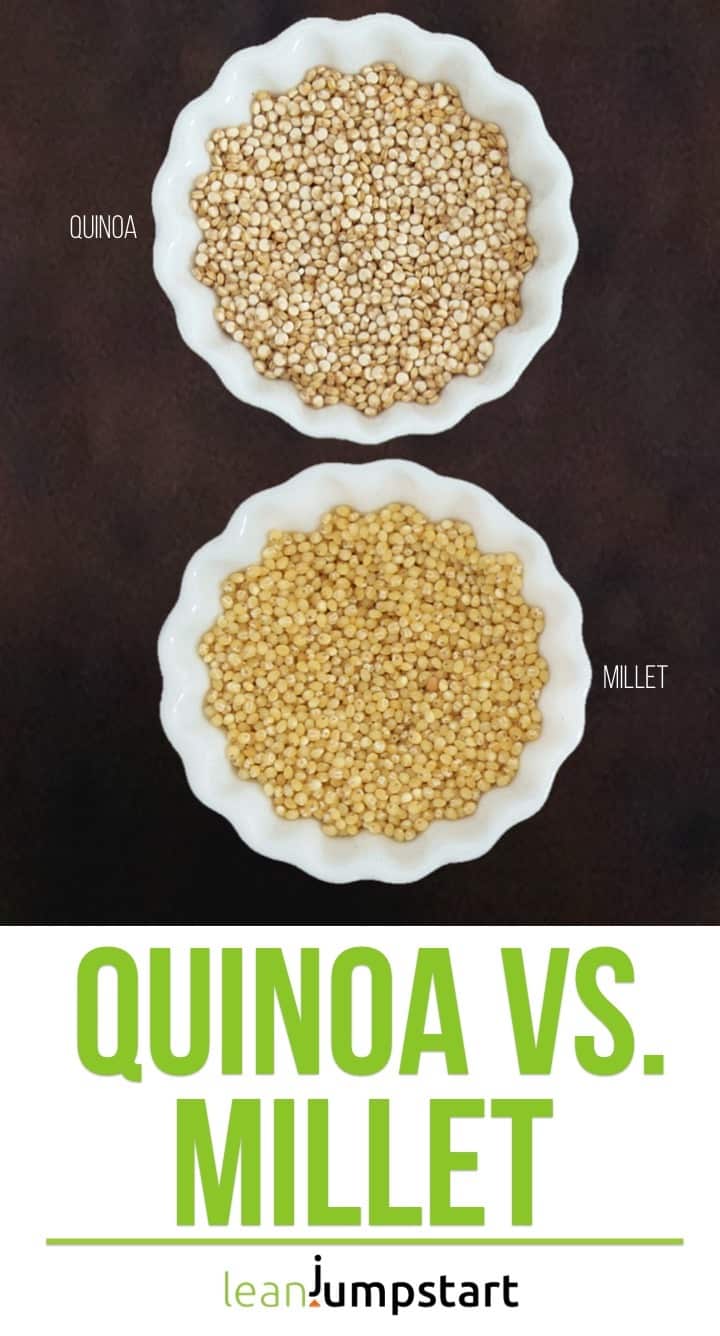 Both pseudo-grains are excellent sources of nutrients. The major nutritional distinction between quinoa and millet is that quinoa is a complete protein, providing all the 9 essential amino acids that our body cannot build on its own.
But millet can overcome this deficit with the help of legumes. Combining it e.g. with beans or snap sugar peas like in our turmeric millet recipe will give you a complete protein.
Another difference is that every bite of quinoa delivers a lovely caviar-like pop you won't experience with millet. On the other hand, millet grains are more cohesive than quinoa and some people prefer the milder aroma of it to the earthier feel of quinoa. Because of millet's mild taste, it takes well to herbs, spices, and seasonings.
Lower Bulk prices of millet
The biggest advantage of millet, however, is its lower bulk prices. As an example I checked prices of both grains at Nuts.com (February 2018):
Organic millet costs $4.99/lb
Organic quinoa costs $5.99/lb
So if you are a frugal clean eater you might see at the first glance that organic quinoa costs 20 % more as organic millet! In other stores the price discrepancy can be even more impressive, especially if you look at non-organic cereals.
Versatile and affordable
Millet is incredibly versatile and an affordable alternative for non-meat sources of protein and fiber to keep you feeling satiated for longer. Make sure to always pair it with some legumes for a complete protein dish.
The presented turmeric millet was just a foretaste. You might also want to try it as breakfast cereal, porridge, in a grain salad, as a side dish, or served up in soups, stews or casseroles.
OTHER MILLET RECIPES YOU MIGHT ENJOY