Last Updated on January 5, 2019
My parsley root soup recipe is another easy meal inspiration for the cold season. What I especially love about this clean eating soup, is its intense tangy and yet delicate flavor. As the name suggests, this easy vegan soup tastes of parsley without being obtrusive.
What are parsley roots?
You know parsley, but you've never heard of parsley roots? Then you are in the same boat as me some years ago. Again it was my vegetable subscription box that introduced to me this inconspicuous root. After I cooked and tasted my first soup, I and my family were hooked.
And I'm sure you will be hooked too! As vegetables play an important role in the clean eating kitchen it is always a good idea to get to know additional vegetable types.
The glorious come back of this ancient vegetable is owed to creative professional cooks. With good reason: parsley roots not only taste delicious but they are cooked quickly, are very flexible and can be paired almost with everything.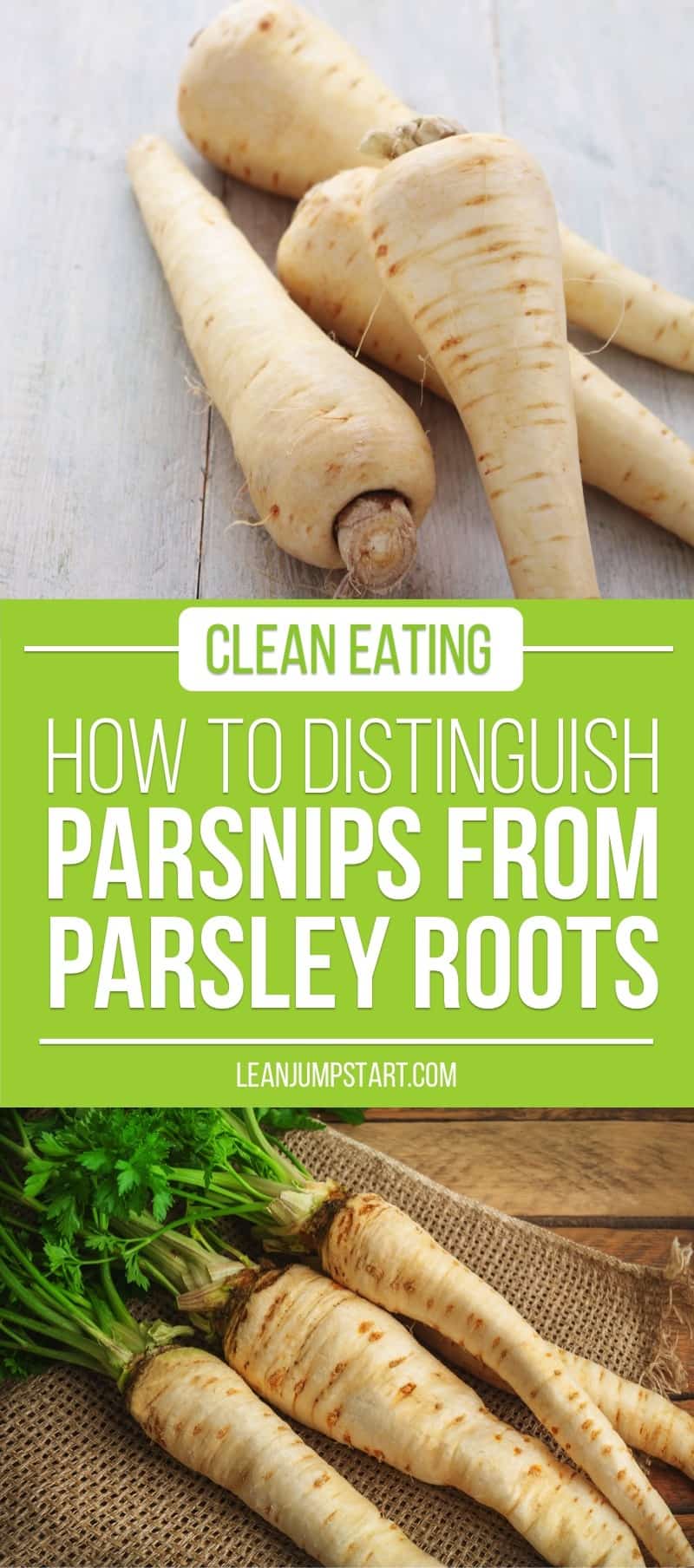 The pale roots are often confused with parsnips (see picture above) while its shape resembles carrots. The most remarkable sign for fresh parsley roots are the parsley herbs on top which you won't see at parsnips. As a classic winter root, you can get them on farmer's markets from October till the beginning of March.
Preparation tip
My mission on leanjumpstart.com is to simplify your clean eating habits. I present to you a quick and easy recipe that can be ready within 30 minutes.
For proper preparation, I recommend a potato peeler. Start to peel thoroughly first the thin bottom, then the thick top of the root. Then cut the ends of the roots, rinse and cut in small chunks. 
Print
Clean Eating Parsley Root Soup
A delicious root soup recipe.
Author: Gabi Rupp
Prep Time:

10

Cook Time:

25

Total Time:

30
11 oz

. /300 grams parsley roots in small chunks

7 oz

./200 grams potatoes in small cubes

7 oz

./200 grams leeks in small chunks

35 oz

./1 liter vegetable broth

11 oz

./300 ml plant milk

1 tablespoon

vegetable oil (rapeseed oil or olive oil)
some nutmeg, freshly grinded
some parsley, hacked
salt, pepper
Instructions
Heat oil in a large saucepan.
Add leeks and fry for two minutes.
Add parsley root chunks and potato cubes and let it steam for another minute.
Pour vegetable broth into the saucepan and let it come to a boil.
Reduce heat to simmer.
Cover and cook for 20 minutes or until the potatoes are soft.
Remove from heat.
Stir in milk and blend with a hand mixer.
Season with nutmeg, salt, and pepper.
Let it simmer again at low heat for three minutes (but do not boil).
Garnish with some parsley.
Health benefits of parsley roots
This root's countless nutrients persuaded in the middle age even Charlemagne (King of the Franks) to force their cultivation by decree. Besides of vitamin B, protein, calcium and iron, those winter roots also contain a huge portion of vitamin C. With one single serving (200 grams) you can cover most of your daily vitamin C demand. Its intense tangy flavor derives from etheric oils that make this root vegetable especially easy to digest.
How to pimp up your meal for guests
With just a few ingredients, this simple soup is for us a typical winter staple on Saturdays. Do you want to surprise your guest with an eye-catching culinary delight? Pimp up the recipe with some stripes of smoked salmon that you add to the soup when it is cooked.
Other yummy recipe ideas
I'm sure that I could convince you that parsley roots can be a wonderful addition to cream soups. For variation, I love to add them also to clear vegetable soups for weight management like my beloved cabbage soup.
Another great recipe idea is to serve honey glazed roots with game or poultry. Or how about a delicious puree? The next time when you make mashed potatoes just replace a part of the potatoes with parsley roots for an ingenious "mashed potatoes with parsley roots" variation.
Storage tip
Wrap vegetables in a mold towel and store them in your pantry or crisp drawer of your fridge for up to one week.
Clean Eating Soups: Integral part of 52 Chef Habits
Did you know that weight loss soups are an important part of my 52 Chef Habits Ecourse, featuring more mouth-watering clean eating soup recipes? Click here to learn more!