Last Updated on November 30, 2018
Some weeks ago, I promised you a blog post on how to eat clean in New York City based on our experience in May 2016. Don't get me wrong—spending eight days in NYC with my family won't make me a clean-eats expert for the Big Apple. So if you expect reviews on the 10 best clean eating restaurants in Manhattan, you will be disappointed.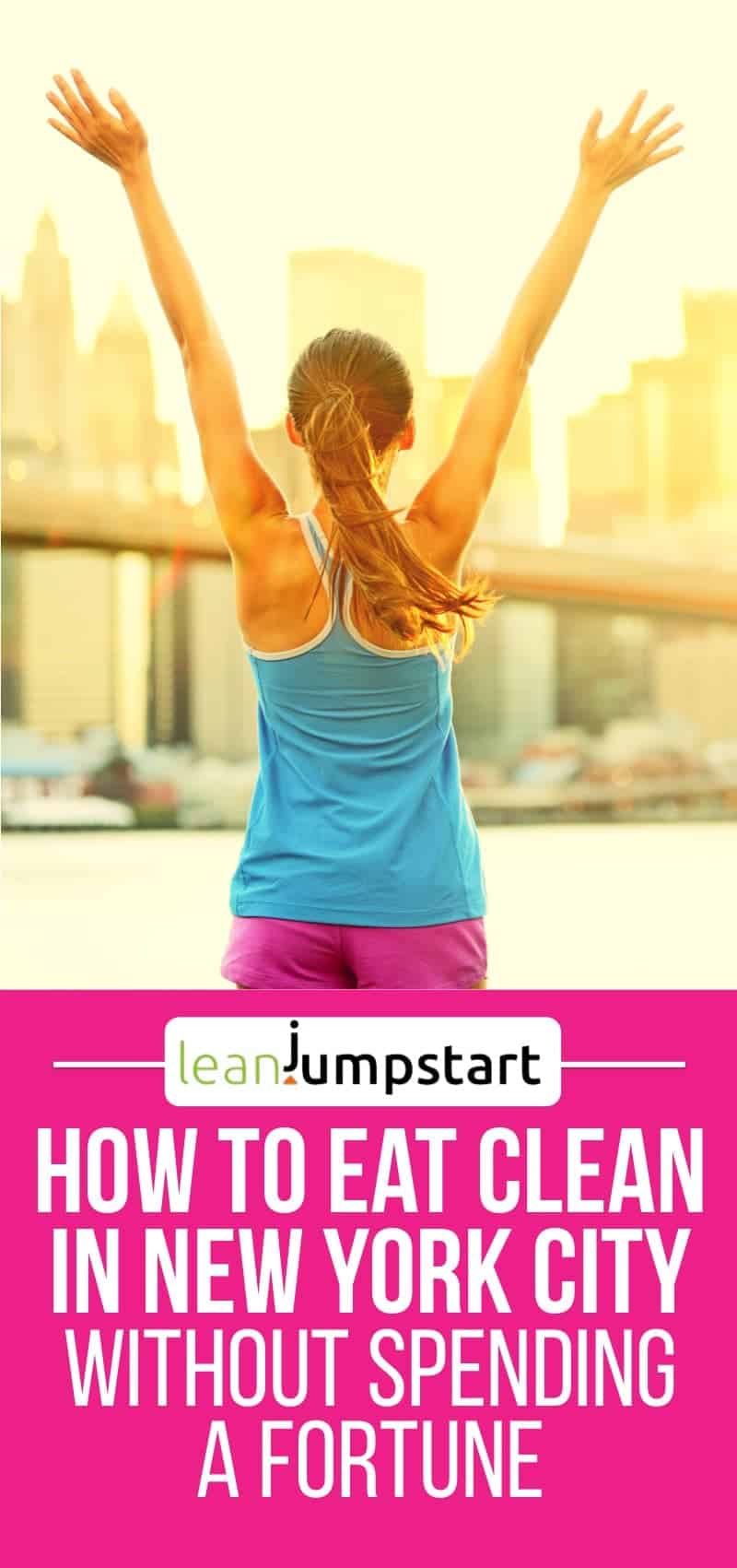 Clean Eating without Breaking the Budget 
What you will find here instead are some smart strategies on how to eat clean in NYC without breaking your budget. And in my opinion, these ideas could work for most metropolises in the world.
Our goal was to see as many city highlights as possible, as it was the very first New York trip for my 14-year old daughter and my husband.
But we also wanted to feel satiated throughout the day without indulging in unhealthy fast-food temptations lurking at every corner (e.g., offered free samples of potato chips—this really happened!).
We knew that prices for food in NYC are nearly double the cost we are used to here in Germany.
I think overall we did a really great job and my husband was pleasantly surprised at how affordable the culinary aspect of the trip was in the end. So, in case you are planning your next big city trip, you might want to consider the following tips to save some money. But remember, I'm not a New York City expert, I'm sure there are many more ways to save money on clean eating in NYC.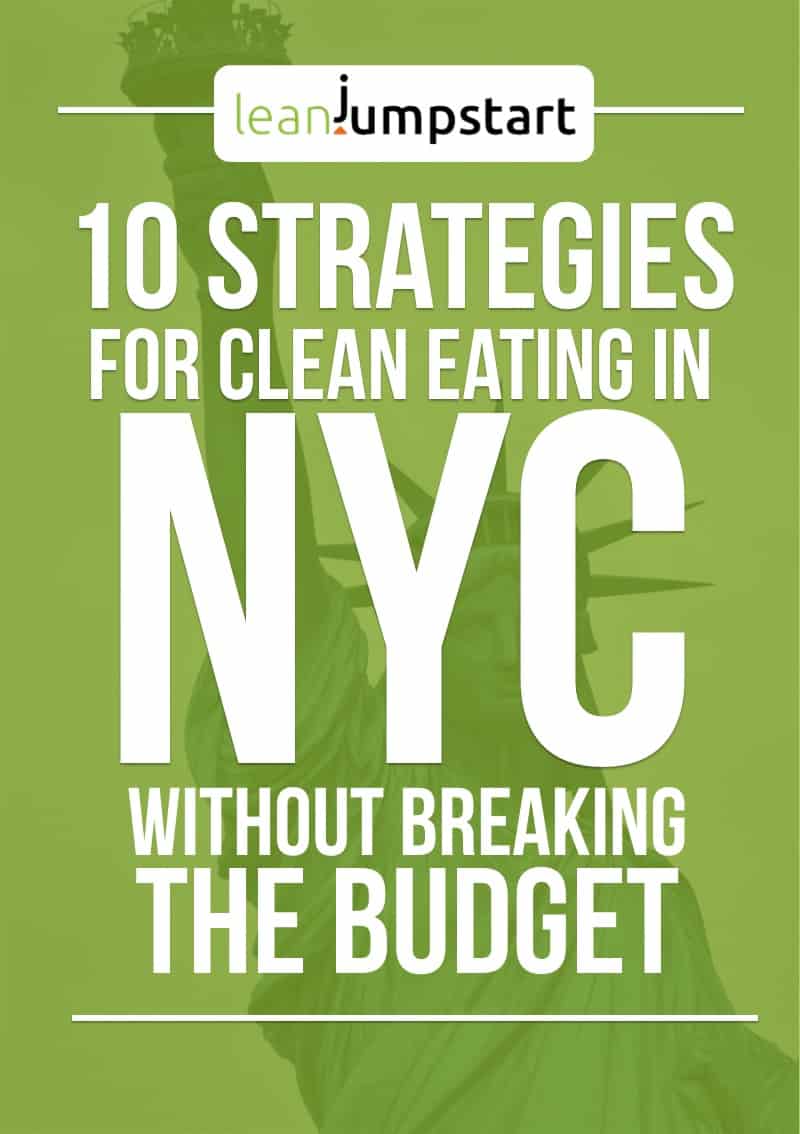 10 Strategies to Eat Healthy and Save Money in New York City
1) Plan Ahead
As with any trip, I advise planning ahead not only for the day trips but also for buying groceries and which restaurants to eat. According to Alan Lakein, "Failing to plan is planning to fail." But believe me, even if you plan such things ahead there is always enough room for unexpected, lovely adventures. 😉
Ideally, you look up online (e.g., Google Maps) eateries located near your accommodation. Include in your research also your day trips and check where you could possibly eat your main meals.
I used the "Google Street View" and virtually walked the streets around our hotel in midtown to locate possible breakfast, lunch, and dinner options beforehand. I very quickly spotted and noted some promising locations, which I'll share with you below …
BTW for planning the day trip Melissa's NYCInsiderguide.com was a great resource.
2) Involve Your Family in Your Plans
Talk with your family about their meal preferences before your trip. That helps to prevent raising wrong expectations. How often do they want to eat? Do they have any food preferences?
My daughter is vegetarian and, at the moment, she has a strong preference for vegan food. For New York City this seemed to be a no-brainer, and it was. Her special wish was to try, at least one time, the highly praised superiority burger. This is a vegan burger that tastes and looks like a real burger but without meat. According to GQ magazine, it has been named the best burger in the world. Could this really be true? We will see… So we planned for a stop at the new East Village Superiority Burger on one of our day trips.
My husband loves a good steak from time to time. I showed him some typical NYC menus online with steak prices and he quickly decided that he prefers to resist meat for a week. 😉 For all meat lovers, don't panic—with a little research he still enjoyed his very first American steak.
And my personal wish was that we should try to eat as cleanly as possible without spending a fortune. With my 80/20 clean-eating rule in mind and a little planning, I felt this shouldn't be a problem.
At home, we are usually eating five times per day, three main meals, and two snacks in between. So this was an eating routine we wanted to keep if possible.
3) Make Sure to Drink Enough Water

More important than clean eating is to drink enough water throughout the day. A hunger feeling is often thirst in disguise. Make sure to take your personal drinking bottles with you that you can fill up regularly with water. Think ahead of time where you will get your water supply.
We had to learn that bottled water is NOT typically offered in Manhattan hotels. We also experienced that NYC tap water—although praised as one of the cleanest in the world—was not really an option for us. Treated with chlorine as well as fluoride it has a very distinct taste.
The solution: At Duaneread we stumbled upon 100% Natural Spring 3 Liter (101.4fl oz.) water bottles. When we returned from our day trip in the evening, we bought two large bottles that lasted us through the next day. Although I'm aware that buying groceries in a drugstore is often more expensive than in a grocery store itself, we felt that we got a deal because it was the only shop nearby that offered these huge bottle sizes.
 4) Bring Plenty of Snacking Options with You
Bringing plenty of healthy, clean-eating snacks with you can save you a big chunk of money and the temptation to snack refined carbs.
If you are like us, traveling from abroad to the USA, then you are not allowed to "import" fresh fruit or veggies. Instead, we could only bring food with us in sealed packages. So we packed a large snacking bag with almonds, hazelnuts, dried apples, organic bars, etc.
5) Check Food Prices Before your Trip
As seen with the steak example above it is a good idea to check meal prices before your trip. Most of the NYC restaurants publish their menus online. This helped us to make some food decisions in advance. Often certain meal types are much cheaper than others. We quickly found several affordable and mostly clean food options we love:
Oatmeal with fruit
Whole grain bagels
Healthy soups and stews
Falafel
Burrito bowls
Hummus
Not a big surprise … meal prices in fast, casual restaurants were way lower than in typical traditional NYC restaurants. What I really love is that New York has a huge net of chain-but-better restaurants offering fresh, partly organic, seasonal and regional food.
Based on these findings we knew already before our flight overseas that our clean-eating meals will for sure include oatmeal, soups, stews, falafel, hummus, and burrito bowls.
Note: If you want to avoid spending a fortune on clean eating then traditional NYC restaurants have to remain an exception on your city trip.
6) Organic Oatmeal for Breakfast
Oatmeal with fruit for breakfast in NYC is usually much more affordable than omelets or sandwiches. So if you want to save money on clean eating, a smart approach is to focus on oatmeal for breakfast.
Since we eat oats often and love the satiating effect of them, we were looking forward to testing the different oatmeal options in town. We liked the idea of starting the day with a clean eating breakfast.
Clean Eating Breakfast at Fresh & Co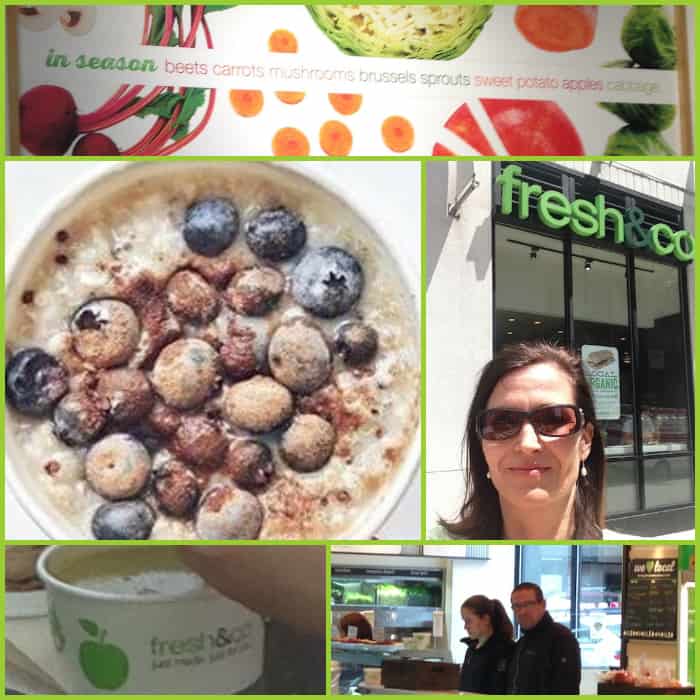 Our absolute favorite breakfast location was Fresh & Co, a friendly, fast, casual restaurant with a clean, very fresh and healthy feeling. They have a great selection of soups, salads, sandwiches, and quinoa/kale hot bowls. As their name suggests, they are using fresh, seasonal, and local ingredients.
For breakfast they offer hearty organic (hooray!) oatmeal for $3.75. The price included two different toppings. They even offered a vegan version. The flavor and texture of the oatmeal was just right.
We mostly chose an apple with banana or blueberry topping. Together with their house blend coffee or mighty leaf tea for $2 each we were off to a great start to the day.
Clean Eating Breakfast at Pret
Pretamanger (Pret) was another fast casual restaurant we tried for breakfast. They also offer well-cooked, organic, steel-cut oats for breakfast that stands out very well on its own and doesn't need much topping.
Prices are similar to Fresh & Co. The only reason why we didn't go to Pret for breakfast more often is that we went there regularly for our soup lunch. 😉
Cafe R: This was the first breakfast location we tested. I think it offers one of the largest breakfast choices in town. Of course you can get their affordable and tasty oatmeal. But somehow this huge and a bit hectic location just didn't appeal to us.
7) Smart, Clean-Eating Snacks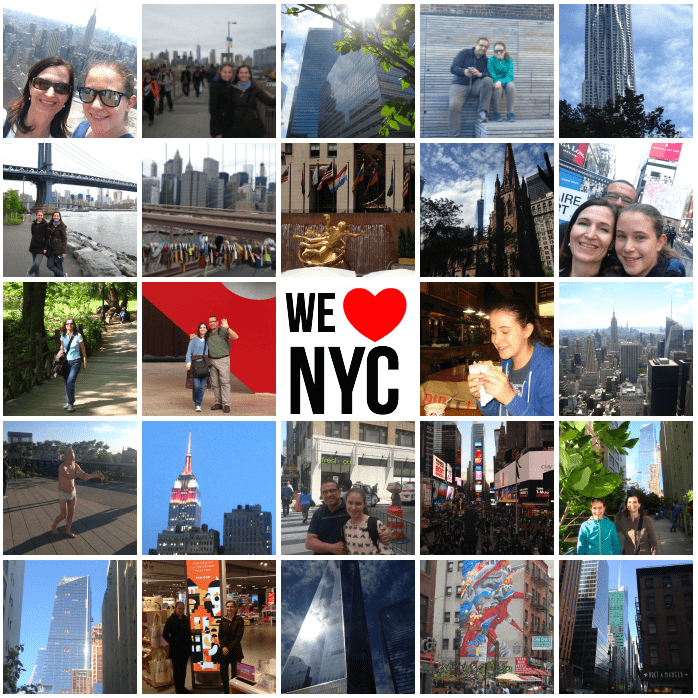 After breakfast, we usually started our planned sightseeing in NYC. (Forgive me for not giving you any NYC sightseeing insights except for the above photo collage— otherwise, I would have to write a book.)
It's a great idea to stuff your backpacks each day with water bottles and plenty of healthy snacks you ideally brought with you. For variation, here are some ideas for affordable NYC snacks. We packed nuts, dried apples, and organic fruit bars so we always had a clean-eating snack at hand when hunger occurred. But often we took more with us than we actually needed.
Clean Eating Snack Variations at Whole Foods
Another idea is to check Whole Foods Markets for some healthy foods to eat. This US supermarket chain features mostly foods without artificial preservatives, flavors, colors, sweeteners, and hydrogenated fats. It is for sure a "land of plenty" for clean eaters but it also comes with a higher price tag. For snacking variation we sometimes picked up those gorgeous dark $1 pumpernickel bagels based on whole grains. We have never eaten such tasty and filling bagels before.
Heads up! It is hard to resist the conveniently cut and packed fruits or vegetables at Whole Foods. But if you want to save money on clean eating then the NYC farmers' markets are the better solution.
Even cheaper Snacks at the Greenmarket
On our sightseeing tour, we stumbled upon the greenmarket at Union Square where we could buy some inexpensive fresh fruits and vegetables. They are open on Mondays, Wednesdays, Fridays, and Saturdays from 8 a.m. – 6 p.m. If you purchase your food just before they close you can save even more money.
Don't miss the Mangoes!
And here is another clean-eating snack idea: Come to NYC from around April to July, and you'll find a mango paradise. At the south end of Union Square you'll spot vendors that sell yummy mangoes from Mexico. The special thing about them—they skin and slice the mangoes and stuff them into practical quart-sized Ziploc bags.
With $4 per package, they cost the same as a whole mango in Germany but without the struggle of slicing and peeling it. Whenever we crossed the Union Square on our walking tour we purchased this handy vitamin snack to go.
8) Soups On for a Healthy Lunch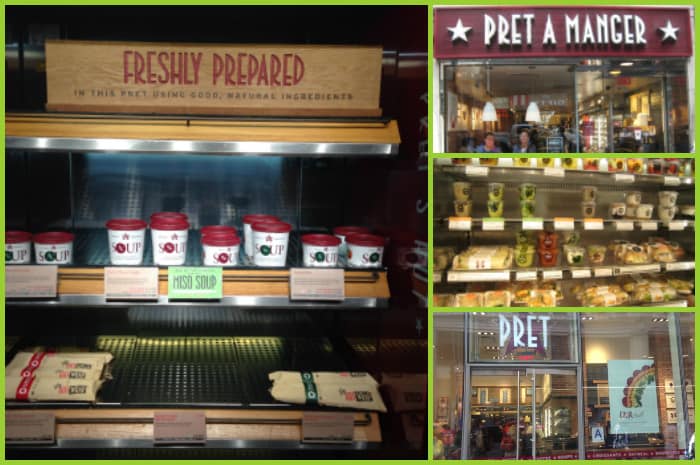 Another smart strategy to save money on clean eating is to skip the salad or sandwich and concentrate on a healthy, warm, and nutritious soup instead.
Our absolute favorite "soup kitchen" was Pret, mentioned before. I think when you are in NYC you could probably live on Pret's soups alone. 😉 These one-pot wonders contain wholesome ingredients and are rich in stock often resembling a stew.
Throughout our trip, we tasted the Moroccan lentil soup, the carrot ginger soup, the sweet pea soup, the tomato and feta soup, and the chicken noodle soup. As a special service, they offer freshly baked rolls along with the soup for free. Although I missed a whole grain bread option, these freshly baked rolls are low in sodium and fat with a surprising 5.6 grams of protein.
With 15 Pretamanger locations in NYC, it is hard to miss. Here is a link to Pretamanger's menu page.
Another chain-but-better option for healthy soups is our beloved Fresh & Co breakfast location. After 11 a.m. they close the oatmeal bar and open the soup bar. Soups in cups with market fresh ingredients start at $3.50. For just $4.75 you can get a regular, very filling soup portion.
My daughter's absolute favorite soup was the kale lentil quinoa soup (vegan!). My husband loved the beef mushroom barley soup and I adored the Tuscan grilled vegetable soup. And also at Fresh & Co you get bread rolls for free along with the soup although the bread rolls from Pret tasted fresher.
We would have needed another eight days just to try out all of Fresh & Co's soup variations.
9) Clean-Eating Dinner On the Go
I promise you, if you eat satiating oatmeal for breakfast, consume filling, healthy soup for lunch, and have some snacking breaks with nuts, fruits, and fruit bars in between, then you might totally forget about a traditional dinner in the evening.
This was at least the case with us. After 10-12 hours of walking through NYC per day, all we often needed was a break for our poor feet. The photogenic and exciting eye-candy NYC has to offer probably also satisfied our stomach.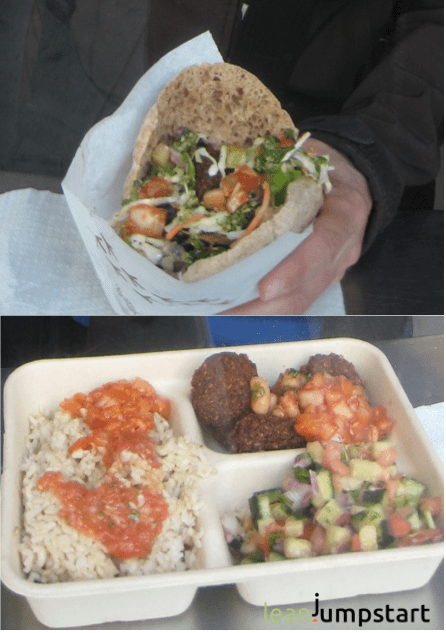 So when we typically returned to our hotel at 9 p.m. to take a shower, dressing up to eat out for dinner was not really on our wish list. Sometimes on our way back to the hotel we ate falafel (see pics on the left side), some hummus, or a burrito bowl. But often we did this more out of culinary curiosity than because of a real hunger feeling.
How to eat clean with affordable Falafels
Falafels typically cost around $3 and can be found all over the city. These filling vegetarian patties are made from deep-fried ground chickpeas, fava beans, or both. They are often served in pita bread stuffed with tomatoes, onions, lettuce, cabbage, avocados, etc.
We especially loved the falafels at the Dutch chain "Maoz" where you can also get whole-wheat pitas and choose your fillings from a lovely salad bar that includes hummus and even broccoli. Instead of pita bread, you can choose brown rice with veggies and get them im special trays (see photo).
Another great and affordable selection of hummus we found at The Hummus & Pita Co.
10) Eat out for Lunch, not Dinner.
I don't suggest you cancel your dinner, but the fact is that eating your main meal for lunch bears a high saving potential. So if a soup is not your preferred lunch option, I highly recommend eating your "biggest preferred meal" for lunch.
Many restaurants serve the same dishes for lunch as they do for dinner, but at a fraction of the price. Make sure to read reviews of the NYC restaurant where you plan to eat.
I stumbled over NYC's best steakhouse
I was searching for a classic NYC restaurant with excellent steaks for my husband. On my research, I stumbled over Peter Luger's steakhouse in Williamsburg. I know, I know … this is of course not a clean-eating restaurant but probably the best spot in town when you want a high-quality steak.
And hey, for a happy family life you need to make compromises. Also, my 80/20 rule for clean eating allows those seldom indulgences—especially after we ate quite clean for the last couple of days.
I read on Wikipedia that for 30 years in a row Peter Luger has been named the best steakhouse in NYC by Zagat survey.
Although we got the "cheaper" lunch card, don't ask me for prices. 😉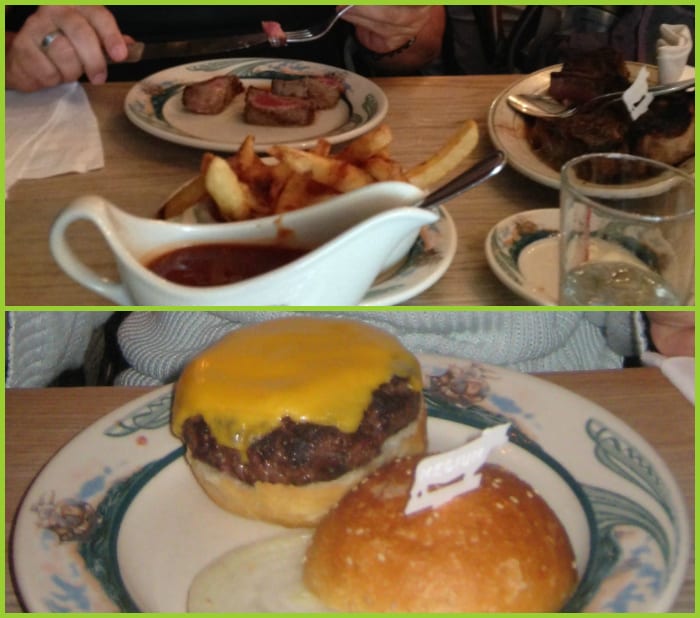 My husband enjoyed his very first USDA prime steak (see picture above) and he was thrilled. I think the reason for his raving was not just the meat's excellent quality but also the fact that it was his first "real meat" for over a week—not counting his beef mushroom barley soup from Fresh & Co.
My daughter's mixed salad was not really spectacular but ok. We consoled her later with a vegan burrito bowl at Chipotle.
I ate my best hamburger ever
I chose a hamburger (see picture above) and must admit that it was the best hamburger I have ever eaten. Eating hamburgers are, for me anyway, a rare exception. But the hamburger in this oldest Brooklyn steak house was a taste revelation. They use the same high-quality meat as they use for their steaks.
So if you have a meat lover in your family and you are looking for a great steakhouse in NYC, we can highly recommend Peter Luger's. Going there for lunch is still not cheap but saves you a big chunk of money than if you went there in the evening. By the way, take enough cash with you, as they don't accept credit cards.
One last thing: Even if you make reservations, expect to wait in a line for at least an hour. We were lucky to get a seat without a reservation but we had to wait for two hours. With backpacks full of snacks this was easy and in the two waiting lines in front of the restaurant, we got to know many kind people from around the world.
Little Vegan Superiority Burger – Big Taste!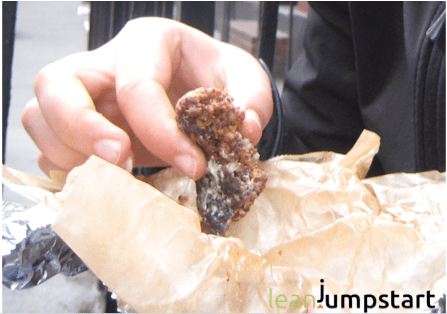 Another recommendation is indeed the Vegan Superiority Burger from East Village. It was probably the smallest eatery we entered in NYC. Because of its tiny size, most people are forced to eat their tiny burgers in front of the door.
But for less than half the price ($6) of Peter Luger's burgers, it can almost compete regarding taste and crispiness. At least it's certainly better than a lot of the real meat burgers I've had in Germany.
How all this is possible without using real meat will, unfortunately, remain the chef's secret. In this context, I also can't tell you how clean this vegetarian/vegan burger really is. If somebody knows the ingredients, please let me know.
Bottom Line: How to Eat Clean in NYC and save money
In NYC you see many people eating while walking. Often their busy schedules seem to give them no other choice. But gladly we also saw many people sitting in New York's beautiful green parks enjoying healthy meals they brought from home or bought. Also, many groceries (Whole Foods included) are offering free seats on the first floor where you can eat the food you brought with you.
Overall I feel that with a little preparation anybody can eat clean on a budget in New York if they want. With a little bit of planning you are not steadily guided by the demands of your stomach, but instead, you can focus on the uncountable city highlights.
I hope these 10 strategies could give you some ideas for healthy eating on a budget not only for New York City but for many other big city-trips in the world. Many of the mentioned "healthy" fast food chains like Fresh and Co, Pret or Mauz can be found in other world cities like e.g. London or Vienna too.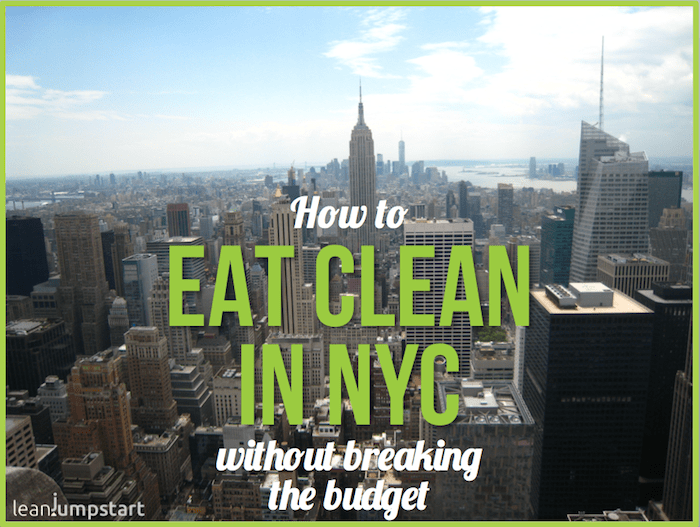 Share your Tips for How to Eat Clean in New York on a Budget
Do you have any additional recommendations for clean eating in New York on a budget? We will for sure come back to this beautiful city again:) Feel free to share your tips on how to eat clean in NYC in the comment section below.