I'm sure that you know how to clean fridge. But has cleaning your refrigerator and stocking it properly for a healthy lifestyle already become a permanent habit in your life?
The fridge is also called the "fore-stomach" of a family. Aside from your stove, it is the most important electrical appliance in your cooking space.
Smart fridge organization will go a long way in helping you with your clean eating habits. Organizing your fridge may sound like a no-brainer, but there's actually an art to this science. In contrast to most of the other habits presented here, you'll need a bit more time to accomplish this task. On the bright side, you'll only have to repeat this process once a month.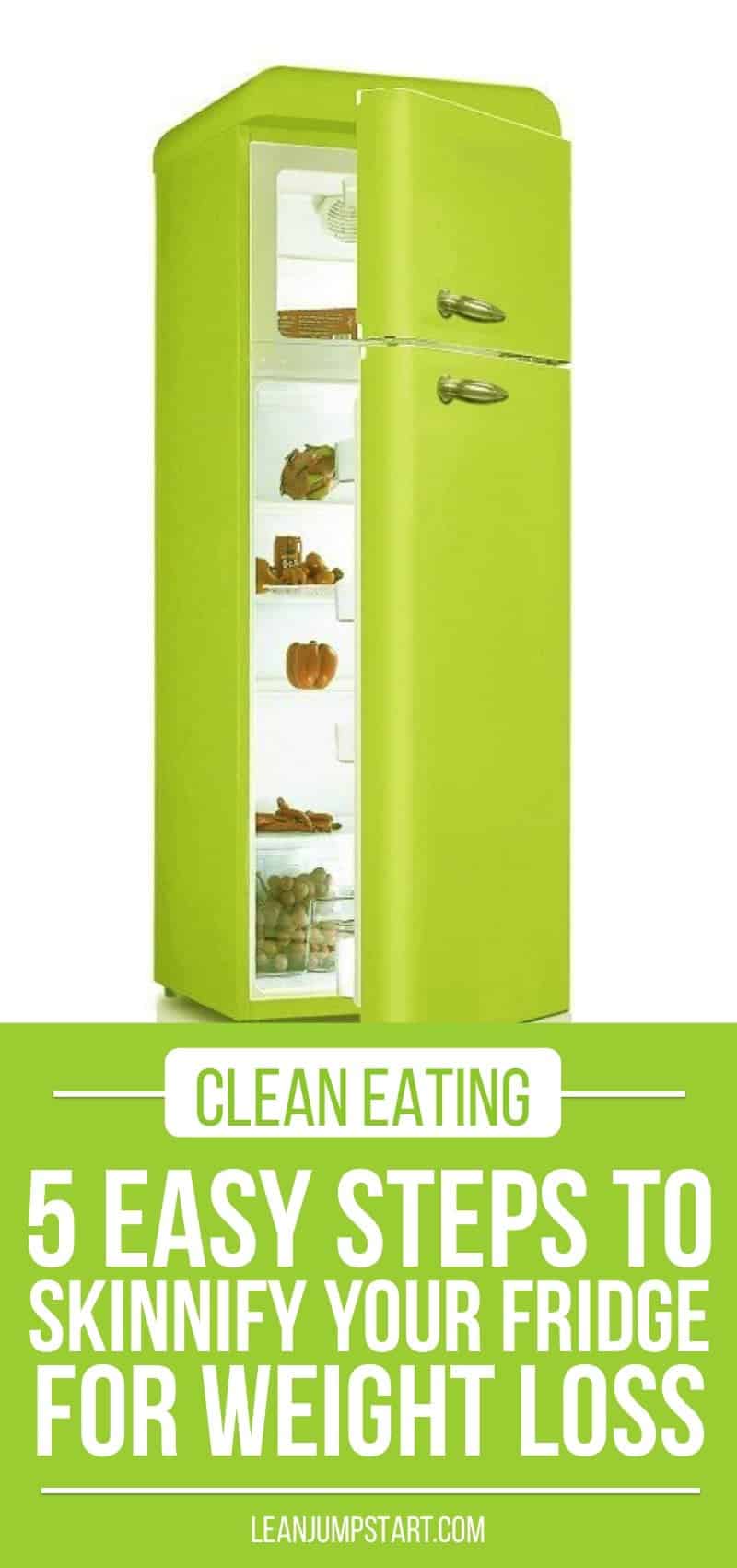 5 easy steps to declutter, wash, and organize your fridge for weight loss
1. Plan it!
Plan a day of the week for fridge cleaning and stick to it. If you follow the routine below, it should not take you longer than an hour.
2. Clear your fridge
It's crucial to switch off your kitchen appliance before you begin! Empty the fridge and put everything on the table. Don't worry about the room temperature, your food won't perish in the short period of time that we need for decluttering.
3. Ditch the junk
Remove expired items to save space for fresh foods you want to eat. Get rid of everything from cans of soda to the nacho cheese sauce. Don't tell me that you buy that stuff for your kids or hubby. If it's there to tempt you, it will.
Simplify your gourmet condiments! Almost all condiments are excessively high in calories, sugar, or salt. If you want to give your food some flavor with condiments, then yellow mustard and horseradish in a jar are clean options (check labels!).
Important: Get rid of fatty gourmet sauces like mayonnaise and remoulade too. They go bad very quickly and are a real hurdle on your path to a lean body. The same is true for ready-made salad dressings. They are expensive, unnecessary, and fattening. Leftovers older than four days should be tossed out as well. In the meantime, place the chosen products you want to keep in a cooler.
4. Wash and wipe
Remove shelving and drawers (e.g., crispers), or other removable parts from the fridge and place them near the kitchen sink. Fill your kitchen sink with hot water and some apple vinegar (3 parts warm water to 1 part apple cider vinegar). Wash all surfaces by hand with a soft brush or sponge and let it dry.
Wipe the inside of your refrigerator and the doors with some vinegar water too. If you prefer warm soapy water you could use also some drops of dish soap instead of vinegar. I use a spray bottle filled with vinegar water. Wipe all parts dry with a clean towel or microfiber cloth, including the removable parts.
Put all drawers and shelving back, after closing the door your refrigerator is ready to be switched on again. Stock your fridge with fiber-rich clean eating foods following the advice below.
Although some smart fridge cleaning tips are helpful, knowing how to stock your refrigerator is at least as important.
5. Store food in the smartest spots
To best support your healthy habits, your fridge should be filled up with 30% high fiber vegetables at least. Store vegetables in the crisper drawer that is usually located at the bottom.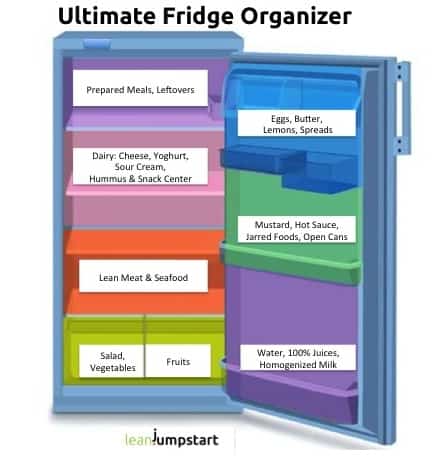 This special drawer is designed to keep in humidity and to seal tightly.
Fruits should be stored in a separate crisper drawer. Everything with leaves belongs in the fridge: leafy greens, spinach, all cabbage types – but also fennel, asparagus, fresh beans, and peas.
Keep in mind that fridge air is very dry! Storing your vegetables in a plastic bag or the appropriate boxes will prevent them from drying out. I'm gradually switching to glass refrigerator containers. Cut the green leaves of carrots or radishes and store them separately. Otherwise, the roots and tubers will lose their freshness quickly and the leaves will start to wilt.
Consider the bottom shelf right above the crisper drawers as the "coolest" spot in town. It's the zone to store meats and seafood (unless your fridge has a special meat compartment).
Important: Dedicate a clear plastic bin solely to meat and seafood. This simple precaution keeps raw meat separate from other parts of the fridge. A look at my ultimate fridge organizer helps you finding the smartest spots for other foods too. Relocate your foods to maximize their shelf lives.
By the way: I've stocked up "the ultimate fridge chart" mostly with clean eating food examples – following my 80/20 approach.
=> Click here for the ultimate organizer cheat sheet!
Make it a habit: Clean out and organize your fridge once a month. Mark the date on your calendar and make it part of your household routine.
3 additional tips
1. Move older foods forward
Before each shopping trip, shift older foods forward that are hiding in the back. That way you'll see what's in the stock and won't buy food you already have.
Keep in mind that an overly stocked fridge can create warm spots, leading to food spoilage. Place the healthy foods front and center. You're more likely to eat it if it's in your line of sight.
2. Create a snack center
Create a healthy snack center in your refrigerator to find yummy munchables when hunger occurs. Store the bin of snacks in front at eye level and stock it with premade, low-calorie baggies of popcorn, fresh fruit, cereal, nut bars, fruit leather, and other healthy faves.
3. Use baskets & glass containers
Repackage your healthy foods in easy-to-view containers. Washed fruits and vegetables are easy to spot and look appealing in clear glass containers.
Keep things in place and group them with baskets. The best thing about them is how easy they slide out. Look for solutions that maximize shelf space; for example, dispensers or shelves that can be attached to existing shelves to maximize the amount of vertical space.
Bottom line
Knowing how to clean a fridge is an essential habit that acts as a catalyst for most of our 52 clean eating routines.