Last Updated on November 4, 2020
This clean eating quinotto recipe, also known as quinoa risotto, is for my family and me a real winner. It is a protein-rich alternative to a dish with meat, fish or legumes. If you are watching your weight, you just can't have enough light dinner ideas or healthy lunch options.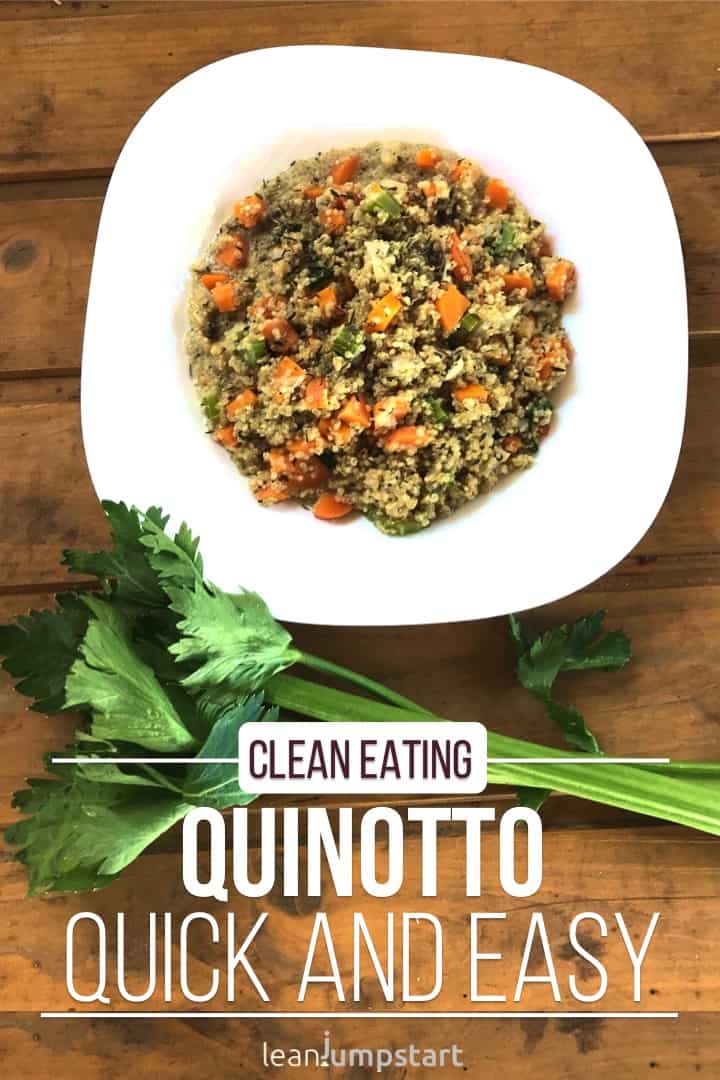 This easy, clean eating recipe can be ready within 30 minutes, another proof that a fiber-rich whole food nutrition must not be complicated. As always I've kept it simple. It is a one-pot quinoa meal and I also omitted any exotic ingredients.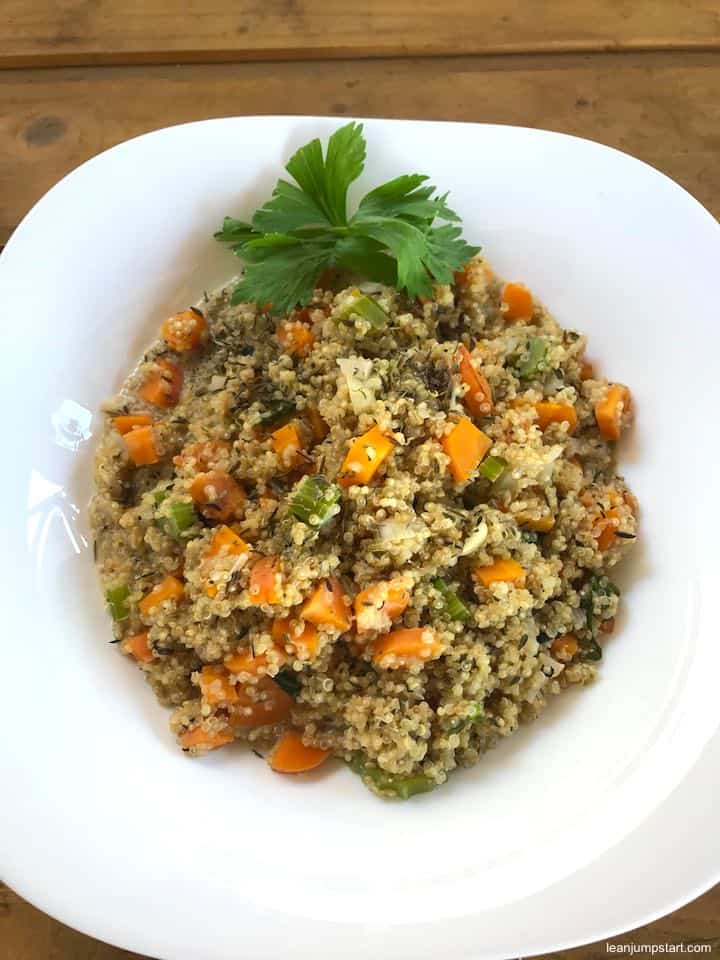 Ok, for some people, quinoa is still an exotic ingredient but given its nutritional value, it is worth to make it a staple in your kitchen.
A rare and special entity in the plant kingdom
Quinoa is one of the best sources of plant protein worldwide. On top of that, it is gluten-free, low-calorie, low in cholesterol and a good source of iron, fiber and B vitamins. Learn more about foods naturally high in fiber here!
These "wonder grains" contain all nine essential amino acids, which is very uncommon for plant-food. Animal products are complete proteins because they provide all essential amino acids. Plant products often offer some but not all amino acids. Quinoa, however, is a complete protein.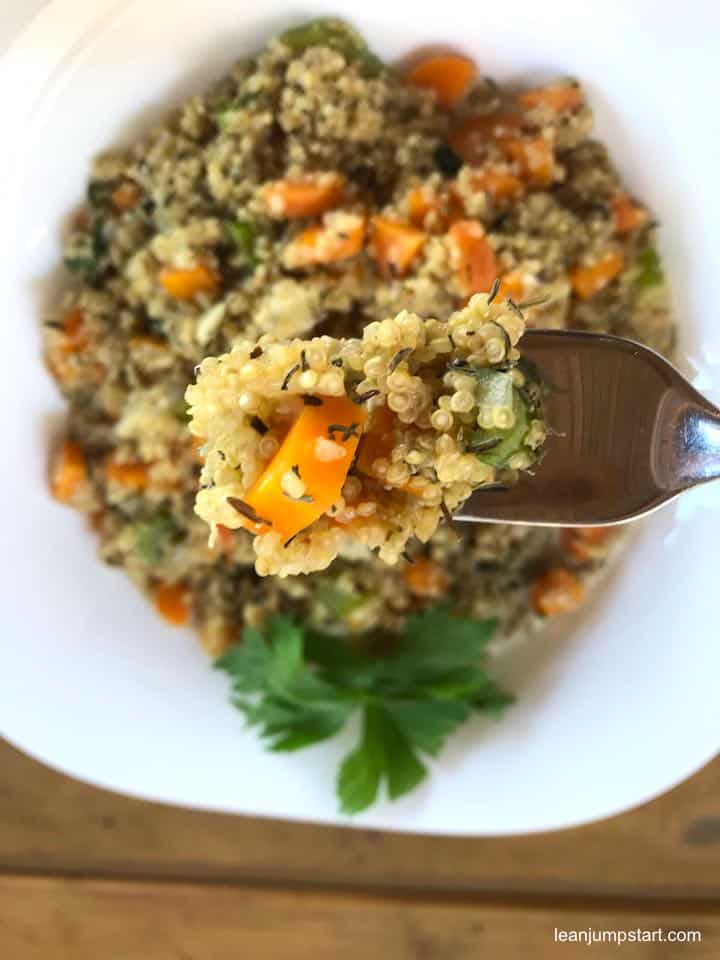 Minimalist and plant-based
The main ingredients in this recipe, besides the pseudo-grains, are just the carrots and celery. Those were the only vegetables left in my pantry together with an onion and some garlic cloves. I just love to experiment with minimalist recipes that work. It's worth to mention that the fiber in carrots is also remarkable.
For a vegetarian risotto, I recommend using sour cream. Given the fact that my daughter is vegan, I use coconut cream most often, which works perfectly too.
Print
Quinoa risotto with Celery and Carrots
A protein and fiber rich one pot quinoa meal
Author: Gabi Rupp
Prep Time:

10

Cook Time:

20

Total Time:

30
8 oz

./230 grams quinoa, rinsed under hot water

1

(red) onion, diced

2

cloves garlic, minced

1 tablespoon

olive oil

1

celery stalk, halved lengthwise and thinly sliced

2

carrots in small cubes

1 teaspoon

thyme or some fresh thyme leaves

14

fl. oz./420 ml water

3.3 oz

./100 grams cream (e.g. coconut cream or sour cream)

1 tablespoon

lemon, freshly juiced

1/2 teaspoon

sea salt
some chilly flakes
Instructions
Heat olive oil in a large skillet
Add onions and fry for 2 minutes over medium heat.
Add garlic and fry for 1 minute over medium heat.
Now add celery slices, carrot cubes, and thyme and fry it for 2 minutes over medium heat.
Rinse quinoa thoroughly under hot water, add it to the pot and fill it up with water.
Bring it to a boil and let it simmer, uncovered, for additional 12 minutes.
Stir occasionally.
Add in cream and lemon juice.
Season with salt and chilly flakes.
Garnish with some thyme leaves.
Notes
If you want a "leaner quinotto version" just replace cream with some (low fat) milk.
Tip: For a vegan version just use soy cream.
Other meatless high protein foods
Quinoa is definitely not the only a grain that's loaded with protein, but probably the most flexible in your kitchen. Amaranth, spelt, sorghum and teff contain even more protein but according to the 80/20 rule I prefer to store food in my pantry that I use most often.
Good to know
Talking about grains… while we often consider quinoa as a grain or pseudo-grain, it is actually a seed related to beets, spinach, and chard.
Time-saving tips
You can store bunches of celery slices in a plastic bag in your freezer for up to three months or in the refrigerator for up to three weeks. Just rinse before using.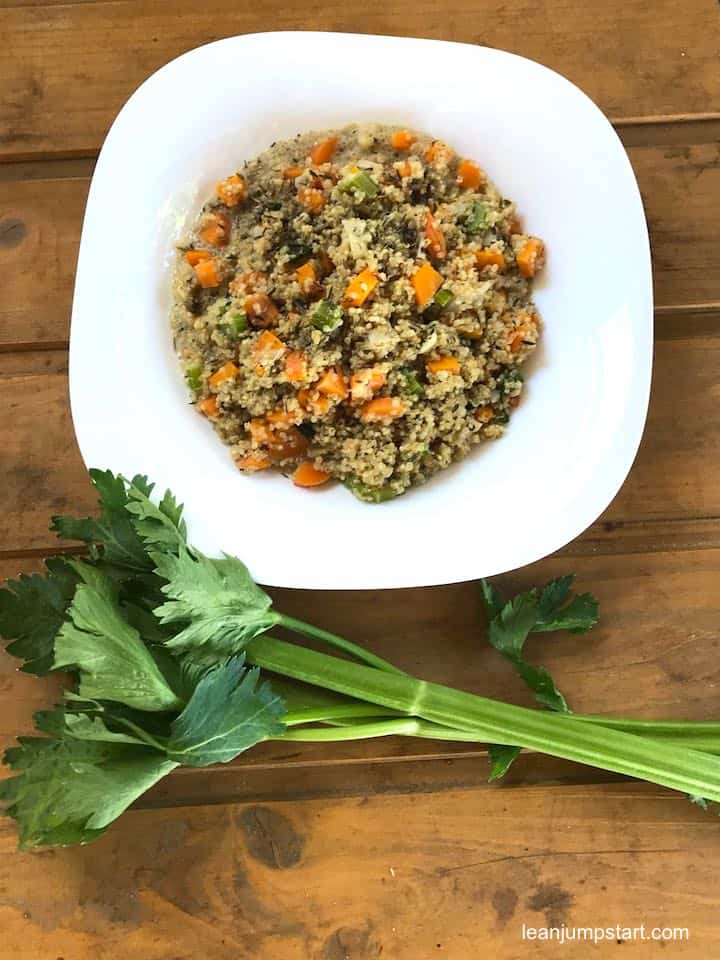 An integral part of 52 Chef Habits
Did you know that eating pseudo grains and whole grains is an integral part of my 52 Chef Habits Ecourse, including much yummy fiber-rich, clean eating recipes? Click here to learn more!
Now it's your turn!
Cook this easy one-pot wonder and let me know how you like it in the comment section below!