Are you an avid reader of books filled with inspirational quotes and healthy tips, tricks, and habits? Do you have a limited book budget? Do you want to motivate yourself to live healthier and make positive changes in your eating habits and overall life? Do you love visually appealing, motivational books with eye-catching, beautifully captured, full color images?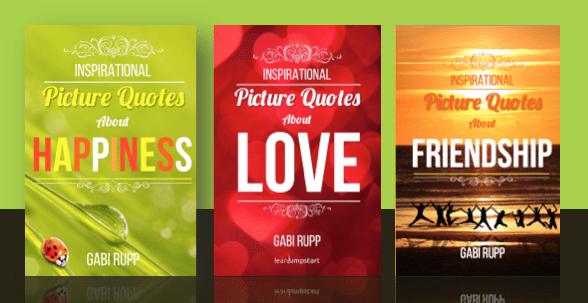 If any of these sounds like you, I'd like you to consider joining my team as a book reviewer.  As a book reviewer, you get the opportunity to be among the first to read my books for free.  All I ask is that you post an honest review on Amazon. Read below how it works!
How to Get Books for Review
Decide which of my books you would like to read and review from the list on my website.  Request a review copy by sending me an email to "info @ gabirupp.com" and I'll send you instructions for requesting a book.
Please read the book and have your review written and posted to Amazon as soon as possible after receiving the book, preferably within 2-4 weeks.  While I understand that this may not always be possible, but it is important that you commit to reviewing the book and following through.
While you aren't required to sign up for an account, if you do use Goodreads, be sure to add the book and your profile there as well.
As soon as your review is posted on Amazon (and Goodreads, if you use it), choose another book to read and review, so I can get it to you.
Be sure to follow FTC guidelines and Amazon's terms of service, you'll need to include a note at the end that your review is in exchange for having received a free copy.  It doesn't have to be anything complicated, a simple, "I was given a free copy of this book for review, and all opinions are my own."
Occasionally, I do offer print copies of books exclusively for my reviewers.  Visit my website at https://leanjumpstart.com/motivational-books/ to see a list of books that are currently available.
Contact me and get a book reviewer today!
I appreciate your help, it means so much to me!
Here's To Your Health,

Gabi Rupp