Last Updated on October 10, 2020
Maybe you ask yourself, what has "changing habits" to do with Inspirational Picture Quotes? Maybe you also ask why it took me more than four months to publish a new blog post on Leanjumpstart.com? Good questions! The picture below might give you a hint.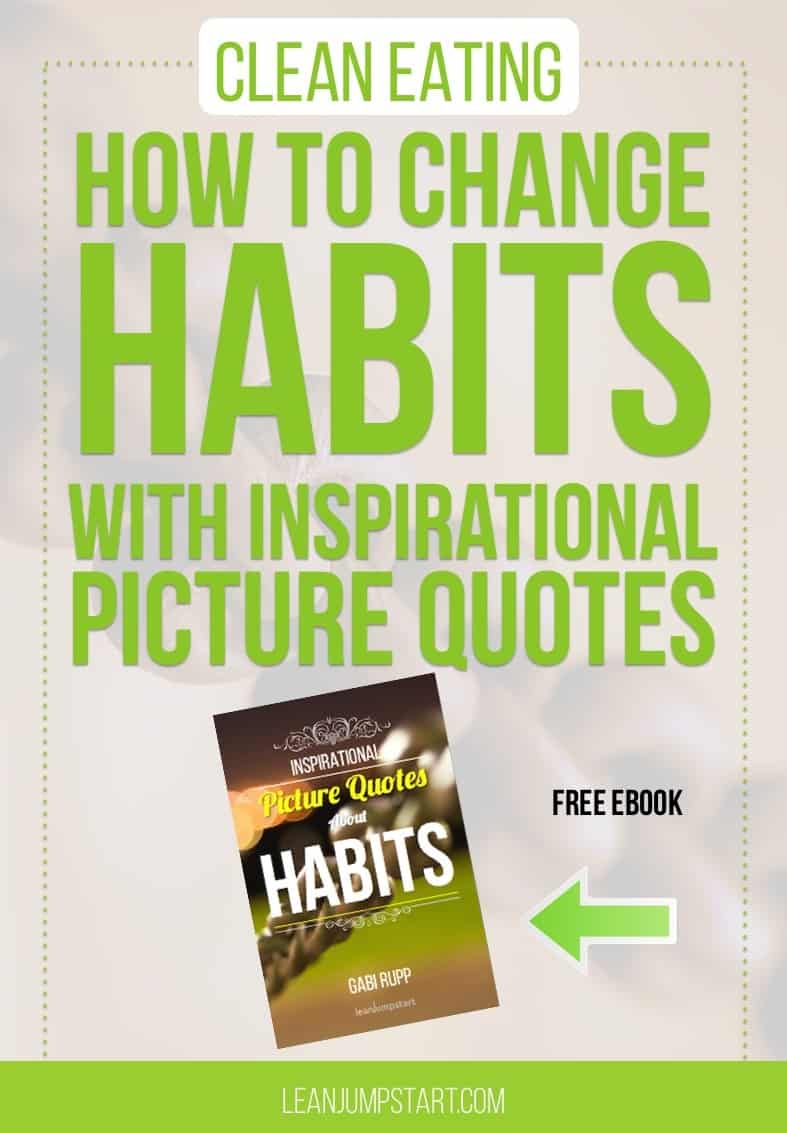 I'll start with answering the second question first. Inspired by you, I've begun in 2015  to publish a series of inspirational picture quote books.
I had a brainwave the night before New Year's Eve and spent the night with jotting down a concept for a series of inspirational books. I think I will never forget December 30th, 2014! My goal was to publish 12 books in 2015. I'll reveal more about my book concept in a minute.
And what about clean eating?
While I cook almost every day simplified clean eating recipes for my family, try some cooking experiments, take photos and can't wait to share the best ones with you…one important ingredient is missing…and this is time!
So there is a big pile of clean, high fiber recipes with photos waiting to be published, instead, I'm sitting behind my Mac and create each month a new inspirational book.
And I have to admit… it is such a pleasure to create these books, I learn with each one and it is somehow addictive… I can even listen to music while working;)
From the feedback that I get, these books make a difference not only in my life but also in the life of many of my readers! This is something I'm really grateful for.
Sometimes I wish the day had 48 hours…
Don't get me wrong, I love to share easy clean eating recipes and tips with you. But for the moment the book creation attracts and fascinates me even more. Now, after I've published 6 books in the picture quotes series I've put a process in place that helps me simplify the book creation and marketing. So there is hope that in future you can expect some more new blog posts in the context of clean eating recipes and habit change on leanjumpstart.com. All I ask you is a bit of patience.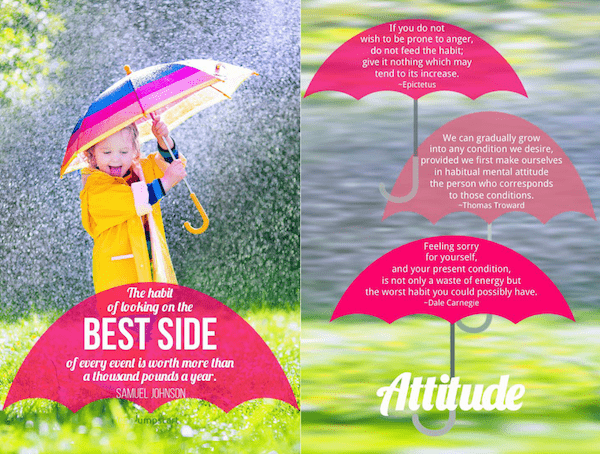 Ok, back to my book concept…
Our senses are the gateway to everything we know, embrace, and understand. Beauty, in all its creative forms, lifts us beyond the mundane and elevates our very souls to lofty heights of human expression. There is truly nothing that captures emotion, imprinting it upon one's mind, like imagery presented with the timeless script. The "umbrella" picture is just one example from my newest book.
My Inspirational Picture Quotes books deliver just that – a series of extraordinary photographs coupled with the wisdom from historic and modern figures.
I started my book series with "Happiness Quotes" in January, followed by "Love Quotes", "Friendship Quotes", "Hope Quotes", and "Gratitude Quotes". Today I present to you my newest book and you can get the ebook version for FREE:
Quotes about good habits and change

This is a book that can stand on its own but it is also a great addition to my 52 Chef Habits Planner, that I published end of 2014. For adults yearning for a source of motivation or parents seeking opportunities to teach their children, 'Habits' offers insight, peace, and is a catalyst for change and habit loops.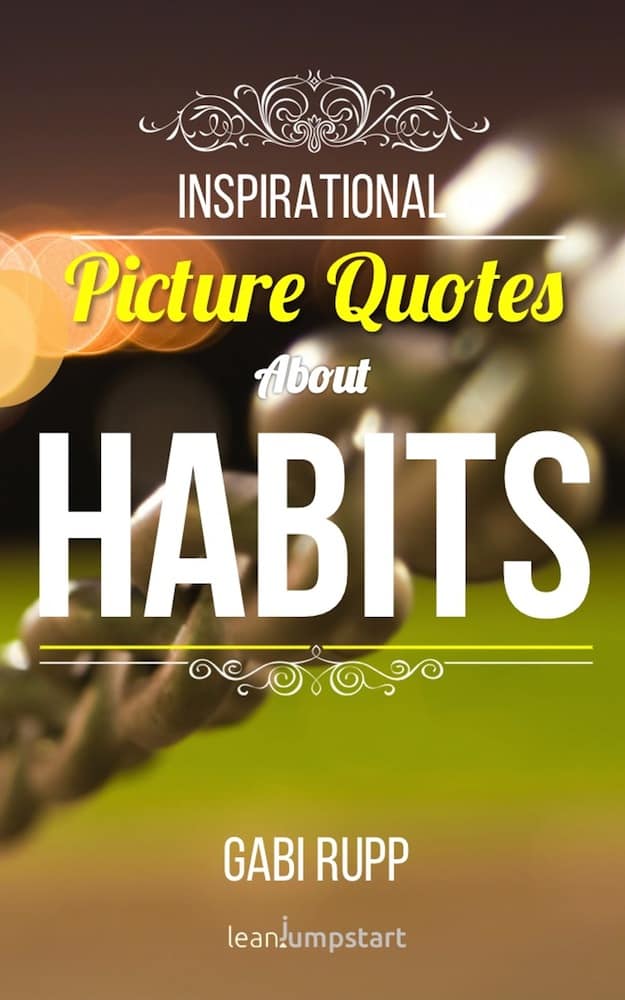 We are all creatures of our good and bad habits. For example, you brush your teeth before you go to bed, which is a positive routine you don't have to think about. Periodically, drawing attention to the power of habits can be liberating, as we introspectively explore what, and who we are. Through the words of great philosophers, renowned poets, classic and modern deep-thinkers, unleash within yourself a will to accept the things you cannot change, and a determination to overcome and change the things that you can.
Each page of this unique picture book will etch a timeless memory across the reader's mind: lightening a burden, bringing a smile, or touching a heart.
This is what one of my first readers say about the book: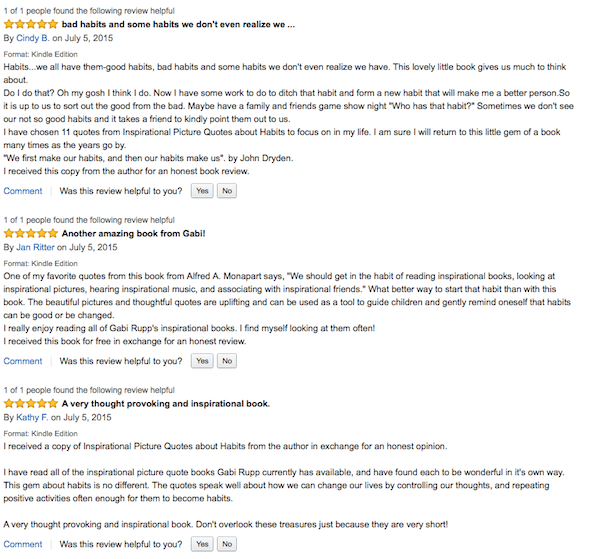 …and the best about it…the digital version is free!
Click here and grab your free "picture quotes about habits" copy now!
…and if you love video + music – take a quick glance into the "changing habits" book with the inspiring video below.
I've officially launched the printed and digital book in July 2015 and as seen you can download the digital PDF version (worth $12.99) for free.
Note: All of my picture books are available as print copies on Amazon too. A space for your own dedication or greetings allows you to create a personal and sensitive gift for many occasions.
Grab your free copy of "Habits" and make sure to share this book tip with your friends too!
Click here if you want to check out the printed "gift book" version on Amazon.