Sauteed Swiss chard recipe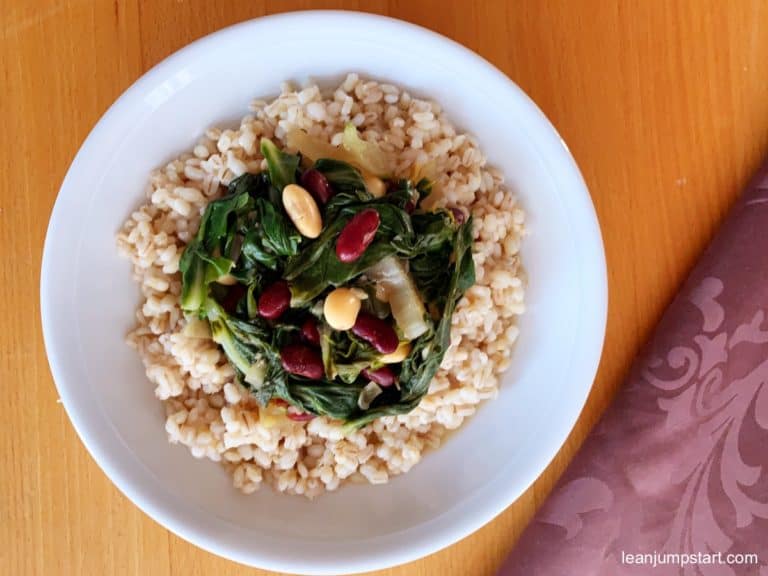 Author: Gabi Rupp
Prep Time:

10

Cook Time:

20

Total Time:

30
• 2 bunches (baby) Swiss chard, leaves coarsely chopped
(If you are using regular Swiss chard cut out center stems)
• 2 medium onions, finely chopped
• 6 medium garlic cloves, minced
• 1 tablespoon olive oil
• 2 cups vegetable broth
• 15.5 ounce can bean mix or chickpeas beans, rinsed and drained
• 1 tablespoon freshly squeezed lemon juice
• 1/4 teaspoon coriander (optional)
• Salt and freshly ground black pepper, to taste
• 3 cups cooked pearl barley or brown rice
In a large skillet heat 1 tablespoon of the olive oil over medium-high heat.
Add garlic and the onions.
Cook about 2 minutes, stirring occasionally, until they are softened.
Add half of the chard and cook, 1 to 2 minutes.
Add the remaining chard, when the first half has wilted.
Add vegetable broth and coriander (optional) when all the chard is wilted.
Cover and cook the Swiss chard until tender, (about 2-10 minutes, dependent if you use baby chard or regular chard.)
Add beans/chickpeas and cook until heated through 3 to 4 minutes.
Drizzle the lemon juice over the mixture and season with salt and pepper, to taste.
Notes
Serve it immediately on a base of cooked pearl barley, brown rice or other fiber-rich grains.