Choc Mint Slices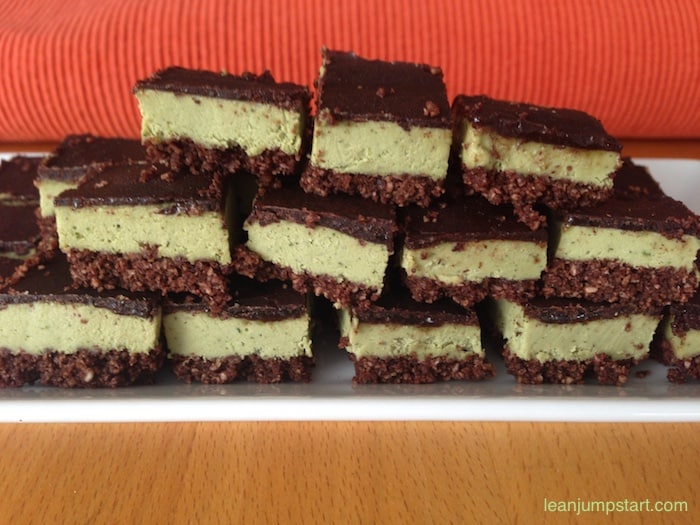 Author: Gabi Rupp
Prep Time:

45

Total Time:

180
Base
3.5 oz

./100 g raw almonds or pecans

1.7 oz

./50 g Medjool dates

1.7 oz

./50 g shredded coconut

0.7 oz

./20 g raw cacao powder

0.7 oz

. 20 g coconut oil
pinch sea salt
Filling
3.5 oz

./100 g coconut milk

2.8 oz

./80 g coconut oil

5.6 oz

./160 g Pre Soaked Raw Cashews, (overnight or for

5

hours)

1.7 oz

./50 g date syrup
pinch sea salt

4

drops peppermint oil (food grade)

1 tsp

matcha tea powder, (gives it the green colour)
Chocolate topping
1 oz

./30 g raw cacao powder

1.7 oz

./50 g coconut oil

1.7 oz

./50 g date syrup
Base
Blend almonds, cacao powder and shredded coconut in your food processor until they have a flour-like consistency.
Add coconut oil, dates, salt- and process again.
Press the mixture with your hands in a square pan (about 25 x 15 cm).
Place it in the freezer while you make the next layer.
Peppermint Layer
Rinse mixing bowl well.
Put all the filling ingredients except the peppermint oil in the food processor and blend until you achieve a creamy texture.
At last organic peppermint oil (start with 2 drops) and mix for a few seconds.
Taste test and repeat until you are happy with the taste. (4 drops for me are perfect)
Smooth the peppermint layer over the base layer and put it back in the freezer to set for at least 2 hours.
Topping
Melt coconut oil over low heat in a small sauce pan.
Add cacao powder and honey.
Blend until smooth.
Drizzle the chocolate layer evenly over the filling.
Tilt the pan and spread to the edges until smooth.
Put it back in the freezer to set for at least 1 hour.
When firm remove from freezer and cut into bite sized pieces. (Use a solid knife for cutting as the base will be very hard.)
Notes
Check out my tip below where to best buy organic peppermint oil and how you can use it in addition.