How to always have a clean dessert recipe on hand
Healthy clean eating desserts come in many variations; whether fruity-fresh or creamy-tender, there are more choices than you can imagine for seducing clean desserts.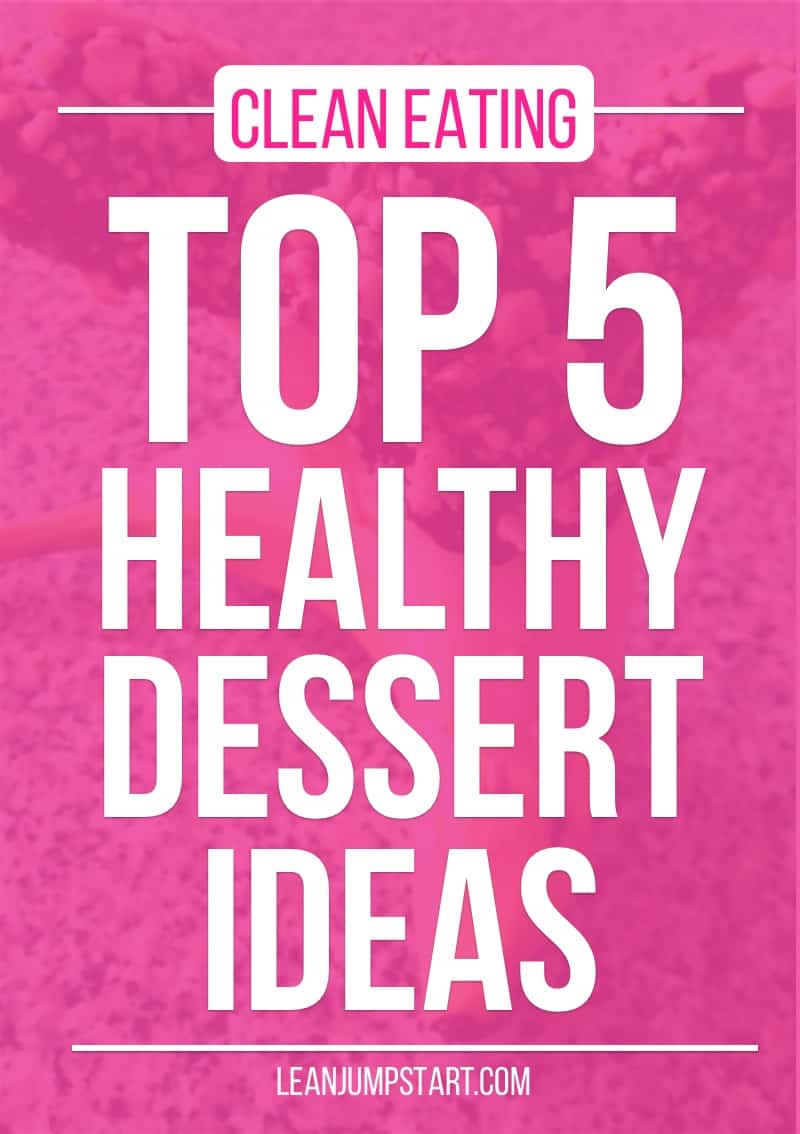 You will see in the following that abandoning industrial sugar or processed desserts and candy bars doesn't mean you have to completely renounce your sweet indulgences.
The recipes for clean eating desserts presented here are flavorful and figure-friendly, if eaten in moderation.
Most of them you can prepare easily with just a few ingredients like our frozen chocolate banana pops or chia pudding.
Of course, sweet highlights should play a lesser role with a clean eating lifestyle – and if possible they should be an exception. You don't want to trigger any fallbacks to bad eating habits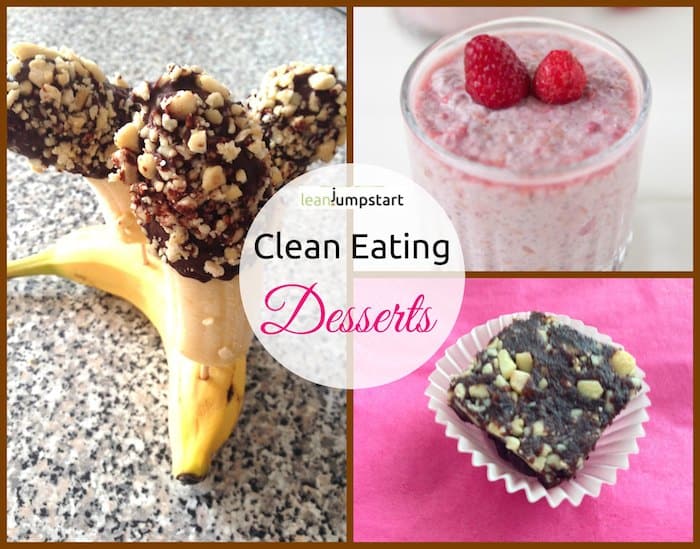 And yet, we all know situations where we need to have something sweet on hand:
You are expecting guests for dinner and want to offer them a sweet delicacy
You love to treat your sweetie on special occasions, like on anniversaries or Valentine's Day
You need healthy, yet appealing dessert recipes for seasonal events or parties
Your kids and their friends are craving something sweet
…and we can't forget your own sugar cravings that can still occur from time to time, no matter how clean you've been eating. You want to always have healthy alternatives on hand if simply going cold turkey doesn't work for you.
My top 4 replacements for sugar
in clean eating desserts
For our healthy clean eating desserts, we don't want to use any processed sugars, like white sugar, high fructose corn syrup, sucrose, or any kind of sugar that comes from a factory.
So what can you use instead?
1. Fresh Fruits
My favorite clean sweeteners are just fruits (e.g., try some grated whole apples in your next batch of whole-wheat pancakes). I often cut some strawberries up (when they are in season) and put them in my Greek yoghurt or sweeten my dessert recipes with bananas.
2. Dried Fruits
Most of you know the sweet effect of raisins in muesli or baked goods. But have you ever tried dates or date paste? Unless you are vegan or vegetarian, you probably don't have them in your kitchen yet. I always have a small supply of dates in my fridge. In an airtight container, I can store them for up to six months.
Dates can be perfectly used as a base for homemade granola bars or brownie batter. I will show you how in my clean eating brownie recipe below. In contrast to processed sugars, dates contain plenty of fiber, calcium, iron, magnesium, potassium, and copper. Because of their high glycemic index (almost as high as sugar), you should still use them only in moderation.
3. Cinnamon
I love to spice up a cup of coffee with cinnamon. This super spice adds just a subtle sweetness to many desserts – and it adds no calories!
4. Raw Honey (unprocessed)
Honey, apart from its sweet sugar properties, contains up to 200 other components, like pollen, minerals, proteins, enzymes, amino acids, vitamins, and others. To preserve honey's valuable enzymes, it should not be heated over
 40 degrees.
And yet, honey can be overused like any sweetener. If unsure about quantities, my advice is: "less is more"! It is important to stress that honey contains 70-80% of fructose and glucose. That's why, similar to industrial sugar, it negatively affects your blood sugar level, your teeth, and your body.
Top 5 clean eating desserts
1) Frozen grapes
Pop some seedless grapes in the freezer for a few hours and enjoy a long-lasting, slightly sweet treat. Of course they work also very well as a clean eating snack idea.
2) Simple 1-ingredient banana ice cream
If you love bananas, then this creamy ice dessert is for you!
For variation, mix it up with a few teaspoons of cocoa powder to add a little chocolate flavor. You can also use some peanut butter.
=> Click here for the frozen banana ice cream recipe
3) Frozen chocolate banana pops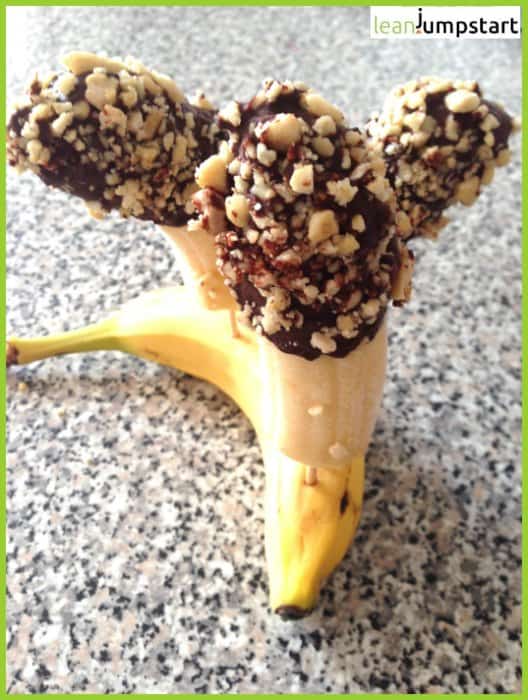 Clean Eating Frozen Banana Pops
2014-10-04 06:10:41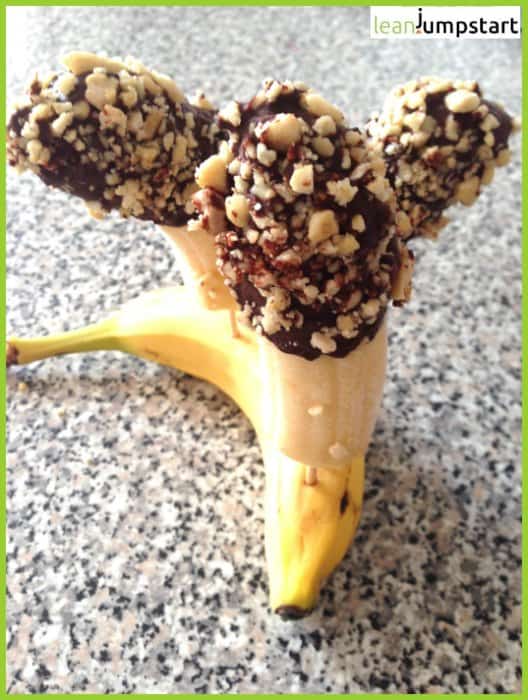 A perfect clean eating dessert recipe for chocoholics.
Ingredients
2 bananas
100g dark chocolate
100 hacked nuts
Instructions
Ok, the preparation takes a bit longer, but once prepared it can last in your freezer for up to two weeks. Although I don't think it will survive that long...
Cut peeled bananas half crosswise and insert a wooden stick into each halves.
Put them on a tray, protect them with plastic wrap, and freeze for at least three hours.
Take it out, dunk it in melted dark chocolate (70%), and...
immediately roll it in whichever topping you prefer. Crunchy toppings like hacked nuts, peanuts, granola, or sesame all work well!
Wrap individually in waxed paper or plastic wrap and store it back in the freezer until the chocolate is set.
Notes
Tip: Just wait 1-2 minutes after taking them out of the freezer, only then enjoy a wonderful taste experience. Delicious!
Leanjumpstart Clean Eating Habits https://leanjumpstart.com/
4) Chia Pudding
Chia is all the rage lately, and that's why I dedicated a whole challenge to this super food in week 40. Chia seed puddings are awesome too. You can make them so quickly and effortlessly.
Check out my simple clean eating chia pudding here!
5) Clean Eating Brownie Bites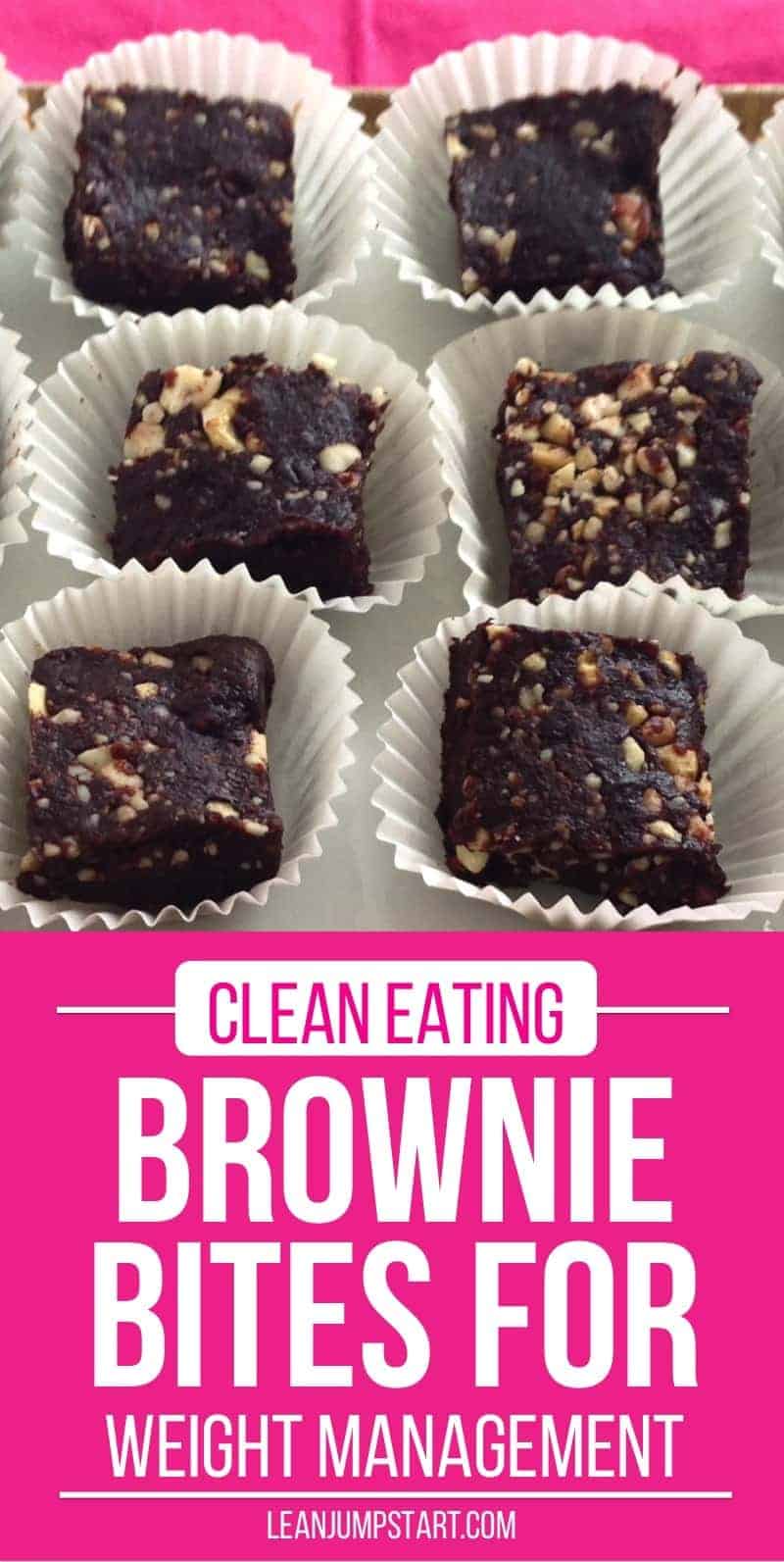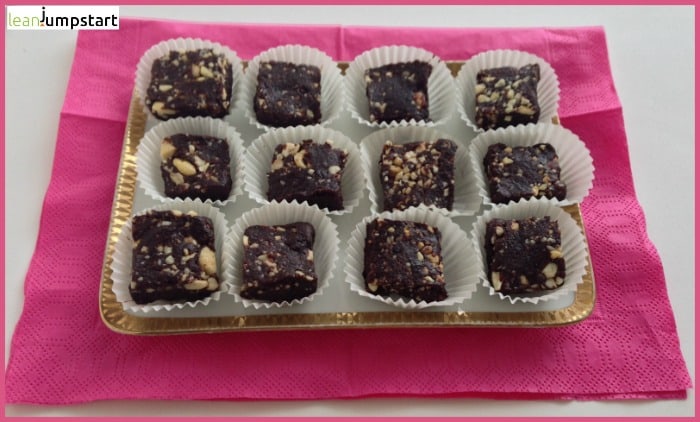 Clean Eating Brownie Bites (Raw, no bake)
2014-10-02 05:50:44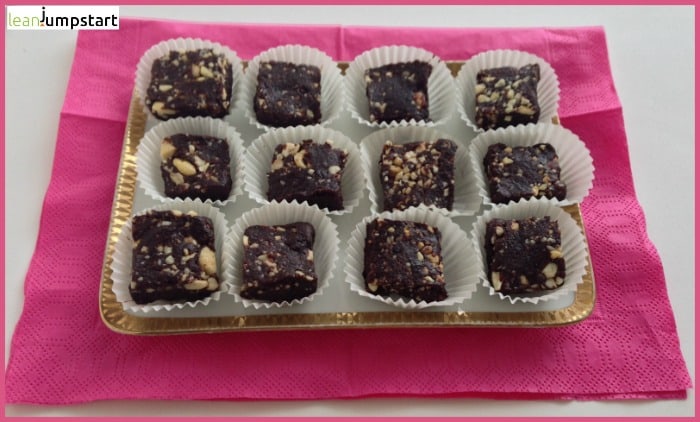 A delicious treat for chocoholics
Ingredients
2 cups (200g) pitted (Medjool) dates
150g (1 1/2 cups) almonds
50g (1/2 cup) unsweetened cocoa powder
2 tbsp honey
1/4 tsp. seasalt
50g (1/2 cup) pecans (fine hacked)
a small casserole dish (8x8 inch/20x20cm)
Instructions
Pour the hot water over the dates in a bowl and let it soak for 10 minutes.
Place almonds in your food processor and process until they become flour.
Add cocoa powder, honey, and seasalt to this brownie recipe and process again until the paste turns into a dark chocolaty brown.
Drain the water from the dates, add them to the mixture, and process again, scraping down the sides of the bowl as needed until the mixture sticks together and the dates are well processed.
Knead fine hacked pecans into your dough.
Spread the mixture into a small casserole dish (8x8-inch) and press down firmly.
Place brownie dough, covered with plastic wrap, in freezer or refrigerator until ready to serve.
Once they are cold (all the way through), cut brownies into 49 square pieces (around 1 inch/2,8 cm each). Store in an airtight container.
Notes
Store in the fridge for up to 5 days (if it lasts that long).
Tip: Freeze them in appropriate containers for up to 3 months.
Leanjumpstart Clean Eating Habits https://leanjumpstart.com/
Notes: Dates, almonds, and pecanuts are all energy rich ingredients. But the lack of processed sugar and flour means that just a small portion of this treat goes a long way. Your cravings are satisfied faster and more sustainable. Instead of empty calories, your body has to digest fibers, vitamins, and minerals that are all good for it.
As a former chocoholic, I have to admit that my cravings are satisfied with just one brownie bite. I recommend Medjool dates (they are larger) and only organic versions, as dates are often treated with fertilizer.
4 easy steps for always having clean eating desserts on hand
Step 1: Choose one of the clean eating desserts above or find another one on the web.
Step 2: Test your chosen clean eating dessert recipe this week after lunch or dinner. If you and your family love it, save it; if not, choose another one until you find your family's favorite.
Step 3: Keep this favorite clean eating recipe, including its ingredients, on hand. This way you will always be prepared if you need it for those exceptional, special situations.
Isn't it a great reward that you know how to indulge wisely from time to time?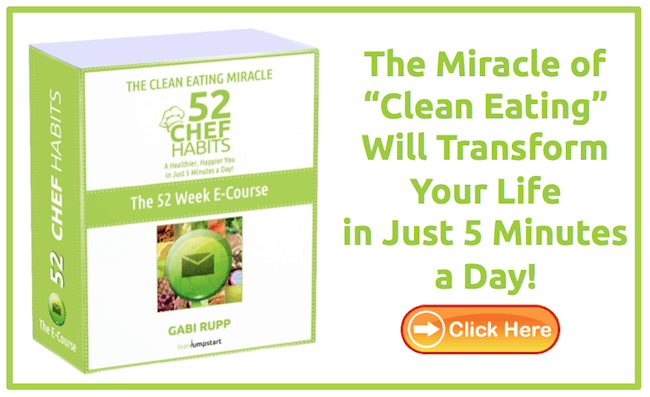 How to master invitations?
What should you do if you are invited somewhere with no sugar-free alternatives? If going cold turkey is torture for you, then my 80/20 approach to clean eating is your solution.
Unless you have totally abandoned processed sugar from your life, for heaven's sake, grab that little item that looks the most seductive to you. Savor that little gem slowly, and really enjoy it no matter if others around you allow themselves a big portion.
=> Also check out my clean eating party survival strategies
My Pinterest Board Tip: Clean Eating Desserts
Do you need more inspiration for easy, quick, and delicious treats? Then I warmly recommend my Pinterest Board "clean eating desserts". On this board I've curated delicious and healthy desserts, cakes and slices from around the world. Perfect for anyone who enjoys clean eating.
;
What is your favorite clean eating dessert?
I'd really love to hear about your favorite clean eating recipe. Share it with us in the comment section below.